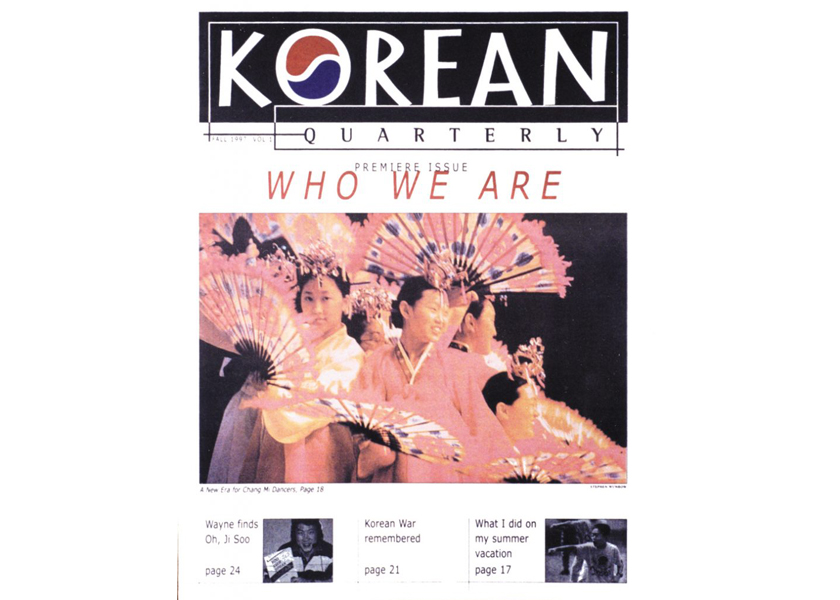 Who We Are appeared on the cover of the premiere issue of Korean Quarterly back in the fall of 1997. It is still an appropriate headline for the premiere of our first online edition, launching nearly 23 years later, in May 2020.
Korean Quarterly is a non-profit, independent quarterly newspaper, written by and about the Korean American community of the Twin Cities and upper Midwest. We define this community to include first- and second-generation Korean Americans and their families (including non-Korean family members), adopted Koreans and their families, and bi-racial/bi-cultural Korean American people and other Asian Americans and non-Asians with an interest in Korea-related issues.
There is a great diversity in this population. We come from various cultures, religions and family backgrounds. But we have in common that we treasure that part of us that identifies with Korea and its people. We want to access information related to Korean American people and their accomplishments, and be informed of social and civic events of the local, national and global Korean diaspora community. We want to communicate with one another.
What We Offer
Korean Quarterly offers a timely quarterly newspaper in a lively feature format. We profile community leaders, role models, report significant events, and chronicle the accomplishments of our community's extraordinary people. Over time, we have enlarged the coverage of the newspaper to include national and global stories of interest to Korean Americans.
Korean Quarterly has always been a media source created by and about the community it serves. At this writing, KQ's contributors include many Korean adoptees and first- and second-generation Korean Americans, a few have been with us since our first issue over two decades ago. But no less important are the people who have an issue they want to report on or a story to tell for the first time.
All independent media are precious resources in today's bleak information landscape. KQ has continued because of the financial, intellectual, and creative support of literally thousands of contributors over the years.
If you like what you see, please support us with a subscription to our print edition or consider sending a tax-deductible donation (see tabs at the top of the KQ homepage.  Submit letters to the editor at the "contact us" button at the bottom of our homepage.  Also communicate with us via our existing Twitter account (@KQofficial) and our Facebook page and Facebook group. Our new fun KQ store also has awesome merchandise that will show your support for this news source.
A Special COVID-19 Message
The KQ board and staff began planning for this website launch starting almost a year ago.  Like everyone else, we have had to modify many plans to deal with the COVID-19 crisis including losing a big chunk of advertising revenue due to event and performance cancellations and business closures.  But we decided to launch anyways because we believe that KQ and other independent media are needed now more than ever. 

If you share our mission in preserving the stories of the Korean American community and would like to demonstrate your commitment to journalism, you can help us by subscribing, donating, or advertising.