White Chrysanthemum by Mary Lynn Bracht
(G.P. Putnam's Sons, New York, 2017, ISBN #978-0735-2144-39)
Review by Aidan Ma (Fall 2019 issue)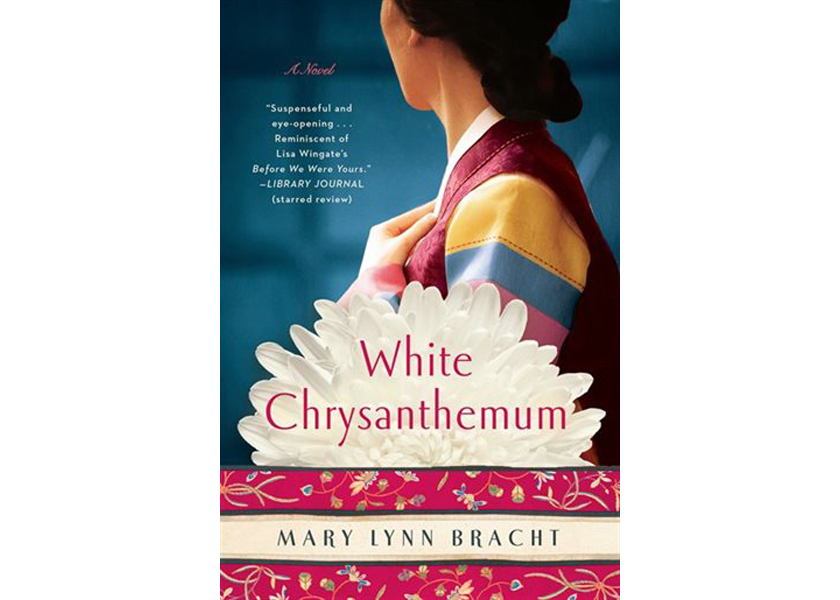 In White Chrysanthemum, author Mary Lynn Bracht tells one woman's story, and incorporates the devastating history of modern Korea. This novel is emotional and imbued with historical details.
Bracht gives the reader an insight into World War II in Asia as she follows the lives of two Korean sisters separated during that time.  The novel begins from the point of view of the eldest sister Hana during the summer of 1943 on Jeju Island.  The novel continues to alternate between Hana's and Emi's perspectives so the reader can see the story through the two characters' eyes.
Hana knows nothing beyond her life under Japanese control.  She is forced to speak Japanese and is educated in Japanese history. Korean, her native tongue, is forbidden.  She follows in her mother's footsteps and becomes a haenyeo, a woman who free-dives for abalone and other sea creatures, and she can enjoy freedom of movement that is not available to most Koreans.
Hana, as an only child, once yearned for a sibling to spend time with. Her wish was finally granted when her little sister Emi was born. On that day, Hana swore to protect Emi at all costs because it was her responsibility now as a big sister. Hana is forced to act upon her pledge when Hana saves Emi from being taken by a Japanese soldier. While doing so, she is captured and shipped to Manchuria. There she is forced to become a comfort woman in a Japanese military brothel.
Although Hana is in pain, she is glad that her innocent sister is not in her grim situation. Hana remembers she is a haenyeo, women of strength, and vows to find her way home to her family. She tries to escape many times but without any luck.
Hana's gloomy story is intercut with Emi's narrative taking place on Jeju Island and in Seoul in 2011. Forced into a passionless marriage with a Korean officer, Emi is now a widow with two older children. Emi is traumatized by the dreadful memories of what happened to her family and her town during the Korean War. She has been looking for her older sister Hana for 60 years and has insulated herself from the memory of Hana's kidnapping.
Hana had once protected Emi from the Japanese soldier determined to take her. Both Hana's and Emi's accounts finish on optimistic and inconceivable notes. The author commemorates all of the Koreans forced into becoming comfort women. During World War II, the Japanese military controlled Korea. As part of its complete control of the population, it forced many women into sexual slavery.
This captivating novel delves into what happened to those women and how it affected the lives of those taken prisoner. This was a ruinous period, and Bracht explores the immense effect the abduction of young women had on friends and family, and the Korean society as a whole.
Bracht also acknowledges the willpower of the women who withstood such atrocious situations. The title White Chrysanthemum suggests a Korean symbol of mourning. Bracht achieves her purpose of writing this novel to inform the public of the horrors experienced in Korea so that no event like this will occur again.
The author, who is of Korean descent, is precise in describing the lives of both sisters. Her change in tone throughout the book allows the reader to experience a variety of emotions. The author also skillfully integrates the ugly history between Korea and Japan.

Aidan Ma is a current junior at East Ridge High School. He is Vice President of East Ridge Writing Club and is very active in East Ridge clubs. He is also active in teaching English as a second language (ESL) to Somalian students. He plays baseball for East Ridge High School.