Dust and Other Stories ~ By T'aejun Yi (Janet Poole, trans.)
(Columbia University Press, New York, 2018, ISBN #978-0231-18581-3)
By Joan Thompson (Fall 2019 issue)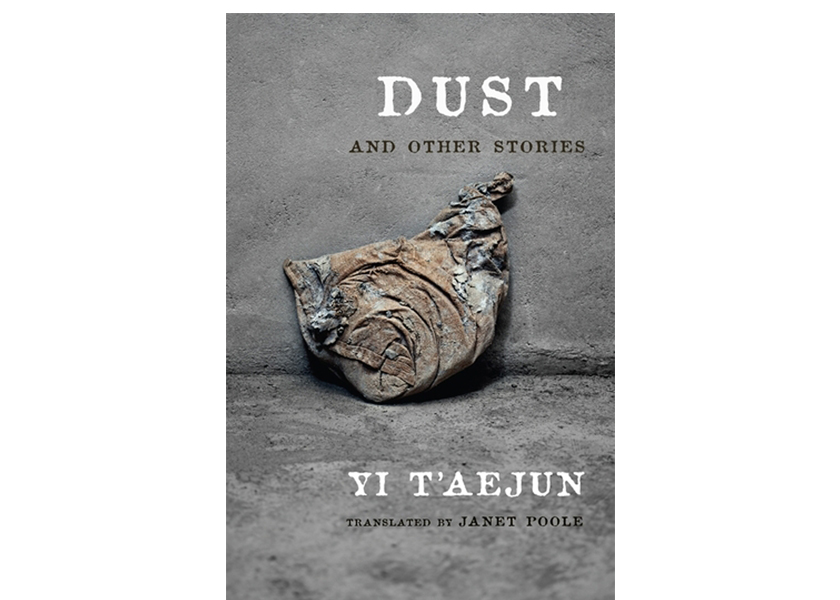 In this important collection, T'aejun Yi's short stories reflecting life in complicated times appear together for the first time. A significant 20th century writer, Yi moved to North Korea after the country's partition. As Janet Poole discusses in her excellent Translator's Introduction, Yi's choice made him fall out of favor in South Korea, and resulted in his works being banned there. Poole suggests that he could not have known that his move to Pyongyang and his tour of the Soviet Union that summer would be permanent. Yi fell out of favor in North Korea as well, in the early 1950s, leaving more of his writing unpublished and his date of death unknown.
Poole presents Yi's stories in order of original publication and lists each source. The stories range from Omongyo in 1925 to Dust in 1950. In her introduction, she points out that during the colonial period, stories often were republished in various versions. In addition, she discusses the significance of Yi's work, his choices in the context of the era, and some of the challenges of translation.
Dust, the title story and the final in the collection, features Moe Han, an antiquarian book dealer who loves Korean culture and its history. He has successfully kept his collection from Japanese hands. He hopes for reunification, and is curious as to whether conditions in South Korea mirror what the North Korean press says.
Wanting to see for himself, he journeys south to visit his daughter and grandchildren, and also to connect with South Korean antiquarian book dealers. He and his travel companion, Dr. Sim, quickly learn of the corruption and oppression in the south under Syngman Rhee's government. They are caught up in curfew violation and witness violent police opposition to student protests in Seoul.
Han finds that Dr. Sim's cousin and the school headmaster where Han taught both benefit from U.S. military control and corruption. One striking scene in the story is an antiquarian book auction where U.S. officers have Koreans sitting at their feet, bidding for books as if acquisition of cultural artifacts is a sport.
One story, The Rainy Season, features a protagonist named Mr. Yi, and the plot contains details that suggest it is autobiographical. The story is framed by a young married man's argument with his wife and his attempt to make up to her. The story describes Mr. Yi taking a bus and tram to visit newspaper offices where other creative writers toil in roles that often don't fit their talents. The narrator also contemplates what has become of his childhood friends from a village in Kangwon Province, especially one friend who asked him in writing a copy of his book, but Mr. Yi ignored it.
The author also shows the difficulties of life under the Japanese colonists in describing how Yi impatiently waits through a bus inspection and contemplates that the Japanese will probably make Koreans change their names. Poole points out in a footnote that the author's prediction came true three years after the story was published.
Many of the stories feature a protagonist named Hyon and the challenges of life under Japanese occupation. In some instances, stories focus on how teachers and journalist lost their jobs during the colonial era. In The Frozen River P'ae, Hyon journeys to Pyongyang to see old friends at the Floating Blue Pavilion. He argues with Mr. Kim, a city assemblyman benefiting from the occupation. He thinks back to the kisaeng (women entertainers) they met in Pyongyang in the past, and he remembers their colorful headscarves, which he said made them look like butterflies.
A Tale of Rabbits does not reflect a nostalgic view of women. In it, Hyon agrees with his wife that they will raise rabbits and deal with more scarcity by making some extra money. She has researched the business, and though he initially resists, he finally agrees, only to learn that the bottom has fallen out of the rabbit market and their food is too expensive. Hyon, embarrassed by his pregnant wife gathering clover on the school athletic field, goes out to gather the greens, but just feels incompetent when he is hit from behind by an errant volleyball. He can't imagine killing the rabbits when the family can no longer feed them, and he cannot find the energy to write the stories that magazines have requested. Ultimately, it is his wife who solves the problem of their failing rabbit business.
Before and After Liberation: A Writer's Note connects with the story Unconditioned, which comes just before the note in the collection. Unconditioned is a nostalgic look at fishing near Hyon's family village, while Before and After Liberation contains Hyon's observations on the ending of Japanese colonialism and the political winds of that period. He tries to remain a neutral observer during World War II, but the Japanese put him under surveillance when he resists writing pro-Japanese propaganda, and after that, he loses his income.
He moves his family to a village in Kangwon Province where he spends his days fishing and visiting with Headmaster Kim, who has demonstrated against colonial rule in the March First demonstrations, and has refused to cut off his topknot, a symbol of refusal to modernize to Japanese standards. Hyon finds that Japanese oversight causes significant problems in the small town. After liberation, Hyon returns to Seoul and tries to work with the Central Council. However, disputes between the right and left, as well as the arrival of the U.S. military, test his ability to remain neutral, his friendship with Headmaster Kim is also challenged.
Not all of the stories in the collection feature Hyon as protagonist.  In Evening Sun, Maehon journeys to Kyongju for a vacation.  While exploring an antique shop, he is impressed by a much younger woman who works there and later encounters her in a tree at a pagoda he visits.  The story presents the woman as both urbane and as ethereal as a spirit.  The story traces the arc of the affair the two engage in. 
A later story, Tiger Grandma, is set in a North Korean village. Tiger Grandma has a reputation as a hard worker honored in the village for her abilities as a healer. She is also the last to resist the government's literacy campaign. The story follows Sanggun, who represents the Federation for Democratic Youth and the Children's Alliance, as he attempts to outsmart Grandma Tiger and get her to hangul school.
Overall, Janet Poole's strong translations bring an important collection of T'aejun Yi's work to English-language readers. Dust and Other Stories offers intriguing short stories that look at the effects of the colonial era and liberation on writers and teachers, as well as observations about life in North Korea in the years just after the partition.

Joan Thompson is a recently retired English professor who focused her career on advocating for diverse literary voices in college curriculum. She is also the mother of two adult Korean American adoptees and a Minnesota Master Naturalist who loves traveling, cooking, and birding.