The Kinship of Secrets ~ By Eugenia Kim
(Houghton Mifflin Harcourt, Boston, 2008, ISBN #978-1-328-98782-2)
Review by Joan Thompson (Winter 2021 issue)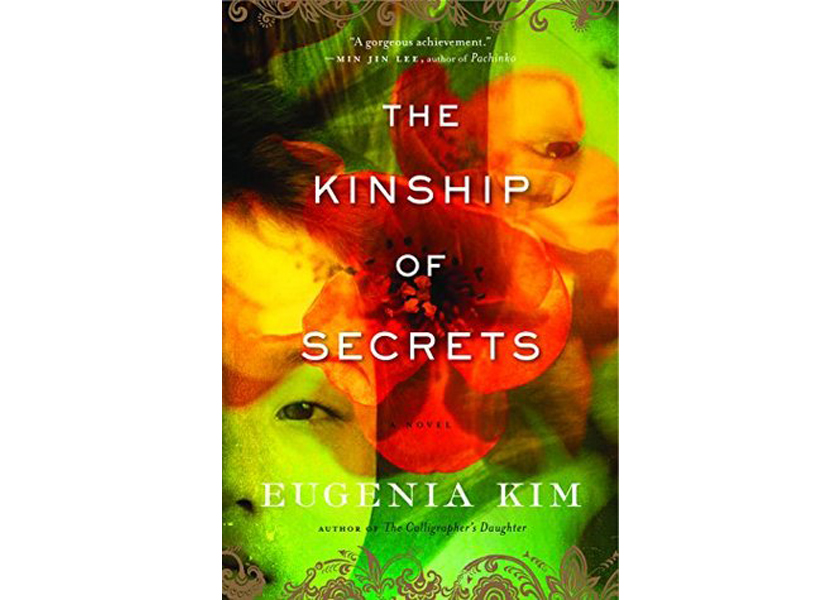 In her second novel, The Kinship of Secrets, Eugenia Kim explores the life trajectories of two sisters, one left behind in Korea and one taken to the U.S. The book is ambitious in scope, stretching from 1950 to 1973 in two countries and also exploring older family members' place in earlier history.
Mirin Cho is age four at the novel's beginning. She has immigrated with her parents, Najin and Calvin, as Calvin is starting a missionary church in suburban Washington, D.C. and also works for Voice of America. Her sister Inja is age three, and has been left with her maternal grandparents, uncle, and aunt in Seoul. The family flees Seoul as enemy troops move in at the start of the war.
The author alternates chapters about the two sisters' lives and development and their awareness of each other. In 1962, Najin and Calvin arrange for Inja to join the family in Washington, a move that Inja dreads because she is a high school student at that point, with her own life, connections and culture. The later part of the novel looks at the family's adjustment, the college and early working years of the sisters, and a trip the two sisters take to Korea.
Kim develops Inja's character clearly, exploring her sense of duty as well as her sense of herself. Inja's chapters are generally limited to her point of view, while chapters featuring Mirin often focus on the mother Najin's point of view. Najin is consumed by regret for leaving her daughter behind, especially after the loss of another baby. Central to Mirin's character is her sense of not fitting in, feeling not fully Korean and not fully American. The family planned to return to Korea, but the war and the ensuing political chaos in South Korea made the move impossible. U.S. immigration status issues eventually add to the complications.
Some sections focus heavily on Korean history, presumably to provide context for readers who are not familiar with it. The intermittent focus on history slows the pace of the story in a way that the family's experience of history, illuminated through plot and description, does not.
Secrets are a central theme of the novel. Inja learns early on that there are complicated reasons concerning why she was left behind in Korea, and Mirin was brought to the U.S. As she grows older, she learns of other secrets held by her family, dating back to the Japanese occupation. A strength of the novel is its exploration of this theme throughout the unfolding story. The novel asks what family secrets should be held close in order to build and maintain family relationships.
One seed for the story is the author's own sister Sun. Like the character Inja, Sun was left behind when the family migrated, and she later joined her family in the U.S. This story of siblings left behind and secrets woven into the family story has been explored in other novels featuring immigrants, such as Amy Tan's 1989 novel The Joy Luck Club. It is a story undoubtedly playing out in many families today, since there is a larger percentage of immigrants in the U.S. than at any time since 1910.
In The Kinship of Secrets, Kim gives readers a fictional window into the experience of families that face such wrenching and fateful decisions. Given our era, in which family separation is frequently in the news, Kim offers a novel exploring the repercussions of family divisions that resonates across borders and time.

Joan Thompson is a recently retired English professor who focused her career on advocating for diverse literary voices in college curriculum. She is also the mother of two adult Korean American adoptees and a Minnesota Master Naturalist who loves traveling, cooking, and birding.