Summer 2020 issue: The HERE book premiers, 30 years of covering the Gwangju Uprising pays off for one reporter and new photo book shows the Korean War in color ~ and more | By Martha Vickery (Summer 2020 issue)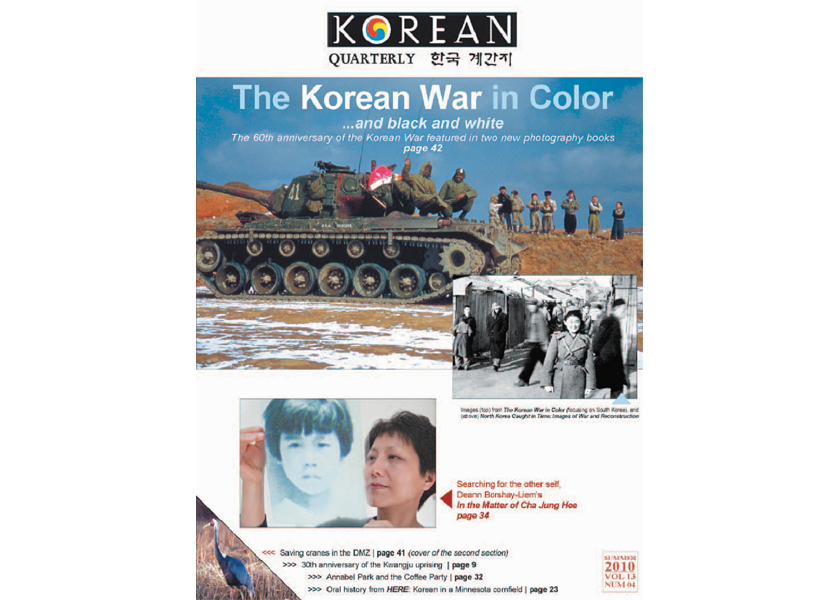 Ten years ago, on the 60th anniversary of the Korean War, a new book was published in English and Korean of never-before-published photos of the Korean War. The unusual nature of this collection by photojournalist John Rich was that they are in color, taken at a time when the use of color film in journalism was still experimental.
Working in Japan prior to the outbreak of the war, Rich, who was a Marine during World War II, got a new Nikon camera and some Kodachrome film as a special thanks for being a Japanese-English interpreter for some reporters. Three bottles of whiskey scored him a U.S. military jeep, that he used to tool around Korea with his camera and rifle as a war correspondent for NBC News.
Rich had them processed by Kodak into color transparencies many years ago, and then stored them in a tin-lined Japanese tea box, the perfect way to keep them free from moisture and light. Years later, he pulled them out and thought about publishing them. The result was a publication in the Smithsonian magazine in 2008, followed by Korean War in Color: A Correspondent's Retrospective on a Forgotten War. He died in 2014.
Also, 10 years ago, another kind of documentary photo book HERE: A Visual History of Adopted Koreans in Minnesota was published. It is an oral history and photographic account of the lives of Minnesotan Korean adoptees. The project was created by Twin Cities photographer/graphic artist (and KQ art director/cofounder) Kim Jackson, with several Korean adoptee collaborators.
The striking cover photo of the HERE book is a young Korean man, in a suit and tie, standing in a cornfield, a symbolic depiction of a small-town Minnesota Korean adoptee. The first-person narrative of that man, Pat Gingles Oh, is also in the summer 2010 issue. It relates how he went from not feeling either American or Korean in his youth, to someone who loves Korea, and met his wife there.
Journalist Tim Shorrock, a Washington DC-based writer, a frequent contributor to KQ, wrote on The Lasting Significance of Gwangju and how he obtained 4,000 declassified documents in the '90s, and a new batch through a Freedom of Information Act in time for the 2010 30th anniversary of the May 1980 uprising, about the U.S. role in putting down the citizens democratic rebellion of the city of Gwangju in 1980. Shorrock watched the story develop since his student days at the University of Oregon, following the story for nearly 30 years. Together, the information adds up to a story that shows, contrary to official denials, that American leadership supported the violent quelling of the uprising by South Korean special forces. Shorrock is a media commentator, and writes for The Nation. His blog on the Gwangju research, Money Doesn't Talk, It Swears, is at: www.timshorrock.com
Another story, Cranes in a Ribbon of Habitat, 10 years ago describes the work of the International Crane Foundation (ICF) in Baraboo, Wisconsin, in collaboration with conservationists from South Korea, Japan, and Russia, to save two rare types of cranes which now winter in the Demilitarized Zone (DMZ). Anne Holzman updates the work of that group 10 years later in the Summer 2020 issue.