Minnesotans remember Korean War 60th anniversary, KQ visits South Korea's oldest farming cooperative and one very outspoken priest | By Martha Vickery (Spring 2010 issue)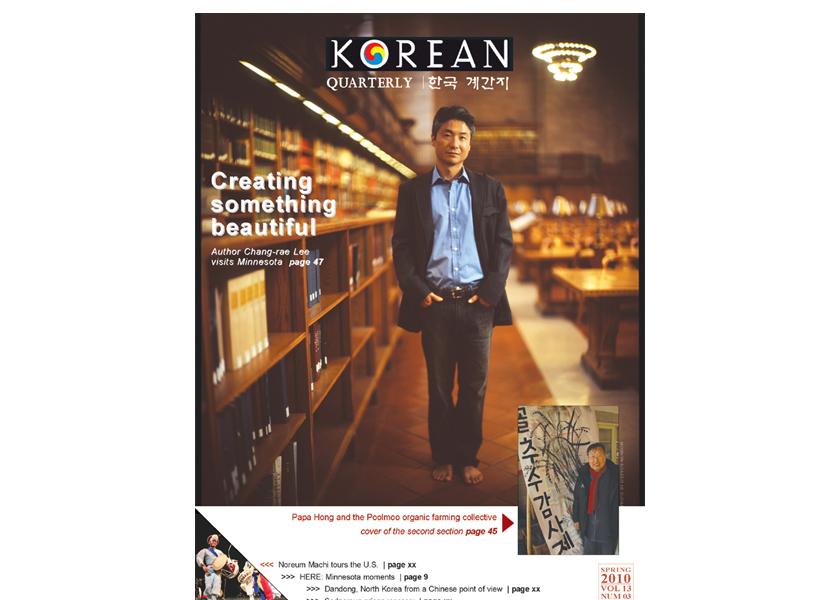 In spring 2010, the Korean American community in Minnesota was readying for a 60th anniversary commemoration of the Korean War, which included (in June) a program and performances at the Korean Veterans' War Memorial at the Capitol mall, with a wreath-laying.
Novelist Chang Rae Lee also visited Minnesota in spring 2010. The program was part of a three-week multi-city tour for his novel The Surrendered, which takes place in Korea and depicts three very different characters whose lives meet with the backdrop of the Korean War.
Lee, who has written about characters from many cultural and ethnic backgrounds, must frequently resist characterizations that he is a chronicler of the Korean American experience. June, the only Korean character in the novel, loses her parents in the war, then her two siblings in an accident, and makes her way to an orphanage, where she encounters two Americans who have also experienced trauma and loss during their youth. Since 2016, Lee has been a professor of creative writing at Stanford University.
Ten years ago, Korean Quarterly visited one of the oldest centers of sustainable agriculture in South Korea, the Poolmoo Cooperative, South Korea's first organic community, which today still educates farmers and researchers, and models sustainability to the world.
Poolmoo began as a school in 1958, and education is still at the center of this community's model. In 2010, the population consisted of about 4,700 who live in a dozen small villages. The community has its own school system and runs a two-year post-high school program. The Poolmoo model includes an effort to educate future farmers from the local area, and outreach to non-local students who they hope will adapt the model to other places. The Poolmoo College of Ecological Agriculture also turns out non-farmers —- people who can be artists, builders, marketers, community developers and other professionals working for sustainable living.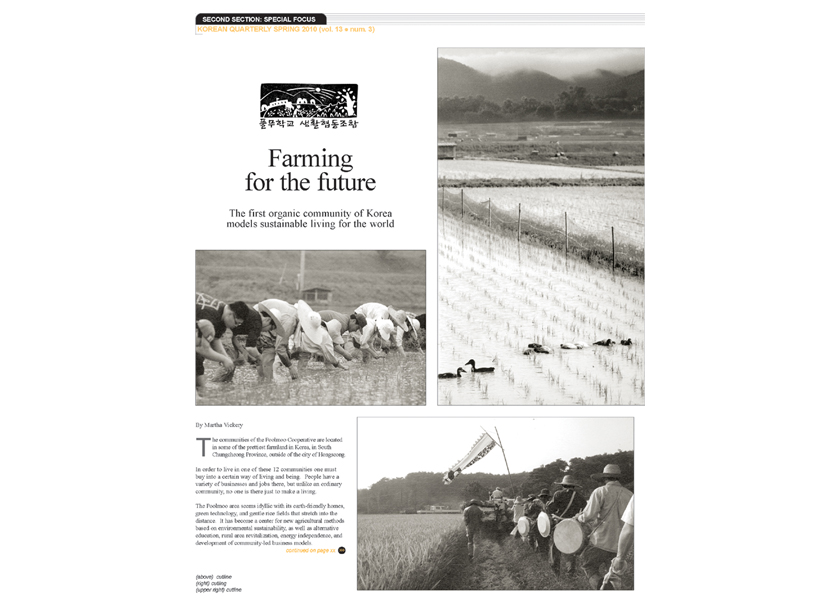 The symbol of Poolmoo is a rather ordinary-looking duck. The community raises ducks because, with the right number living in each rice field, pests are naturally eliminated, resulting in organic rice and ducks for the market. Poolmoo is also a business, which competes in the open market to provide its farmers with a living wage. Its sustainable methods appeal to a growing demographic in Korea who care where their food comes from.
Also 10 years ago, Korean Quarterly visited Father Jim Sinnott, long-time civil rights activist in Korea, at the Maryknoll Mission in Seoul. Sinnott advocated for a group of eight wives of men who were falsely accused, convicted and executed on a charge of plotting against the dictatorial government of Chung-hee Park. There was no connection at all of these men with any Communist group; "it was all done to oppress people and to stay in power," Sinnott said. The eight men were eventually hanged.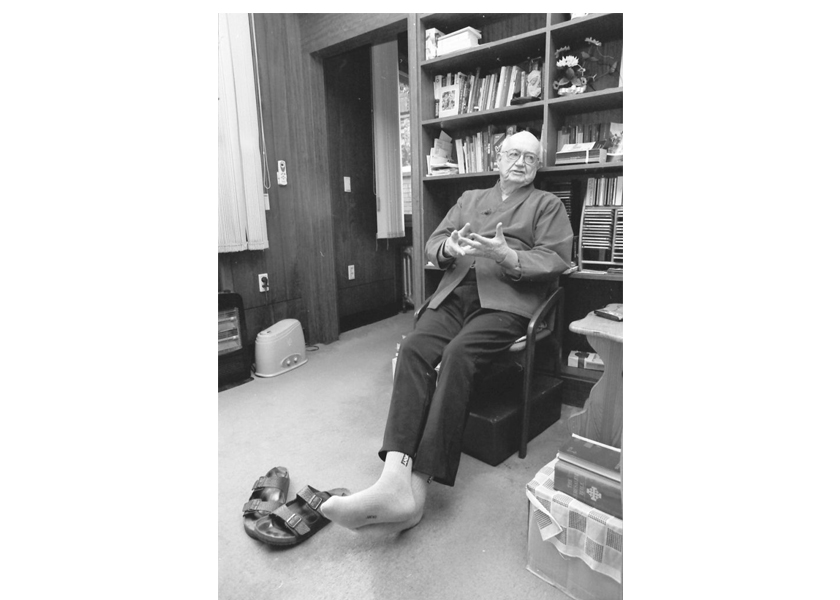 Sinnott was known for his vocal activism on behalf of the poor and politically oppressed in South Korea at that time. Although he and other Christian activists were protected to some extent, he was ultimately kicked out of South Korea in 1975. He lobbied in Congress and spoke widely of the human rights abuses by the South Korean military dictatorship of the day. In 1995, Sinnott was asked by the South Korean government to be the keynote speaker at a 20th anniversary commemoration of the hangings of the eight men.
He returned in 2000 to participate in a truth commission concerning the charges against the group of eight, which returned a verdict of no guilt. He stayed, living out the rest of his retirement in Korea, in the mission house he first lived in as a young priest in Seoul. He died at the mission in December 2014 at age 85.