In 2013, imagining the end of guns, a treaty, and hope for a new president | By Martha Vickery (Winter 2023)
(Korean Quarterly published a print edition from 1997 to 2022 ~ this article appeared in the Winter 2013 issue. All 25 years of KQ content will be part of a digital archive here at koreanquarterly.org and will debut on the KQ website soon.)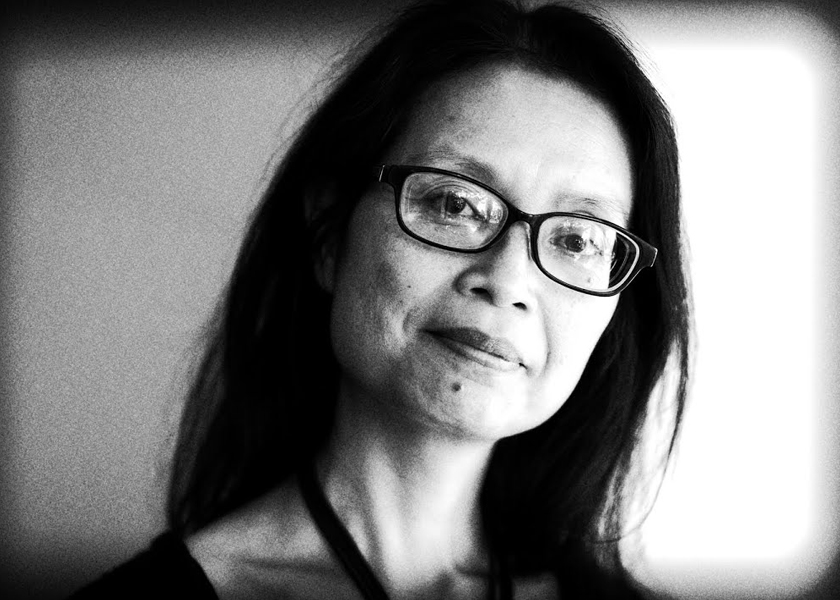 Ten years ago in Korean Quarterly, the winter 2013 issue came just weeks after the tragic shooting of 27 people – young elementary students and their teachers – at a school in Newtown, Connecticut. The lead essay in that issue, headlined The End of Guns, was by novelist, creative writing professor (and former Minnesotan) Marie Myung-Ok Lee.
She observed that anyone responsible for commenting on yet another horrific mass murder in our society will not be jumping in front of cameras to make any kind of point, call for any kind of action, or demand a response. Instead, policymakers and change-makers predictably wait in desperation for the news cycle to just move on to the next big thing "because no one wants to deal with this issue of guns. Specifically, that we could stop what is basically mass murder of innocent people simply by taking the guns away."
How sadly this points to how the more things change, the more they stay the same, as another senseless shooting rocked the nation, especially the Asian American community in January of this year, when 18 people were gunned down in two separate incidents in California, one of them at a Lunar New Year celebration.  Lee points to the puzzle of South Korea, how it is a country under a constant perceived threat from its neighbor North Korea, yet everyone walks around unarmed and unafraid.  Indeed, she wrote, the small minority of people allowed to keep guns for hunting or athletic competitions must store them at the police station, not in their homes.
Guns and freedom are equated in U.S. society, Lee said, but South Koreans are arguably freer. They don't worry about shootings in schools or at public events, while in the U.S., gun rights advocates continue to fight for the "right" to bring loaded guns into churches, schools, courthouses. People feel less safe as a result.  "Why should we as citizens be held hostage to a kind of deadly domestic terrorism that has a criminally easy solution?" she asked.
Lee's novelist career after 10 years
Recently, Lee wove an often wickedly funny discussion of current events into her 2022 The Evening Hero, published in 2022.  The story is a fictional look at one Korean American doctor in rural Minnesota (modeled after her own dad), and what can happen to rural peoples' health care when their small-town non-profit hospitals are bought out by private equity firms, then closed down. Although the story is fictional, the life-threatening predicament of many rural towns losing their only hospital is very real. The story also veers into black comedy with its take on what happens when the profit motive decides what kind of health care gets promoted and what kind is eliminated.
Remembering the old Park regime, hoping for a new Park regime
Also 10 years ago, several essayists wrote about the 60th anniversary in 2013 of the armistice that ended the Korean War combat, but never officially ended the war. In 2013, South Korea had elected a new president Geun-hye Park, daughter of the former military dictator Chung-hee Park.
Essayist, peace activist and former missionary Dorothy Ogle remembered the elder Park's regime well. During that time, she and her husband George Ogle were career missionaries in South Korea. They had been there for 20 years; all their children had been born and brought up there. She relates that 38 years before writing the essay in 2013, "our lives as missionaries came to a sudden end when …Park deported my husband George Ogle because he prayed in public for eight innocent men who had been falsely accused of having Communist ties, tortured to confess, and sentenced to death by a secret military court."  His deportation served as "an object lesson to President Park's detractors that no criticism would be tolerated," she wrote. The family permanently left South Korea in 1975.
She expressed hope for the younger Park's new administration, noting that the new conservative president "publicly apologize for the violence of her father's rule, and her presidency represents an opportunity for her to reckon with his legacy."
She also wrote that a peace treaty between the U.S. and North Korea to officially end the Korean War and restore normal diplomatic relations between the nations would, for the first time, truly give peace a chance, after decades of ignoring, lambasting, and infantilizing North Korea's leaders and people. George Ogle died in November 2020; Dorothy still lives in Colorado. Peace treaty advocacy is still upheld by several U.S. activist groups, notably Women Cross DMZ.
Also in the winter 2013 issue was news and analysis around how North Korea had launched a rocket in December 2012 which successfully deployed a communications satellite. The Obama Administration decried the accomplishment, saying it "violates international law," according to a column from the winter 2013 issue by John H. Kim.  The rocket launch, which delivered its payload into earth orbit, was technically a space launch and not a weapon launch and did not violate international law, observed Kim, and the accusation did not stand up to legal scrutiny. It was only one recent example of the repeated U.S. failings in foreign policy around relations with North Korea that Ogle had also pointed out.
As for the younger President Geun-hye Park, 10 years on, we know that her administration was an ill-fated one. It came to an ignominious end in March 2017 when South Korea's legislature voted for her impeachment and the high court unanimously supported the vote. It was the culmination of a series of botched response to a national tragedy, the Sewol ferry disaster, coupled with a political scandal involving her aide Soon-sil Choi making policy decisions that were the sole purview of the president.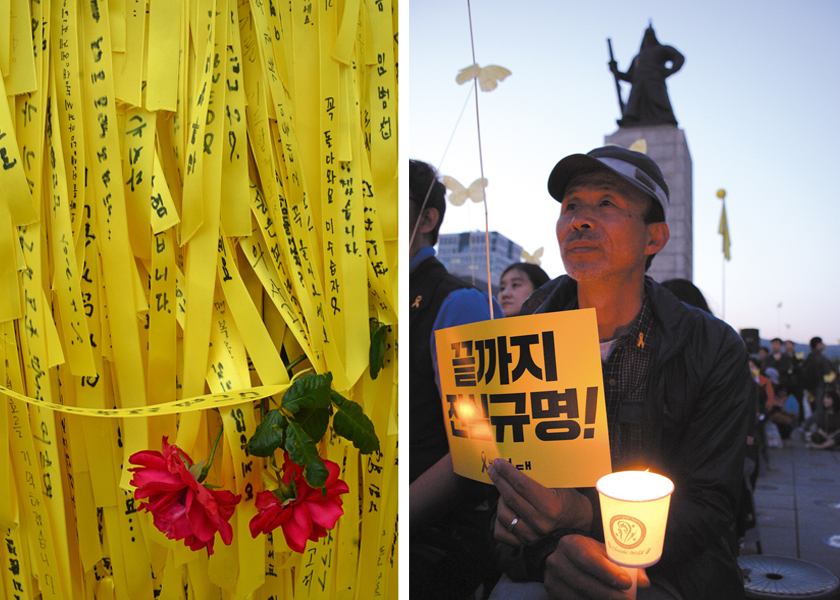 An ouster by candlelight
The impeachment followed weeks of peaceful protest by the people of South Korea for 20 successive Saturday nights.  The initiative brought nearly 20 percent of Korea's population to the streets of its cities, putting pressure on the legislature to act on the demands to impeach the president. The so-called Candlelight Revolution was characterized by patience and humor – street art, TV skits, blogs and performance pieces all called for the president to be kicked out. Park was eventually put on trial on bribery and corruption charges, and received a sentence of 25 years and pardoned in 2021.
An identity of color, light, and a bit of fun
KQ also interviewed artist Jooyoung Choi and got permission to use one of incandescently colorful images for the cover of the winter 2013 issue. Choi's use of color and multiple images, and her inspirations, including kitschy store signs, posters, advertisements and pop art, give her images their layering and suggestions of more than one message.
A Korean adoptee, Choi learned Korean while in college at Massachusetts Institute of Art, and made contact with her birth family during that time. In her work, she explores a cultural and inner journey of leaving Korea, growing up in New Hampshire, finding her way back to Korea, and integrating those pieces through a 10-year career to become a multi-cultural artist.
These days, Choi is still a prolific working artist who also delves into video, sculpture and art installation projects. According to her artist's statement she is using her art to explore themes such as "anti-racism, gender inclusivity, trans-racial adoptee rights, post-traumatic growth, and spirituality rooted in social justice."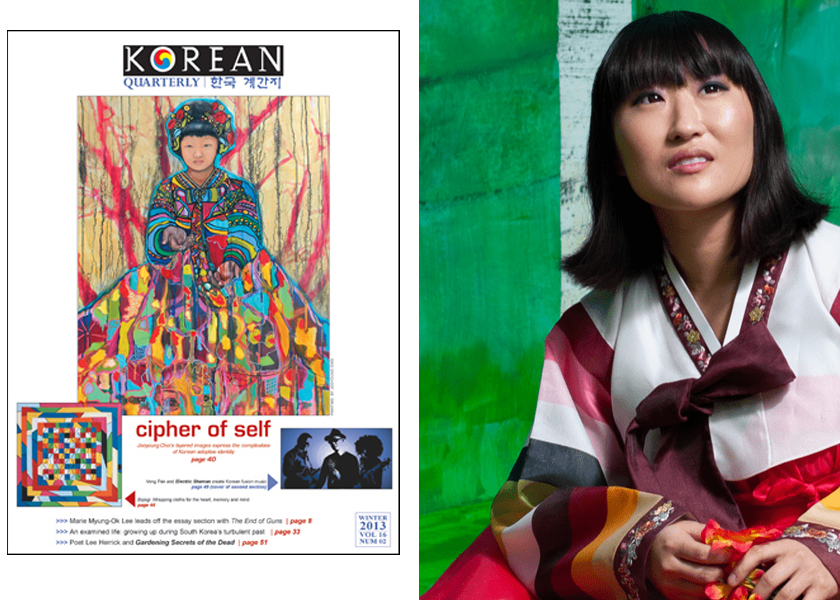 Poet to poet laureate
Poet and Korean adoptee Lee Herrick was also profiled 10 years ago. He had just published his second book of poetry entitled Gardening Secrets of the Dead, with cover art by Jooyoung Choi. Brought up in California, Lee teaches creative writing at the college level. These days, he teaches at Fresno City College and the MFA program at the University of Nevada, Reno at Lake Tahoe. While his first collection This Many Miles from Desire, was very personal, Gardening Secrets is about "homage, honor, question, and memory," he said.  
Herrick was the City of Fresno poet laureate from 2015 to 2017. In November 2022, Herrick was appointed by Gov. Gavin Newsom to be California's 10th poet laureate. The governor's press release announcing the appointment reads, in part:
As a teacher, poet, and father, Lee writes movingly about his identity as a Californian and encourages others to reflect on what the state means to them," said Governor Newsom. "Lee's dedication to highlighting the diverse experiences of Californians, and making them so accessible through his poetry, makes him a perfect candidate for Poet Laureate. I look forward to his work to inspire communities and individuals across the state through the power of the written word.