Fast Company combines Asian family dynamics with crime in fun noir setting | Theater Review by Joan Thompson (Winter 2020 issue)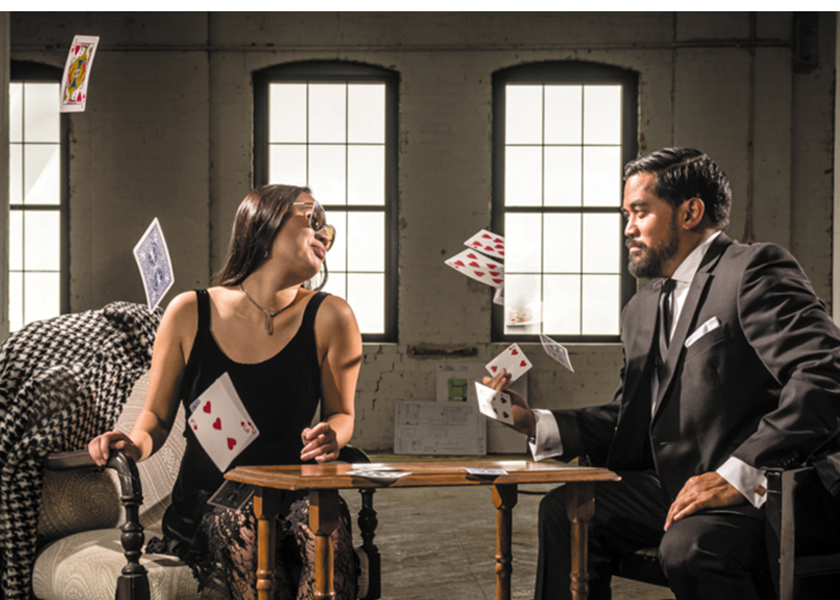 Fast Company, By Carla Ching
Produced by Theater Mu, Guthrie Dowling Studio, Minneapolis ~ November 8 through 24, 2019
Theater Mu's production of Carla Ching's Fast Company explores the Kwans, a family of grifters led by a hard-nosed mother with a penchant for tough love. Playing in the Guthrie's Dowling Studio from November 8 to 24, the script is full of quick turns by a conning family whose members sometimes act as a team and sometimes assert their individuality at the expense of the others.
Blue, the youngest child, has a rare comic book con going that she hopes will win her family's approval. However, her brother H needs fast money to escape threats on his life involving the shadowy Dentist, reminiscent of Terry Gilliam's 1985 film, Brazil. His need to get out of the country leads him to undercut Blue's con. Francis, the oldest son, wants to go straight by becoming a modern-day, televised Houdini but is drawn into his family's drama, while the mother Mable looks askance at her children's failure to follow her training. Con after con unfolds as the family tries to solve Blue's problem, or tries to make it worse, depending on the family member.
Director Brian Balcom and Assistant Director Audrey Park lead a cast that brings this family's capers to life. Brian Kim shines as Francis, the aspiring magician. His use of sleight of hand adds to his character's authenticity, as does his battle between loyalty to family and to self. In another stand-out performance, Jeannie Lander as Mable displays a tough facade appropriate to the matriarch of grifters. She also convincingly embodies a character much older than she is. In her first time on stage at Theater Mu, Ming Montgomery as Blue shifts from showing her character's toughness to explaining the way game theory she is learning at the local community college could up her family's con games. As H, Eric 'Pogi' Sumangil displays a character willing to betray family for self-preservation, but also willing to join his siblings in a convincing performance involving the much-feared Dentist, when they need to outsmart Mable.
For a play with constantly shifting scenes, scenic designer Joel Sass makes a strong choice by using a three-piece set to depict multiple building facades and rooms. Miko Simmons as projection manager makes Sass's set come alive. Before the play begins, cards cascade down the building facades. Through constantly changing and lively projected images, Simmons' choices keep viewers oriented as the action changes. When Blue sets up a fake office attempting to right her con gone wrong, the view out the windows is Chinatown. Within the room, a projected fan turns, adding a noir note to the scene. When Francis tracks down H, the Jesus statue in Rio de Janeiro, Brazil appears behind the seedy bar. Simmons' projections combined with Karin Olson's lighting design add a great deal to the play's action and mood.
In the talk back following the performance, Lily Tung Crystal, Mu's new artistic director discussed how the play was chosen prior to her coming on board. She spoke of appreciating the dynamics of the Asian American family Ching created, as well as the very American genre of the caper. Eric 'Pogi' Sumangil, who was involved in selecting plays for the season, talked about the plays Mu has considered, and also reiterated that Theater Mu has now been in existence for over 25 years so is more than ready to focus on plays that go beyond identity.
With this entertaining production of Fast Company, Theater Mu is doing just that. Fast Company demonstrates that Asian American stories on stage can go far beyond identity to embrace a wide variety of genres, characters and family dynamics.

Joan Thompson is a recently retired English professor who focused her career on advocating for diverse literary voices in college curriculum. She is also the mother of two adult Korean American adoptees and a Minnesota Master Naturalist who loves traveling, cooking, and birding.