Collaboration of Theater Mu and Penumbra uses drama, humor and chills | Theater Review by Joan Thompson (Summer 2019 issue)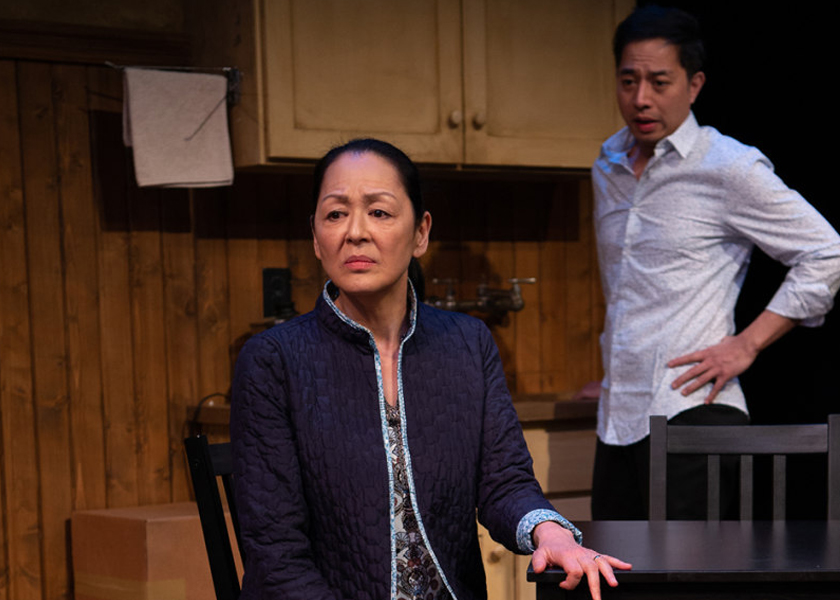 The Brothers Paranormal by Prince Gomolvila. Directed by Lou Bellamy, with Sun Mee Chomet
Theater Mu and Penumbra Theater collaboration ~ April 30 through May 26 2019
The legacy of displacement, mental illness and loneliness of families who have lost the homes they love are explored in The Brothers Paranormal, a play that makes its point with a combination of serious moments, humor and chills.
In May 2019, Theater Mu and Penumbra Theatre successfully collaborated in bringing Thai American playwright Prince Gomolvilas's work to Penumbra's stage.
The play, directed by Lou Bellamy with assistance from Sun Mee Chomet, is about Max (Sherwin Resurreccion) who meets Delia (Regina Marie Williams) because he has started a ghost removal business based more on the plots of Asian horror films than on his own beliefs or skills. Delia and her husband Felix (James Craven) have lost their home to Hurricane Katrina and are struggling to create lives in a new state.
Delia comes to Max because she keeps seeing a ghost in their home, which Felix initially denies. Max's Thai immigrant family also feels displacement as his mother Tasanee (Leslie Ishii) and his brother Visarut (Kurt Kwan) have both suffered from the father's decision to move his family to the U.S. The brothers' interactions with Delia and Felix reveal that both families have members who have suffered with schizophrenia. Felix is overworked, and Visarut struggles with alcoholism. As the families' challenges become clearer, the ghost Jai (Michelle de Joya) becomes ever more visible and frightening.
The play asks important questions about the many tangible and intangible costs of family displacement, whether internal or international. Additionally, the fear of inherited mental illness meshes with loneliness in ways that make viewers question what is real and what is not. At several points in the play, the audience confronts Max's own ghosts in ways that call into question what has occurred previously on stage. The audience wonders if Max's sense of reality is skewed, or if something else is going on.
Sherwin Resurreccion is excellent as Max with his sense of showmanship on the job that hides his vulnerability, which is revealed only when he talks to family members. As Max's brother, Kurt Kwan provides an immigrant working-man foil for Max's college-boy sense of his place in the U.S. While Kwan's accent does not quite work, Leslie Ishii as the mother uses an accent effectively to show how costly it has been to be for her and her family to immigrate against their wishes.
Regina Marie Williams effectively portrays Delia's vulnerability as her fear of her haunted house combines with her other losses. James Craven is excellent as the supportive husband who fears for his wife's sanity while coming to understand his role in the haunting.
Michelle de Joya as the ghost deserves special mention for her athleticism as the ghost haunting James and Delia's new home. While she initially appears in white standing on packed boxes and cases at the rear of the stage, as the play progresses, she becomes much more malevolent and puts her training in dance and yoga to good use. She slithers over walls and emerges from the couch and a headboard as if her bones were liquid, which adds to the special effects in the play, such as when a jazz record flies across the room.
The set, consisting primarily of Delia's living room and Max's kitchen, works well to convey the lives of the characters and the actions of ghosts. Scenic designer Vicki Smith's choice to have the two homes inhabit opposite sides of the stage also stresses the isolation of families forced into new surroundings through no choice of their own. Karin Olson's lighting design with its cool purples and blues contributes to the mood when the ghost appears and heightens the special effects.
Overall, The Brothers Paranormal uses the horror genre to explore what is all too normal for families who face displacement against their will. The strong acting in this first collaboration between Theater Mu and Penumbra Theatre suggests that future collaborations will also bring entertaining, thought-provoking productions to the Twin Cities.