Comedy lightens sobering times, closes early due to pandemic | Review by Melissa Brown (Spring 2020 issue)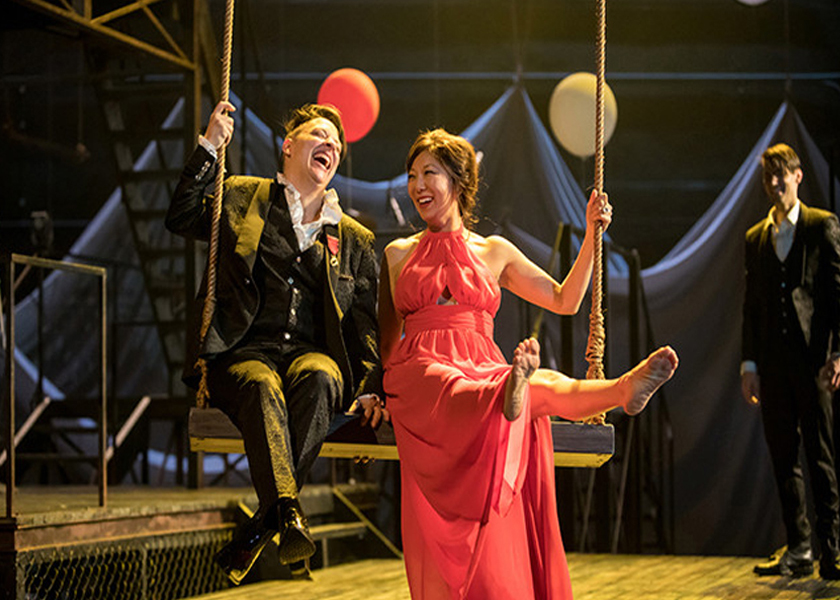 Twelfth Night, by William Shakespeare
Guthrie Theater, Minneapolis ~ February 8 to March 13, 2020
The Guthrie Theater's Twelfth Night brought together 10 local actors for an intriguing night of romance and comedy. The Wurtele Thrust Stage was transformed into the sea town of Illyria by being mostly covered by a large pool of water. This water took on many forms in which characters walked around it, right through it, and for amusement, played it in.
In the middle of the stage stood an enigmatic two-story structure which took on multiple roles throughout the story, mostly understood through the characters and dialogue. It transformed into a sinking ship, an outdoor town square, the exterior and interior of homes, and even a jail. Next to this was a giant swing with ropes so long they seemed to disappear into the air, bringing with them a sense of romance and awe.
The characters too are defined by their actions and not by appearance. In this diverse cast, race and gender were ambiguous or ignored. Multiple male roles were delightfully played by female actors, and the main character Viola (played by Emily Gunyou Halaas) disguises herself as Cesario after she loses her twin brother in a shipwreck. The characters do not recognize her in her disguise, and the audience must suspend its disbelief of Viola's true identity.
In Twelfth Night, love appears to happen to people, versus being initiated by them. The Countess Olivia (Sun Mee Chomet, who also plays Valentine) has many men vying for her attention, yet instead, her lust for Viola/Cesario happens to her quickly and with force. Viola/ Cesario on the other hand loves Duke Orsino (Nate Cheeseman), while Orsino continues to pursue Olivia. In the end, identities and feelings were revealed and couples formed, yet everything seemed to happen as it should be without much change from the characters themselves.
In multiple subplots, performances shine. Feste "the fool" (played by Luverne Seifert), a drunken Sir Toby (played by Sally Wingert) and the fun-loving Sir Andrew Aguecheek (played by Joy Dolo) engage in hilarious mishaps. The serious Malvolio (played by Jim Lichtscheidl) transforms into a suitor pursing Olivia's attention complete with cross-gartered yellow stockings, and then just as quickly becomes a victim and finally, a man set on revenge. On Guthrie's website, director Tom Quaintance describes this play as an "actor-driven" event.
Although the lighting, staging and music were dealt with masterfully in this production, it is truly the actors who shaped the setting, their characters, and the audience's enjoyment of this ancient comedy that still shines today.