Aubergine captures the universal experience of a loved one's death | Theater Review by Joan Thompson (Fall 2019 issue)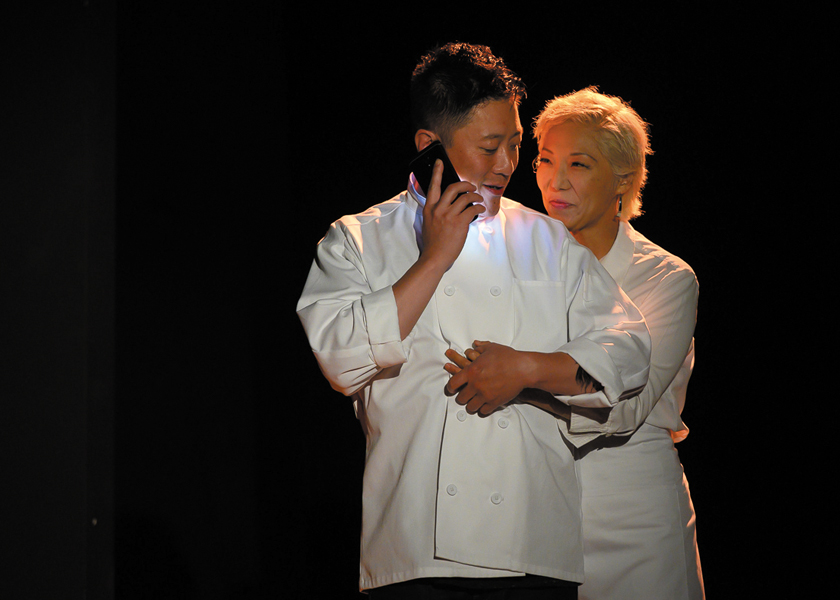 Aubergine by Julia Cho
Park Square Theater, St. Paul ~ September 20 through October 20, 2019
Julia Cho's Aubergine melds food, family and memory through the story of a son caring for his dying father. Directed by Fordelino Lagundino on Park Square's Boss Thrust Stage from September 20 to October 20, the play explores the complexities of family history, and all that remains unsaid when a family member is dying. Preparing food and remembering meals is central to the story, and is sure to make the viewer recall meals central to their own families' lives.
Ray, a talented chef, is unprepared when he learns his father is dying, especially because his father's physician equivocates about it. When his father enters home hospice, Ray cuts himself off from his former girlfriend and coworker. However, as the play continues, Cornelia, the former girlfriend, an uncle who arrives from Korea, and Lucien, the hospice nurse, all join Ray and his father in their journey through the stages of dying, and honoring the centrality of food and cooking to family memories.
Because of Korean Quarterly's press date, we were invited to attend an early preview, where Ray, played by Kurt Kwan for the duration of the run, was played in the preview by understudy Brian Kim. Throughout the play, Kim ably embodies the confusion of a person who has not witnessed death and is suddenly the only caregiver. He struggles with understanding the stages his father is experiencing and with unresolved issues of their life together.
Darrick Mosley as Lucien, the hospice nurse, shines as he helps Ray to understand what he faces and as he recounts his experience in a refugee camp in a foreign country. As Cornelia, Sun Mee Chomet effectively channels the anger Cornelia feels at Ray's disappearance from his job and her life, but then becomes his companion in caring for his father. Song Kim as the uncle who comes from Korea, despite being estranged from his dying brother, brings strength to a role that is significant in helping Ray to understand his family's past. Glen Kubota as the father is near death in a hospital bed, then clashes with his son in flashbacks tied to Ray's career choice. Shannon Custer as Diane also contributes to the play's theme of remembered meals and parental loss.
Several aspects of the staging stand out. Because Ray's uncle knows little English, Cornelia translates between the two. In some instances, she alters what is said to smooth cultural understanding and protect feelings. Video designer Kathy Maxwell and Maxwell Collyard, video design fellow, do an excellent job in projecting English translation on the stage's backdrop while indicating the complexity of communication by displaying the Hangul in a jumble that fills the curtain below it. Food and restaurant photos during Diane's initial monologue also worked well to set the theme, while the image when Lucien talks about his life as a refugee seems a little bucolic for his story.
Another interesting aspect is the use of a stand microphone for Diane's monologue, for Cornelia's scene in the lobby during intermission, and again by Ray at the memorial service for his father, a device reminiscent of a stand-up routine, though one far more serious than humorous. While the function of Diane's monologue is initially puzzling, the play's ending makes the purpose clear and ties her story firmly to Ray's.
Sound design by Max Otto and sound design fellow Akiem Scott also works effectively, with somewhat varied and discordant musical fragments when the lights go down for scene shifts. This device echoes the confusion and challenges Ray faces as he cares for his father.
In terms of the staging, the blocking could have been executed more strongly. The thrust stage (which is shaped like a peninsula into the audience) by definition provides blocking challenges, and in some instances, characters have their backs to one of the sides for the entire scene. This makes it difficult for audience on the wrong side to catch the actors' emotions in any way other than by voice. Additionally, in some scenes, the light attached to the hospital bed obscures the father's face for theater-goers seated on the side.
Throughout the play, small details beyond language show the attention paid to cultural authenticity. In all scenes set in the home, the characters are in stocking feet or wear house slippers. Lucien's description of food from his home country and the food in the refugee camp also rings with authenticity. The production benefits from cultural advising by Richard Lee and Edwige Mubonzi. Playwright Julia Cho, in the Playwright's Perspective, adds her family's story of food and cooking, giving clues to her creative process.
This thought-provoking play reminds us that we are not as alone as we feel when we experience the death of a loved one, an experience that is common to all. Nor are we alone in our memories of foods that we identify with home, whether it is pastrami sandwiches, mulberries, packaged ramen or turtle soup cooked with love.