The Good Son ~ By You-Jeong Jeong
(Penguin Books, New York, 2017, ISBN #978-0-1431-3145-3)
Review by Bill Drucker (Fall 2019 issue)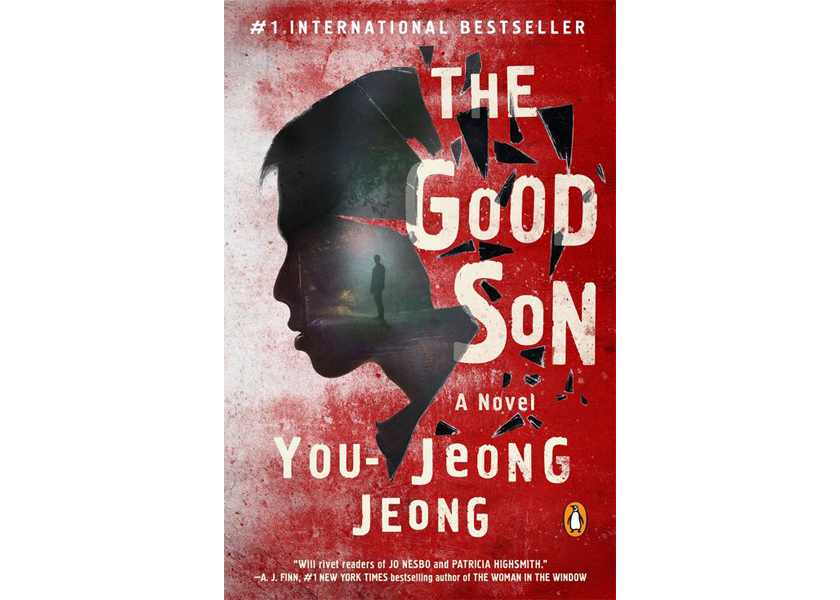 A new reader of fiction by South Korean authors may be surprised by the cutting-edge and highly creative entries in the genre of the modern novel. There is Young-ha Kim with his socially cynical I Have The Right to Kill Myself (1996), Han Kang with her psychologically surreal novel The Vegetarian (2007), and now You-Jeong Jeong with her psycho-thriller, The Good Son.
Based on a true incident, The Good Son is a dark tale of the hostile and tense relationship between a son, Yu-jin, and his manipulative mother. The story begins with Yu-jin waking up and seeing himself covered in dried blood. As the tightly-wound narrative of Yu-jin unravels, the story unfolds to reveal a deeply dysfunctional family.
The unstable mind of Yu-jin is the story's literary vehicle —- flashing back in time, setting the mood, planting evidence, and propelling the story forward. There are no certainties in this reality, which is blurred by Yu-jin's shock and fear.
The first half of the novel deals with Yu-jin, an intelligent but withdrawn young man discovering, to his horror, the bloody murder of his mother. Confused and alone in the house, Yu-jin tries sort out what occurred, and deals with the gnawing feeling that he may be the murderer.
The story is narrated in the first person. In flashbacks, Yu-jin is reminded constantly of his fragile mental state by his mother and his twisted aunt, a psychologist. For three days after the murder, Yu-jin searches for answers and tries to take care of the situation. Rather than call the police, Yu-jin wraps his dead mother in a blanket and places her corpse out on the patio. He methodically clean ups each room. He finds two things that will carry him through this nightmare: His dead father's bloodied straight razor and a diary that his mother had kept.
From the outside, Yu-jin seems to be a quiet student trying to pass his law school exams. He is intelligent, and lives in a nice neighborhood with his widowed mother. His father and older brother Yu-min had died in freakish accident. Hae-jin, an orphan, was taken in and became Yu-jin's older brother. Hae-jin, more outgoing than Yu-jin, is away in on a filming project.
The narrative reveals that the mother-son relationship had been strained for a long time. She questions his every move. She pesters him to take his meds and to keep his appointments at the clinic where his aunt works. She maliciously mentions how wonderful Hae-jin is. Yu-jin realizes he has no one on his side. He decides not to take the meds for a couple days, but just before a swimming meet, he has seizures. After that, his life as he knew it is over. He is a prisoner in his own home, controlled by two women he distrusts.
Yu-jin hears his mother's voice and reads her words in the diary. As a boy, Yu-jin's withdrawal concerned his family and he was tested for mental illness. The results labeled him psychopathic. It was all the excuse needed by his strange aunt take control of Yu-jin, and his mother willingly agreed.
Over the years, both expressed veiled hostilities toward one another. It was a game to see who could mentally ruffle the other. As Yu-jin got older, he outmaneuvered his aunt's mind games. In turn, the aunt took more precautions with Yu-jin at each encounter.
As an older brother, Yu-min was as generous as a hyung (older brother) could be to Yu-jin. But in the face of competition, Yu-min acted cruelly to his younger brother, suggesting Yu-jin could never be as good. Between the brothers, there was a cruel, competitive streak to win over the other. Until Hae-jin came, taking Yu-min's place, and his mother's affections, he had been his mother's only son. Even the exams for law school made little impression on his family.
The second half the of the novel shifts in its dramatic effect as people start coming to ask questions, putting him into a proverbial box. Yu-Jin is now in survival mode. After deceiving the police, who would believe him? He had taken every step like a criminal covering up his tracks.
When Hae-jin comes home, Yu-jin risks his life by telling his brother everything that has happened in the last few days. Hae-jin is shocked and starts beating up Yu-jin. He calms down to say that they must report this to the police, literally dragging Yu-jin to the car.
Author Jeong knows how to keep the tension of a psychological thriller going. This is a marvelous noir exercise, dark and ominous. The character Yu-jin is a disturbing persona whose presence imbues the story with a sense of fear and foreboding. He hears his mother's nagging voice. There is a constant smell of blood, and the anxiety of being exposed. Author Jeong defies the gender stereotype with a fierce, muscular writing style. The Good Son is a thrilling read, and the reader will want to search out her other novels.