Podcast zeroes in on environmental and labor activism | By Martha Vickery (Fall 2019 issue)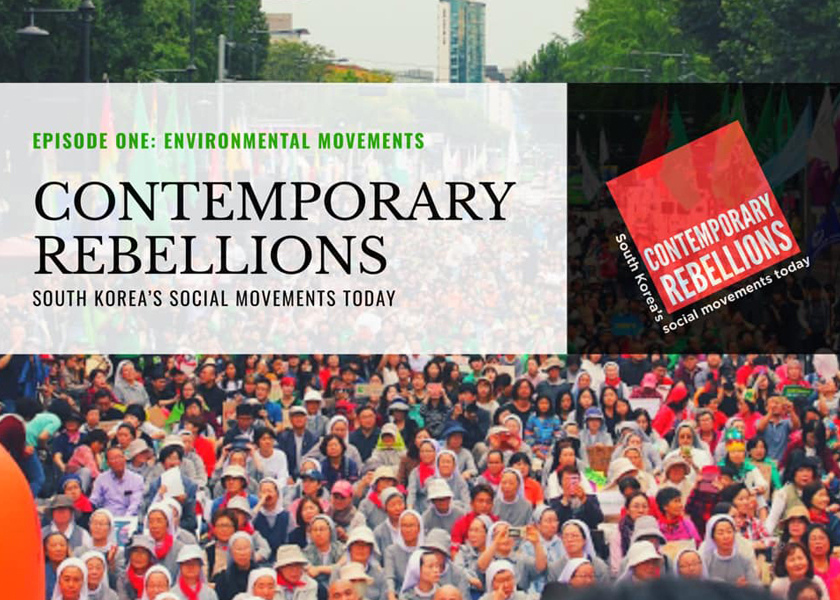 A small group of non-Koreans working in all parts of South Korea's vibrant social advocacy movement have teamed up to produce a podcast that describes the issues important enough to South Koreans that they take it to the streets in protest.
The podcast, Contemporary Revolutions: South Korea's Social Movements Today, was begun by Tom Rainey-Smith, but he had assembled a small team by the time the first segment was produced. The first podcast in the series was about the Global Climate Strike, (held worldwide on September 28, 2019), South Korea's history with respect to environmental issues, and how South Korea recognized entering into a global movement.
Originally from New Zealand, Smith has been working in human rights non-profit organizations in Korea almost since he arrived as an English teacher in 2006. Being an English teacher was just a way to make money in South Korea while learning about the social movements there. He started by organizing and advocating for the English teachers in South Korea. He also worked with some of the mobilizations against U.S. bases in South Korea, specifically the movement against the submarine base in Jeju Island. He also worked with a small organization called Palestine Peace and Solidarity, and finally for Amnesty International, where he still works.
A year-long break for paternity leave helped him carve out some time to work on the podcast as a volunteer project. "I wanted to continue with my interest in social movements and I started looking around …I wanted to draw on the community we have in South Korea, and try to get some of the voices out there."
There has been little information shared in the media about South Korea's social movements over the years, at least not in English, and nothing in a podcast form. "We wanted to share all the work that is being done with the international community, because we hope it can encourage people working on these issues in other countries to reach out to organizations in South Korea," he said.
The result, he hopes, will be cross-border exchange, increased interest in the academic community, and better-quality general information for the public. "South Korea has a very vibrant social movement culture, which is seen as quite militant in many ways, but it is also very diverse, and it's very important to share that."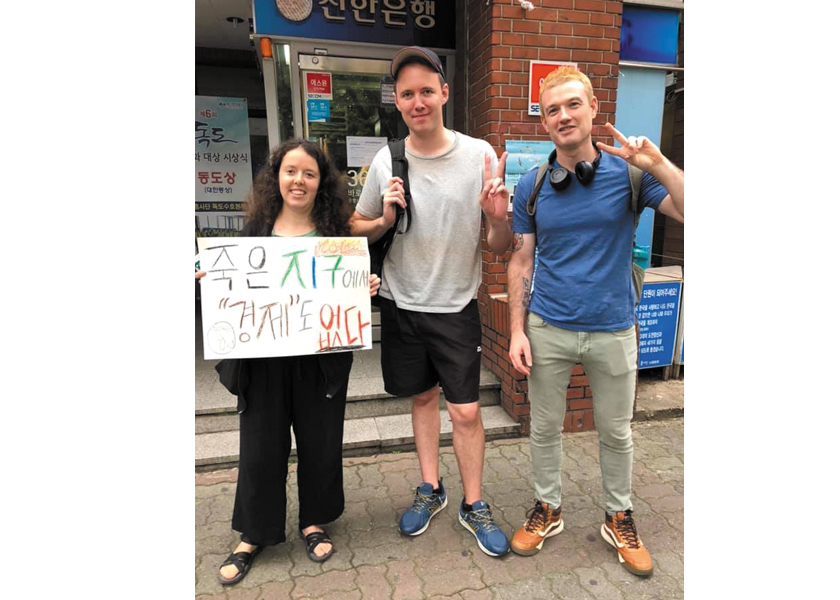 Anastasia Traynin, another team member, traveled from Texas to Korea in 2012 to be an English teacher, and for most of the time has lived in Gwangju (the center of the 1980s pro-democracy movement).  "I came without any plan to stay, but I stayed —- it was because of the social movements here and the interesting people I have met here that made me want to stay on," she said.
Traynin taught in alternative high schools, and worked in a non-profit organization that facilitates relationships with the foreign community in Gwangju. She is earning a Master's degree with a university in Seoul, and heard about the project through Rainey-Smith. Doing the podcast is "our way of showing solidarity, and it's a way to give back as foreigners living in Korea as well," she said.
A third member of the team is Austin Headrick, who does the engineering, photography, and production. He works with a non-profit peace-building institute in Seoul. Five other volunteers have also signed on to contribute to future episodes of Contemporary Rebellions.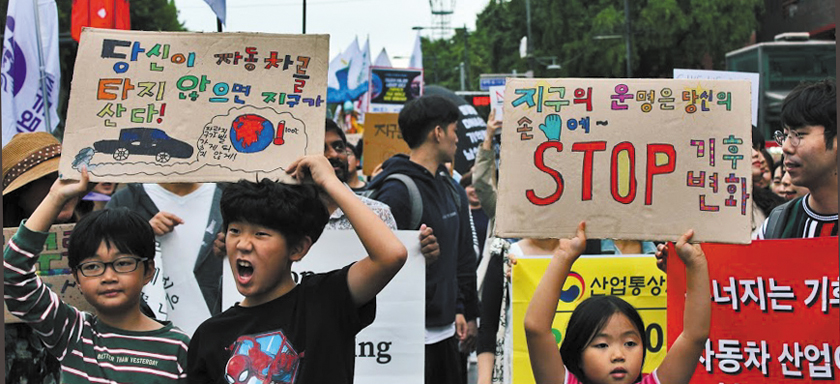 The first podcast (and only one out at this writing) is about Korea's interpretation of the Global Climate Strike. The podcast features an interview with longtime activist Choony Kim, who works with the Korean Federation of Environmental Movements (KFEM). KFEM has 51 local chapters nationwide. The environmental movement is of longstanding in South Korea, but until recently has been limited to local or national movements, such as reducing risks to human health posed by industrial pollution in certain areas.
A global movement to unite on climate change was a new idea for South Korea's climate activists and general population, but South Korea did embrace it. Choony Kim said that, in the future, activist groups must encourage the participation of both farmers and the labor movement to have a united front on climate change.
The obvious effect of industrial pollution on peoples' everyday life is a reminder in Korea that climate change is real and affecting Koreans, Traynin said. There are days when the particulate content of the air in Seoul is at dangerous levels. Some of the pollution is from Chinese factories, and some from coal power plants in Korea. A high concentration of cars in Seoul completes the noxious mix that South Koreans breathe in every day.
Although there was a general school strike in Seoul, as there was in Europe and parts of the U.S, Traynin said "information about the environment is not being taught in schools, and not talked about among students quite as much," because students are constantly studying for college entrance exams, she observed.
In South Korea, Rainey-Smith said, there are few student-based and campus-based social movements. "Whereas in '80s and '90s, students played crucial roles in the democratization movement, now there isn't that level of mobilization, where in the U.S. it is much higher."
The second episode in the Contemporary Rebellions podcast series will be on the labor union movement, which is of longstanding in South Korea. On the day of the interview, Rainey-Smith and Traynin were in the Jongro neighborhood, where a new memorial hall to worker/martyr Tae-il Jeon was dedicated in May. The anniversary of the self-immolation of this labor hero is November 13. Jeon died by setting himself on fire in 1970 in protest of the working conditions of Seoul laborers, especially teen and young adult women in the textile industry during the military dictatorship of Chung-hee Park.
Jeon is an important figure, Traynin said. "He is the single spark that started the modern labor movement, and we will focus on remembering him and seeing how his action and his message reverberates in the labor movement today."
Traynin said that Korea has "some of the world's longest, hardest workers protests since about the '70s." There is an edge to the labor protest, she said. "People don't feel like they have as much to lose, and they feel desperation and feel like they want to come together in unity."
This movement does not include many young people, Traynin explained. There is no time for youth to participate, she said, "because the education system has become so completely rigid. Students study day and night and hardly see their friends and family, they are completely focused on getting jobs, throughout university as well."
There is a reason youth are concerned, she said, as "young people are facing an extremely difficult time finding jobs and setting up families and houses. They call it Hell Choson." This shrinkage of the labor pool and its effect on young people is a part of the labor protest today, even if few younger people are able to represent themselves in it.
Problems in the labor system in Korea have led to general worker dissatisfaction and desperation, Traynin said. Korean companies are allowed to hire many part-time and temporary workers, and families live with the financial instability of such jobs. "There are fewer people with stable well-paid jobs, so that's the market that the younger generation are entering into." Their parents sacrificed for a better society, "but what is the reality? …There is a lot of frustration and disappointment, and many people even want to leave Korea. But hopefully with new developments there is more incentive to stay and fight on the ground for something better," she said.
Rainey-Smith said there are disturbing statistics, such as how South Korea has one of the highest suicide rates overall, and particularly among the young and the very old, and how the birth rate is one of the lowest in the world. In addition, Traynin said, the poverty rate among the elderly is very high, indicating the fracture of the traditional Confucian values of younger taking care of older family members.
The group wants to use local voices and local talent to make the podcast. The first episode ends with a local musician, Seth Mountain, singing Lonely Arirang, a version of the ancient folk song that wistfully describes the Dokdo Islands, a remote group of islets in the East Sea, seemingly immune to pollution, human strife, or any other influence from civilization.
The Contemporary Rebellions podcast is on SoundCloud and ITunes, and it also maintains a Facebook page.