Soondae wins on flavor, texture and creativity in Korean cuisine | Food Column by Mary Lee Vance (Fall 2021 issue)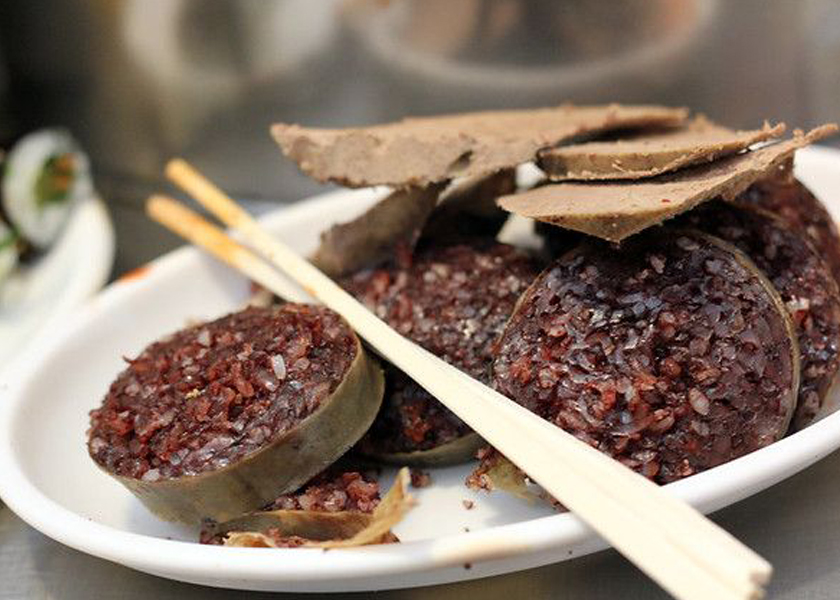 I am usually in the camp of vegetarians and vegans in my food preferences. I am however, also in the foodie camp, ready all the time for an adventure in any kind of ethnic cuisine. So I do occasionally cross over to the carnivorous world for the sake of a food experience.
That's the case with my journey into the world of organ and collagen preparations. The whole collagen thing – collagen being gelled bone broth or blood with other ingredients – is a type of cuisine employed used the world over. It used to be a lot more popular in western culture than it is today, just because food styles change over the years.
I remember how it was pretty standard to have some sort of gelatin dessert when was a child in southern Wisconsin. Sometimes it was a basic Jell-O made from artificial flavors and eye-popping artificial colors. Other times, concoctions with a gelatin base were made into a fancy salad – nothing that we would call salad these days, but the term was more encompassing back then. These "salads" would be a wobbly molded shape with ingredients like cream cheese, Cool Whip, fruits (canned, fresh, frozen or dried), marshmallows and nuts; or in savory style with canned or smoked tunafish or other fish or chicken. I feel like all moms kept their fancy molds, shaped like fish, wreaths, hearts, or round shapes, hanging up on the kitchen wall.
In a (perhaps misguided) spirit of "waste not, want not," there were also some super horrid combinations of Jell-O, calling for chopped hotdogs, sausages, leftover turkey (and stuffing), fish, canned vegetables, pickles and – believe it or not – items like canned soups and SpaghettiO's. So rather than throwing all ingredients together into a baked casserole/hot dish, the frugal cook could instead glue all the leftovers together with gelatin.
Indeed, some food trends are best left in the past.
I never had to eat any of these yuckier versions, but we did occasionally have head cheese, which despite its name contains no cheese. It consists of chopped organ meats, often from the head of a cow or pig, and set into aspic, a fancier version of prepared collagen (gelatin). This type of dish to use up small bits of meat by suspending in gelled bone broth is a very ancient recipe, perhaps the original Jell-O, which actually is meat, not fruit.
I actually rather liked head cheese. It had the same slippery quality as cold hot dogs. I liked the semi-soft, cooked meat texture in meat-flavored gelatin. The fact I was eating meat from an animal head, along with other unmentionable organs, did not bother me.
I was the weird kid in the family who enjoyed fried liver with onions as well as liver sausage sandwiches. Later, as a poor college student, I often bought a pint or more of chicken livers to sauté and curry, and have over rice. Whenever offered, I have enjoyed chitlins (this is chopped large intestine) with collard greens, and the Mexican hangover soup menudo, which is made with tripe (cow's stomach), and several other organ dishes.
I once also tried haggis while in Scotland, a dish made with various chopped organ meats stuffed into a sheep's stomach. I also just as eagerly tried English black pudding (aka blood sausage) while I was in Europe. The Korean sausage, soondae or sundae (pronounced "soon-day," and not the ice cream dessert we know in the U.S.) is very similar to black pudding, only better. Traditionally made with pork or beef blood, soondae is a creation that demonstrates how hungry people are the most creative people. Glutinous rice and cellophane noodles give it texture, and kimchi, soybean paste, perilla, and other ingredients, depending on the region, give it a lively taste.
The best soondae I ever ate was while in South Korea several years ago. I can remember everything except where the place was located. It was a freezing wet day in March, and I was feeling miserably cold. Somehow, my travel companion and I found ourselves in a small butcher shop that had two little tables inside. Initially we thought we would just order a hot drink, but then I saw they served soondae, and it clicked in me that this could be a unique Korean food experience.
The entrée came in a steaming hot bowl with a side of rice and a couple side dishes. As I dipped into the bowl of bubbling soondae guk (soondae in a stew), I realized it was the most flavorful, rich, and delicious soondae I had ever tasted. It was also hot and comforting. After eating it, I felt warmed and energized, ready to face the cold, windy streets again.
Soondae, with its texture derived from sweet rice and sweet potato noodles, also has a spice combination that gives it a unique flavor unlike any American breakfast sausage. It is lighter and fluffier than any other sausage I have had, with a melt-in-your-mouth texture.
It can be served by itself, like an appetizer, or used as an ingredient in other dishes. While soondae has a slight mineral taste, other ingredients that help balance the flavors. In general, it has a mildly sweet flavor without the overwhelming sage and other heavy spices of American breakfast sausages. Given a choice of U.S.-made breakfast sausages or soondae, I would prefer soondae with my eggs and potatoes.
I have never made my own soondae, but I have experimented with prepared kind, adding it to a stir fry, or simply heating it and serving with hot rice, or eating it by itself as a quick snack. Since it is precooked, it doesn't really need much preparation.
When eating soondae by itself, Koreans like a variety of dipping sauces. In restaurants, I have gotten a fancy salt and pepper combination along with it. I have also been served a dipping sauce of crushed pepper, chopped garlic, a touch of sugar and other spices. This provides a nice complementary taste. For an even simpler sauce, a mixture of Korean gochujang (hot pepper paste), or the pepper sauce of your choice (something like Sriracha) with rice vinegar works well.
Making soondae is a little complex, and requires a sausage stuffing device, but there are many YouTube videos demonstrating how to make it. Below is one recipe that provided the most specific directions and seemed the easiest.
Special soondae-making equipment includes a mortar and pestle, cotton string, and a funnel or sausage-stuffing machine. For casing, this recipe requires about three feet of beef or pork intestine or other sausage casing.
Basic Soondae
Ingredients:
Two C. sweet rice
One half of a 12-ounce package of sweet potato starch vermicelli
About 4 garlic cloves
A one-inch knob fresh ginger, grated
1 t. salt
1/2 t. pepper
One T. Korean toasted sesame oil
About one t. sesame seeds, dry toasted
About two scallions, finely chopped
About two C. beef or pork blood
Method:
Soak rice for about 30 minutes. Rinse with cold water until water runs clear. Place rice in rice cooker with 1/4 cup less water than standard cooking instructions call for, OR on the stovetop, place rice in or pot with 3 1/2 cups water. Bring to a boil, then immediately reduce heat to low. Cover and simmer for about 45 minutes. Remove from heat, fluff with fork, and let cool.
Clean the intestine by running slightly warm water through one end and squeezing gently through to the other. Rinse in cold water, then soak in a light saltwater solution (one teaspoon salt per quart of water) for about an hour. Cut into one-foot sections or leave whole as desired. Tie one end of each section closed with cotton string.
To prepare the stuffing, soak noodles in lukewarm water until soft, then rough chop and place in a large mixing bowl Add finely chopped scallion. Crush and grind together sesame seeds, garlic and ginger with mortar and pestle, and add to bowl. Mix in rice and blood, and stir until combined thoroughly.
Using a funnel or sausage stuffing machine, loosely stuff each section. Gently squeeze stuffing through the entire length of the section, taking care not to pack the sausage too tightly or it may split during cooking. Tie off open ends with cotton string.
Place sausage into a pot and completely cover with a saltwater solution (one teaspoon salt per quart of water). Bring to a boil, then reduce heat and simmer uncovered for about 45 minutes. Sausage is done when a toothpick or skewer is inserted and comes out clean.
Cooked sausage imay be served immediately (sliced on a diagonal about 1/8 to 1/4 inch thick), or frozen for later use in other dishes. Before serving, cut off and discard the string tied ends. Serve warm with a small dish of mixed salt and pepper, and one of gochujang. Soondae may also be served ssam (wrapped) style with large leaves (tender cabbage, large looseleaf lettuce, or perilla) ssamjang dipping sauce, and rice.