Chilly soups lift the humidity of a Korean summer | Food Column by Mary Lee Vance (Summer 2019 issue)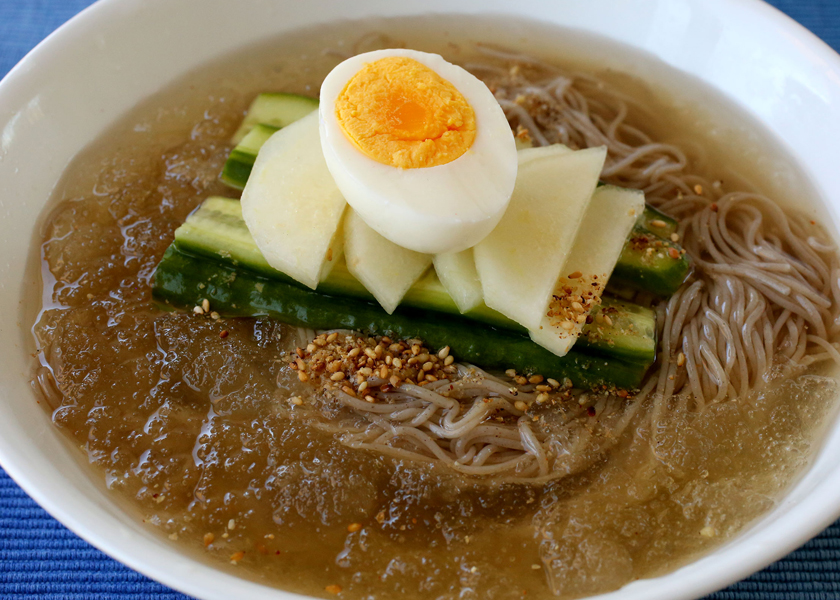 There are some foods that are good cold, and some that are best heated. Growing up in the Midwest, I associated soups with the hot and savory. I particularly remember hot tomato soup (Campbell's), with fresh grilled cheese sandwiches, lots of chili, stews with biscuits, and other hot, liquid concoctions made from scraps of meat and vegetables left to simmer and meld for hours on the stove.
When I began cooking for myself as an adult, I found pleasure in pursuing the perfect broth. I liked the process of slow-cooking bones on the stove with garlic, onions and other flavorful veggies. My latest kitchen gadget is an Instant Pot. Now, it only takes about 90 minutes to make a chicken carcass or other bones into a rich bone broth, which can then be frozen until needed. My current preference is to make and freeze veggie broth in cubes. If I want to make soup and have no homemade broth available, I simply cook all the soup ingredients, and add a bouillon cube with seasonings. Because I need to watch my sodium, I prefer using dried herb mixes for soups, as well as sodium-free Mrs. Dash spice mixes.
When I finally had my first Korean chigae (a substantial stew) brought to my table in a stone bowl bubbling hot, it seemed like the ideal soup because I like soups that are thicker and more like stew. Even when I make ramen, I will generally drain the noodles, and just eat the noodles without the broth.
Probably my favorite soup is samgyetang, an elegant Korean chicken stew made with a whole small chicken, sticky rice, ginger, garlic and dates, decorated with black pepper and green onions, and brought to the table boiling hot. There is a special season to eat samgyetang; it is said to restore one's strength at the end of a hot and humid summer.
My Russian Jewish aunt enriched my food repertoire. She made many Jewish dishes, including borscht, a cold beet soup. Oddly enough, because I loved beets, I would chow down bowl after bowl, without thinking it was a cold soup, because, well, it was called borscht.
I believe I was in college when I came across what would be my second-favorite cold soup. I was at an event where Swedish fruit soup was sold, and I was intrigued. When I got the bowl of what appeared to be stewed fruit, I was a bit baffled by the fact that it was served cold. The food concept was fine, and it had a full and delicious flavor, but calling this cold and sweet food item soup threw me a bit.
I also encountered vichyssoise at a potluck one time, a French cold potato soup. Some years later, I went to a production of the Broadway comedy Nunsense fully enlightened by my experience at the potluck. Otherwise, I don't know if I would have quite understood how the dear little nuns from Hoboken had poisoned anyone with cold potato soup. For me, this soup is ok, but I think I would have preferred it served hot.
I hesitated in trying Korean cold soups because something told me I would not like them as much as Korea's more famous steamy, brothy masterpieces. However, one time in Korea during a very hot August, I found myself in a restaurant with no bilingual person around, and an all-Korean menu. Desperately I went through my mental litany of known Korean dishes I knew to say, but they kept responding that they didn't have any of the choices I identified. Eventually the staff tried to help and suggest some of the things on the menu, and somewhere along the way, I agreed to something.
What I apparently agreed to was mul naengmyeon, a cold noodle soup. I thought I had ordered jajangmyeon, noodles with black beans, which I really love. Jajangmyeon, by the way, is served hot. I was very surprised when a cold bowl of noodles was served to me, with a slab of unappetizing sliced beef on top (I like meat on occasion, and this was not one of those occasions), with ice cubes floating in the cold broth. I was embarrassed and hungry, so I ate the noodles and left everything else behind.
I have eaten leftover spaghetti, fresh out of the fridge, but it is a very different experience eating cold noodles swimming in an icy broth that seems to lack any flavor. It probably needed the extra vinegar and zippy mustard recommended in the recipe below. As I reflect on my gastronomic food adventures of the past, I realize I have actually eaten many different cold soups that I regarded as puddings, sauces or some other food category.
For example, I have had variations of a European cold soup made from cold cucumber, sour cream or yogurt, and dill. The Greek variation of this is tzatziki sauce, often served with gyros. A favorite East Indian dessert is a mango pudding, but the Guyanese make a variation of this mango pudding with coconut and call it soup. Growing up with rhubarb, I loved rhubarb sauces served cold, and in Iceland a similar rhubarb puree with lemon is considered a cold soup.
So, despite my adult recognition that I actually do like quite a few cold soups, I have never acquired a liking for either mul naeng-myeon or bibim naengmyeon, its spicier relative.
However, to do justice to Korea's cold soup tradition, I am including a recipe for mul naengmyeon, one of Korea's great summer dishes. This dish is friendly to experimentation —- adding some different spices, herbs, vegetables, meat or seafood could be a fun improvement.
I prefer making it without the meat or broth, focusing on the noodles and veggies, without the ice. In that variation, it becomes more of a cold noodle salad.
Mul Naengmyeon
Noodles and Toppings
(per bowl, approximate
proportions):
7 oz. dried naengmyeon noodles
(Korean buckwheat noodles)
2 oz. Korean or nashi pear,
peeled, cored, and thinly sliced
1.5 oz. pickled radish (or
dongchimi radish), thinly sliced
1.5 oz. cucumber, julienned
1 hard-boiled egg, halved
(optional) toasted sesame seeds, to garnish
(optional) yellow mustard paste
(optional) white or apple cider
vinegar
Naengmyeon Broth
4 cups water
(optional) 5.5 oz. beef brisket (optional) onion, peeled
0.5 oz. green onion, white part
10 whole black pepper corns
2 C. dongchimi brine (radish
water kimchi brine)
2 T. white or apple cider vinegar
1 T. Korean or pear juice
(from grated pear that is
strained in a dashi pack or
clean muslin cloth)
1 1/2 T. sugar (fine)
1/2 t. fine sea salt
1/4 t. yellow mustard powder
Method:
1. Soak the brisket in a bowl of
water and set aside for 10 minutes
to draw the blood out, and
drain water. Add to a medium
saucepan: Water (4 cups),
brisket, onion, green onion and
black pepper into a medium
pot. Cover with the lid and
boil it over high heat. Skim off
any scum that forms.
Bring to boil, then reduce heat
to medium low. Simmer it
until the brisket is tender and
cooked. (about one hour)
Strain the broth and cool it
down for 30 minutes. (This
should result in about three
cups of broth.)
Cool meat on a plate until it is
safe to touch. Trim any stringy
fat and slice thinly.
2. Combine the beef stock (from
step 1) and the dongchimi brine
in a bowl. Add the vinegar,
pear juice, sugar, salt and mustard
powder to season the
naengmyeon broth. Stir to
mix, and adjust seasonings to
mix, and adjust seasonings to
preference.
It is advisable to make the broth
slightly tangier and sweeter
than your preference, because
once served, the overall taste of
the broth usually gets diluted.
To make a vegan version, use
black mushrooms, or other
mushrooms with richer flavor as
a base for a vegetable broth.
3. Cover the bowl and chill
down in the freezer until lightly
frozen (3 to 4 hours). Alternatively,
you can freeze it overnight and
defrost in the fridge or at room
temperature until the broth is
icy cold and slightly slushy
when served with the noodles.
If necessary, you can shave off
the ice using a fork.
4. Boil the noodles following
package instructions. The noodles
should be cooked well, and the
texture should be bouncy.
Drain cooking water and rinse
noodles under cold running
water a couple of times to cool
down. For a colder dish, add
some ice blocks while cooling
the noodles down.
5. Drain the water quickly and
portion the noodles for serving.
Place a mound of noodles into
each serving bowl.
6. Pour the chilled naengmyeon
broth over the noodles. Top it
up with sliced beef, pickled
radish, cucumber, pear and egg.
Sprinkle some toasted sesame
seeds. Serve immediately with
extra mustard paste and vinegar
for an extra-zingy soup.