Sheltering in place offers opportunities for creative problem solving in the kitchen | Food Column by Mary Lee Vance (Spring 2020 issue)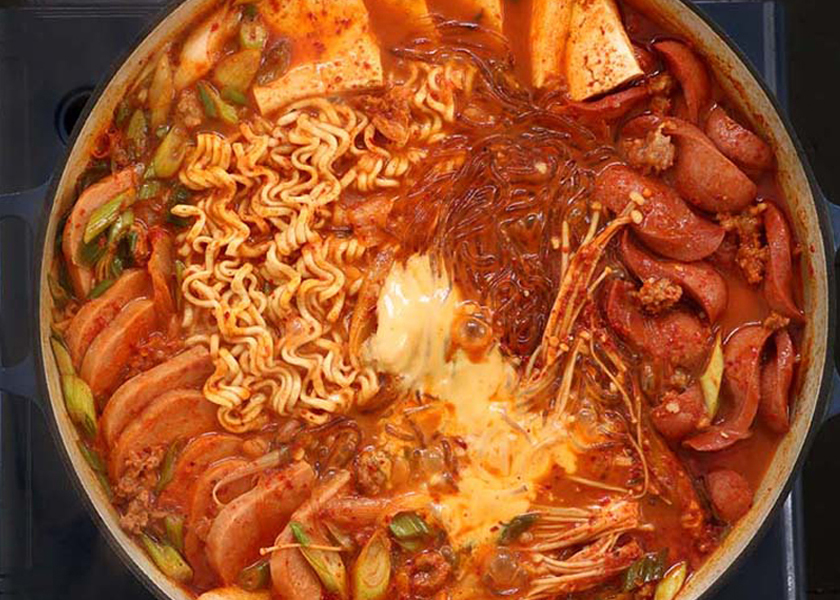 What's in your kitchen right now? Can you recall what you have without actually having to look and see? As a former midwesterner, used to the odd snow days when schools closed, being forced to stay home occasionally is nothing new. What is new with this self-isolation is the unknown duration. Will it be days or weeks, or maybe even months? All we can do is take it a day at a time.
I can tell you right now I have a stockpile of chocolate products. I have Dove candies, KIND bars, Girl Scout cookies with chocolate and peanut butter, baking chocolate, jars of Nutella, chocolate chips and cocoa. In addition I have granola, pancake mixes, oatmeal, flour, sugar, bags of trail mix and fig bars, various forms of pasta, cans of tomatoes, cans of jackfruit, sauerkraut, applesauce, a huge variety of teas from Korea and other countries, hot chocolate mixes, popcorn and a ton of spices including nutritional yeast. Oh, and one can of turkey spam.
As for "international" ingredients, I have 30 pounds of rice (various kinds), several bags of ramen, sweet potato noodles, other noodles, four containers of spicy gochujang, a couple bags of pajeon (Korean veggie pancake) mix, a box of hotteok (sweet pancake) mix, bags of dried fungus, seaweed, sesame seeds (both black and roasted), seasoned seaweed, soy sauce and a can of silkworms (you never know when this will come in handy). I also have a variety of veggies (both fresh and frozen), and other foodstuffs.
Ok —- so what are we supposed to do, sheltering in place for what could be a long time? Well, for one, it's a chance to use up the food we have in the kitchen. My recitation above shows that I m well stocked with a variety of food stuffs, so I can make a lot of things. Not so long ago, I had to travel two or three hours to shop at the nearest Asian grocery store (thus my persistent tendency to stockpile many Asian ingredients, even though I don't need to any more). Also, as an adventurous cook, I always have a wide range of spices, condiments and odd dry ingredients.
Interestingly, one item I could not find recently was yeast for breadmaking. Bread and baking supplies have been wiped off the store shelves. My current baking supplies were acquired long before the pandemic. So, a couple days ago I ordered two pounds of yeast online, the smallest amount still available to purchase, from a name brand I trust. I now have more yeast than I know what to do with, but fortunately it can be frozen. Assuming I can still forage flour and sugar, I will be able to make artisan bread as often as needed for the next several months.
As with most "non-essential" people these days, I have a job that now requires me to work from home. While I have had for years a personal MacBook Air which was totally fine for most of my needs, just today I ordered a MacBook Pro so I can more efficiently access my office desk remotely, conduct Zoom meetings, and have more storage. With a better computer, I don't have any more time to cook now than I did when I was working at the office, because my days at home have now been filled with Zoom meetings.
Like it or not, I can't get tempted by the food trucks and other food businesses on campus any more, so I have been forced to make my own meals and snacks. This is good and bad. On the good side, I can control what I eat. On the bad side, I'm not being very good about eating healthier. I am hoping this is just a transitional phase and at some point I will be more mindful of more healthful eating, and maybe even exercise… one can only dream. I am still cooking, but my cooking has to be squeezed between my Zoom calls, and on some days my cooking schedule has not been easy, with calls scheduled back to back.
Interestingly enough, I recently saw a story of "Depression era" dishes that identified various menu options with limited ingredients. There were many ideas for what to make when you have no eggs or meat or other ingredients. All the choices were fairly mainstream Americana, except for budae jjigae, a Korean-war era stew made with noodles, hot dogs, Spam, and whatever else is around, doused in a spicy broth. It was the only "ethnic" dish identified, the only spicy one, and of course, a bizarre cultural fusion of American military rations and Korean ingenuity during food shortage times.
Which brings us back to the question, what's in your kitchen? You are craving Korean food, but you don't have much time and have limited ingredients —- what to do? If you have vinegar, soy sauce, gochujang (hot pepper paste) red pepper powder, rice, noodles and vegetables then you have the essential ingredients needed to prepare a simple Korean meal.
Since I have ramen (what Korean American cook doesn't have at least rice and noodles?), I will start with budae jjigae. It is said that this stew requires kimchi. Well, I don't have any. It also calls for baked beans and bacon, which I don't have either. On the other hand, I do have gochujang, soy sauce, red peppers, Spam, eggs, veggie dogs, onions and garlic. So, a simple recipe is as follows, and feel free to substitute freely.
Budae Jjigae
Broth:
1 T. gochugaru (Korean red chili pepper flakes). Use more for a spicier stew.
1 t. gochujang (Korean red chili pepper paste)
1 T. soup soy sauce (or regular soy sauce and/or salt to taste)
1 T. minced garlic
1 to 2 T. broth or water
Veggie or chicken boullion
black pepper to taste
Ingredients:
Veggie sausages
Meat optional
Onion
Red pepper
Green onion (I used the tops of my cooking onions that were sprouting)
Whatever else you have in the kitchen that would be good.
add:
1-2 packs instant ramen noodles (preboil a few minutes to tendrize)
Cut all ingredients to bite size and combine all except the ramen in a large pot. Add broth. Cook over medium heat until ingredients are tender; add ramen.
Bibimbap
No meat needed, but the dish should have at least one vegetable, rice, soy sauce, sesame oil, garlic, and sugar (brown sugar is best).
Sauce:
1 T. Soy sauce
1 T. sesame oil
1 t. sugar (brown sugar preferred)
¼ t. minced garlic
Ingredients:
Whatever vegetables you have in the house
Meat optional
Steamed rice
Directions:
Mix sauce and set aside. Slice and chop other ingredients to bite size. Sauté each ingredient separately in oil, lightly season with salt and set aside. If using meat, season and sauté separately. Put rice in bowl and arrange the other ingredients on top of rice. Sprinkle on desired quantity of sauce, mix and enjoy.
One of my favorite dishes when I am feeling under the weather is a variation of a hot and sour soup. This is associated with Chinese restaurants, but Koreans love this soup as well. And again, keep in mind I don't have kimchi to give me the sour flavor, so I need to use vinegar or sauerkraut to give me the tangy sensation.
Broth:
Stock – any kind
Soy sauce
Black vinegar (or any vinegar in a pinch)
Chili sauce, (or gochujang and minced garlic)
1T. cornstarch
Pepper
Pinch of sugar
Ingredients:
Vegetables
Meat (optional)
Tofu (otional)
Egg (optional)
Directions:
Chop vegetables to bite-sized and put in a large pot. Add meat (optional). Cover with stock. Cover and bring to a boil, then uncover and simmer. Mix cornstarch with water and add to the soup to thicken. Add tofu (optional). Add vinegar, chili sauce, pepper to taste. Enjoy!