Beasts of a Little Land ~ By Juhea Kim
(HarperCollins, New York, 2021, ISBN# 978-0-06-309357-7)
Review by Joanne Rhim Lee (Summer 2023)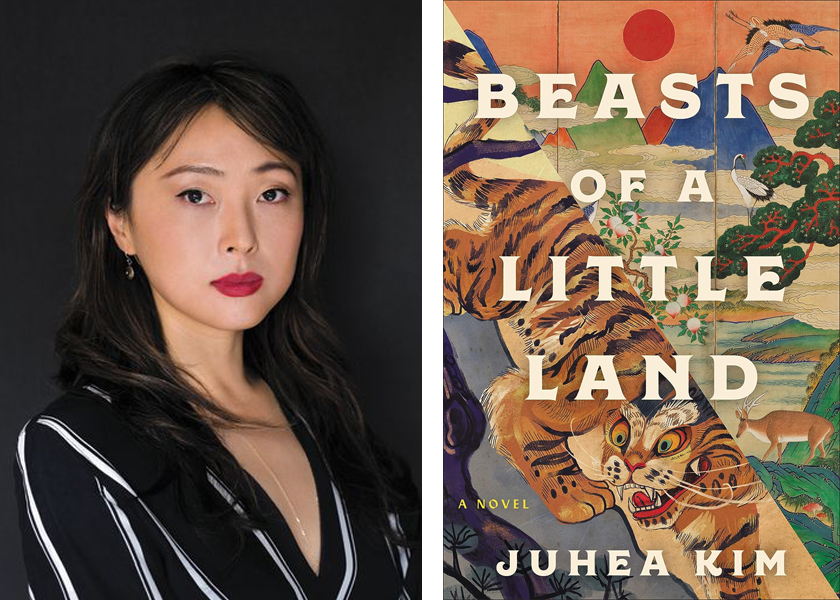 During a bitter snowstorm in 1917, an impoverished Korean widower named KyungSoo Nam hunts for food to feed his starving children. Finding nothing, he lays down in the snow, ready to meet his beloved wife in death. At that moment, he spots a young tiger – a prized species whose hide, bones and meat could be sold to feed his family for several years. Though he is tempted to raise his bow and arrow, he remembers his father's wise words from when he was a child, to never kill a tiger unless it tries to kill you first.
A short time later, a brash young Japanese officer named Captain Yamada stumbles upon the Korean hunter, weak and almost frozen to death.  Yamada and his entourage have lost their way on the mountain in the heavy snowstorm. They reckon that if they help revive this nearly-dead hunter with their provisions, he will be able to guide them out safely.
During their deliberations, the tiger returns, ready to pounce on Yamada. Suddenly alert, Nam steps between them and locks eyes with the tiger, who recognizes his face from their earlier encounter and immediately retreats.
This is the gripping opening scene of Juhea Kim's debut novel, Beasts of a Little Land, a sweeping project spanning five decades of Korean history. After the dramatic prologue that hints at elements of Korean folk tales, Kim dives into an expansive story that includes about a dozen main characters. Jade is a young girl from a poor rural family who joins a courtesan house to help feed her parents and brother. She is taken in by Dani, the house mother and a celebrated courtesan herself, and befriends Lotus and Luna, two sisters who are also being trained as courtesans. Along the way, Jade meets JungHo, an orphaned boy who is part of a street gang, and they begin a decades-long friendship.
Though all of these characters experience joy, sadness, love, and heartbreak, the shadow of Japanese colonization of Korea darkens every aspect of their lives. As the Korean Independence movement begins to grow, Kim introduces us to new characters who are willing to risk everything for freedom.
This epic novel is an ambitious undertaking, and it is clear that Kim has done her homework.  She has apparently researched Japanese colonization, Korean gisaeng (courtesans), the Korean independence movement, the Korean Communist Party, the liberation of Korea, and the arrival of the Americans. She also tackles broader topics such as classism in Korean society and the construct of nation-hood and empires.
In telling this wide-ranging story, Kim experiments with different literary techniques, such as changing from first-person to third-person narration.  She also adds tidbits of worldly wisdom at the beginning of some chapters, before classifying her characters.  For example, "All the men in the world fall under one of two categories.  First – and far more numerous – is the man who discovers at some point in his life that he cannot and will not succeed any further beyond his present state… The second and exceedingly rare type of man is he who never has to give up rising and expanding until the end of his life." 
Because there are so many characters spanning several decades, it might be helpful for readers to draw a diagram of names and relations. As Jade grows from a teenage apprentice to a well-known courtesan and eventually a famous dancer and actress, she stays loyal to her childhood friends, but also meets a cast of new characters.
HanChol is a penniless rickshaw driver who is besotted with Jade, as he drives her home from the theater each night. Later, he goes to night school and makes something of himself, mentored by Sungsoo, who also loves Dani. Meanwhile, an old-money man named Myungbo becomes involved in the Korean Independence Movement and takes Jungho under his wing, sending him on a dangerous mission to Shanghai.
To her credit, Kim does not give in to the temptation to wrap things up nicely, as of course Korean history has never been very neat and clean. There is true and unrequited love, loyalty and betrayal, tragedy and redemption, and ultimately, great beauty in her story. At 400 pages, Beasts of a Little Land is not an easy read, but readers who stick with her will ultimately be rewarded.