When the Weather is Fine explores the blessings and curses of small-town life | By Carl Ackerman (Summer 2023)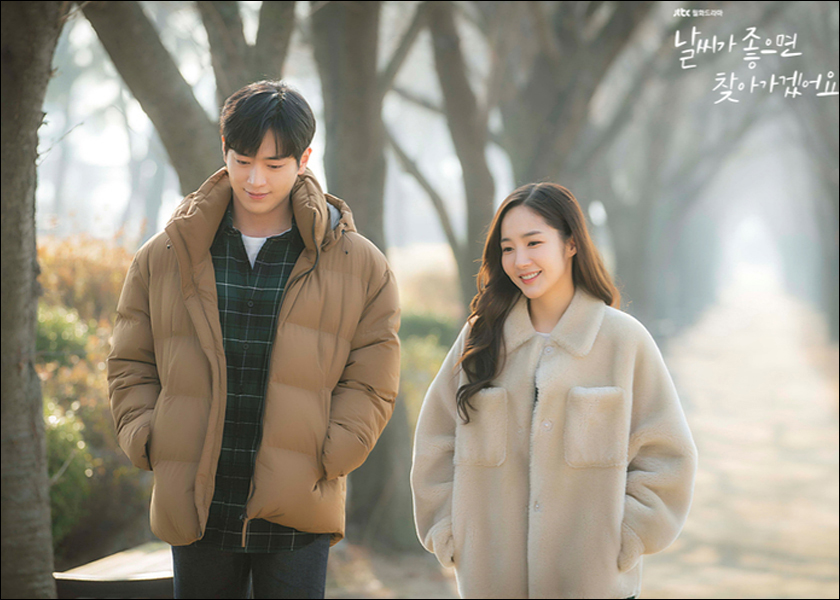 (When the Weather is Fine, 2020, screenwritten by Ga-ram Han, from the novel by Do-woo Lee, directed by Ji-seung Han)
In a refreshing way, the K-drama series When the Weather is Fine is emotionally much like Henry David Thoreau's Walden; both have an underlying theme about the healing qualities of nature. As in Thoreau's famous reflective treatise on living in and with nature, this drama also reflects on the nature's ties with us, in this case, in the setting of a rural farming town. 
When cellist Hae-won Mok (played by Min-young Park) has trouble with her job as a music teacher in Seoul, she returns to Bookhyun Village in Gangwon Province, a small farming community where she went to high school. The landscape features houses in a walkable village, agricultural canals, fields, forests and mountains.  Life seems more straightforward, honest and much slower paced. 
In some of the first cinematic glimpses of the character Hae-won, she carries a suitcase and cello during her move from Seoul to Bookhyun. These moments are skillfully created by the filmmaker; the viewer is immediately on Hae-won's side; we want to help her with her heavy load. Soon, she meets her high school classmate, Eun-seob Im (played by Kang-joon Seo). Eun-seob has stayed in town as the owner/manager of Goodnight Bookstore. He seems to have been waiting for Hae-won's return; his unexplained longing for Hae-won produces the initial magical mystery of the story.  It is one of many plots and sub-plots the audience needs to know to fully understand these two complicated protagonists.
The relationship between Hae-won and Eun-seob drives the action of the series. Even as their relationship develops, they keep it very quiet. They exchange long glances at each other throughout the series. This love story feels very drawn out, and at times it is painstakingly difficult to watch.  One finds oneself blurting out loud, "Eun-seob, just bloody kiss Hae-won — get on with this relationship!"  Still, the anxiety created by the cinematographer and by the screen writer Ga-ram Han reveals the brilliance of this team in their slow reveals as the story is rolled out. Han based the screenplay on a novel by the same name by Do-woo Lee.
Many of the upbeat scenes in When the Weather is Fine are, ironically, inside Eun-seob's Goodnight Bookstore. It is especially ironic because during much of the series, the weather is not fine, but horribly cold. Pipes are freezing in some houses, including Hae-won's aunt's place. The two have to abandon it for a time, as icicles appear inside the house.  This is in contrast to the cozy atmosphere of the bookstore, with its wood fireplace, warm drinks and the fellowship of the reading circles that meet there.  
In the reading circles, participants recall their favorite stories often with humor and sometimes with irreverent skepticism.  We see manager Eun-seob ordering books, receiving new ones, and carefully shelving them in their correct location in the bookstore. Finally, when Eun-seob and Hae-won have established a friendship, which will evolve further as time goes on, Hae-won is taking over many of the bookstore tasks, even answering calls on the antiquated land line telephone. In addition, the care that Eun-seob takes with his coffee preparation is reminiscent of the drama, Would You Like a Cup of Coffee (reviewed in winter 2023 issue). Through his purposeful activities in the bookstore, we infer that Eun-Seob is striving for a simple and orderly life. 
Members of the reading circle include many of the key younger characters in the story. Among them is Eun Seob's little sister Hwi Im (played by Hwan-hee Kim) who has a cheery but obnoxious demeanor. The boys she likes at high school get most of her obtrusive, noisy comments. Young-woo Oh (played by Young-dae Kim), is a male friend of Eun-seob. Young-woo often brags of how he was the top student at their alma mater, Hyecheon High School.
Young-woo provides much of the comic relief in the story with his non-stop and intrusive comments. He is often accompanied by some memorable minor characters, including Hyun Ji Kwan (Ye-jin Chu) who interjects embarrassing remarks at times, aiming most of them at her friend, Im Hwi.  Another older and more eccentric book club member is Geun Sang Bae (played by Tae-hyung Lee) who is generally overly enthusiastic and uses over-the-top sales pitches at his electric light store.
Flashbacks reveal some tragic moments in this otherwise romantic, but philosophical story.  We find out that Eun-seob was adopted by Im Hwi's parents after both his impoverished parents die. He still frequently visits his former home in the dense forest of the mountain that borders Bookhyun. He has a Thoreau-like spirit in his ability to restore a healthy consciousness by being in nature. People in the town consider him to be the guide of the mountain forest near his town, and he has a reputation for finding people who get lost there.
We also find out that Hae-won's mother, Myeong-joo Shim (played by Hee-kyung Jin) is doing prison time for killing her vile and abusive husband. The killing happens after Myeong-joo is beaten bloody by her husband, and, in trying to get away from him runs him over with the family car.  Or so we think. 
Also in the background of When the Weather is Fine is the specter of the troubling past of both protagonists. The lives of the two characters as teens is told throughout the story in flashbacks.  Eun-seop is the son of the mountain man, and everyone knows the story of his bizarre parents, their house in the mountains, and his adoption after his father dies.
Hae-won also has a reputation as the daughter of the woman who murdered her husband.  In high school, both have a target on their backs, particularly Hae-won, who is the new kid in school when, after her mother goes to prison, she moves to Bookhyun to be with her grandmother and aunt. The mean girls talk about Hae-won as though her father and mother's tragic past is her fault, making Hae-won's school experience a misery.
Both Hae-won and Eun-seop reflect in flashbacks on the cruelties and kindnesses of family members and friends in the past. Both have to reconcile with that past in order to move forward with their relationship. We see in Eun-seop's actions his deep feelings for Hae-won going back to their high school days.  Hae-won has feelings for Eun-seop too, but she is in too much pain and turmoil during high school to dwell on them.  It is not until after her return to Bookhyun as an adult that she begins to understand her long relationship with Eun-seop.
In the present day of the story, when Hae-won moves from Seoul to Bookhyun, she goes back to the home she lived in during high school, now owned by her mother's sister, Myeong-yeo Shim (played by Jeong-hee Moon), an accomplished writer who communicates to her own family with a paucity of words, apparently saving them for the pages of her novels. Myeong-yeo owns her deceased mother's house and is ostensibly operating it as a vacation inn, but apparently not too successfully. She is going blind in one eye – one of many issues she never talks about – and is a master of blunt one-liners. In the presence of other people, she wears dark sunglasses, making her stand-offish character even more removed from others.
Myeong-yeo is an unsolved puzzle of this story.  I adored the quirky character of this self-made, troubled, and melancholy writer.  As the story twists and turns, we discover that it was Myeong-yeo's foot on the pedal when Hae-won's father meets his rightful fate. Myeong-yeo had never shared that key detail in the past. Hae-won believes the conventional version settled on by the court – that the wife killed the husband. However, in the course of the story, when pushed forward in her relationship with her niece, and due to her powerful love for her sister and niece, she tells the truth, which is a catalyst for healing the relationship between daughter and mother, as well as between aunt and niece.
When the Weather is Fine begins in the winter, when things are frozen in place and nothing changes. It ends in the spring, when nature thaws out, and gives way to a vibrant and dynamic season of growth.
With that blooming comes important new healing among the friends and families of Eun-Seop and Hae-won, and a deepening of their relationship with one another. Ties are mended, characters own up to their own pasts, and some very hard truths are told. This is a soul-searching and exquisitely-told drama. Best of all, Hae-won and Eun-seob eventually have their spring love.