Documentary features Japanese history revisionists with Korean 'comfort women' supporters | By Joanne Rhim Lee and Martha Vickery (Fall 2019 issue)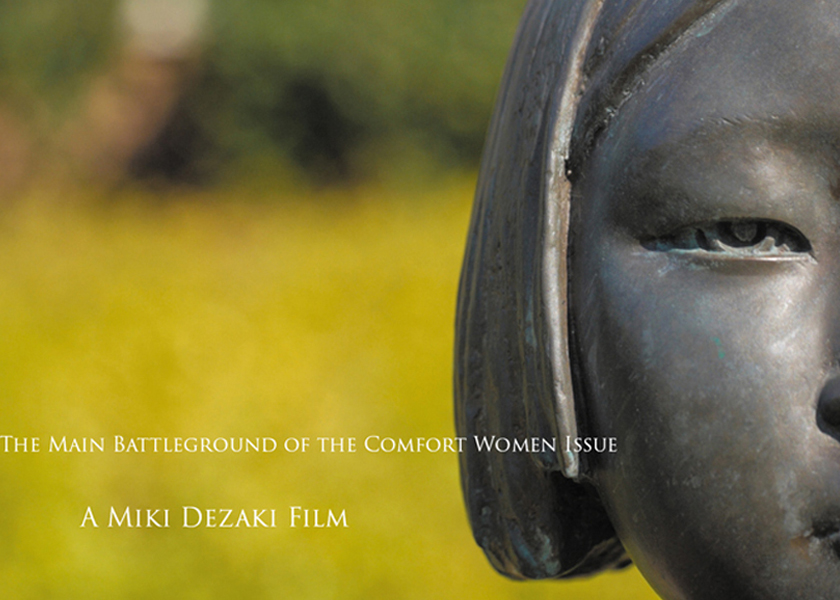 A first-time documentary film-maker, Miki Dezaki, who started out making a film as part of a required research project for graduate school, has now toured Japan, South Korea, and the U.S. with his controversial documentary film about Japanese history revisionism and the history of the comfort women.
The surviving comfort women, a dwindling group of elderly former military sexual slaves, forced into prostitution for the Japanese Imperial Army before and during World War II, are the living proof of the war crimes Japan has yet to recognize officially and apologize for. How their story is viewed, in Japan and in South Korea, is central to this film.
The film, Shusenjo: The Main Battleground of the Comfort Women Issue, was chosen for the prestigious Busan Film Festival in 2018. This year, it opened in Japan in April, and in South Korea in July. Unique because of the many frank interviews of right-wing neo-nationalist advocates, Shusenjo was greeted with outrage by the right-wing in Japan, so much so that the Japanese American filmmaker Miki Dezaki, decided to wear a mask when out in public in Japan so he will not be recognized. "Fortunately, in Japan, wearing a mask is not so abnormal!" he said.
Overall, the response to the film in Japan was positive, according to a news report by the Korean (English language) network Arirang TV. However, there are now five separate lawsuits filed against Dezaki by the film interviewees, according to Arirang reporting. Screenings in Japan were well-attended, despite statements from right-wing organizations telling people not to go. There was also enthusiastic press coverage about the film in South Korea, and audiences were full.
Dezaki's film was screened once at the University of Minnesota, Minneapolis, on October 2, as part of a coast-to-coast series of 15 screenings at U.S. universities that ended October 11. Dezaki accompanied his film, attended the screenings and answered audience questions at colleges and universities from Vermont to California.
Because the film was picked up by a distributor and has been accepted at numerous film festivals, there will be other chances to see this unique documentary which presents in depth the Japanese right-wing view of the issue compared with the view of South Korean supporters of the comfort women.
The issue of the comfort women is perhaps the best-known World War II human rights issue among many such issues between Korea and Japan stemming from Japan's brutal occupation of Korea and other countries prior to and during World War II. Korea was occupied by the Japanese in 1910 and the occupation lasted until the end of World War II in 1945.
The Japanese government set up military-run brothels for its soldiers in battlefront areas, and coerced or kidnapped women to supply sexual services to the soldiers. Many women were executed or died while they were imprisoned in the brothels, known as comfort stations. Others were abandoned at the end of the war and had to find their way back to Korea. Most hid their past from even their own families, until the early 1990s, when denials by Japan about their existence prompted many to go public. The total number of women, from many Pacific Rim countries invaded by the Japanese, is unknown, but it is estimated as high as 200,000. It has also been estimated that about 80 percent of the comfort women were Korean.
Since the end of World War II, Japan's government has been nationalistic and conservative. It has not admitted in any official way its history of imperial aggression against other Asian nations. Over time, right-wing neo-nationalistic groups have emerged within Japan, loudly denying Japan's history of war crimes in Korea, China, the Philippines, Indonesia and other countries. The film's portrayal of the neo-nationalist groups in Japan today is what makes it unique.
Dezaki said he was "shocked" at how well the film did. "I think Japanese people were ready for a film like this," he said. While filming it in Japan, he said he was "low key" about what he was doing and undecided as to what kind of film it would be. During the researching and filming phase, he said, he still was uncertain what kind of an audience the finished product would attract.
Although there have been accusations that Dezaki misled the Japanese interviewees, the filmmaker maintains that he presented a release for everyone interviewed that included the possibility that the film could be released commercially.
The film is a series of interviews, beginning with the revisionist groups. His first interviewee is Tony Marano, also known as "Texas Daddy." Marano, an American, gained a following in Japan after posting videos on the internet about whaling in Japan. Another prominent figure in the film is Kent Gilbert, an American actor, attorney and frequent commentator of foreign issues who also has gained a celebrity following in Japan for his conservative views.
In a voiceover narration, Dezaki explains that both Marano and Gilbert, both white men, were recruited by Japanese right-wing activists to be spokesmen for the Korean comfort women issue. Marano has a Japanese agent, Shunichi Fujiki, also known as "Shun Ferguson," who directs his internet videos. Why do the Japanese neo-nationalists feel that they need white male spokesmen to give voice to their cause? (Dezaki rhetorically asks).
In addition to these two non-Japanese men, Dezaki also interviews several Japanese neo-nationalists, also referred to as "revisionists" or "denialists." This group's contention is that the Korean comfort women were not sex slaves, but mere prostitutes, since records show that many were paid for their services and were able to move about freely. This group's apparent definition of a sex slave is one of a more traditional slave, i.e., someone chained up in a dungeon, under total control of a master. Beyond the comfort women issue, many of these revisionists deny other Japanese war crimes and atrocities, including the Nanking Massacre, claiming that these never took place or were greatly exaggerated.
The film includes other arguments cited by the revisionists, including inconsistencies in individual comfort women's stories, and that the estimated total number of women —- 200,000 —- who were drafted and forcibly held by the Japanese is too high. Revisionists pounce on these details as evidence that the whole history is untrue; defenders of the former comfort women advise that it is better for activists to focus on the truth of the history, and the fact that the Japanese government should simply acknowledge it and apologize.
Dezaki alternates interviews with the revisionists and the advocates for the comfort women's cause. In one particularly powerful interview, Seiji Yoshida, a former Japanese soldier, acknowledges the use of Korean comfort women and admits to pulling Korean women out of their homes and capturing them for the purpose of sexual slavery. Other supporters are reporter Takashi Uemura and professor Setsu Kobayashi, who have been violently threatened and have had their family members bullied, but are willing to die for the cause. Etsuro Totsuka, a human rights lawyer, is also quoted; he was the first to use the term "sex slave."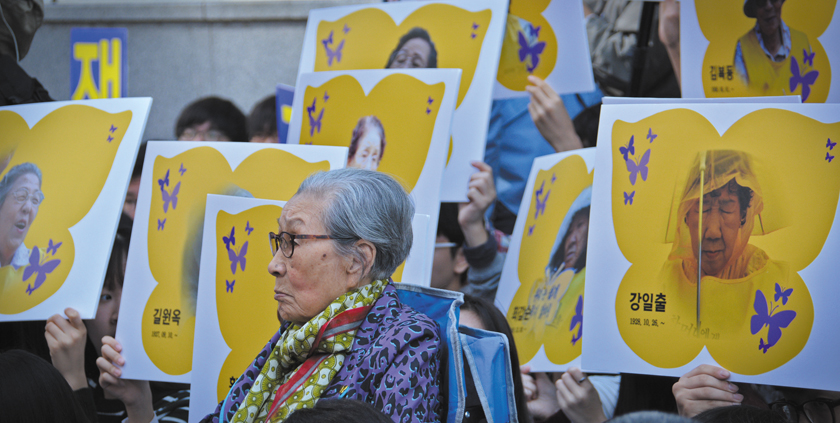 Of course, the most powerful voices are those of the surviving Korean former comfort women. Every Wednesday, across the street from the Japanese Embassy in Seoul, the surviving former comfort women and their supporters gather to demand that the Japanese government acknowledge the existence of the comfort women and apologize. There is moving footage of these protests and of some of the former comfort women, who are now in their late 80s and early 90s, tearfully sharing their stories.
The film also has a significant American segment, including a controversy in San Francisco over the comfort women statue established there. The film summarizes the heated debate, including many Californian legislators who argued on both sides. Some Japanese Americans testified that as a result of a replica of the original Seoul statue which was installed in Glendale, California, Korean American kids were bullying Japanese American kids. This was refuted and shown to be absolutely false by police in Glendale —- not a single child was bullied.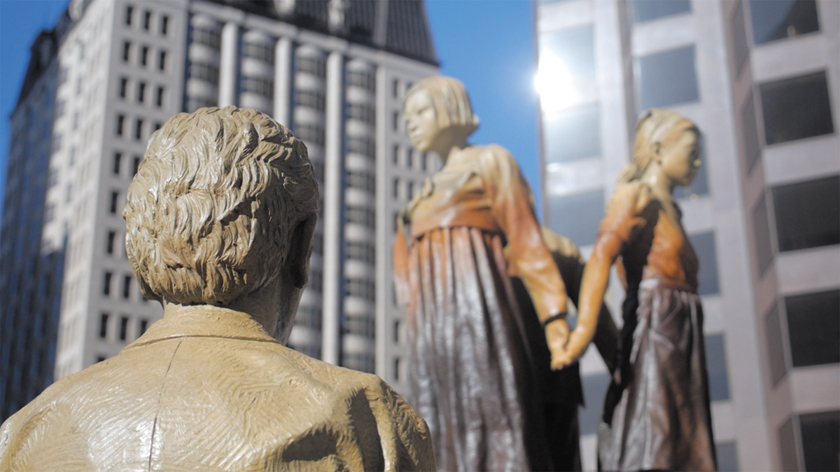 While some of these figures/interviews seem to be completely outlandish, especially Tony Marano and Kent Gilbert, the most disturbing figure in the film is Japanese Prime Minister Shinzo Abe. He is part of the conservative history textbook movement (a textbook devised for Japanese public schools which reportedly omits the history of the comfort women).
Abe has claimed that there was "no coercive recruitment" of Korean women by Japanese soldiers. Footage in the film shows Abe visiting the Yasukuni Shrine in Tokyo in December 2013, which honors those Japanese who died in its war, and includes the enshrinement of notorious World War II war criminals. He was severely rebuked in 2013 by the U.S. Ambassador to Japan Caroline Kennedy. One interviewee said his visit was like "the German Chancellor visiting Adolf Hitler's tomb."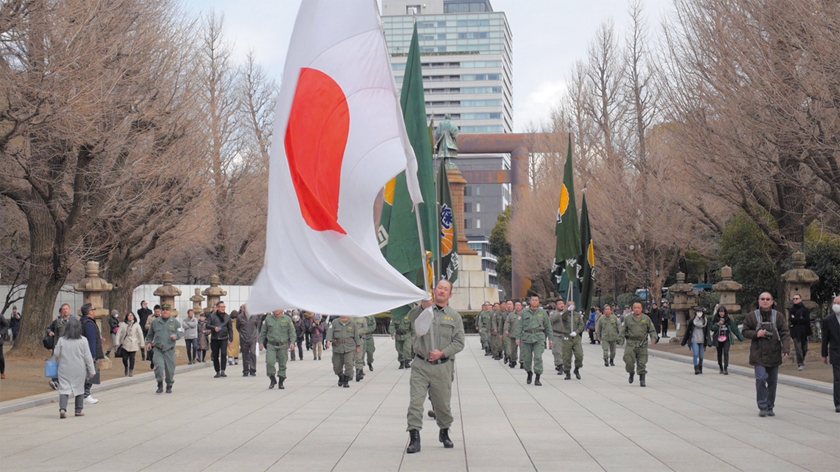 Dezaki said he thinks the film is important for both Koreans and Japanese. His goal for the film, he said was to "bring context" to the issue. He found, during his research and filming phase, that "whether or not there were 200,000 women, whether or not they were prostitutes or sex slaves, and they argue with each other all the time about it, but they were curious as to what an American might think about it."
In terms of the Korean audience, he said, "I think a lot of Koreans know about the comfort women issue," however, he said "the media doesn't really give them the full picture and I think they appreciated knowing why Japanese people think the way they do." The Korean activists were more cautious than the Japanese when Dezaki inquired about interviews, he said. He theorizes that it is because these activists have often been attacked for their views.
Dezaki, who is from South Florida, attended university for one year in Japan, and later taught English there for five years. He said he has observed that the "mainstream narrative is definitely right wing," in Japan, he said. "I wouldn't say Japanese people are all right wing," but they do hear a lot of news and opinion from a conservative perspective, he said The media plays it safe there, he said, for fear of retaliation by the vocal right wing. "So, people who don't know much about this issue, even people from the center-left, will tend to believe the right-wing arguments on this because they trust the news."
He gives as an example his own Japanese American mother, whose views are neither left nor right, but who sometimes surprises him with comments that sound like right-wing talking points, "and when I ask her how she knew about it, she would say 'oh, I just read an article on-line,'" he said. He encountered this mindset often, particularly among middle-age and older people in Japan.
As a person with a master's in global studies, Dezaki noticed another interesting characteristic of people in Japan. "They don't talk about history very much," he said. "I just felt that if you don't talk about it, you don't know about it. And, the media is not talking about it either."
This gap in information and understanding between Japan and Korea on this issue is what fascinated him about the perception of the comfort women history. "I thought that if I gave context to the issue, maybe people could move away from racist ideas of each other." When the media is giving only partial information, he said, people will "fall back and fill in the blanks with racist ideas."
Another strength of the film, he said, is showing that not all supporters of the former comfort women are Korean —- there are Japanese civil groups and academics who support and advocate for the cause, notably Japanese historian Yoshimi Yoshiaki, who first established, through military records, that the Japanese military invented and administered the system of sexual slavery.
The film strongly suggests that this is not just an issue of Japan versus Korea. "I have been hearing that for Korean viewers, it is the first time they have seen Japanese people supporting the comfort women. That takes away the whole idea that it is a battle between Japan and Korea. For Japanese people, I think that many haven't even heard about the issue, and if they have, they've only heard the right-wing argument. If they hear the left-wing arguments for the first time, that would be a big win for me. It is important to me that both Japanese and Korean people see this film and are challenged by it."
In retrospect, Dezaki realizes he was uniquely qualified to gain access to people's opinions on both sides of the issue. His American upbringing shielded him from being prejudged by both sides. "My status as a Japanese American male gave me opportunities and privileges to be able to interview certain people. On the Korean side, I don't think people would have been willing to interview if I had been only Japanese; and people on the Japanese side would not have done it if I was only Korean."
Particularly in Japan, it also helped greatly to not be female, he said "because they are kind of misogynistic and maybe would have felt that a female can't rationally understand this issue." This is not true of all Japanese men, he said, but it is prevalent among conservative nationalist men, many of whom are older.
Shusenjo played to enthusiastic audiences across universities in the U.S. in September and October. "Japanese groups are not happy with me showing the film here," Dezaki said. I try to stay off Twitter recently," he said. Japanese right-wingers who are not happy about the film have actually sent emails to professors [in the U.S.] telling them that I was unethical. They have tried to discredit the film and persuade them not to show the film. But I think professors are used to things like that, and don't pay much attention to it."
In the U.S., Dezaki said he has encountered some viewers for whom the film is the first time they have heard of this issue. One woman at New York University told him she attended at the recommendation of a professor, and she was shocked and surprised she had not heard about the issue before, and she was glad she saw the film. "Those kinds of comments are really nice to hear."
The filmmaker's wish that the film would bring people together who once thought they were on opposite sides may be gradually coming true. In July, a Tokyo University group asked South Korean university students to travel to Tokyo to watch the film together and have a discussion afterwards, according to Arirang News.
A June 8 Japan Times, English edition reported that "screenings at the venue in Tokyo, where it has been playing since April 20 have frequently sold out, thus attracting the attention of the media, which tends to avoid the issue of comfort women."
And more recently, on October 6, towards the end of the film's U.S. tour, after postings of many well-attended screenings, the filmmaker commented on his Twitter feed, "Had a great community screening in LA with Japanese and Korean Americans watching the film together in a church."
The film's website, with a trailer and future screenings, is: www.shusenjo.com