19 Korean women golfers compete at Hazeltine with elite athletes from around the world | By Phillip Lee (Summer 2019 issue)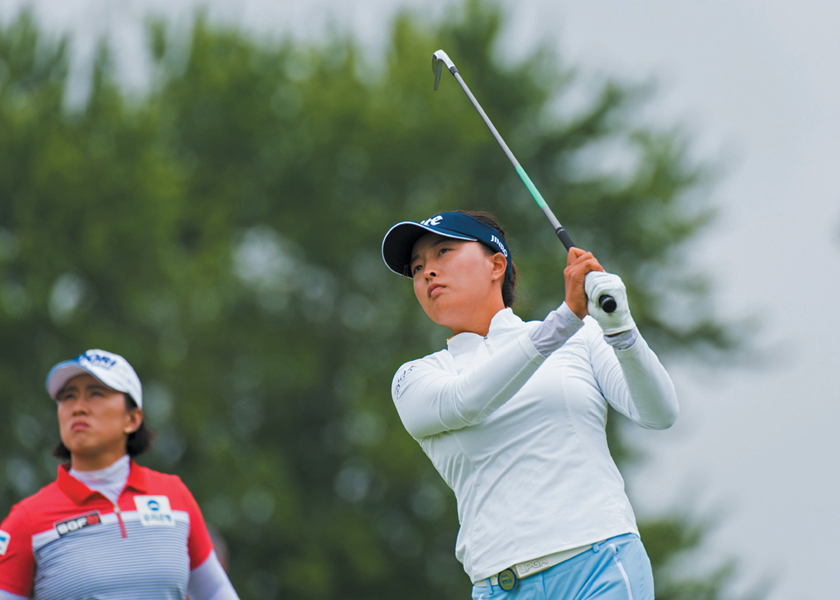 On June 20, 2019, the best women golfers from around the world began their quest in Minnesota for the latest of the major golf championships held at Hazeltine National Golf Club. This club has been site of two Men's U.S. Opens, two Professional Golf Association (PGA) Championships and a Ryder Cup in 2016.
This year, the championship field was comprised of 156 women, including 19 Korean nationals and 16 players of Korean descent representing the U.S., Australia and New Zealand.
In 2008, the U.S. Women's Open was held at the nearby Interlachen Country Club, where then- 19-year-old Inbee Park won her first of seven majors and 19 Ladies' Professional Golf Association (LPGA) tournaments. She was the LPGA player of the year in 2013 and joined the LPGA Hall of Fame in 2016. She stayed in contention for most of the championship this year, but fell a few shots short and finished seventh.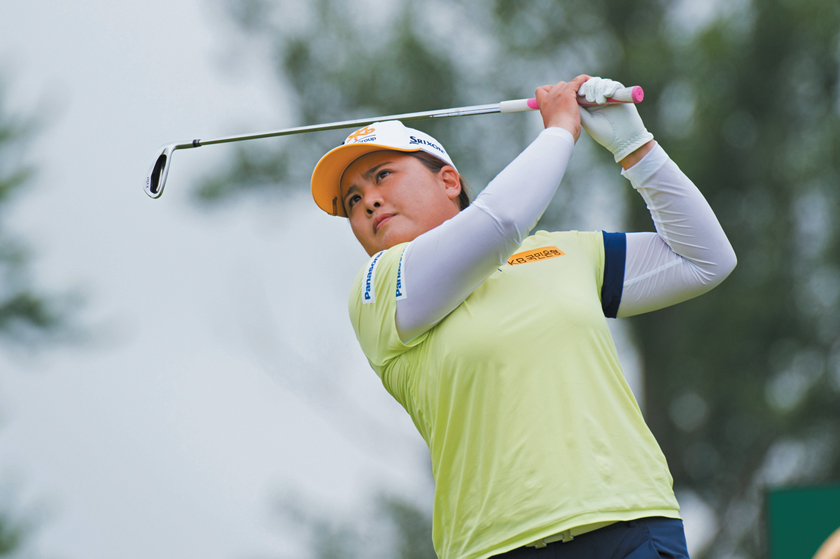 Reflecting on her return to Minneapolis 11 years after her last victory here, Park said, "lots of stories I can think of coming to Minnesota area again and I was really pleased with so many people still remembering me. Eleven years it's been, but so many out here, rooting for me. I was really happy with that. Got really good vibes from them."
At age 31, Inbee is considered one of the stateswomen of Korean golfers on tour. She was inspired by Se Ri Pak's 1998 victory at the U.S. Open when she became the youngest women ever to win this major championship. Her win vaulted the sport of golf in Korea, and conferred celebrity status to Inbee. Now many of Korean players look up to Inbee as a role model to inspire the next generation of Korean golfers on the LPGA tour.
2008 was also a pivotal year in LPGA history. With half of the players coming from outside the U.S. and 45 of the 220 members on the tour coming from South Korea, there were a lot of racial tensions regarding the image of the LPGA tour. The then-Commissioner of the LPGA, Carolyn Bivens, established a new rule that any foreign-born player on the tour for two years who couldn't give an interview in English without a translator would be suspended from the tour.
The response to this decision included a public outcry from the (usually passive) Korean American community. This included a threat of a legislative bill authored by a Korean American State Senator to ban LPGA from holding tournaments in California for discriminatory policies, as well as major corporations pulling their sponsorship which ended seven tournaments. The English proficiency policy was speedily rescinded, and Commissioner Bivens was forced to resign the following year.
While the policy changed, the sentiment that emerged from it may have had a longer-lasting impact on Korean golfers on the tour. While a large contingent of Korean golfers come to the U.S. for this major championship, the weekly tour membership of Korean golfers has decreased in recent years.
One can speculate that even the tournaments and courses are being set up to make it harder for Korean players to succeed. Hazeltine National Golf Course was set up to be the longest course in the history of LPGA major tournament courses. Korean players tend to be more precise golfers, rather than long drivers. Additionally, the wind and the rain that plagued much of the tournament added a much greater challenge for the shorter drivers from Korea. The long-hitting Sung Hyun Park was the only Korean golfer finishing in the top five at this year's tournament.
When you look at the success of Korean golfers on the LPGA tour, many have surmised that their approach of perfecting their swing through methodical repetition contributes to their success, similar to the skills needed to master a musical instrument. This style-perfecting technique allows them to repeat the same swing under pressure. Historically, LPGA tournament courses were shorter in distance, so precision was more important than distance. In 2018, only four of the top 10 players in the year-end ranking were also in the top 10 longest drive list.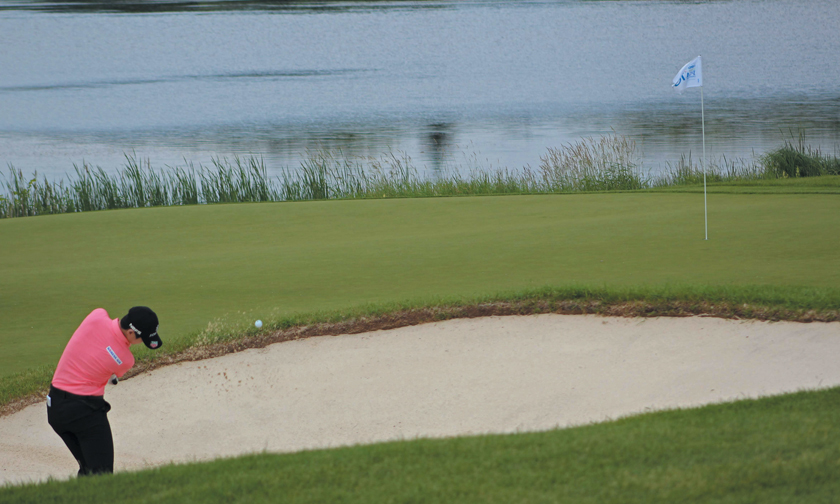 Players to get to know
One player, Jeong Eun Lee6, certainly seems to have a typo in her last name. The "6" is there for a reason —- when she joined the Korean LPGA Tour, there were five others with the same name on the tour, so they added the 6 to give her a unique identity. After winning the 2019 U.S. Women's Open and the first seven-figure prize money on tour history, she can let her game distinguish her from the other Jeong Euns. She finished tied for 30th place at this year's championship.
Michelle Wie, arguably the best-known woman golfer in the world was on hand to compete for the first time after a break from competition to help her body recover from numerous injuries, most recently her wrist surgery. Wie played her first LPGA tournament when she was only 13 years old, and in terms of her future potential, was often compared to Tiger Woods. Her various injuries kept her from reaching her full potential, even though through all of her injuries, she has still won five tournaments and a U.S. Women's Open in 2014.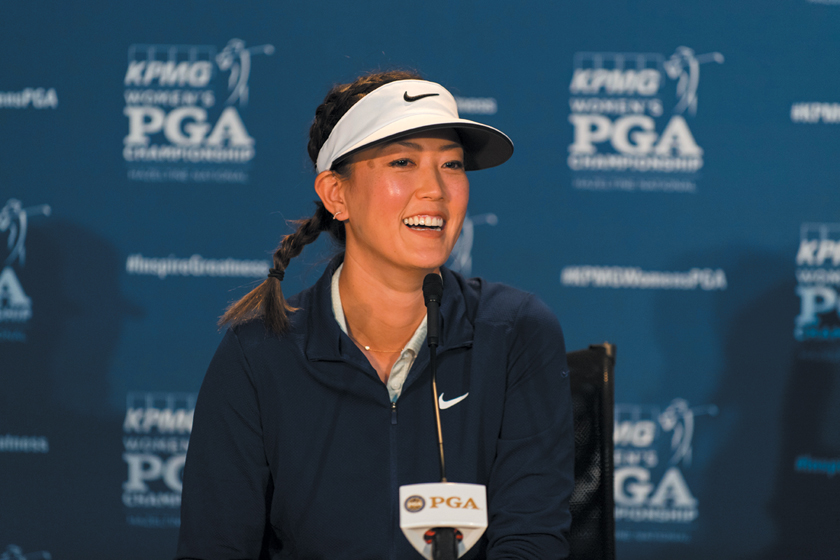 Unfortunately, Wie did not have the triumphant return she had hoped for and missed the cut after two very difficult rounds. "It was kind of a little foolish to think that I would shoot really well, just starting to hit golf balls last week," said Wie. "It's a tough golf course, but I'm really, really happy that I played. Just feeling a lot of joy just being out there and competing again."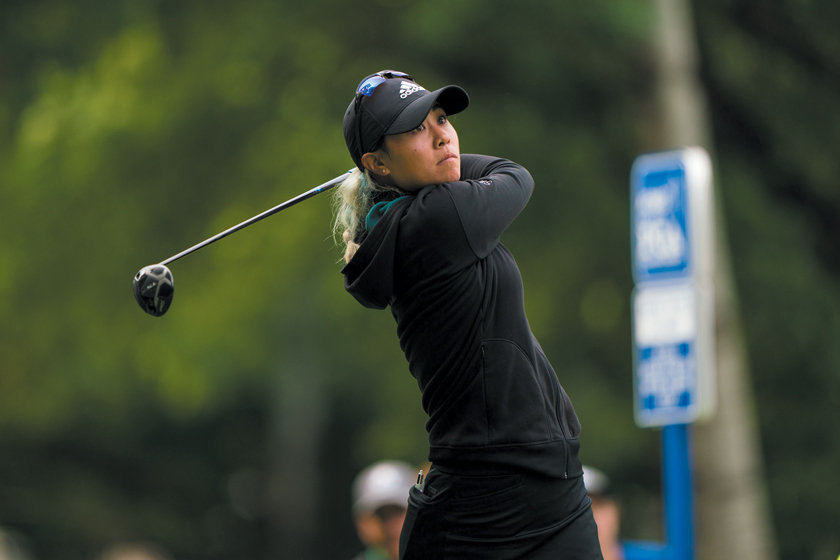 Danielle Kang was born in San Francisco and grew up in southern California playing golf through the Southern California PGA Junior Tour. She qualified for her first U.S. Women's Open when she was 14. She became the first woman to win the U.S. Women's Amateur Open in back-to-back years in 2010 and 2011. She turned pro after her second win. Danielle went on to win the 2017 WPGA Open. She came to Hazeltine with high hopes to repeat her win from two years ago. "I had a really hot start. My game feels really good this week and I stayed very aggressive," said Kang. She finished with a strong final round that helped her place in a tie for fifth place.
Jin Young Ko started golfing when she was seven in Seoul and was a 10-time winner in the Korean LPGA tour prior to joining the LPGA in 2018. She became the first woman player in 67 years to win in the first tournament she played on the LPGA tour. She has won four tournaments and one major since joining the tour and is currently ranked as the top woman golfer in the world.
With her consistent play week to week, she is in contention to win at every tournament. There was a lot of pressure coming into the Women's PGA Championship as the top player in the world. Asked how she handles so many people asking her about being Number One, she replied, "I don't know, I'm always praying to God and enjoying it." The pressure and the weather impacted Ko, as she shot a score of five over-par on the first day, which lowered her chances to make the cut. She came back the next day and shot 5 under, lowest round of the tournament and put herself in position to be in contention. She finished in 14th place.
Sung Hyun Park has been the Number One player in the world, a U.S. Women's Open champion, WPGA Champion, Rookie of the Year and the Player of the Year. Not bad for someone who has been on tour for less than two years.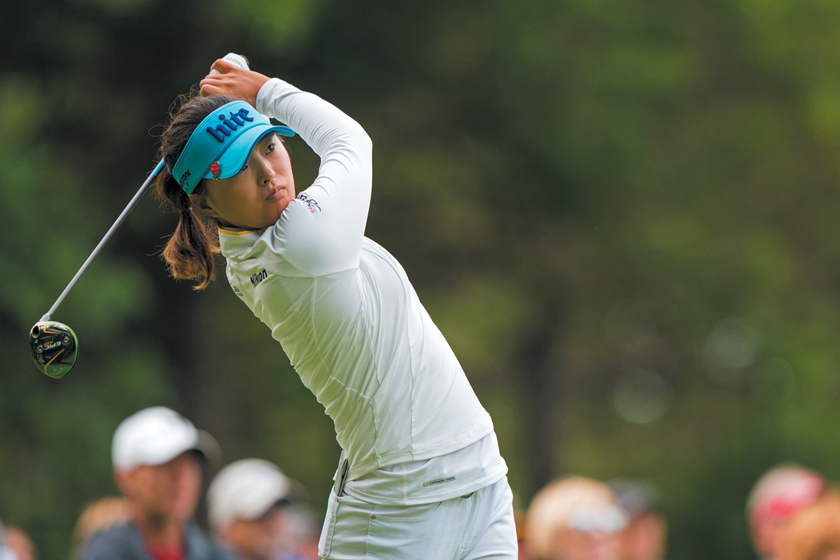 Park has a fan club called "Namdalla" (translates from Korean as "I'm different"). She definitely had a non-traditional path to the ultimate golf tour for women around the world. While many of the Korean players come from wealthy families able to afford the best coaches and the very expensive golf fees in Korea, Park comes from a middle-class blue-collar family. Her mom took her to a driving range when she was seven, and had her hit balls. She fell in love with the game, and would go to the range every day after school to practice. Her family struggled to pay for her golf, but they knew that her success would be worth it and it would help the family get financial stability. The pressure was on.
Sung Hyun Park had a coach early in her life who made an impact on her, who was also a mentor and a friend. While Sung Hyun has gone without a coach for long stretches in her career, as she likes to perfect her own swing, she stayed in contact with her first coach, Song Ju Park. He still comes to the U.S. for major championships to help and give her advice.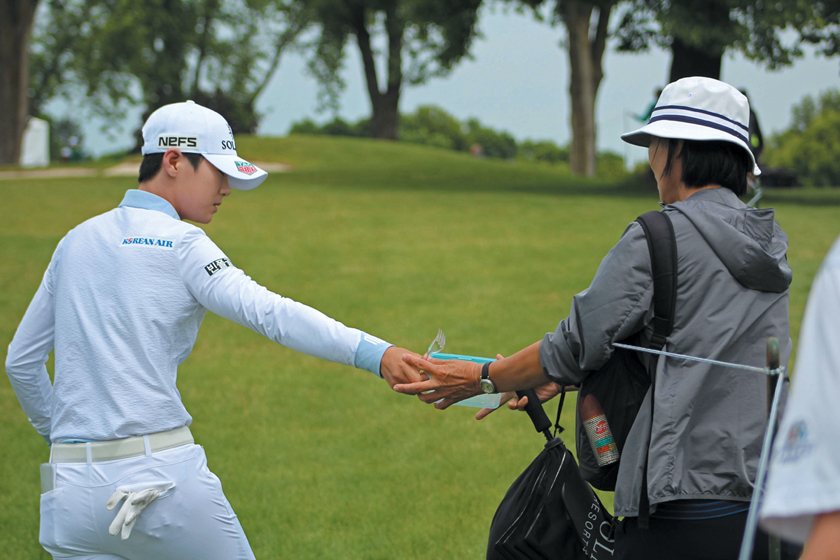 Her mother Keum Ja Lee, has accompanied her daughter since the first day she took her to the driving range. Lee still travels with her daughter on the tour. This is a greater sacrifice than most, as her husband and second daughter remains back in Korea. Having her mother's support and presence means that Park can travel for longer periods, making her family and nation proud. Watching Sung Hyun Park pass the Tupperware to her mom as she walked down the ninth fairway at Hazeltine reminds us that when your mom is nearby, so is her home cooking that provides comfort and familiarity in a foreign land.
Park finished just a shot behind in second place at the 2019 WPGA, as Hannah Greene from Australia made a touchy putt on the last hole of the tournament to secure her first major victory. Park was as close as one shot behind in defending her title from the 2018 championship.
As Sung Hyun Park's fan club continues grow and show up in large numbers to her tournaments, I have a feeling that she will be leaving Minnesota with a lot of new Namdallas.
Maybe it was the weather, but it was surprising to see how low the attendance was at Hazeltine compared to the last major that was in Minneapolis. While LPGA tries to improve its brand and popularity, they have to be intentional in supporting and marketing the success of their athletes, regardless of the ethnicities of those athletes. I hope that the next time Minnesota hosts a major tournament we'll see the fairway lined with fans appreciating the skills of players who have dedicated their lives to perform at the highest level. Congratulations to all of the Korean golfers who competed this week. Regardless of the outcome on the course, you're setting the course for the next generation of young golfers around the world. Kamsahamnida! (Thank you!)