Rep. Andy Kim's tight race in 2018 may be a repeat in this New Jersey swing district | By Martha Vickery (Summer 2020 issue)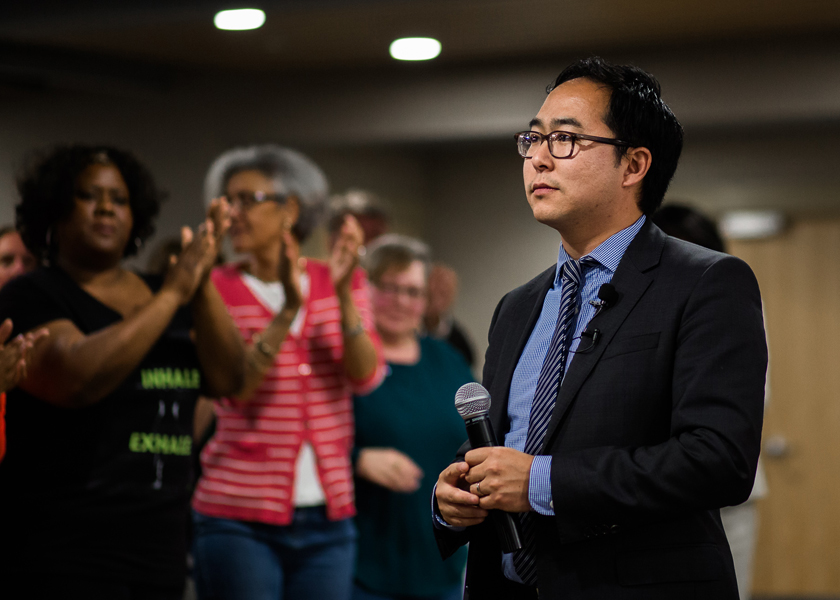 Andy Kim, a candidate in New Jersey's Third District, considered a swing district, recently discussed his goals for a second term, and his campaign strategies in what is looking like a hot contest. Kim participated in a Zoom call in July with supporters in Minnesota, in Kim's district, and elsewhere, arranged by Minneapolis DFL activist Kevin Armstrong, a financial services attorney and an elected delegate to the 2020 DNC National Convention.
Elections for all 435 U.S. House seats will take place in the general election on November 3. Kim, a Democrat, is running against first-time candidate Republican David Richter, a successful CEO of a construction services firm. According to the election information site Ballotpedia, 76 of the 435 seats are considered battlegrounds. Forty-two of those have Democratic incumbents, and 33 have Republican incumbents, with one vacancy.
Kim's Third District is known to be one of the most competitive in the nation. Kim was part of the so-called Blue Wave of Democrats elected in 2018. The Third District voted for Obama in both of his elections, and then went for Trump in 2016.
On the Zoom call, Kim explained that his family background contributed a lot to inspiring him to be a public employee, and ultimately a candidate for elected office. "My mon and dad grew up in Korea after the Korean War, through very difficult times," he said. "My dad grew up in an orphanage, and is a polio survivor. It's because he had polio that we suspect that his parents may have abandoned him at the door of the orphanage. My mom grew up in a poor farm family to a single mother. She lost brothers and sisters to the famine after the Korean War."
Kim said his father spent a lot of his childhood on the streets of Seoul, after running away from the orphanage because of bad treatment. Eventually, his father got a scholarship to study in the U.S. "America took a chance on him by giving him an education here. …so, that someone who grew up on the streets in Korea as a polio survivor ended up getting a Ph.D. degree in genetics in America. It is a story that drives my family and commits us to the greatness of this nation," Kim said.
In his career as a health researcher, his father went on to dedicate his life to trying to cure cancer and Alzheimer's, while his mother became a nurse and worked for a hospital system located in the Third District, Kim said. Making public service a lifestyle was something he saw his parents do, and wanted to emulate.
Kim, a Rhodes scholar, spent a decade in Washington working first under President George W. Bush as a conflict specialist at the U.S. Agency for International Development. He earned his doctorate in international relations at Oxford University, and then worked for the Obama administration. He was a State Department foreign affairs officer and an adviser to Gens. David Petraeus and John Allen in Afghanistan. Between 2013 and 2015, he handled matters having to do with Iraq at the National Security Council.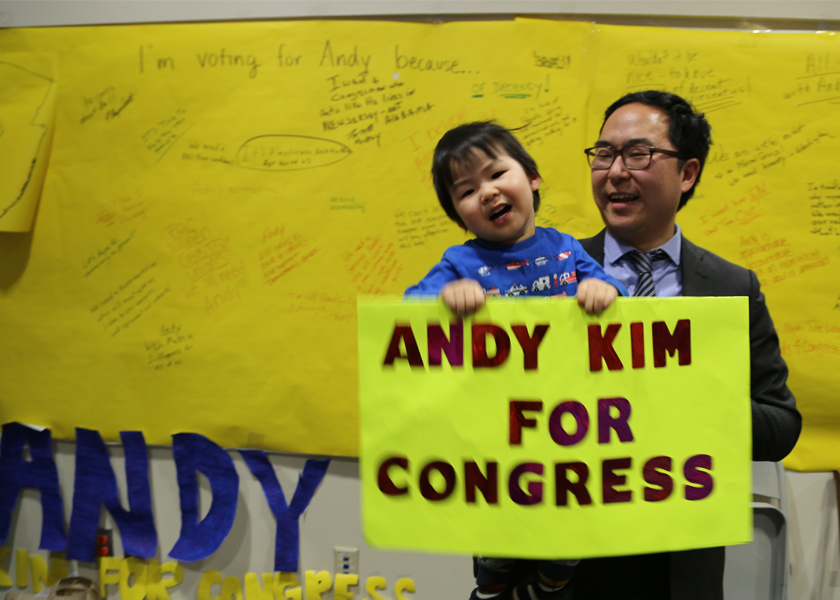 Kim and his wife have two children, ages five and three. Kim had taken some time off until about three years ago to "concentrate on being a dad" but when Trump got elected, he said, "I started to get really concerned about the direction of our country." Rep. Tom McArthur, who Kim defeated in 2018, was the chief architect of the bill to gut the Affordable Care Act. "He felt he was invincible," in his seat, Kim said. McArthur also had plenty of money to self-fund his election to the tune of $5 million.
It was thought to be impossible to win the race against McArthur, Kim recalled. Besides being too poor and brand new at the job after being a career diplomat, people told him "that there was no way an Asian American could win a district that is 85 percent white, and voted for Trump by six points." It took nine extra days after election day to declare a winner, he said, because the votes were so close.
Kim said he has tried to show that he can represent a very divided district. He has held 22 town hall sessions in two years. Because he was a military advisor, Kim was appointed to the House Armed Services Committee. He was also appointed to the Small Business Committee, an important committee "considering the dire situation hundreds of thousands of small businesses in our nation are facing right now." Most recently, he was asked to be on the Coronavirus Task Force Committee, and it's "an honor to be on this committee to get our nation through this crisis," Kim said. Speaker Nancy Pelosi chose him because of his crisis management experience working in the White House, he said.
Kim is the only Korean American in Congress, and only the second Korean American in history to serve in the House. At age 36 (in 2018), he was the youngest person ever to be elected to a federal office. His election, he said, proves that Asian Americans can win anywhere in the country when they push hard and build strong coalitions. It was also important "and show that my story is not a Korean American or Asian American story, that it is fundamentally an American story," he said.
Kim reported to Joe Biden as vice-president when he was on an Iraq task force during the Obama Administration.
Will race be an issue again? "It is an issue and other side did make a big fuss about it the last time. My opponent ran an attack ad and at the end, it said 'Andy Kim —- he's not one of us,'" Kim said. "They did a mailer that had my name in like won-ton-chop-suey font," he added. "Just trying to do things to 'otherize' me, to make it seem like I don't belong there, and can't represent them because of the color of my skin, and who I am. …It pained me to know that this kind of racism is in my home town.
"But we see right now that the movement against racial inequality and systemic racism" he said. "We know that this kind of systemic racism is all over our country. In fact, just before the social distancing was put in place, I experienced about five or six episodes where people yelled racist remarks at me, or even physically tried to assault me because they thought I would give them the coronavirus."
Kim said he is standing with African Americans in his district who are fighting to represent their interests in this moment of consciousness, just as Black members of Congress stood with him a couple months ago to condemn xenophobia against Asian Americans.
In answer to another question, Kim said he did not run for office only because he wanted to get in, or because the odds looked good. In fact, he said, he resisted others' suggestions to run in a less-white district. "I didn't run for office because I thought I could win," he said. "I ran for office because it was my home."