State Department official Kin Moy visits Twin Cities to discuss policy in Asia | By Anne Holzman (Spring 2023)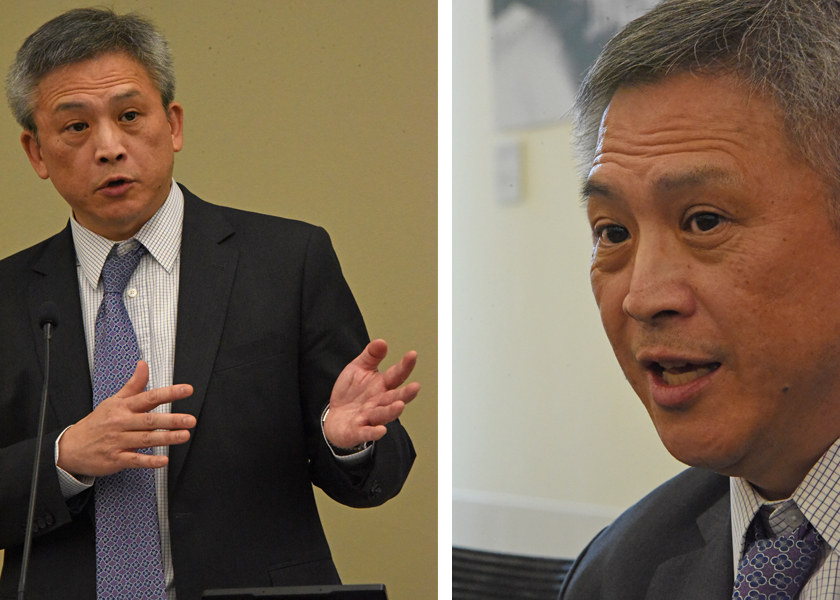 State Department official Kin Moy visited the Twin Cities in April to meet with Asian diaspora communities about recent developments in U.S. foreign policy in the region.
Moy, who is currently Principal Deputy Assistant Secretary for East Asian and Pacific Affairs in the U.S. Department of State, attended the University of Minnesota some 35 years ago and went on to a career in foreign service that has included posts in Seoul (1992-93) and Busan (1993-94). Korean Quarterly invited to attend his session with Global Minnesota at the Humphrey School of Public Affairs on April 24 and interview him afterwards.
Moy said he visits South Korea frequently, most recently with Vice President Kamala Harris when she traveled to the funeral of slain Japanese ex-Prime Minister Shinzo Abe, which included a stop afterwards in South Korea.
Moy's talk at the Humphrey School emphasized the growing rivalry between the U.S. and China in the Indo-Pacific region and the increasingly military nature of policy in the region. While he stressed that the U.S. policy toward China is "a separate animal" from the more "affirmative" policy of the U.S. in the rest of Asia, his comments returned frequently to the priority of containing the influence of China. "Peace in the Taiwan strait is essential," Moy stated, reiterating that the U.S. will "uphold our commitments" in Taiwan. He later mentioned "strategic ambiguity" as the Biden administration's ongoing policy in Taiwan.
Against this backdrop, he acknowledged the worrisome increase of military activity in North Korea and said the administration considers its nuclear weapons testing to be a real and imminent concern. When an audience member asked about a peace settlement between North and South, Moy spoke about the enhanced military relationship that would soon be announced as part of South Korean President Suk Yeol Yoon's visit to Washington. He added, "We favor having a dialogue with North Korea with no preconditions." He did not directly address the question of a peace process.
Moy briefly referred in his talk to a recent shift in China's stance toward North Korea at the United Nations. He elaborated on this in the interview with KQ, explaining that as North Korea has ramped up military threats over the past year, the U.S. has repeatedly introduced resolutions to the Security Council seeking to condemn that activity. He said that whereas China in the past has either stood aside or expressed support for such resolutions, their recent tactics have actively obstructed such measures. "Most of the world feels quite threatened" by this shift, Moy said.
The public talk was framed by references to Asian connections in Minnesota. Concerning the students of the University of Minnesota, where the event was held, Moy mentioned the impact of students traveling in both directions. He acknowledged the advantage of receiving tuition from abroad and the perception that many of those seats are filled by wealthy students, which some have complained is unfair.
He said the results are worth the tradeoffs. If someone comes here for higher education, Moy said, "They are enduring fans of the United States." While some do stay here to work, he said, many more go home and bolster the "people-to-people" contact that aids international relationships. He noted a recent backlog in the State Department's passport processing times and said the rebound in travel interest is a hopeful sign as people around the world re-engage with each other.
Moy noted a shift in the origins of foreign service personnel during his three decades in the field. He said that when he joined, most of the staff were from elite East Coast universities. It was rare to meet a colleague from a Midwestern university, but this region now supplies many graduates to the U.S. foreign service.
He said another important shift has happened in Korea, where the increasingly wealthy nation has evolved from aid recipient to one of the foremost donors in the world. He said this is not only financial but also aid in the form of volunteers. Once a destination for U.S. Peace Corps volunteers, South Korea has established its own international volunteer program, World Friends Korea. "Korea plays an enormous role in peace around the world," Moy said. "They are giving back."
Regarding an audience question about militarization in Japan, Moy said Japan has historically been "successful forging soft power in the region" and touted the development that Japan and South Korea are "on the verge of embracing" in spite of deep historical divisions, due to "deeper threat."
Asked about free trade agreements and other international measures dropped under the Trump administration, Moy said that free trade in particular has become difficult due to domestic politics. "It has cost a lot of American communities in manufacturing and jobs," Moy said, referring to global trade in general. He said his department engages in trade in Asia through Asia-Pacific Economic Cooperation (APEC), a 21-member trade organization based in Singapore that includes the U.S., China, and South Korea among its members.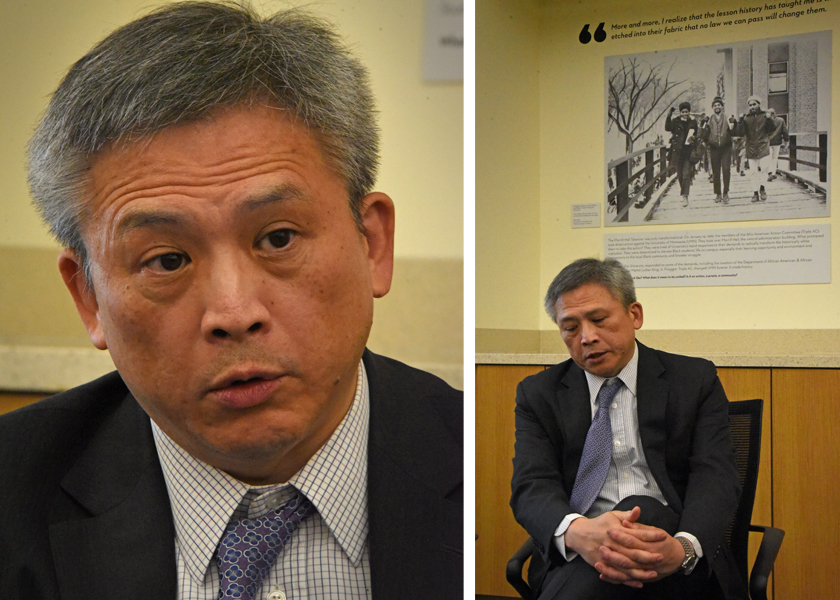 KQ asked Moy about recent concerns that the Yoon administration, which represents a swing to the right in South Korean leadership, may show signs of suppressing dissent. Moy acknowledged having heard such criticism but said the U.S. views the Yoon administration as "a strong supporter of democracy." He said that South Korea has come a long way in the past few decades and his department takes the long view concerning the health of democracy there.
KQ also asked about concerns that Yoon may be entertaining a closer bilateral relationship with China. Moy responded, "We do understand that the Republic of Korea and China have a strong trade relationship." Moreover, he said, "They [South Korea] have taken some brave action [with respect to North Korea] even though they knew it would alienate the PRC [China]." But he said approval ratings for China among South Korean citizens have been trending low. "China's manner has been off-putting," Moy said. (A Pew Research study from September 2022 backs up this claim, showing a 2017-2022 trend of public sentiment in China indicated a new high of 80 percent disapproval last summer.)
Asked about concerns in Korea over the "reshoring" of American manufacturing, particularly cars, Moy said his department has been in discussions with counterparts in Korea to make sure they are treated fairly. He acknowledged the extensive investment by Korean companies in U.S. manufacturing and said the country is a leader in electric vehicle development. Korea is "well invested in technologies that will move us away from greenhouse gases," Moy said.
Moy concluded the KQ interview by saying he was hoping for dinner at a local Korean restaurant and praising the flood of Korean culture in the U.S. in recent years. He said he enjoys Korean television dramas and hears frequent references to K-pop. "Those cultural exports – you cannot overestimate the effects of people's perceptions," Moy said.
–30–