Cookin' reminds us that we're born to play, dance, and make music | Theater review by Anne Holzman (Summer 2023)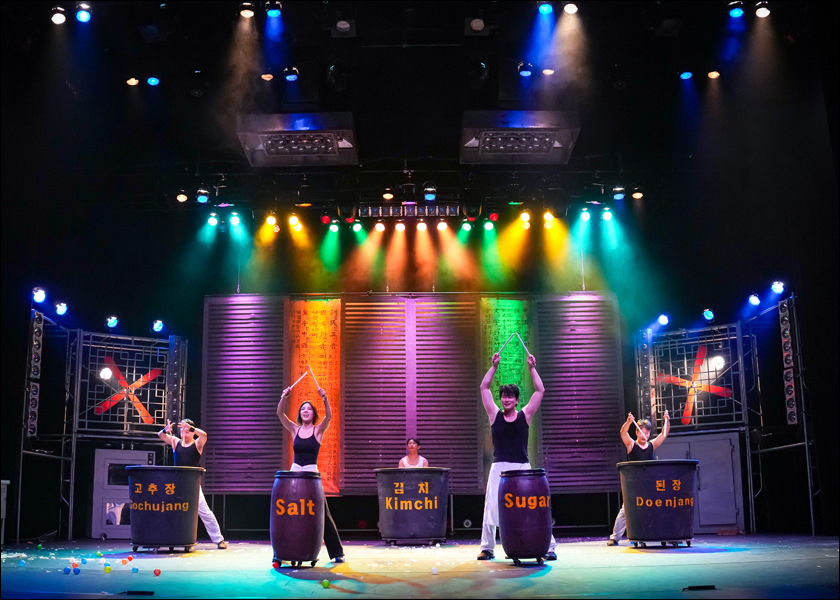 The kitchen is a playground and the cooks are the wildest kids you ever knew in the long-running South Korean show Cookin' (in Korea the same show is known as Nanta) which is enjoying a madcap run at Children's Theatre Company in Minneapolis.
The five actors carrying on their antics at top speed for an hour and a half have much more than just comic ability. They have also brought serious dance and drumming chops to this show about what goes on in a restaurant kitchen. Cookin' is a rare opportunity to see a South Korean production based in Korean traditional percussion, comedy and martial arts on a Twin Cities stage.
In a brief introductory scene, we see an ancient hearth at which early humans delight in exploring rhythmic patterns as they chop food for cooking. The connection between chopping and drumming becomes the axle upon which the rest of the show will turn. It's an odd premise for a drama, but this show falls somewhere between a circus act and an operetta, with the plot serving mainly as a showcase for the actors' impressive stagecraft.
On the night I attended with my teenage daughter, gag after comic gag kept a nearly sold-out theater rocking with laughter. To my right, a boy of about 12 came in with parents and a flock of younger siblings – the bored older brother, complete with earbuds pounding his own music as the show started. Within five minutes, the earbuds disappeared and he was shouting and clapping along with everyone else.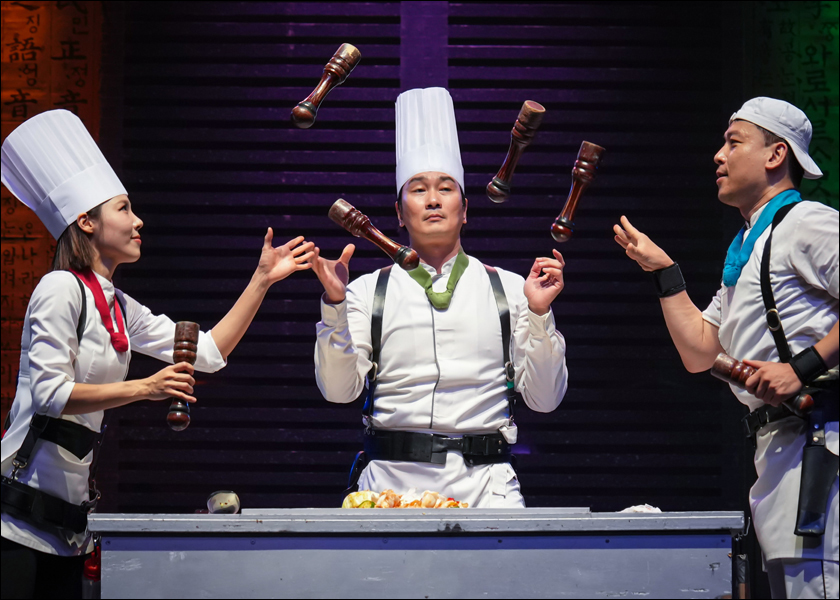 Cookin' has been compared to Korean cooking shows, but this is a different kind of entertainment. Other than a brief sequence in which teams, including audience members, race to churn out mandu (dumplings), there is nothing competitive about this show, and it's only marginally related to actual cooking. It's more about workers making the best of a tedious existence by introducing play into their work shift and sticking it to the boss at every opportunity.
The cleverness is nonstop. Anything can be a percussion instrument – pots, tubs, even the kitchen scissors. And almost anything can fly through the air – pans, plates, knives, and vegetables. Lots and lots of vegetables. Wooden salt and pepper shakers appear briefly, morphing into claves as two characters engage in a sudden tango. This is facilitated by a bit of flirtation between two of the cooks, but as always, the plot is driven by stagecraft opportunities rather than the other way around.
Brooms and whisks become props for martial arts-inspired swordplay. A strainer comes in handy as a fencing facemask. Plates are, obviously enough, Frisbees, but these actors take the sport to new levels by sitting on each other's shoulders and setting up a juggling pattern among four people.
And there's plenty of old-fashioned "Three Stooges" style slapstick humor. People get slapped and punched and stuck in garbage cans. It's all ridiculous, and hilarious.
Every now and then, the drumming becomes mesmerizing and we are suddenly in a world that's more artistic than funny. The audience gets very quiet at those moments, absorbing the shifting patterns of pitch and tempo. In one especially clever episode, we see water tanks and plastic tubs mounted on wooden frames. These are similar to the frames used in a certain traditional Korean percussion in which women play on three mounted drums, one on each side and one at their backs. In Cookin's version, the actors do a more athletic-looking version of this drum dance, beating the tanks and tubs with kitchen implements, expertly spinning and jumping while maintaining a rapid rhythm. It is a pause for some unique Korean percussion before these proficient drummers turn back into rebellious cooks.
Eventually, there is a wedding feast, featuring a surprise for some audience members and great waves of applause and laughter to close the show.
It's hard to focus on themes at the level of frenzy that is the fun of Cookin', but the show does offer a message: Human beings can turn anything into a toy, a musical instrument, or both. We're born to play. We might as well start in the kitchen.