Iconic Korean comedy percussion show coming to Minneapolis | By Martha Vickery (Summer 2023)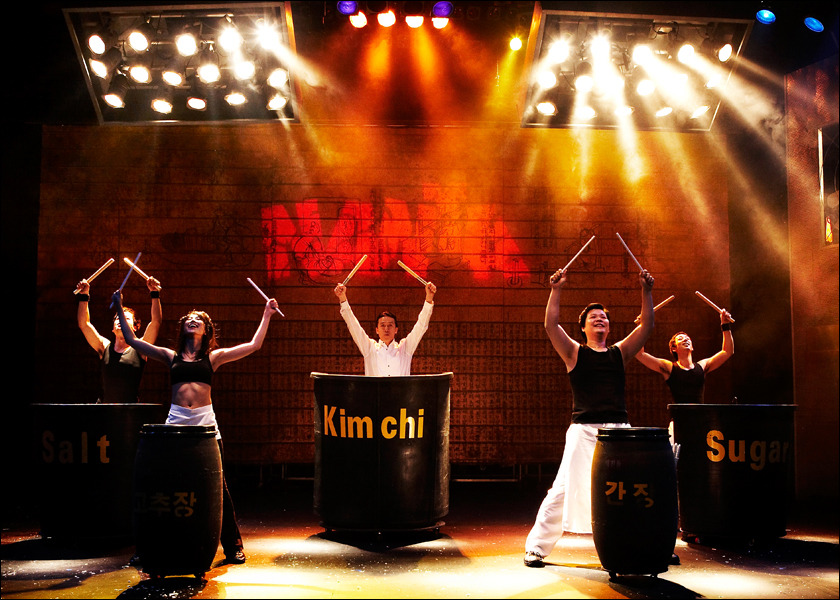 A world-famous Korean comedy and traditional percussion show, Cookin' (known as Nanta in Korea) will be in Minnesota for the first time in September. The family-friendly show, to be staged at Children's Theatre in Minneapolis, combines various types of Korean performances, including drumming, martial arts, acrobatics, clowning and juggling, with pop music, and even food tasting.
There is another kind of expert juggling happening behind the scenes to get the performers to the city and the show to the stage – that is the job of show manager Katherine (Kate) Eun Young Park, who has done the job for 12 years.
The show was conceived and developed in 1997 by Seung-hwan Song, who is still its artistic director and the CEO of PMC Productions. Song is a well-known actor in Korean films and dramas, who also created and produced sequences for TV shows and stage shows in Korea, Park said. Cookin' is the widest-traveled and best-known touring show from South Korea and has played in more than 60 countries, according to the audience guide.
Song has also produced spectacles such as the opening ceremony of the Pyeongchang Olympics in 2018. Park joined the production company about 12 years ago.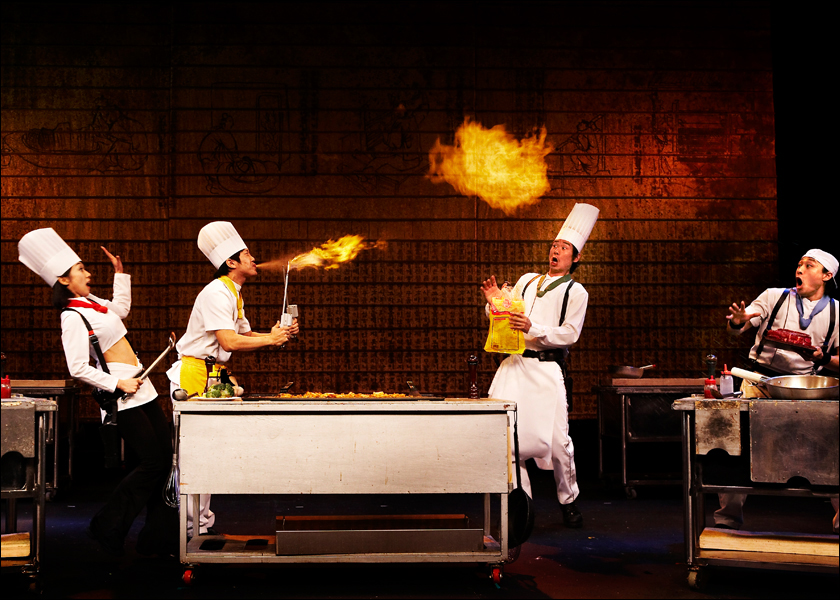 According to Park, Song created Nanta to provide an entertaining introduction to Korean traditional performance styles in a fun format that would eliminate the language barrier. His original purpose was to start the show in Korea, and take it worldwide, Park added. It came together as Nanta in 1997, and had its first international show in 1999. "Now this show is called Cookin' in North America because it is all about what's happening in the kitchen," Park said.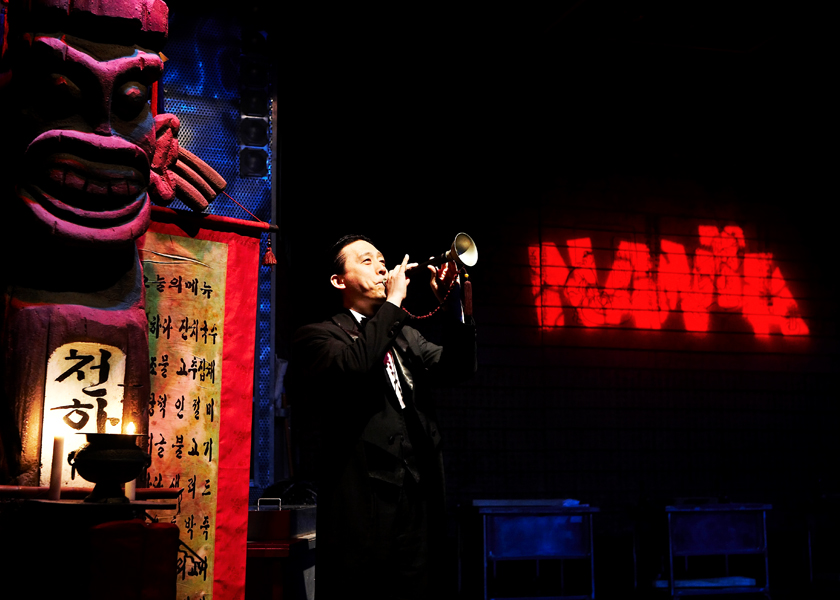 The word nanta in Korean is a general word for "beating," Park said. "We beat everything during the show, not only drums but chopping boards and everything else you see in the kitchen – the kitchen utensils, the kitchen sink, and everything."
The premise of the comic show is that five chefs are on a deadline and doing their food preparation in a frenetic burst of energy. It turns into a wacky competition among the five, with knives beating time, food going airborne, and kitchen implements flying, all in good fun, with some key moments for audience participation.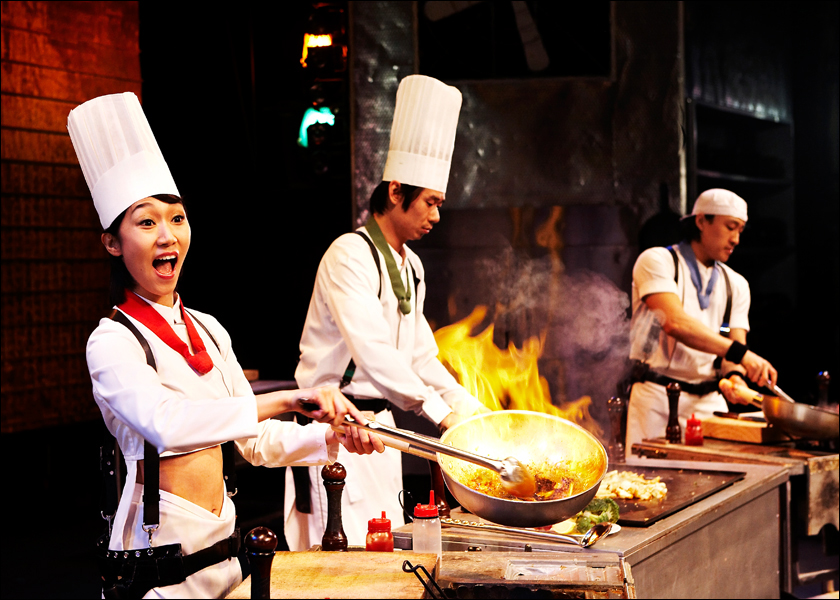 Like other live theater, the Nanta/Cookin' show is making a slow comeback since the pandemic. In 2019, Park said, the production company had 10 troupes working simultaneously, with three permanent theaters in Korea – two in Seoul and one on Jeju Island. There was also a continuously-running show in Thailand and one in Guangzhou, China, Park explained. That all came to a stop when, in early 2020 in South Korea, all live events were shut down due to the pandemic.
In 2022, when live theater opened up again, the leadership of PMC Productions decided to re-start by shrinking the number of Nanta/Cookin troupes to three. The Myeongdong theater now hosts Nanta, as does the Jeju Island theater. There are still no foreign theaters operating at this time, Park said.
Park said the production company recruits professional actors, most of whom do not have a background in drumming. "All the skills in marching, drumming and martial arts have to be through training they do after auditioning and being accepted for the Nanta company," Park said. The training phase lasts about a year. They are mainly recruiting people with sufficient dramatic training to be one of only five funny and dynamic people on the stage. Each actor has to have advanced comic acting skills to engage the audience with their performance, and do successful audience participation with both children and adults.
The synopsis always states the same thing about what the show is and what's going to happen, Park said, however "since there are different teams of actors, they are different in what they focus on," she said. "One may be more focused on audience participation, another will be the most annoying and funny with the other chefs, and another may be more focused on the martial arts."
The actors have to be clever, particularly when it comes to audience participation. There is a funny trash scene where one of the actors throws the trash bag into the audience. In fact, it is a very lightweight foam-filled trash bag that gets thrown. However, no actor would throw the trash bag near any little kids, she said. Instead, Park said, "they look for a big guy who is close and engaged with the show, and throw it to him." If they are lucky, he will throw it back. "They have to read the room and it is tough with the lighting to see who is even in the room. You learn to see who is reacting more to the show – that person might be great on stage."
Another challenging part is that all the actors have to spend a lot of time on the stage, and the activity is intense. "Some of characters are there from top of show to the end. It's a lot," she said. However, they are all seasoned professionals and some have been with the company for the whole 20 years Nanta has been staged, including one of the actors who will be in Minnesota. It is a very experienced troupe overall, Park said. "The youngest has been with the show for seven years. They are the legacy of the show, and I'm so proud to bring this group to Minnesota," she said.
Park's job varies with what the company is doing. She sells the PMC Productions stage shows to audiences internationally. When the company is planning an international tour, Park is doing tasks like setting itineraries and negotiating terms. When the company goes on tour, Park goes along "and then I am company manager, doing everything – it could be booking hotels and transportation for the company members, and taking care of their needs, especially if they got sick or hurt. It is all my responsibility, as well as doing translation with the local crews."
Park went to graduate school in San Francisco, majoring in theater design. She had some internships in California as an assistant set designer, she got a job in show management as a PMC Productions staff person. Her skills in English got her work on the division that deals with international content sales. Since then she has been involved in the international productions.
Park said her favorite part is seeing the kids who come up to the stage to interact with the actors for just a moment. They have a lot of fun, and you can tell, she said, that they are making a memory they will always look back on.
Tickets for Cookin' at the Children's Theater in MInneapolis for the show run September 12 through October 22 are available at this link: Cookin' | Children's Theatre Company (childrenstheatre.org)