Skin Deep by Sung J. Woo
(Agora Books, London, 2020, ISBN #978-1-947903-95-2)
Review by Joan Thompson (Summer 2020 issue)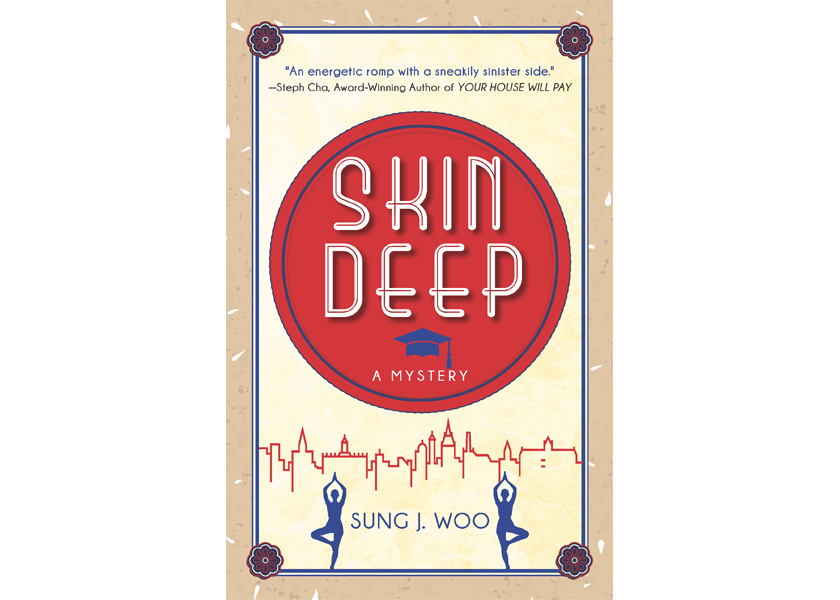 In his first mystery, writer Sung J. Woo introduces Siobhan O'Brien, a Korean American adoptee and a new addition to the pantheon of female private eyes. A former journalist relatively new to her job, Siobhan depends on her boss Ed to teach her the ropes. However, Siobhan soon finds Ed dead of a heart attack, and his detective agency is her inheritance. Newly turned 40 and single, Siobhan is unsure of what she should do.
As she contemplates selling the agency, she gets a call that is a blast from the past. Josie the younger, wilder sister of Siobhan's long-dead best friend from a Midwestern Korean camp is the caller. Josie's daughter Penny, also a Korean adoptee, has disappeared from Llewellyn College, and Josie wants help finding her. Because Penny has Grave's Disease and may not have medication with her, Josie is especially worried. Despite not liking Josie, Siobhan takes the case and finds herself in a world of convoluted motivations and lies.
Llewellyn College in Athena, NY, clearly a town modeled after Ithaca, has recently changed its admission policy to include men. Feminists on campus, some of whom know Penny, are actively protesting the men's admission, seem to be keeping secrets, and hire Siobhan to investigate a mysterious new building on campus. As a journalist, Siobhan had interviewed Vera Wheeler, the new college president and former model. Now Siobhan finds Wheeler resistant to questioning. Siobhan soon discovers that Josie lied to her, which makes her wonder if she should continue with the case.
Increasingly odd events, however, make Siobhan determined to find Penny. Her investigation leads her to a Lenrock University fraternity member with information on Penny's boyfriend. Others who knew Penny tell her about an altercation connected with something Penny wrote for a creative writing class. Siobhan also learns that Penny did not stay with her assigned roommate but instead moved in with Grace Park, the daughter of a Korean industrialist. Grace is guarded by well-muscled men sporting Korean gang tattoos and is reluctant to discuss her missing friend. All of these interviews lead Siobhan to search for Penny at a yoga retreat center linked to Llewellyn, where members seem upset by the return of its controversial founder.
Each interview and visit makes Siobhan realize Penny's disappearance has many complicated threads and the circumstances seem increasingly nefarious. Along the way she gets the help from Craig, the lawyer from a neighboring office and a potential love interest. Her former boss and mentor Ed continues to advise her in her imagination as she conjures memories of him and misses his counsel.
Told in short chapters in Siobhan's voice, the mystery moves rapidly. While her approach to solving the mystery is not hard-boiled as author Raymond Chandler used in his famous Philip Marlow mysteries, Siobhan's quick sense of humor is reminiscent of Marlow's.
That this is a mystery about appearance versus reality is clear from the beginning. Siobhan's name contributes to this theme; as a Korean adoptee her appearance and name are a mismatch, and she is often questioned about it and mistakenly identified because of her Irish name.
Skin Deep is Woo's third novel. His first, Everything Asian (2009), won the 2010 Asian Pacific American Librarians' Association Literature Award (youth category). Love Love (2015) and Everything Asian both describe the struggle, passion and humor of growing up Asian American. As in Skin Deep, Woo touches on themes in his other novels about adoption and the definition of family.
In Skin Deep, Woo has created an intriguing female detective as well as a fast-moving and interesting plot. The book's title page includes the words, "A Siobhan O'Brien Mystery." Fans of women detective fiction will welcome more stories featuring this clever Korean American sleuth with the very Irish name.