The White Book By Han Kang
(Hogarth Press London, 2018 ISBN #978-1-8462-7695-8)
Review by Yearn Hong Choi (Spring 2020 issue)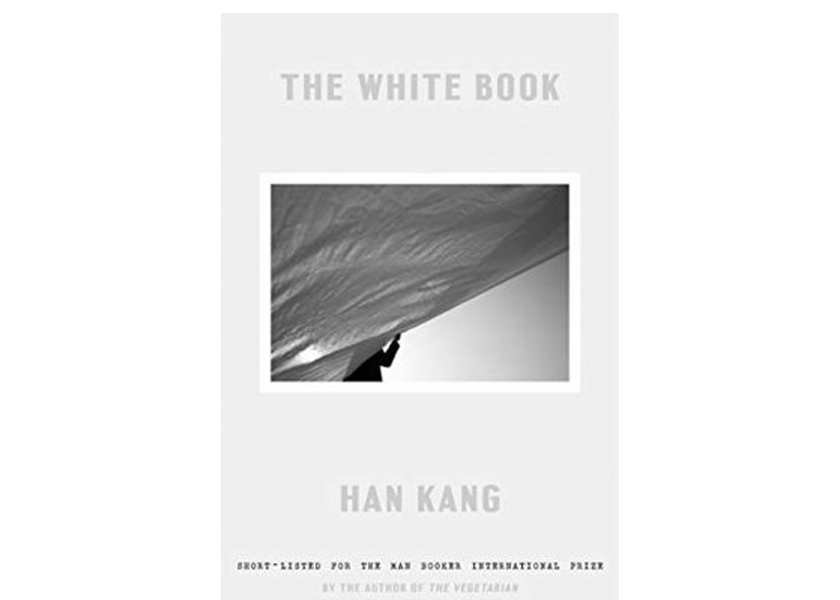 Han Kang became widely known when her beautiful and startling novel, entitled The Vegetarian, was published in 1994. She received the 2016 Man Booker International Prize for that work, along with her translator Deborah Smith.
This collection of Han Kang's poetic short essays, in fragmented notes on her life, with the unifying theme of the color white. A significant figure in this series of poems and poetic essays is the narrator's baby sister, who died two hours after her premature birth. She was covered up by a white baby cloth that her mother had hurriedly made. The image of this baby and her brief life, covered by white cloth, is an enduring imagery throughout the narrative. The young mother cries out to God, "For God's sake don't die." The narrator reflects on the mother's youth, only 22, and herself as a mother, and the births of her own children.
Typing a word, a sentence, and then a paragraph on blank white paper is the beginning of verse or prose. The writer fills the empty paper with words in black ink. Korean people were known for wearing plain white clothes for 5,000 years. The White Book contains many metaphors and symbology related to the Korean people.
Translator Deborah Smith has demonstrated her craft in converting Korean into English. The author and the translator are a great team judging from the fruit of their works.
The author's statement specifically declares the work as one of fiction, not memoir. It is certainly a collection of her poetic notes on the topic of white things —- swaddling bands, a newborn's gown, salt, snow, ice, the moon, rice, waves, yulan (magnolias), white bird, the idea of "laughing whitely," blank paper, a white dog, white hair, and a white shroud.
In this book, the reader can observe her way of approaching fiction with verse. The Vegetarian was successful due to the author's poetic approach, using the vocabulary and style of fiction. It is a collection of three short stories. Han Kang attempted The White Book as fiction, but many may not agree with her. The fluidity in which this author works between fiction and memoir, poetry and fiction writing, is part of its mystery and appeal.
In the end of her essay, Boundary, Kang writes:
Now and then her mother would be struck by a sense of foreboding and give a corner of the quilt a tug, but the baby's eyes opened only briefly, grew dim and then slid shut. At some point, even that scant response was no longer forthcoming. And yet, before dawn, when the first milk finally came from her mother's breasts and she pressed her nipple between the tiny lips, she found that, despite everything, the baby was still breathing. Though she had, by now, slipped from consciousness, the nipple in her mouth encouraged a soft swallowing, gradually growing stronger. Still with her eyes closed the whole time. Not knowing what boundary, she was now passing over.
The author relates the baby's death to the destruction of the city of Warsaw in Poland in a 1944 air raid. She does not mention the name of the city, however, it is likely Warsaw, since the author lived in Warsaw as a writer in residence for awhile. Of course, the city she describes could be Berlin or many other cities that were bombed in World War II.
White Pebble is a short poetic essay which is representative of this book:
A long time ago, she found a white pebble on a beach. She brushed off the sand and placed it in her pocket, then put it away in a drawer at home. A pebble worn and round by the waves' long caress. To her, its whiteness seemed almost transparent, but when she tried to peer inside it she found she'd been mistaken. In fact, it was a perfectly ordinary white pebble. Now and then, she got it out and set it on her palm. If silence could be condensed into the smallest, most solid object, this is how it would feel, she thought.
The premature baby was the narrator's onni, or elder sister in Korean, the daughter who came before her. The author uses another Korean word, nuna, the form of address of a younger brother to a sister. It is interesting that the author uses two beautiful Korean words in place of English in this translation. It is also logical, since there is no substitute in the English language. Alternatively, translator Deborah Smith may have chosen to retain the original Korean to maintain the correct meaning and context.
Han Kang picks up another idiom in the Korean language — laughing whitely.  She says such an expression exists only in Korean language; an interesting discovery.  To "laugh whitely" means to laugh but not mean it.  The "white laugh" in Korean offers layers of meaning beyond insincerity, depending on the context.
As in The Vegetarian, Han Kang's The White Book again offers a work of fluidity, with layers of meaning and depth, showing her flexibility and imagination as a poetic writer.