Gathering tells Korean adoptee stories through many cultures and languages | By Lee Middleton, Melissa Brown and Michelle Piper (Fall 2019 issue)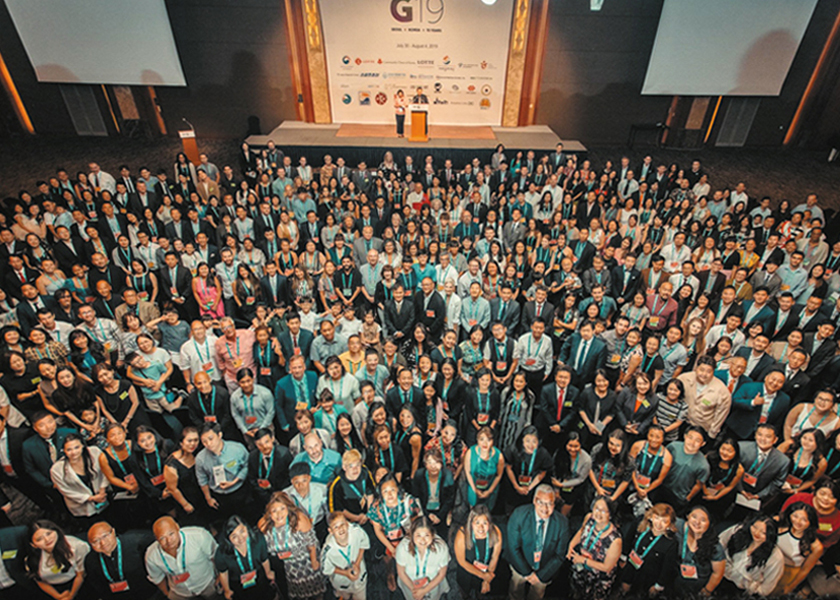 By Lee Middleton
The chandeliers in the Lotte Hotel's Crystal Ballroom emanate a golden light that burnishes the faces of the roughly 500 people turned towards the podium in front of a banner emblazoned with a huge "G19." It is the opening night of the International Korean Adoptee Association (IKAA) Gathering 2019.
Held in Seoul roughly every three years, this mid-summer conference is the world's largest coming-together of Korean adoptees. And while the majority of the expectant faces are unmistakably those of adoptees, a fair proportion belong to family members, including a surprising number of children, many of whom look like they could be cousins to my own mixed-race son.
This year's theme —- "Spanning the Generations: communities, families and leadership" —- feels fitting. Speaking 15 years after the first Gathering held in South Korea, co-founders, Timothy Holm and Liselotte Hae-Jin Birkmose, highlight this shift in their opening ceremony speeches.
"As more adoptees start families of their own or simply move into new life stages, our needs and priorities change, and so does our community," says Birkmose. Holm adds to this, pointing out that the community is not just made of adoptees, but that "everyone's spouse, partner, child, or family member is part of this adoptee community."
While specifically addressing the crowd before them, they are also referring to the larger diaspora of some 200,000 Koreans adopted internationally since the 1950s, mostly to Europe, North America, and Australia. Of those 200,000, some 15,000 have links to the 14 adoptee associations that form IKAA, the organization responsible for the Gathering.
After the speeches and the photo ops, the crowd lines up for a dinner buffet. There is an array of choice —- smoked salmon to couscous salad, bulgogi to petite fours —- that mirrors the cultural diversity of the 15 countries and 31 U.S. states that the G19's participants call home.
A true "first-timer" to this conference (I arrived alone knowing no one), I take a deep breath as I scan the room for an empty seat where I will have to introduce myself to a table of strangers. But within 20 minutes, I find myself sharing details of my life that many of my closest friends have never heard. This weirdly instant intimacy is a theme that will develop over the next week. I also quickly discover that the two Dutch adoptees I befriend on this first night are facilitating the "parenting as an adoptee" workshop that conflicts with the "immigration and citizenship" workshop I am also keen to attend. That will become another major theme of the week: Too much choice and not enough time.
Walking into the darkened room where the film A Letter for Sang-Ah is screening, I hear sniffles from all corners. Directed by Chicago-based filmmaker, Mina Fitzpatrick, this short but devastating film examines the challenges and triumphs of two Korean single mothers: One who succumbed to pressures to give her daughter up for adoption, and one who chose to raise her son alone. One of 18 workshops offered over the course of a single day, the film is followed by a Q and A, in which participants discuss the stigma still attached to single motherhood in Korea.
Outside the workshop spaces, the four adoption agencies that collectively played a part in most adoptees' departures from Korea have set up tables where staff offer to send us our files (many of us have never seen our complete documents), schedule orphanage visits, or initiate birth family searches.
325KAMRA, the adoptee-led foundation that seeks to reunite Korean families through free DNA tests, is also present, giving advice to those curious about the South Korean police DNA test that is scheduled the next day. Unlike commercially-available test results, the DNA collected for this program will be entered into Korea's national missing persons database.
As with everything at the conference, participants can either engage with or ignore this mind boggling one-stop-shopping opportunity that massively facilitates a plunge into the unknown that is exploring our Korean past.
This question of why so many of us have taken so long to come around to looking at who we are —- whether this means visiting Korea, doing a birth search or DNA test, or just acknowledging that being adopted is not nothing —- is a big topic of conversation in the "age breakout" session I attend. Split by half-decades, groups meet for two hours to discuss various topics. In my group —- the 45 to 49-year-olds —- we delve into what it meant to start our own families, and whether or not it's "too late" to look into our pasts. Facilitated by a fellow adoptee, this session is a highlight that I wish would last twice as long.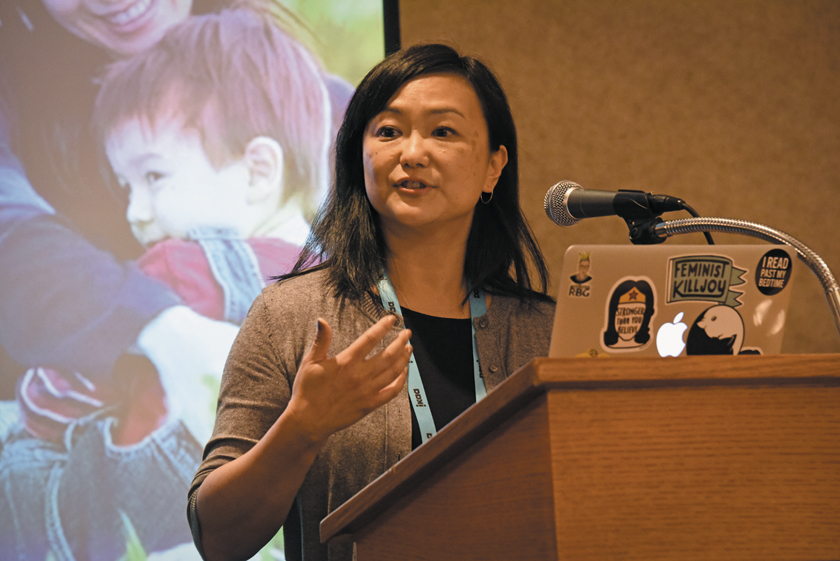 For those who enjoy a more academic approach, there is also an all-day symposium in which researchers present papers on everything from adoptee naming practices, to portrayals of birth mothers, to Scandinavian adoption narratives. Keynote speaker, JaeRan Kim, shares fascinating reflections on the "intergenerationality of ethnic, racial, and adoption socialization" —- that is, the unique challenges we experience as adoptees grappling with what it means to be Asian, to be Korean, and to be adopted.
The Gathering is not all workshops and soul searching, however. In fact, going purely by the number of itinerary hours, the social far outweighs the soulful.
Standing at the bar at Brix Pizza in Itaewon, Seoul's historically "foreign" neighborhood, I mentally gawk at the crowd, still struggling to get over the reality that basically everyone in the bar is an adoptee (the conference badges that secure the bar discount help confirm this). I am grateful for the drink that makes the mingling easier.
And while drinking and dancing are supremely popular pastimes for adoptees enjoying this city that truly never sleeps —- 24-hour noraebang (karaoke) is a gamechanger for those with the stamina —- partying is not the only option for conference-goers who need a break from self-examination.
"We are more than 180,000 individuals with more than 180,000 different stories," Holm says, when I ask him why the itinerary includes such a range of activities, including a baseball game, poker matches, soccer game, food tours, a DMZ excursion, and an Amazing Race.
While some adoptees feel the abundance of social stuff comes at the expense of additional deeper sessions, the truth that emerges by week's end is that the act of coming together from all our different backgrounds and with all our diverging interests, hopes, and expectations, is its own minor miracle.
"Experiencing this community is something very unique," says Birkmose, with admirable Scandinavian understatement.
Having experienced the unique value of this event for myself, I am all the more aware of the Gathering's one incontestable flaw —- its cost. Whether in terms of finances, time, or emotional wear and tear, the Gathering's significant price is prohibitive for many adoptees, assuming they even know about it.
It is especially for this reason that works like Side by Side are so important. A video oral history project by Glenn Morey (a Korean adoptee) and his wife Julie Morey, the project debuts nine of its 10 video autobiographies at the G19
* * *
Six days zoom by and, back in the Crystal Ballroom, Tim Holm's daughter Jackie Holm (who, with her mother Kim, are the event's logistical and fundraising force) is bestowing closing ceremony awards over brunch. Notably, 11-year-old Karoline Folz receives a medal for her role in the Amazing Race, which, if the slideshow images are to be believed, looks, well, amazing.
Winding her way between the tables to receive her award, this bubbly sprite does not falter, which comes as no surprise, given the chutzpah she showed the previous night, joining the B-Boy breakdancers when they requested a volunteer at the very glitzy Gala dinner (which also included a performance from "the next BTS" K-pop sensation, S9). Observing this child's sense of ease, and imagining how my son could make better sense of our family by spending a week in this community, I again wish he was here.
The Gathering's final words came from the presidents of the 14 IKAA associations. Included in the various updates is an announcement of the June 2020 mini-gathering hosted by Racines Coréennes in Paris, followed by the Korea Klubben's 30th anniversary celebration in Denmark. These invitations for upcoming get-togethers make the goodbyes feel more like "see you next time," which is a huge relief. In other words, there is comfort simply in knowing this community exists.
As if reading my mind, AKA-New York President Mike Mullen begins his short speech: "I want to welcome you to the homeland, not the one out there, but the one in here," he says, gesturing to the crowd.
For the umpteenth time this week, my eyes burn with tears that are some combination of gratitude, sadness, and joy; a recognition of loss, but also of feelings found.
During the last days of the Gathering, I repeatedly wonder if the time will come when our own families will be far enough removed from the past that we will no longer need special gatherings to know where we are from or who we are. But in a way, I'm glad we're not there yet.
This reporting was supported by the International Women's Media Foundation's Howard G. Buffett Fund for Women Journalists
Side by Side Project video documentary premieres at IKAA
Walking into a darkened room where the video installation of the Side by Side Project begins, an enormous black-and-white image of a face meets you. Eight additional screens ring the first screen, and there is a hush about the place, despite the low hum of voices coming from each screen.
Among its many offerings, the G19 hosted the international premiere of this video installation documentary project. Created by filmmakers Glenn and Julie Morey, Side by Side gives Korean adoptees and orphans the opportunity to tell their stories in their own words. The G19 installation includes 10 channels, featuring nine documentary short films and 100 portrait photographs.
"I've been attending these sorts of events since the early 2000s, and I know what a difference it's made in my life as an adoptee," said Glenn, referring to the IKAA Gathering. "But I also know that probably only 10 percent or maybe 15 percent at the most, of all Korean adoptees, have attended an event that's for Korean adoptees, or are involved in an association in their town. The rest of them are just out there: They don't know other adoptees, they don't know that they're not the only ones who have experienced the kinds of experiences we talk about all the time at events like this."
Seeking to address this gap, but also to create a historical record of the 60-plus years of intercountry adoption from South Korea, the husband and wife team spent six years capturing adoptee stories from across the globe, traveling to Melbourne, Amsterdam, Minneapolis, Paris, and Denver, among other cities. A small subset of the interviews come from adult Korean nationals who were orphaned or abandoned but never adopted, and therefore raised in orphanages until legal adulthood; however, due to strict privacy laws in Korea, their stories were not part of the G19 exhibit.
The nine short films that are part of the installation each address a critical theme that emerged from the adoptee interviews: Memories of time with birth families and in orphanages; experiences of growing up in adoptive families of a different race, often in communities with few other Asians; dealing with the alienation and loss that is part of being a transracial adoptee; visiting South Korea as an adult; deciding whether to search for birth families, and the complexities that come with finding those families.
The 100 stories that comprise Side By Side have been edited to fit several formats in addition to the video installation, including an online video archive of 100 individual videos, a short film, and an upcoming book. The project's website can be found at: https://sidebysideproject.com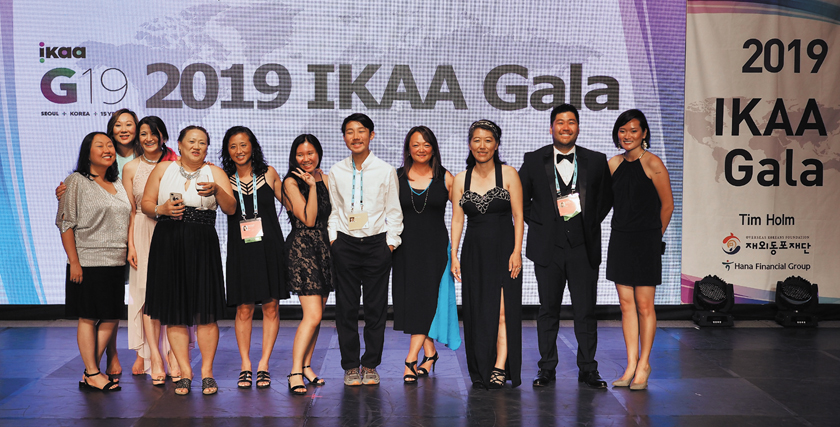 Visiting the global village: International conference explores challenges of a maturing Korean adoptee community
By Melissa Brown
This summer I attended The Gathering 2019 in Seoul, a conference of the International Korean Adoptee Associations (IKAA), which hosts and supports gatherings around the world. Every third year the conference, dubbed simply The Gathering, has its location in South Korea. This year, there were about 525 attendees, with an opening ceremony drawing over 700 people.
IKAA is a collaboration of Korean adoptee organizations from all over the U.S. and from many countries where Korean adoptees live. In addition to bringing member organizations together, IKAA also provides leadership opportunities, and does advocacy on behalf of Korean adoptees globally, by advocating for better post-adoption services. Additionally, IKAA representatives have attended the Special Commission of the Hague Convention, a group of member countries that confers and agrees upon safeguards to protect children who are international adopted.
I attended this conference for the first time in 2007, then again in 2010 and 2013 as well. I am familiar with Seoul, since I taught English in Korea after college. Back then, my life in Korea was one of intense exploration and nightlife. These days, my experiences in Korea can only be characterized as a visit for the purpose of renewing my energy and a sense of calm and peace. My social relationships with other adoptees always become deeper during these events. I flowed from tables of Korean Swedes (and others), into deep discussions with strangers, then on to having late night chats with dear friends. We ask many questions of each other, yet we also share common experiences, both said and unsaid, good and bad, complex and beautifully simple.
Home base for The Gathering is the Lotte Seoul Hotel, in the Myeong-dong neighborhood. This hotel is connected to a large Lotte department store which leads out into a network of hip shopping streets. At night, meeting locations were also in the Itaewon neighborhood, a cosmopolitan dining and nightlife area. Some late-nighters went on to nightclubs in Hongdae, another well-known retail and entertainment district. Others went to places near the hotel, or explored the night on their own, since Seoul is safe for all-night shopping, eating, and drinking.
Beyond social activities, The Gathering is full of interesting events. At the start of the week, first-timers got a chance to meet and greet. Tuesday evening kicked off with an opening ceremony and reception. Wednesday was an all-day research symposium, and on Thursday there were group sessions on a wide variety of topics. The gala dinner was held Saturday night, and on Sunday there was the closing ceremony and private evening club after-party.
Between these main activities, participants also attended a baseball game, poker tournament, soccer match, an Amazing Race (a scavenger hunt event with clues around the city), and various teen and family events.
The Gala Dinner is a formal dress or cocktail attire affair, highlighted by Korean entertainment. This year did not disappoint. Entertainment included boy band SF9 and B boys (breakdancing) Jinjo Crew. Sue Son, a Korean violinist who was on the TV show Britain's Got Talent, also made an appearance.
My favorite activities included the researchers' symposium and group sessions. This year, I attended the presentation of a group of Scandinavian researchers, and found it thoughtful and refreshing. I realized how accustomed I have become to viewing adoption from an Minnesota American perspective. When asked how they got their grant research funding in these countries, known to support international adoption, the answers were (paraphrased) "I didn't. I moved first." It sounded as though, in some cases, discussing adoptees as adult persons is still challenging; any narrative that is outside the boundaries of adoptees as children, and adoption as a means to create happy families, may not be fully accepted.
A group session on deportation also broadened my perspective. I became a naturalized citizen of the U.S. in second grade, and at the time, I understood what it meant. Yet, I didn't feel any less American before that. It wasn't until my mid-30s when I really started to question my status in the U.S. pre-citizenship. It is disheartening that some children were welcomed to their new home in the U.S., and later disowned by the U.S. for reasons related to a lack of paperwork. In a few cases, the U.S. government has forced adoptees to permanently return to Korea.
The age group discussion sessions are always eye opening. In my age group, topics range from our adult relationships, to our kids (often the first birth family we have ever known), to managing life transitions such as having aging parents or dealing with parents' deaths. Separately, we talked about meeting birth family, staying in contact with them and accepting when not to, and starting a birth search, closing one, or choosing not to do one at all. Questions like, "Do you want to meet your birth family?" do not have simple answers, even when they appear simple at first. There are many choices which can be complicated by both positive and negative possible outcomes, issues of self-respect, and having to face and relive past sorrow and loss.
After The Gathering, I stayed in Korea an extra week. I have met birth family, and these days, I am able to visit cousins, aunts, and other family members in Paju and Uijeongbu right outside of Seoul. Additionally, via friends, I had a great morning doing an art project painting on figurines made from oyster shells, and on another day, I visited a school for North Korean refugees.
After returning to Minnesota, I have thought about and missed South Korea often. My way to continue that connection is to be an active participant in the community organizations for Korean adoptees in Minnesota. Specifically, I attend the Korean Institute of Minnesota (KIM), where I learn Korean language, and I take classes in Korean drumming and gayageum (a Korean stringed instrument) with the local JangMi Korean Dance and Drum studio, which reaches out to Korean adoptees. I also go to events held by AK Connection, our local organization of adult Korean adoptees, and support other organizations such as Korean Quarterly.
I know that for many participants in The Gathering 2019, attending an event, discussion or lecture entirely by and for Korean adoptees is a novel experience. For me though, because of the Korean adoptees who were here before, having a Korean adoptee community does not need to be a choice or decision. Instead, it is a normal part of my life that will continue to remain important in the future.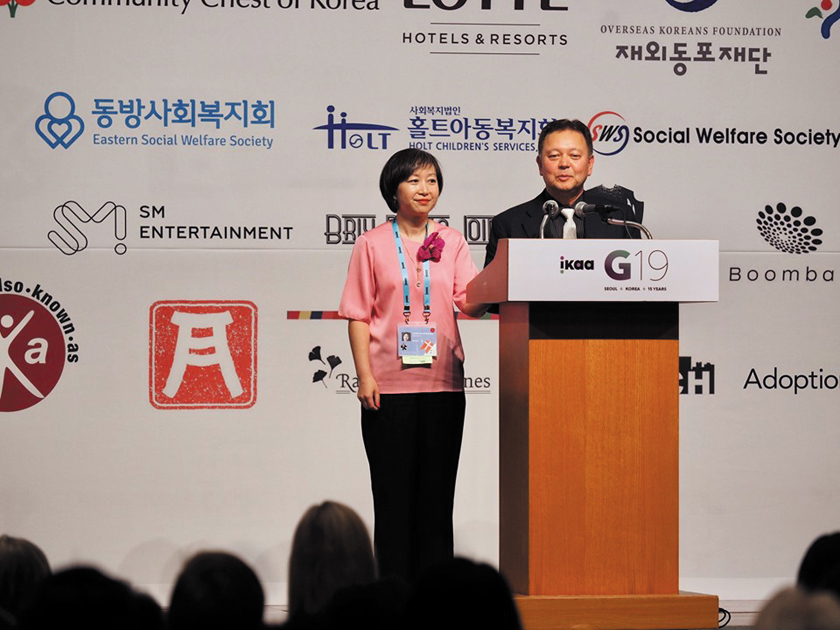 Connecting with fellow adoptees at IKAA tempers shock of re-entry
By Michelle Piper
This year marked the 15th anniversary of the International Korean Adoption Association (IKAA) conference. Annual gatherings are held in both Europe and the U.S., and every third year, the conference is held in Seoul. I was able to attend this summer for the Seoul conference.
I decided to take this first trip back to my birth country for reasons that had been accumulating over many years. However, the IKAA conference and its unique offerings was one of the primary forces that drew me there this past summer.
After initiating an official search for my biological family a year ago, the start of this new year brought me news that my biological mother had passed; I heard she had died nearly 10 years ago.
As a mother of a seven-year-old, I have had many questions about my history on behalf of my child; medical and general history that I have never known. After a lifelong battle with endless disorders and illnesses, the news of my mother's death triggered me to attempt to end my own life. I found myself in the ICU on life support for the umpteenth time. It wasn't until I learned of her death that I realized just how badly I had wanted answers, how much I needed them.
The search for information was the other reason for my return to Korea.
The three-week journey would be the most unbearably painful, confronting, frustrating, and most heartbreaking endeavour of my life. On my first day in Seoul, I took a trip to the Mapo Police Department to record my DNA in the national data base. I could have never been prepared for the information I would learn.
I talked to officers at the police department about my case and my reasons for recording my DNA, explaining that my mother had passed and I was searching for anyone I could find whom I was biologically related to. They looked through my paperwork, and asked me how I knew my mother had died. I told them that ESWS had informed me. They then told me that there was no record of my mother's death anywhere.
I had an appointment to meet with a caseworker from Eastern Social Welfare Society (ESWS), set up days before receiving this news. When I arrived at ESWS, my head was spinning. We went through the polite, conventional greetings. My case file, which was faded and discolored by time, worn, and many inches thick, containing the history of my early life, was sitting on the table right in front of me.
The caseworker had no response to the police information that there was no record of my mother's death. We talked in a frustrated circle, "How can you tell me my mother is dead when there is no government record of it?"
"How do you know there is no record?" she replied.
I explained my appointment at the police and the information they had passed onto me. She became increasingly flustered and defensive.
I left the appointment enraged, with few answers and only a weak agreement from her to pass on some extra paperwork to the police later that day. I later contacted my caseworker in Australia after sending ESWS endless emails to confirm that the paperwork was sent. I got no confirmation in the end. Instead, I was begrudgingly given the address of the building I was born in.
I had always known I was born in Busan, and a few days later found myself standing outside the place of my birth. It is now community center in Haeundae, just one street back from the ocean. I stood there, unable to process the magnitude of what it really meant. It was powerful to be there, standing in what was the very last place I was ever with my mother before we disappeared from each other's lives forever.
The IKAA gathering came at the end of my last week in Korea. Had it not been for the goal of getting to the conference, I would not have had the strength nor courage to complete my trip.
The events of my first few days left me stunned by what Korea has become —- a land of contradictions, of hypocrisy and vanity. On the outside, Korea projects the image of a economic powerhouse, the land of K-Pop, flawless plastic surgery, incomparable technology, freedom and prosperity.
Yet not far beneath the surface, I had experienced a hint of the deep-seated roots of misogyny, inequality, proud, unquestioning, unfailing loyalty to family lineage and honor. Everyone must follow the rules of family, gender and class. In that structure, everyone must know their place and act accordingly. It is this cold, unforgiving Korea that many adoptees face in the course of birth family searches.
I made this trip trying to hold no expectations of what I would find. However, I still felt deeply shattered at how little connection I felt towards my country of birth. I felt just as unwanted, abandoned and forgotten by my so-called motherland as I did by my own mother.
It was a solace after this experience to arrive a few days before the conference and go to an informal get-together of all the Aussie adoptees, just arrived in Seoul to go to IKAA. I had met some of them at a lunch in Sydney a week prior to my departure.
In comparison to the number Korean adoptees scattered across the world, we Korean Australian adoptees are very few. We have a Facebook group run by our president, Tim Kim, and vice-president, Kiri Glover. Our group is called KAIAN (Korean Adoptees In Australia Network). There is no official organization or support available to us at present. Tim, Kiri and a number of others are working hard to change this. Like IKAA, every aspect of the organization relies on volunteers and donations. Gatherings like IKAA provide a vital source of support, especially for those in remote areas or in countries where the number of adoptees are few.
The conference itself, held at Seoul's Lotte Hotel, was a unique experience and one I will never forget. My first impression was that it was overwhelming to be in a room surrounded by over 550 adoptees, and reflect that we represented but a speck of the nearly quarter of a million Korean adoptees worldwide.
The conference was a non-stop event, with every day and evening full of opportunities. There were social events such as an All-Star Soccer Match (IKAA v. Ministry of Health and Welfare), a tour called Adoptees Loose In Seoul (an IKAA take on The Amazing Race), and other family-friendly activities.
There were also serious topics presented in the research panels, age-group breakout sessions and assortment of workshops. This was where we learned some of the hard, ugly truths about adoption in an informed and supportive setting. Within adoption is a hard truth of loss; loss of a child, loss of one's parents and family, of language, of culture, and country. Exploring aspects of that loss with support is what these sessions do best.
The age breakout sessions (for me 30-34) were sessions where people freely voiced stories from their lives, some of intense sadness, vulnerability, horror, and unimaginable experiences, but also many stories of courage, strength, overcoming adversity and defying the odds. Though most of us were strangers, and all different and unique, at the same time we shared the connection of common experiences.
The workshops covered a wide range of topics: Benefits and obstacles as an adoptee parent, birth family search, coming full circle (leaving as an adoptee, and returning to Korea as an adult), sessions on aspects of adoptee physical and mental health, and points of views from all those involved in the adoption triad.
Although there were many topics, one main theme recurred for me throughout the conference; the anger, frustration, abandonment and trust issues present in adoption. Among many adoptees there is the need to discuss these issues, and the desire to be recognized as oneself, a whole person with a past, family, and roots in Korea
In addition to all the usual issues of growing up, adoptees face racism from peers, and even from the families we were adopted into. Returning to Korea exacerbates that racism, because to the majority white cultures in which we grew up, we are unwanted invaders, but when we return to our native land, we are Korean looking non-Koreans, people who do not know their ways, culture, language and traditions.
It has only been since the huge influx of adoptees returning to Korea that we have begun to be recognized, for how can one ignore such a vast number of displaced children returning as adults for answers?
As I painfully learned in Korea, returning adoptees still face prejudice, false promises, blanket apologies and a country that wishes we could be silenced, for to Korean nationals, we are a constant reminder of the shame of so many children who do not fit into the culture's exacting family structure.
So many returning adoptees have faced situations like the one I experienced. I have heard many stories of adoption papers with false background stories, and incomplete, inconsistent information. Returning with many questions, adoptees have had to deal with uncooperative adoption agencies who will not admit any culpability in placing children in adoptive families about which they had no information, or that international adoption was driven by money.
Being at the conference brought home to me how adoptees are a part of what has helped Korea to rise to an economic powerhouse. We are an export; we are the result of legal child trafficking, a money maker so successful that it is still going on today, despite an aging population and birth rates so low that in future years there will could be no population to sustain our race.
Life as an adoptee, especially an Australian-Korean from a city where there are only a handful of my own people, IKAA gave me one week to surround myself with a community who not only look like me, but understood me in a way non-adoptees never could. The conference-goers were all infinitely kind, compassionate, supportive and understanding. This conference came after a lifetime of depression, racism, prejudice, self-harm, attempts on my life, abuse and isolation. For the first time, I felt I was given the opportunity to truly be free, to share, to cry, to not have to think and filter every word and every action.
For now, my search for my birth mother is at a standstill; I got no factual information from ESWS to confirm her death. I only know there seems to be no official record of it. This was a difficult issue to leave with no resolution.
However, because of the conference, the people I met, the friends I have now made both from Australia and worldwide has given me an important lifeline and introduced me to a network that will support me and other adoptees in the future.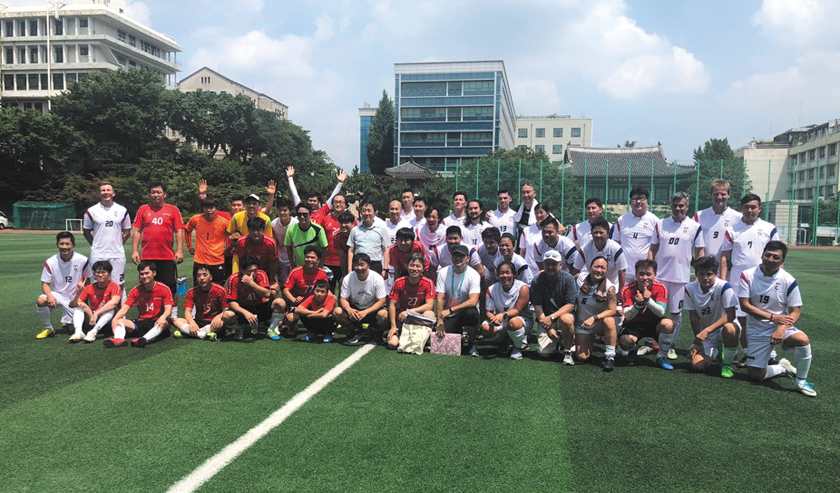 Soccer match was highlight of conference activities
During the August conference of Korean adoptees in Seoul called The Gathering 2019, there was a much-anticipated soccer game at Dongguk University on an intensely hot and humid Seoul summer day. Two "all-star" teams faced off. In this case, the "all-stars" consisted of anyone who wanted to play on the two teams. One team was from the International Korean Adoptee Association (IKAA), the sponsor of the international conference. The other was from the Ministry of Health and Welfare (MHW), the government department that administers South Korea's international adoption program. It was quite a face-off, and had even those with little to no interest in sports screaming and cheering on the sidelines.
The IKAA All-Stars, led by coaches Henrik Burheim and Jesper Liebing, was a team of adoptees, and their partners and family members from around the world. This international team, with members from the U.S., Canada, Australia and northern Europe, had only one short practice to get it together prior to the match. The team made an impressive and challenging opponent to the Korean MHW.
Both teams put up a tough and aggressive defense, while executing impressive attack strategies, creating an exciting and high-energy atmosphere, despite the exhausting heat.
The first 20 minutes saw MHW score the first two goals, but many more attempts were thwarted by IKAA's most valuable player, a determined and relentless goalkeeper from Australia, and the only player to stay on field enduring the entire 90 minutes. The IKAA All-Stars set up a perfect shot and made the goal, but the end of the first half, the score was 3 to 1 in MHW's favour.
IKAA All-Stars came back fighting in the second half, and scored two goals in quick succession to bring the score even at 3 to 3. With one more impressive shot, IKAA took the lead. The last 20 minutes had spectators, team mates and coaches tense and on edge with apprehension and excitement as MHW scored another goal bringing the teams back to a tie.
With only minutes to go before the end of the match, both teams exhausted, aching and bruised, the MHW managed to set up one last shot, scoring a goal taking the lead and ultimately winning the game.
Both teams displayed great sportsmanship and respect. Some players even exchanged shirts with the opposition at game's end. There were handshakes and happy group photos. The teams shared a well-deserved lunch, along with the teams' supporters, coaches, families and volunteers. Overall, the game was one of the highlights of the conference activities, and exhibited talent, skill, and most importantly, unity.