Kim Jiyoung, Born 1982 ~ By Nam-Joo Cho (translated by Jamie Chang)
(Liveright Publishers, New York, 2020, ISBN #978-1-63149-670-7)
Review by Joan Thompson (Fall 2020 issue)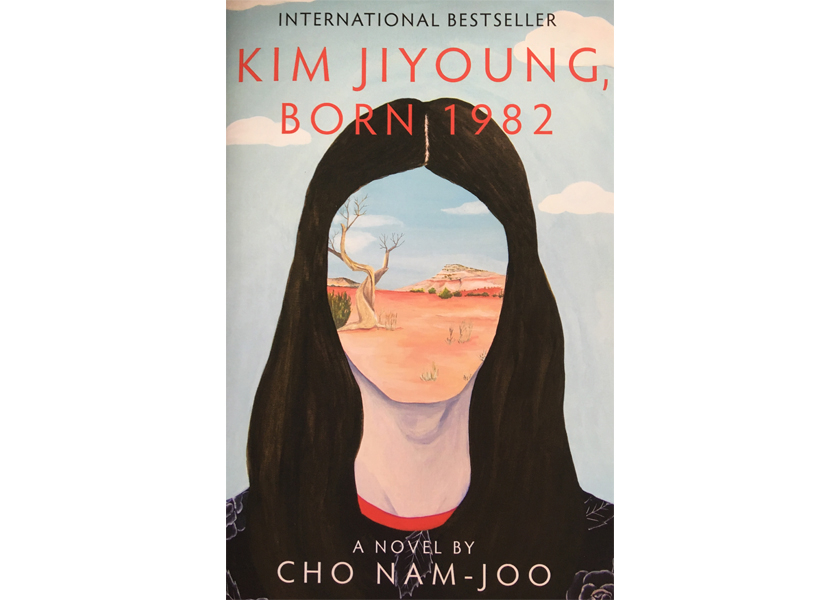 In her debut novel Kim Jiyoung, Born 1982, Nam-Joo Cho presents a searing feminist portrait of the challenges faced by a young woman who has given up her marketing career to stay home with her young daughter. The novel begins when Jiyoung has been at home for approximately a year. On several occasions, she startles her husband Seungyeon Cha by talking in the voice of her mother, which he at first tries to brush off as a joke.
However, when they visit his family for Chuseok, Jiyoung shocks everyone by responding to her mother-in-law's question regarding the work of making holiday food, by saying, "to tell you the truth, my poor Jiyoung gets sick from exhaustion every holiday!" This disassociation from self causes Seungyeon to hire a therapist for Jiyoung and leads the reader on a journey through her therapy sessions, revealing the difficulties of thriving in a paternalistic society.
The final chapter takes a turn that unveils not only the challenges Korean women face in addressing these issues, but also the universality of some of these challenges.
Told in succinct prose, the chapters explore Jiyoung's childhood, adolescence, early adulthood and married life. The reader learns of Jiyoung's family of origin's dynamics, her parents' challenges, her teenage concerns, her college life, her first relationships and her first job. Especially in the sections of the novel tied to treatment in school and on the job, much resonates with any woman who has experienced situations where boys and men are seen as more important.
Other sections of the novel are specific to Korean family structure and experience, such as Jiyoung's father and paternal grandmother's insistence on having a son, as well as the preferential treatment Jiyoung's young brother receives and the male classmates' privileged position at school. The novel also contains many footnoted facts with references to articles, statistics and studies regarding family structure and the role of women in Korean society at various times throughout the history covered by the story.
Flashes of women's rebellion against the status quo also feature as important to Jiyoung. Her older sister Eunyoung speaks out against the mother's treatment of their brother at meals and encourages her to eat. When the father's employment outlook fades, the mother figures out how to make money as an under-the-radar hairdresser and keeps hidden family accounts that help the family to prosper. Teen classmates rebel against teachers' unfair treatment, and women in the college hiking club help younger students with the hopes of becoming leaders in male-dominated activities.
All of these memories of women's strength echo through Jiyoung's decision to quit her job and her challenges with post-partum depression. What seems logical in terms of family decisions does not necessarily carry equal weight as to who is giving up more.
Nam-Joo Cho, who formerly wrote scripts for television, has created a young mother whose family history, education and marriage opens a window to the challenges faced by contemporary Korean women. Both the novel and its subsequent film version ignited controversy in Korea. Calling attention to traditions that keep women from equality has been an aspect of feminist discourse throughout the world, and Cho offers much that will echo with women everywhere. The novel's translation into 18 languages and its status as an international bestseller speak not only to women's issues in Korea but also to the concerns raised by feminists in other countries.