A Sign of Rain surprises with evocative natural sounds and big drumming power | Music review by Bill Drucker, photography by Stephen Wunrow (Fall 2019 issue)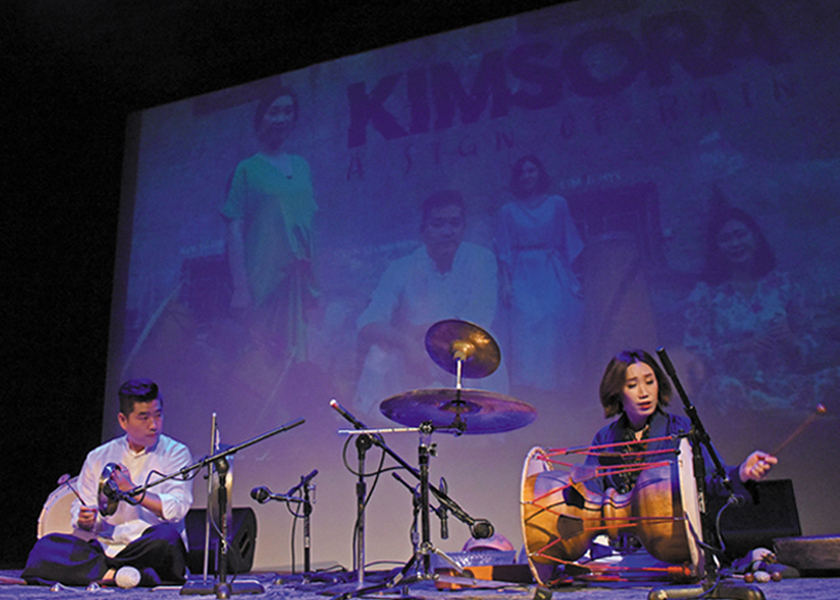 Samulnori, literally "four objects play," was beautifully performed by the renowned janggu player, SoRa Kim and her troupe.  Her A Sign of Rain 22-city Fall 2019 Tour made a stop at the Minneapolis Global Roots Festival on September 24.  The festival, at the non-profit Cedar Cultural Center, hosted several nights of world music.  The free intercultural events promoted global music and musicians.
Kim and her performing troupe gave an exhilarating concert on the small, intimate stage. Kim on the hourglass drum (janggu), Seung Hun Hyun on the bass drum (buk), gong (jing) and small cymbal (gwengarri), Ji hye Lim on the gayageum and Hye joong Lee on the piri.
The signature song, A Sign of Rain elicited the sounds of nature. Other songs, modern takes of songs in the pungmul nori tradition were new sounds to the audience. The whiny sounds of the piri, a reed woodwind, was melodically played by Lee. On one song she held a note so long, she might have fainted. The gayageum, a long, stringed instrument was elegantly played by Lim, with only her strong and supple fingers. One minor complaint was that the gayageum was not amplified as well as the other instruments. Even in the second row, the audience had to strain to hear her solos.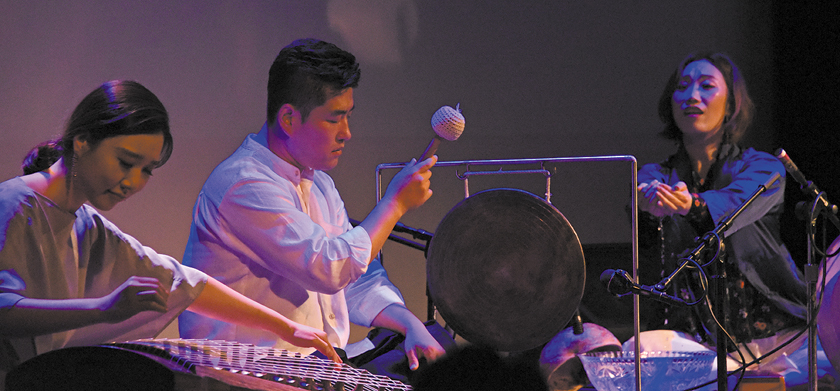 An outstanding number was a familiar-sounding traditional drum composition, Uttari Pungmul. Kim on janggu and Hyun on buk played their hearts out. It was a physically demanding and exhilarating performance. However, Kim and Hyun, seemed to barely break a sweat. The four performers received a standing ovation from the appreciative audience.
Traditional Korean folk music, and modern interpretations of samulnori are alive and well in the hands of musical artist and cultural ambassador, SoRa Kim. Her website has the 2019 tour schedule, and her drum performances can be heard on Youtube.