Play on a famous relationship contrasts with modern racial tensions in Sally & Tom | By Joanne Rhim Lee (Fall 2023)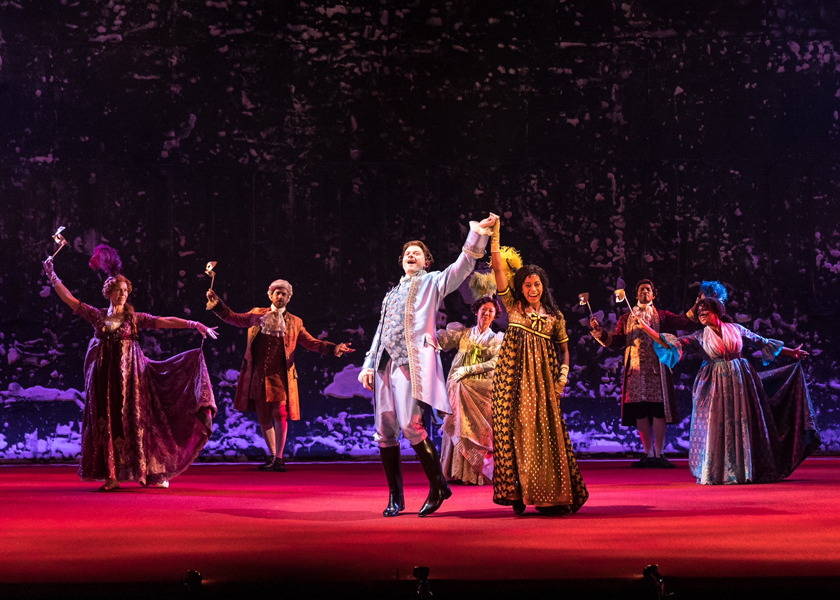 Sally & Tom By Suzan-Lori Parks
(Directed by Steve H. Broadnax III, Guthrie Theater, Minneapolis, October 7 – November 6, 2022)
The opening scene of Suzan-Lori Parks' Sally & Tom predictably features Thomas Jefferson and his mistress/slave Sally Hemings, with other characters including Sally's sister and Jefferson's daughters listening in the background.
However, when the scene ends, it quickly becomes apparent that the characters on stage are not only playing Jefferson and Hemings, but actors who are in last minute rehearsals for a play about them. Luce who plays Sally, is also the playwright of the play within a play. When she is introduced, she is making last minute changes to the dialogue during the rehearsal. This is quite disconcerting to the rest of the cast, including Luce's boyfriend and creative partner Mike, who plays Jefferson. There is a simmering tension between them, hinting at troubles in their relationship.
This is the meaty meta-premise of Parks' world premiere of Sally & Tom at the Guthrie Theater in Minneapolis.
Luce struggles to find the right balance of historical accuracy and contemporary commentary on this story of race and class. Did Thomas Jefferson really love Sally Hemings, his slave? More importantly, did she love him? Is it possible to love someone who owns you? How do relationships navigate a power imbalance?
Even amidst the chaos on the set and behind the scenes, the show must go on, and it's thrilling to watch Luce's creative process unfold, and to bear witness to Parks' singular brilliance as a playwright writing for a playwright. During the rehearsals, there is a feeling of excitement and creativity in the air, as if everyone understands that they are a part of something wonderful and important unfolding.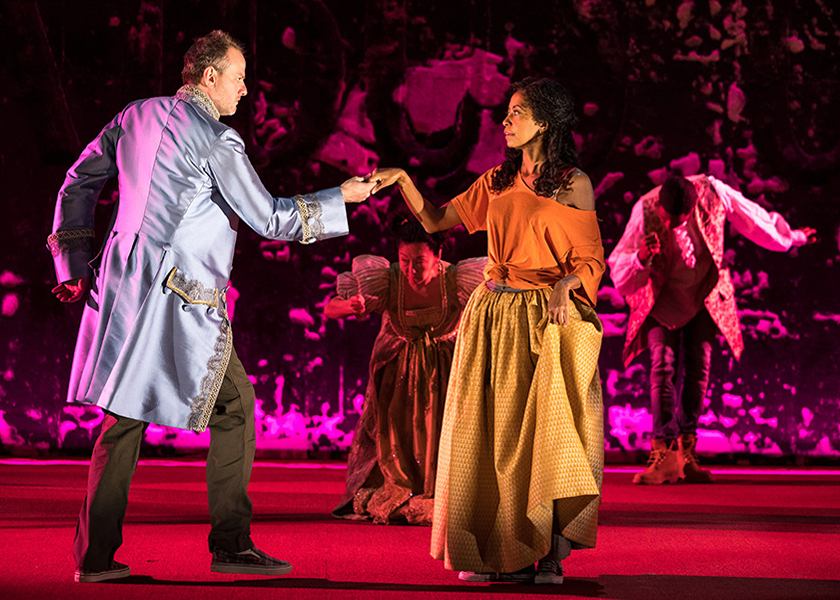 As Luce/Sally, Kristen Ariza perfectly captures the intelligence, strength, and vulnerability of both characters. As Sally, she obeys Jefferson and plays the role of devoted slave/lover. On stage as the playwright and director, she is able to pull rank with Mike, but at home, things are more complicated. They try to separate the personal from the professional, but it's difficult.
As Mike/Thomas Jefferson, Luke Robertson has a difficult, thankless role, but he pulls it off, showing a humble yet complicated devotion to the woman he loves.
The other six actors in the production double up as stagehands, costume directors, and prop managers. They are also Luce and Mike's friends, which makes everything even more emmeshed. Originally, Luce writes a searing monologue for Kwame, who plays James, another of Jefferson's slaves. Amari Cheatom shines in this dual role, delivering the most powerful scene in the play. But when playwright Luce considers cutting the scene, her friendship with actor Kwame is put to the test.
Another standout in the cast is Sun Mee Chomet, who plays Jefferson's younger daughter Polly, as well as actor Scout, who assists Luce with scheduling and direction. As a Korean American, Scout understands that the opportunity to play Jefferson's daughter in such an important production is a gift, an example of color-blind casting. Though she is grateful, she's also tired of being the token Asian. Scout says she has more to offer than being a sidekick; there are things she wants to say, and roles she wants to play. Credit goes to Parks for creating this rich, layered role, and for Chomet for imbuing Scout/Polly with a deep and genuine pathos.
Against all odds, Luce and her cast make it to opening night. The audience might think they've seen everything in the rehearsals, but Parks has saved the best for last.
Parks' Topdog/Underdog, which is now playing on Broadway, was called recently called "the greatest American play of the past 25 years" by the New York Times. She has created her own competition for this title with her new work Sally & Tom.
Performances continue through November 7 ~ to get tickets, visit: guthrietheater.org