My Year Abroad ~ By Chang-rae Lee
(Riverhead Books, New York, 2021, ISBN# 978-1-59463-457-4)
Review by Joanne Rhim Lee (Spring 2021 issue)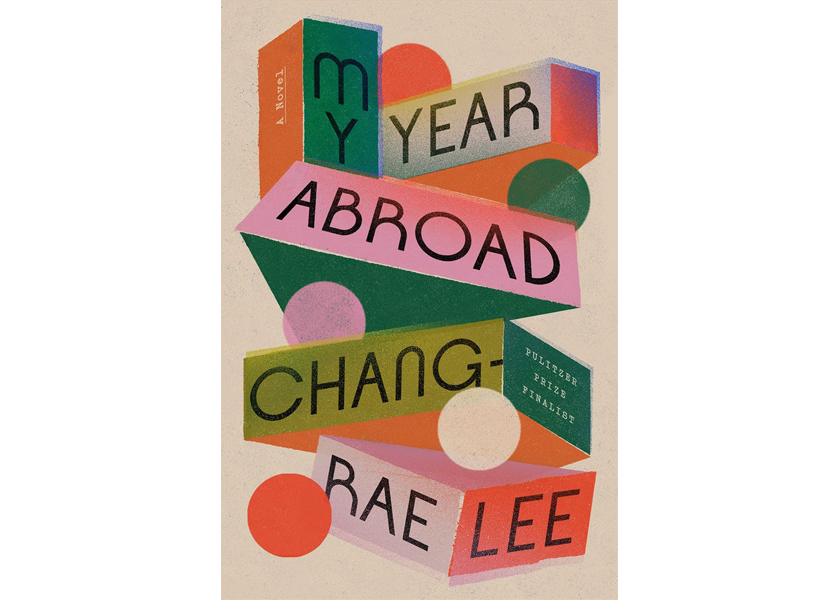 Many students hope to do a semester or a year abroad during their time in college. After all, when would post-college adults ever have another opportunity to live in a foreign country for an extended period, free from the responsibilities of a job, mortgage, or child-rearing, while soaking up a new and potentially exotic culture?
Tiller Bardmon is one such college student, who attends (in his assessment) a medium-rate overpriced liberal arts school on the East Coast. The summer after his sophomore year, he is working as a dishwasher at a local restaurant, trying to save money for his study-abroad program in the fall. One day, while filling in for a friend as a caddy at a local country club, he meets a man named Pong who takes a keen interest in him. One thing leads to another, and Tiller does end up going abroad, but not to his bland rich-kid-at-the-Sorbonne type program. Instead, he spends the next year hopping around various far-flung Asian locales as Pong's assistant.
In his previous novels, such as Native Speaker and The Surrendered, notable Korean American novelist Chang-rae Lee honed in on one or two main characters and their specific issues. In his new novel My Year Abroad, Lee is much more ambitious, with more than a dozen compelling characters and many detail-rich settings. He reveals a vast knowledge and understanding of the Chinese Cultural Revolution, local surfer culture in Hawaii, isolated country estates in Shenzen and Macau, and even the culture of suburban American cul-de-sacs.
Tiller is a typical nice guy who has been flying below the radar his whole life. He is one-eighth Asian, a random fact that he thinks is the most interesting thing about him. He grew up in a boring suburb of New Jersey, raised by a single father after his mom left them when Tiller was in elementary school. His father did the best he could, but they are not particularly close, as evidenced by the fact that Clark does not even raise an eyebrow when Tiller doesn't see him for an entire year, instead checking in with vague, periodic texts about his study abroad program and promising to have dinner together when he returns.
Perhaps Tiller's average-ness and humility is what initially draws Pong to him – first as his caddy, then as a taster at his yogurt shop (creatively named "WTF-Yo!") and finally as his assistant/travel companion as they jet off to Asia with Pong's business associates to market Pong's latest venture, a new health drink called Elixirent.
My Year Abroad oscillates back and forth: the present day, when Tiller is living in a New Jersey suburb with Val, his older girlfriend of a decade or so, and her seven-year-old son Victor; and the past, a description of his life-changing year abroad with Pong and his associates. The story of Val is a subplot. She has her own mysterious personal history, and she and Victor Jr. are living under the witness protection program. She and Tiller have an instant connection at a mall food court, and seem to abide by the "don't-ask-don't-tell" policy in their relationship.
Readers may find themselves rooting for Tiller, the underdog. He is a young man searching for his identity, perhaps clinging to Pong as a father figure and Val as a mother figure, and drawn to Asia as his ancient homeland (12.5 percent). Pong is more grounded, but he is also searching for some greater meaning to his middle-aged life. His teenage daughters have no interest in talking to him, his wife seems to prefer when he is away on business trips, and his elderly father keeps putting his dirty laundry into their refrigerator.
As expected, Lee's dialogue in My Year Abroad is funny, irreverent, and at times profound. Its narrative is that type of deep, soul searching conversation that is only possible when one is on break from the daily grind of regular life, such as during, well, a year abroad. At one point, Pong asks the younger Tiller for advice. What would he do in this particular situation? Tiller can't believe that the worldly older man is actually asking for advice from him, a lonely, boring kid with no prospects. His answer is ironic, showing that there is more to this young man than meets the eye:
Aside from my not liking having to be alone, my lucky deal as a kid of (relative) privilege was knowing that as long as I didn't totally fuck up, I'd end up at a decent college and fall into a decent job and maybe meet a woman way more special than I deserved and join the ranks of the daily showered while we all waited around for something compelling to happen. So yes, I told Pong I would have signed on, though not specifying that it would have been for nothing else than the regular shuffle of footfalls on the ceiling, familiar voices reverberating down the stairs.
In the present day, neither he nor Val works a steady job, but Tiller is able to fund their comfortable middle-class lifestyle with a magic credit card that keeps on giving. It's clear that it is Pong's credit card, but there are lots of obvious questions: why does Tiller have it, how much can he spend until it's maxed out, and where is Pong now? What happened during his year abroad?
In answering these questions, Lee crafts his most ambitious and brilliant work to date. Though Tiller and Pong are the main characters, there are other quirky, well-developed characters who flesh out both ends of the story. There are sexual escapades on several continents, drunken karaoke nights, yoga retreats with yogis from Wisconsin, identify theft, several near-death experiences, and one terrifying human trafficking/slave labor situation. One wonders how Lee knows this many random facts, but somehow he weaves them all together into a brilliant, hilarious, heart-breaking narrative.