The Last Story of Mina Lee ~ By Nancy Jooyoun Kim
(Park Row Books, Toronto, 2020, ISBN# 978-0-7783-1017-4)
Review by Joanne Rhim Lee (Winter 2021 issue)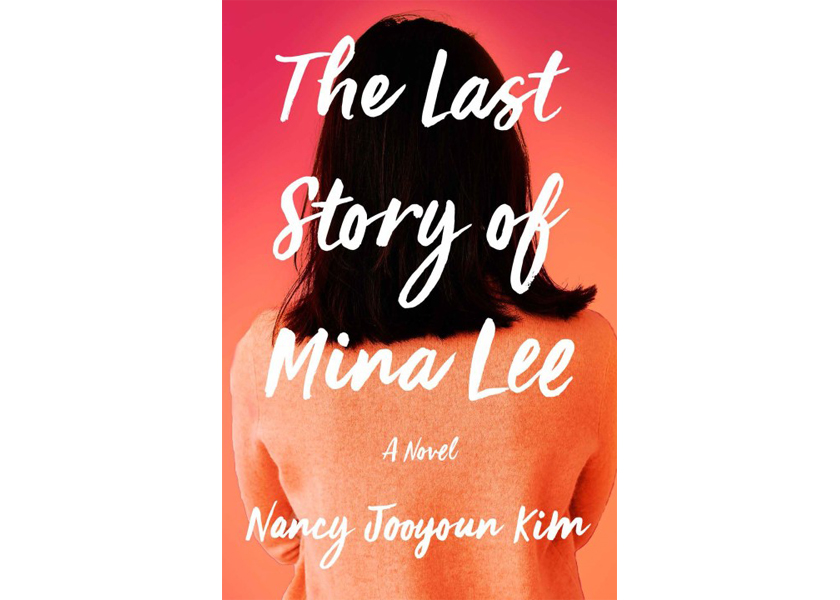 Margot Lee has never really understood her mother, Mina. Growing up as the only child of a single mother in Los Angeles, she resented the fact that they were poor, that her mother did not speak English, and that she was robbed of a "normal" childhood, basically spending her entire life hanging out at their flea market clothing store in Koreatown, not far from their run-down apartment where no guests were ever invited.
Since arriving in Seattle for college eight years ago at the age of 18, Margot has done her best to erase any evidence of her sad childhood by masquerading as a successful millennial, wearing eco-friendly fleece and carrying a stainless-steel water bottle everywhere she goes. But the truth is that she is lonely and hates her job as an administrative assistant. Even though she normally avoids visiting her mother, she agrees to accompany her friend Miguel on a road trip to Los Angeles, where he is moving to pursue his dream job. After all, she is long overdue for a visit with her mother, and her Korean guilt is kicking in.
On their leisurely drive down the west coast, Margot preps Miguel to meet her mother. She is nervous about exposing herself to possible judgment, even from her close friend. The shame she feels about her home life and her mother's backwardness resurfaces the closer they get to LA, but another factor is also adding to her anxiety: She has been phoning her mother for the past few days to let her know they are arriving, but has not been able to get in touch.
Miguel tries to reassure Margot that her mother is probably too busy to call back, or that she is maybe out of town on vacation. Miguel is being kind, but Margot knows better; her mother doesn't have any friends, and she never goes on vacations. She only goes to work every day, and then back home to eat and sleep. Where could she be, and why isn't she picking up her phone?
Author Nancy Jooyoun Kim does not make readers wait very long to find the answers to these questions. When Margot and Miguel arrive at Mina's apartment a few days later, they are horrified to discover her dead body, laying in a prone position with no sign of a crime having been committed.
Margot throws herself into solving the mystery of what happened to her mother. She first calls the police, but when that doesn't seem to get her anywhere, she takes on the role of private detective. After a few nights in a hotel, long after an ambulance has taken her mother's body away, Margot moves into her old bedroom, cleans up her mother's last dishes, packs up her things and continues to try to find clues about her mother's life and death.
Luckily, Margot's non-essential job allows her to stay in LA longer than the few days she had initially planned for, and she throws herself into her new task with a passion and energy that she didn't realize she had. It slowly occurs to her, with a quiet sadness, that she actually didn't really know very much about her mother. She was little more than a cardboard cutout figure that Margot had created in her mind. A lot of that had to do with language, as Margot had never bothered to learn Korean. She had been so angry at her mother, and ashamed of everything that she represented, that Margot felt that learning Korean would be admitting that she was like her.
Now, as she interviews Mina's landlord, her co-workers and fellow church members, Margot realizes that her mother may have had a completely different life than what she had pictured. Margot knew only that Mina had been born in Korea, and, as a young child, had to grow up in an orphanage after she was separated from her family during the Korean War. She immigrated to the U.S. later in life.
Unlike most of Margot's Korean friends' parents, Mina arrived as an older single woman at about age 40, not as a young college student hoping to obtain a coveted American education, or as a married woman with children. Mina gave birth to Margot a year or two after arriving, but Margot never learned anything about her father. She did not know who he was, where he was now or even if he even still alive.
Though Margot always assumed she shared nothing in common with her mother, it is clear as she aggressively digs for the truth that Mina actually had a tremendous amount of grit, and that Margot has inherited this from her. In alternating chapters from the voices of Margot and Mina, we learn that there was much more to Mina that the quiet woman who walked away from racist customers and feared large crowds.
Initially, The Last Story of Mina Lee seems like Margot's story, but slowly Mina's backstory chapters become more rich and compelling. Margot cannot believe that her mother may have had a life before giving birth to her, and experienced true love not once, but possibly twice. Upon finding an old photograph of Mina with a man and a little child who was not her, Margot notices that her mother does not have the same strain and sadness that was always on her face growing up. Who was this woman, and who are the other people beside her?
Kim does a good job of pacing her story, adding in likeable supporting characters, such as a young Korean American police officer who tries to temper Margot's expectations, and Mrs. Baek, an old friend of Mina's who provides Margot with some insight on her mother's early years in the U.S. Interestingly, there are several Mexican characters in both Margot and Mina's stories; perhaps the author is drawing a parallel between their experiences and those of Korean Americans as immigrants.
When Mina first arrived in the U.S. and worked as a stocker at a Korean grocery store, she was promoted to the cash register very quickly, even though her Mexican co-worker Hector had been working there much longer, and had even trained her in. Kim writes with a keen insider's perspective on the awkward tension between friends that resulted: "She wanted to explain to him, to make him feel better, that she wasn't strong enough to do this job, but both of them knew that was not the truth. The truth was something that would make them both uncomfortable and sad. This was already his expectation. This was already his experience."
In addition, Kim pulls back the curtain on the ugly truth of class divisions among Korean American immigrants. Though Margot grew up in southern California among many other Korean Americans, she describes herself as feeling like a second-class citizen because of her mother's single-parent status:
Among Korean Americans, many of whom where Christian and from middle- to upper-class backgrounds as a result of status-filtering immigration laws, a child out of wedlock, a missing father, seemed to be particularly embarrassing when family success represented all that you had in this country far away from home. Anyone who failed was defective —- not the dream, not the conventional shape of a family and success.
As the details of Mina's death are finally revealed, Margot obtains the bigger-picture answers about her mother's life that she desperately needs in order to move on with her own life. The Last Story of Mina Lee is part mystery, part mother-daughter drama and part historical fiction. Kim writes with perception and clarity about the Korean American dream, and how it is often deferred. She has the knowing, confident style of one who knows that the struggling immigrant story is only one chapter of a rich, complicated life, most of which unfolded before immigration. In her careful and nuanced unfolding of Mina's story, Kim honors the lives of all Korean immigrants and survivors of the Korean War.