Two sisters, heroes of the U.S. and Korea Olympic hockey teams, get a warm welcome from hometown folks | By Martha Vickery (Spring 2018 issue)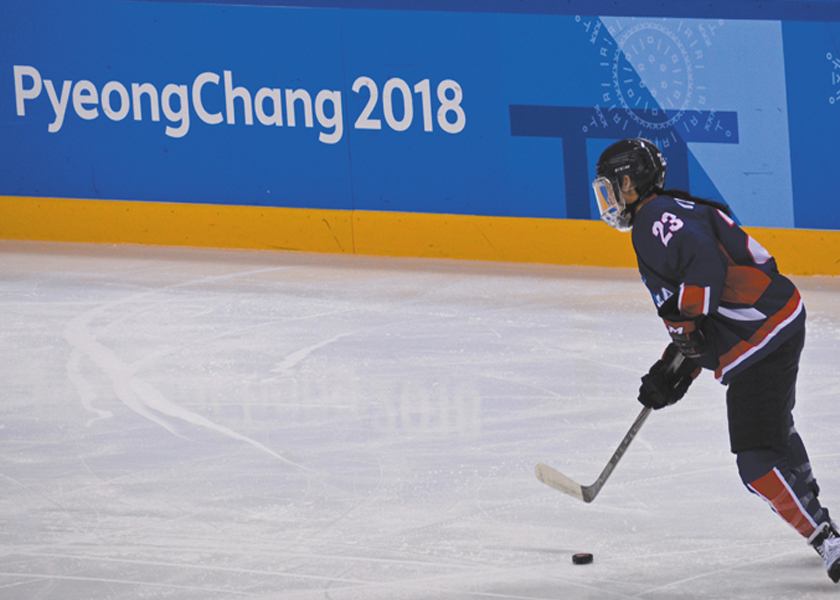 The small suburb of Vadnais Heights was well prepared for a heroes' welcome for returning Olympic hockey athletes Marissa and Hannah Brandt. There were autographed posters of the two sisters, and equipment to provide the maximum fun for kids: Mini-gold medals on ribbons, cookies, ice cream, and face-painting.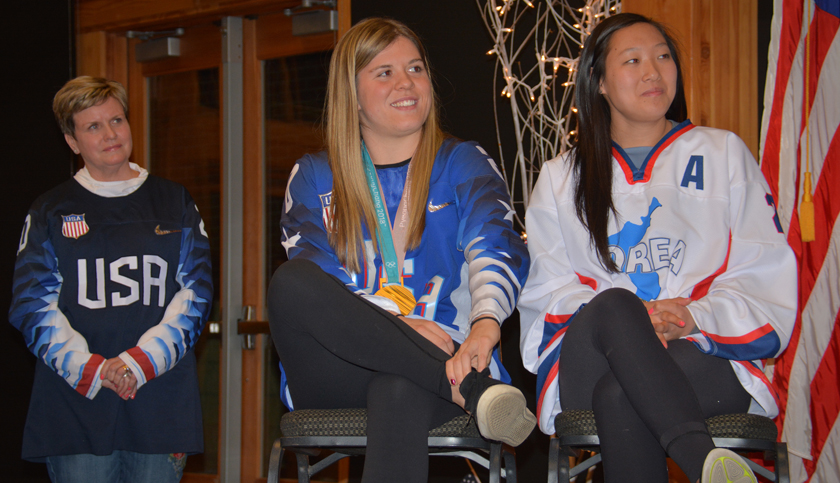 There were a lot of orange hockey shirts in the audience as teams of middle school girls from the White Bear Lake school district lined up to see their hometown stars of the ice.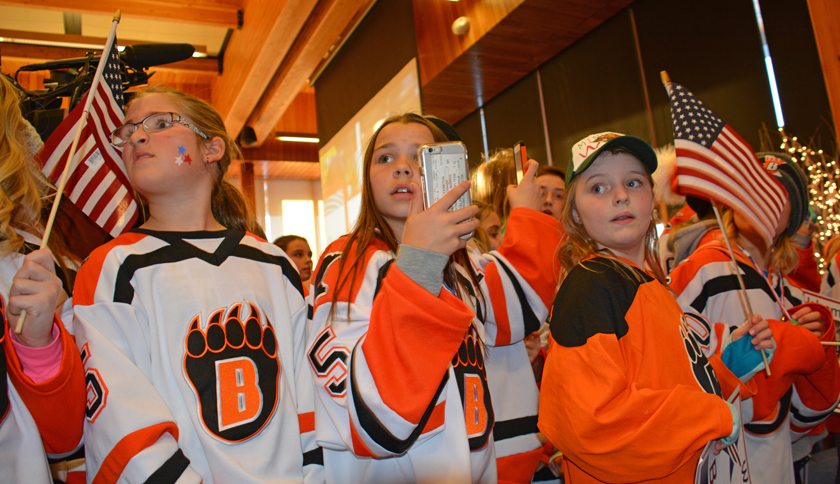 Excitement was building in the half-hour preceding the arrival of the two by fire truck at the Vadnais Heights Commons building. The day of the welcome had to be Thursday, March 8, because Hannah did not come back from her post-Olympics U.S. tour until March 7, and Marissa was taking off to South Korea for hockey training camp on March 9.
March 8 also happened to be International Women's Day. It was also a day when rumors were flying in the wake of President Donald Trump agreeing to meet with North Korean leader Jong Un Kim. Looking around at the sea of hopping orange jerseys and smiling adults in the seconds before the grand entrance, it was enough synchronicity to give the occasion the feel of a moment in history.
Once the two heroes entered to some rock music, all the tension dropped and the fun began as the two sisters, looking very relaxed and all smiles, slowly made their way to the podium amid cheers, shouted greetings and lots of kisses and hugs.
Vadnais Heights is a small 'burb, and the community center is walking distance from where the two sisters, one Korean adoptee, and her barely six-months-younger blond sister, grew up. There was always a hockey rink set up outside the center, and the inseparable Brandt sisters started skating there when they were very young.
That rink, now with a brick warming house attached, was dedicated as the "Hannah and Marissa Brandt Ice Rink" at the end of the event, and the two had an inaugural skate on it, along with a lot of pint-size hockey players. It was the perfect welcome-home gift for the two neighborhood athletes turned national champions.
Marissa and Hannah gave their all to their sport at the Olympics in different ways. Marissa was recruited in 2017 (see KQ coverage of Team Korea training game in Stillwater, Winter 2017 issue) through a Minnesota connection to play on Team Korea's women's hockey team. Team Korea women were coached by Minnesotan Sarah Murray.
About three weeks before the Olympics started, the leaders of the two Koreas decided to field a joint team. The women's team had to suddenly take on some new North Korean players, a diplomatically important but strategically difficult situation for the team and coach.
"It was a tough situation they were put in, and they handled it impeccably," the sisters' father Greg Brandt said. "They initially felt it was unfair, and felt like their team was being ripped apart, but after those girls arrived from the North, Marissa said they couldn't have been better and were great teammates."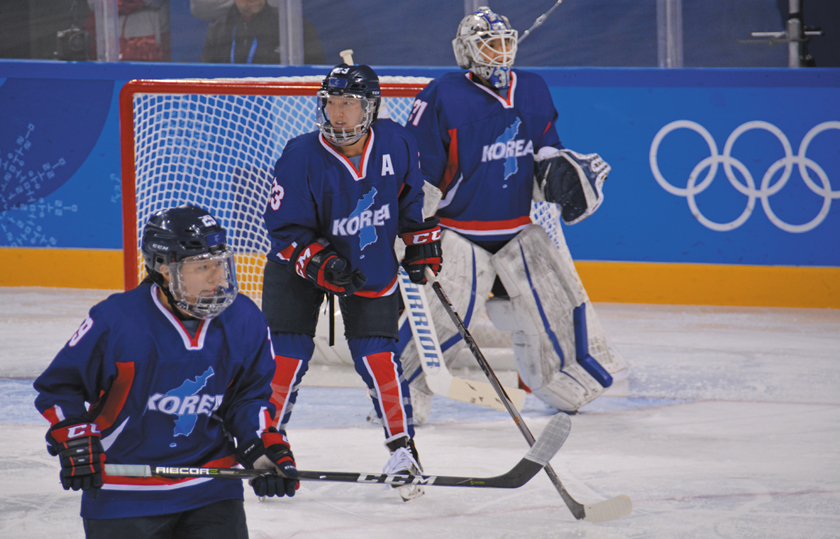 Team Korea was a logistical and a social experiment that amazingly worked, Greg said. Although Marissa could not speak directly to the North Koreans, due to the language barrier, "they were great human beings, and when it came time to leave, they were all crying because they had created such good friendships," he said.
The team went on to lose all its Olympic matches, but were nonetheless hailed and celebrated as heroes by both South and North Koreans for their effort. Marissa served as assistant captain of the team. Post-Olympics, Marissa was made an honorary ambassador for Korean adoptees in Korea.
Coach Murray recently signed a new two-year contract with Team Korea. Marissa has committed to staying on the team until the April world championship games in Italy. After that, she will need to plan her next move.
Hannah, who made the final group for Team USA in January, was in the team that bested Canada for the Olympic gold medal for the first time since 1998. The tense final game came down to overtime, followed by a shootout, and a goal stopped by Maddie Rooney of Andover, Minnesota, which clinched it for the Americans. It was a true fight to the finish for the arch-rival Olympic teams.
In early March, Hannah did a U.S. celebrity tour with her teammates, appearing on the Tonight Show with Jimmy Fallon, and the Ellen Show with Ellen DeGeneres, as well as guest appearances at hockey games in all the cities they visited.
Like Team Korea, the U.S. team's mission was also not just about hockey. The team got attention starting a year before the Olympics. At that point, it had already been struggling for 14 months with the governing organization USA Hockey for equal pay and benefits like child care, maternity leave and support for youth development in the sport. With days to go before the World Championship in Michigan, and threatening to boycott the games if their demands were not addressed, the women's team agreed to an undisclosed four-year deal which includes the establishment of a group to oversee the advancement of girls' and women's hockey.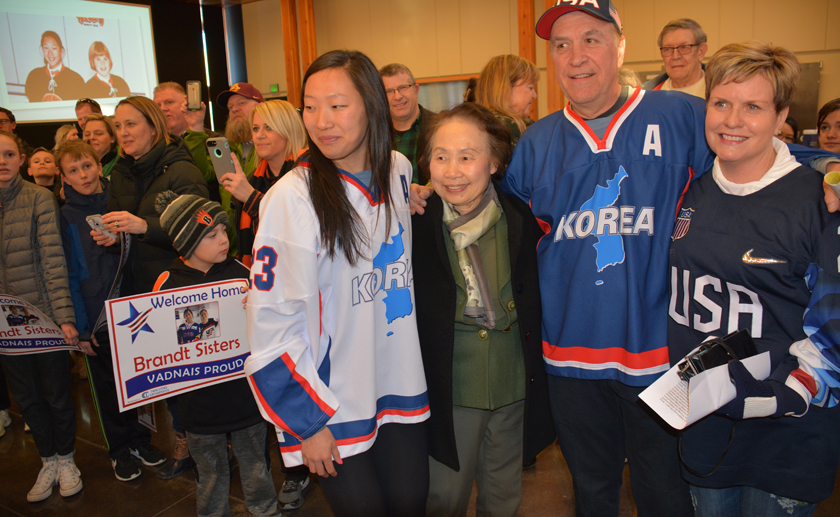 It was clear that the Vadnais Heights crowd understood that the accomplishments of the two sisters went way beyond hockey skills. Their parents, friends, and former coaches all took the podium in succession to talk about many things other than defending the goal, or slapping the puck into the net. Instead, their two ex-coaches from Hill-Murray and White Bear Lake Hockey Association discussed their good family, their positive attitude, good sportsmanship, and commitment to meeting their goals. The Hill-Murray hockey team said that the contributions of the two sisters has raised the bar for that school's hockey program forever.
For the two sisters, their best memories of the Olympics are about being there together. "Just being in the [Olympic] village together, being able to spend time with her —- that may never happen again for two sisters to be at the Olympics playing for different teams. That was the most incredible thing about it," Hannah said.
Marissa agreed. After training off and on in Korea for a year, "it was amazing to have my parents and sister come to Korea and experience my birth country with me. I could kind of show them around and teach them what I know, what others have taught me," she said.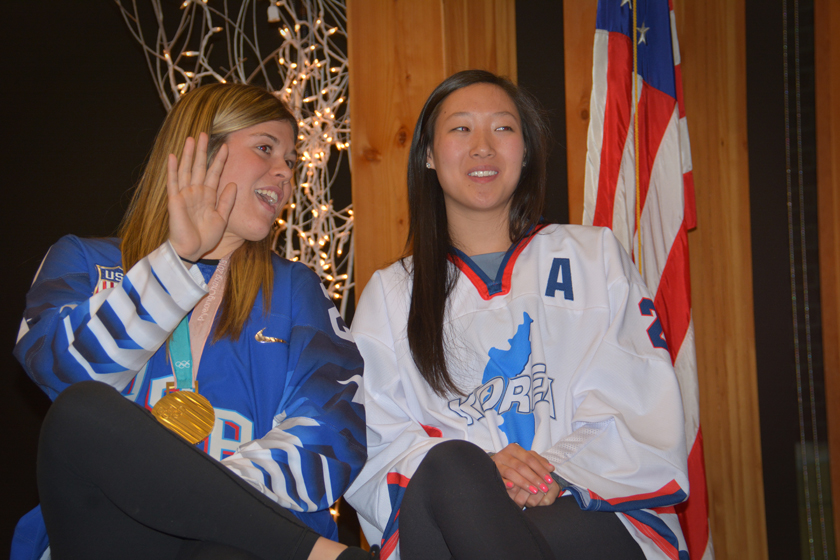 Opportunities for women in high-level sports have been arguably increased by efforts of women in the 2018 games. More women competed in this Pyeongchang Olympics than ever before. The work by Team USA in pushing for gender equity is setting a new standard for women in the future. "We want to inspire the next generation of girls, and I would just tell them you can do anything you set your mind to. Women are powerful. We have seen that throughout history," Hannah said.
It is also important to share the experience with the younger generation, Marissa said. "We want to inspire girls who want to play hockey. It has taught us so much, and it's great to see all the kids come out, and hopefully this will have a positive effect on them," she said.
Running beneath the novelty of forming a team comprised of North Americans, South Koreans and North Koreans was an undercurrent of meaning that gave those matches a charged quality. The joint North-South women's hockey team was an emotional shot in the arm to the proposed North-South peace process, a symbol of inter-Korean cooperation coming to life on the Olympic stage. "It all felt so emotional," Greg said. "At first, we did not know what to think about this, but by and large, the majority of the people seem so hopeful. We just got swept up with it." It is a moment Greg hopes the countries will use to advantage. "It looks like the door was cracked open and hopefully the politicians will use this opportunity and go for it."
It is a moment Greg hopes the countries will use to advantage. "It looks like the door was cracked open and hopefully the politicians will use this opportunity and go for it."
There was a serendipitous quality to the Vadnais Heights event. The unlikeliness of the two sisters ever going to the Olympics, the added unlikeliness of their playing on different national teams, of their being chosen for their teams at the same Olympics, through completely different circumstances, were several layers of coincidence. In addition, the two were in their home town for one day post-Olympics, which was coincidentally International Women's Day.
To that, their mother Robin Brandt told a back story. Hannah had already tried to make the team once before, for the 2014 Sochi Olympics. She did not make the team, and was bitterly disappointed, "but you did not give up," she said to her in front of the audience. "Now I believe it was meant to be that you and Marissa could go together and play for two different countries." Addressing the hockey girls in the audience, Robin told them "Follow your dreams, love each other and support one another. You never know what could happen."