With her own style, a bojagi artist promotes an ancient art form to the world | By Stephen Wunrow (Fall 2022)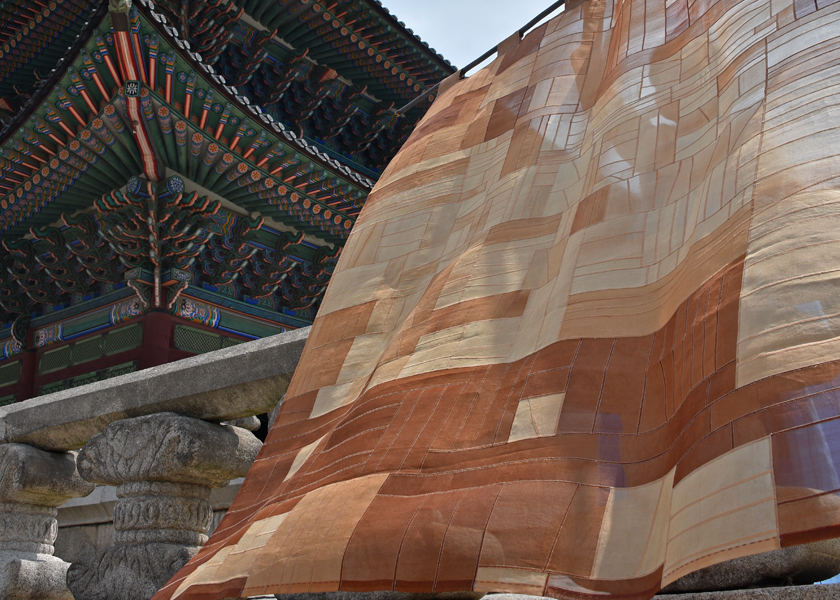 Working from her art studio and tea cafe just outside of Seoul, artist Aekyung Kim is developing and teaching an ancient art form to make it relevant and usable for art appreciators and students locally and globally.
A textile artist, Kim specializes in the art of bojagi, the ancient craft of Korean wrapping cloths made of pieced fabric in patterns, created with a sewing technique similar to quilting.
What was a thrifty and practical craft done by women in the past has been transformed into an art form for modern times, which Korean artists are now exporting to their fellow artists in many countries.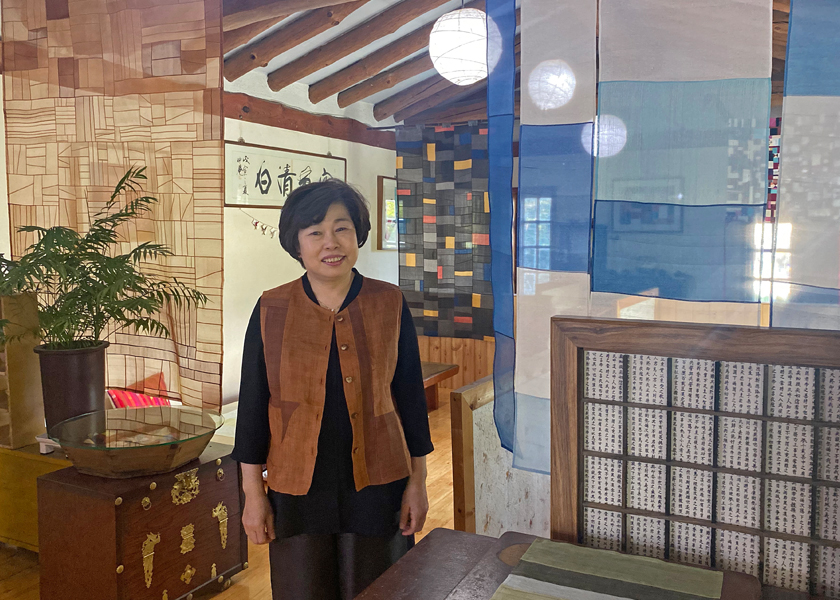 Kim, considered a master artist, exhibits at the biennial International Bojagi Forum (which was not held in 2022 due to COVID restrictions). From her home city of Hwaseong, located in Kyonggido province, just south of Seoul, she operates a colorful tea shop and studio, where she sells bojagi art, and runs two programs for textile artists, the Hwain Sewing Studio and the Kim Aekyung Myeongin Traditional Academy.
She is connected with other teaching artists and textile-art programs locally and regionally. She currently teaches her art at the Seoul Chongnoku Continuing Education Center and Kyunggi University Continuing Education Center, among other workshops and artists' programs.
The artist has been doing bojagi (also known as kyubang) art for many years. She said she first pursued bojagi as a hobby after taking a class at the Hwaseong Community Center, and later from studying books by the late bojagi artist Dongwha Hur.
Kim said she has had local and regional support for her pursuit of the art, particularly through the Hwasong City Cultural Foundation, which has raised awareness locally of the importance of promoting and preserving traditional textile arts.
In 2017, she had a solo exhibition at the Foundation, which was a springboard for her to promote her teaching and crafts locally, and later internationally. Through translator (and fellow bojagi artist) Chunghie Lee, Kim said the 2017 exhibition "became the beginning of my bojagi world journey."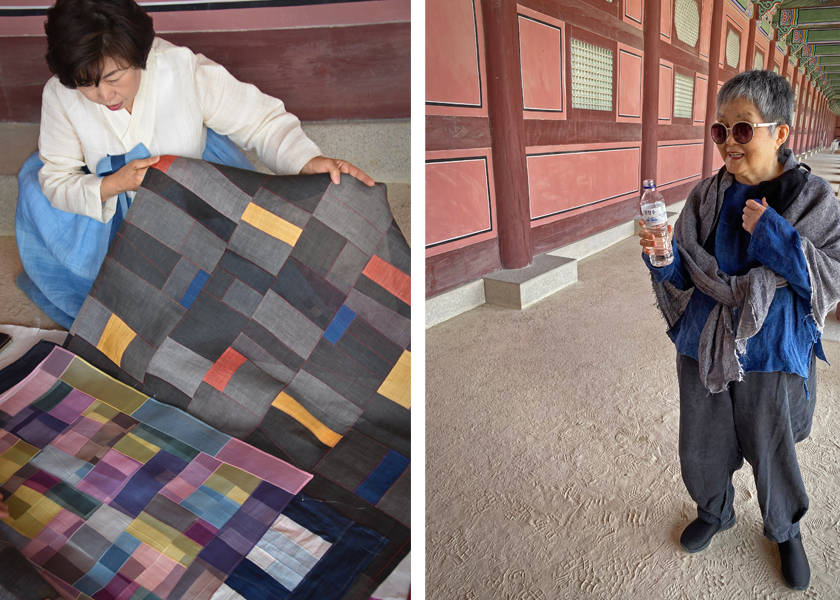 Kim met Lee, who is founder of the International Bojagi Forum, in 2017, when Kim attended a conference called the European Patchwork Meeting, held in Sainte Marie aux Mines, France. Her work appeared in an exhibition there entitled Hands of Korea curated by Chunghie Lee.  At that event, Kim met and made friends with Lee and other bojagi artists from many countries.  In more recent years, Kim has exhibited in Bojagi Master's Exhibition held as part of the International Bojagi Forum.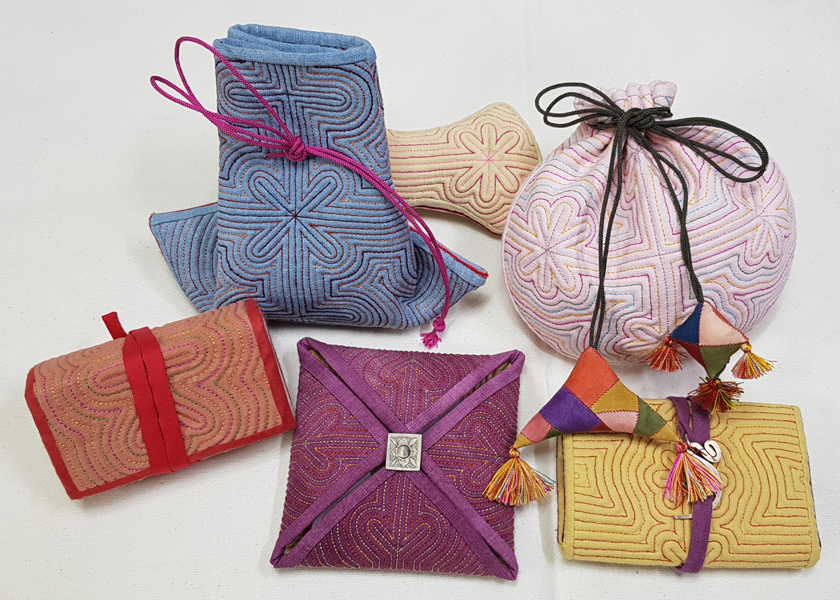 Lee said she tries to "reinterpret the tradition of bojagi into contemporary art forms." She also likes to use natural dyes to bring warmth and richness to the colors in her pieces. She uses a variety of traditional mediums, such as burlap, ramie, raw silk, jade yarn, tulle, and silk organza (nobang). She has also experimented with hanji, a sturdy traditional paper made from mulberry bark, which is used to make two-dimensional and three-dimensional crafts. She is also recently experimenting with saeksil, or traditional raised quilting designs.
Kim said she has taught students from foreign countries who have lived in Korea or travelled there to learn bojagi arts. She hopes for an opportunity to travel abroad to teach students internationally to do her best to "promote traditional bojagi to the world."