Quiet film reveals a deep story of two children and the difficult adult world they inhabit | By Bo Brown (Spring 2023)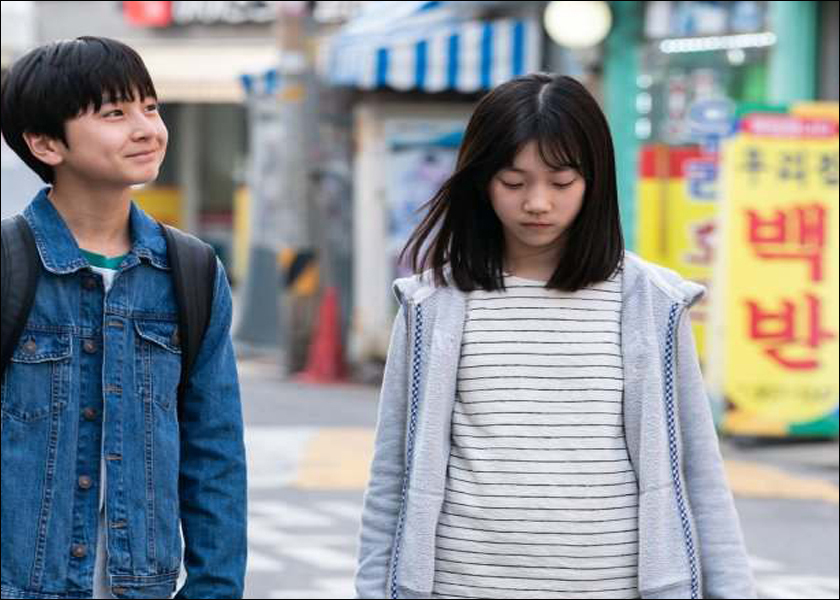 Please Don't Save Me (Nareul Guhaji Maseyo) 2020, Directed and screenwritten by Yeon-kyung Jeong, available on Amazon Prime
Our awareness of Korean cinema in the West has an interesting history. Arriving in the wake of the so-called Korean Wave of TV dramas and music that first spread across China and the rest of Asia in the 1990s, conquering the West in the early 2000s, Korean film has largely been known for loud blockbusters, disturbing horror films and psychological thrillers; more recently, arthouse films have emerged.
In many ways, however, Yeon-kyung Jeong's Please Don't Save Me (released 2020) has more in common with the TV dramas that first piqued the interest of non-Koreans. There are no monsters emerging from the Han River, no wrongly accused parties seeking bloody revenge, no deep metaphorical social commentary. Rather, it is a quiet drama about everyday life.
And Please Don't Save Me is good. Very good. The acting is excellent, the script is well written, and director enhances both with a deft, natural storytelling talent. This all makes for an absorbing, solid story about growing up.
Notably, this film is also representative of the stirrings of a new beginning. Perhaps more than in other countries, Korean cinema has been dominated by male directors. But recently, there has been an increasing number of emerging Korean women filmmakers. Director Jung is poised to join this trend. She previously worked as both an assistant director and as script coordinator for several large-budget Korean action and drama films. For Please Don't Save Me, Jung wrote the script, directed, and was the executive producer. History may well see this as her breakout project.
Jung and her film benefit from the services of cinematographer Hyung-koo Kim, a living legend of Korean cinema who has worked extensively with several great directors, most significantly with prolific arthouse film director Sang-soo Hong, a genius of the intimate scene and closed community.
Like the Korean classic film Sonagi (aka The Shower (1979), reviewed in KQ), Please Don't Save Me follows a journey of two children on the cusp of young adulthood. Unlike the children's world of Sonagi, this journey takes place in a wider context of adult concerns and the society they live in. These children are not living a separate reality from their families; they are fully engaged in that reality.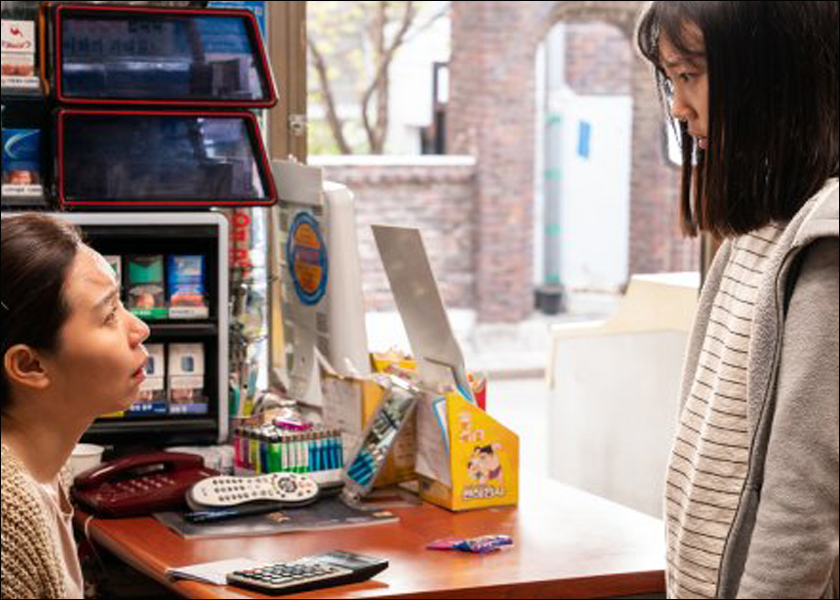 The plot is simple. A young girl and her mother try to build a new life after the unexpected, traumatic death of the girl's father. After the mother and daughter move to a new city, the girl meets a boy who, because of her, goes through his own struggle. This story, a well-trod filmic road, is beautifully presented.
The first main character is Seonyu, a studious and careful girl. This in contrast to her somewhat feckless mother, Nahee, the second main character. Nahee is trying her best in difficult circumstances, but she just doesn't seem equipped. Time after time, she fails to act responsibly, which is ironically the opposite of how Seonyu operates. In every circumstance, the daughter weighs their situation more wisely than the mother.
Much of the action takes place at Seonyu's new school, where she meets a boy, Jeongguk. These two could not be more different. Where Seonyu is diligent and shy, Jeongguk is carefree and sociable, with many friends. His teachers and mother, while exasperated by him, shake their heads but accept and even encourage his playful antics.
Seonyu is not amenable to friendship, but Jeongguk persists, and this leads to results that are sometimes comical and sometimes touching. This boy, as things work out, becomes the central character in the film. Ro-woon Choi plays Jeongguk with a bright, attractive charisma. Only age 12 when the movie was made, Choi already had a respectable list of acting jobs on his resume. In his role as Jeongguk, the boy's thoughts seem to track openly across his face for anyone to see. The character Jeongguk is simple and he is exasperating, but in the end he is charming and fundamentally moral.
The mother Nahee also looms large in Seonyu's life. This character is wonderfully portrayed by So-min Yang, an actor who has played a lot of wives, mothers and other support characters in various movies and TV dramas. She displays in Nahee a capable grasp of the subtleties of mental and moral difficulties. One wonders why she doesn't have a bigger screen footprint, but perhaps the musical and stage activities noted in her bio take up the bulk of her career.
Nahee is the only adult character whose activities this film really follows. The other adults, although well drawn, are basically backdrops and stage dressing. Jeongguk's indulgent mother (Sun-hwa Kim), hardworking offstage father, and studious, secretly unhappy brother present a picture of the kinds of families other people have; prosperous, satisfied, not terribly concerned with the world outside theirs.
The children's teacher (sensitively played by Hwi-jong Lee), a thoughtful, kind fellow who has a good relationship with his students, is really a representation of all the people in a child's life who mean to help, who may actually do so, but ultimately fall outside the family unit and therefore have only a limited ability to influence.
The director illuminates Seonyu's mother Nahee in all her flaws and graces. We see Nahee's valiant, rather inept struggle against poverty and her perhaps inevitable slide into hopelessness. From the very beginning of the film, Nahee flounders through her personal relationships and responsibilities. A big story point deals with the family's money problems, and an unsympathetic viewer might assume some inherent personal flaw.
To explain the deep background of how debt affects the everyday life of Koreans would be far beyond the abilities of this reviewer or the scope of this review. Also, none of that background is specifically discussed in the film, perhaps because it's just a fact of life. Nahee's financial issues are not framed as her fault, but the film does consider how she deals with it. To put a point on it, she does not do particularly well.
Overall, the acting is very good indeed. Even the secondary child actors do a creditable job, and there are numerous adult minor players who expertly add color and savor to the mix of personalities. This includes Seon-hee Lee, who plays one of Nahee's long-suffering friends, and Mi-won Won, who delivers an arresting performance as Seonyu's problematic grandmother.
Seo-yeon Jo, who plays Seonyu, is the same age as her male co-star. She also has a good dozen roles under her belt, mostly in television, playing support roles as younger siblings or younger versions of adult main characters. Her performance of this shy, responsible girl is spot on. Her dialog is believably delivered, and in scenes where she has few lines, she manages to convey a world. She must carry a good portion of the film, and she does this naturally and believably.
One strength of the script is that it does not treat the family's situation as a melodrama, although the director injects a certain amount of social analysis. For instance, one of the reasons they fled Seoul was because Seonyu was bullied at school, and this experience affects the action at several points. The script does not back away from looking at such social ills. But it does not lose itself in doing so, and does not try to disguise its message with symbolic representations. The situation is what it is.
What we have here is a love story, really. The pace of the film seems exactly right. It efficiently moves along when it needs to but isn't afraid to linger when necessary. The camera work, a collaboration between director and cinematographer, is exceptional. Good cinematography — a balanced dance of lighting, camera movement, scene framing, and camera angle, among so many other factors — is not something we generally want to notice. If it does its job, the cinematography does not take us out of the world of the motion picture; it will keep us there. It is an art, and these filmmakers are adept at it.
A curated set of limited scene settings is used effectively to stitch the story together. The environment is not a big city (Seoul) with its hustle and glitz, nor is it the nostalgic countryside with elderly inhabitants and open fields. The setting is a middle ground, a relatively prosperous suburban area with a variety of districts. A nice contrast emerges between Jeongguk's pleasant, spacious home and the cramped one-room apartment where Nahee and Seonyu can hardly get to sleep as they are assailed by flashing lights and street noises. Even so, the bustling business/tourist district of their apartment is clearly safe and clean, just busy.
Elsewhere, the children gather on pleasant school grounds, take school day trips, and play sports in a safe environment. It all feels very agreeable and right. All children should be able to attend such schools (but that is a different discussion).
This non-dramatic suburban setting serves to emphasize the two slices of higher drama sandwiching the action at beginning and end, both of which are set in more rural areas. The lovely, isolated countryside is where the most painful scenes occur. The film does not fall victim to the tempting allure of sentimental bucolic nostalgia, but it is a useful juxtaposition.
This story never asserts that a simple change of scenery will fix everything. But it does remind us that such a change can help if people are willing to reach out to each other.
If Please Don't Save Me sounds like a family film, that is not too far off the mark. Unfortunately, coming-of-age stories are generally considered family fare, a red-flag for the viewer to beware of saccharine plots and questionable acting. They just don't get much respect, often deservedly so. But a good story is still a good story. Bombastic action movies and disturbing psychological horror may be first to get our attention, but sometimes, a quiet tale like Please Don't Save Me can speak volumes.