Images of Korea become embroidered memories on a coat | By Dawn Tomlinson (Summer 2019 issue)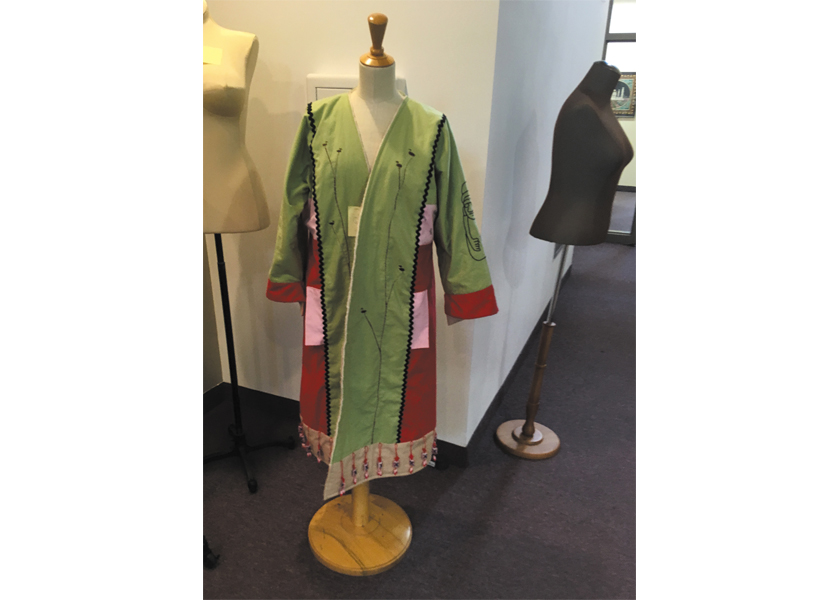 The Textile Center of Minnesota was not the first place that I would regard as a connection to Korea. The spring and summer of 2019 proved that it was exactly where Korea and textiles could come together. The Textile Center is an organization housed in a building at 3000 University Avenue SE, between Hwy 280 and Stadium Village near the University of Minnesota campus on the Green Line in Minneapolis. The Joan Mondale Gallery, classrooms, a dye lab, and several community organizations such as the Weaver's Guild call the Textile Center home.
I signed up for a class called Art to Wear, through the Interlace classes at the Textile Center. The class met for eight weeks, learning pattern adjustment and many textile techniques to draw upon for the final project. Each of us was to create a coat based on a folk pattern given to all of us in the class. The interpretations were varied; each coat displayed different techniques presented by our instructor.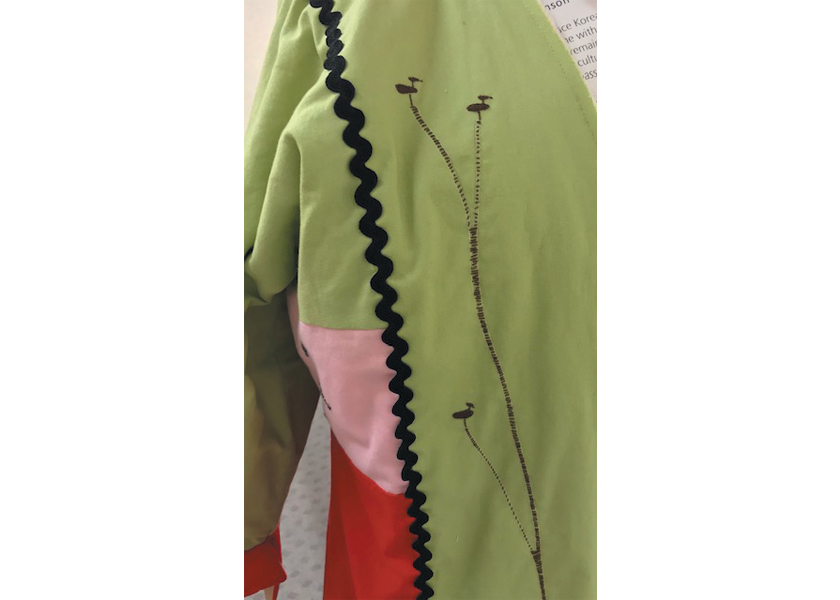 Remembering my trips to Korea, and the images I've seen, my coat became a series of surfaces showing those images that stood out. When I visited Korea in the spring, the magnolia trees bloomed along the sidewalks, gorgeous and delicate in white and pinks. The back of the coat has a stylized fabric tree with beaded flowers. Sotdae (above), those haunting carved birds rising into the sky are embroidered on the front of the coat, and on the sleeves are hand embroidered Dol Hareubang (below), the stone grandfathers and protectors. Several small souvenir cell phone charms with machine embroidered Korean flags purchased at Dongdaemun market dangle at the bottom. As a Korean adoptee, this is what I know of Korea, my birth country. I did not grow up with these things. I go to Korea to see them as any other tourist.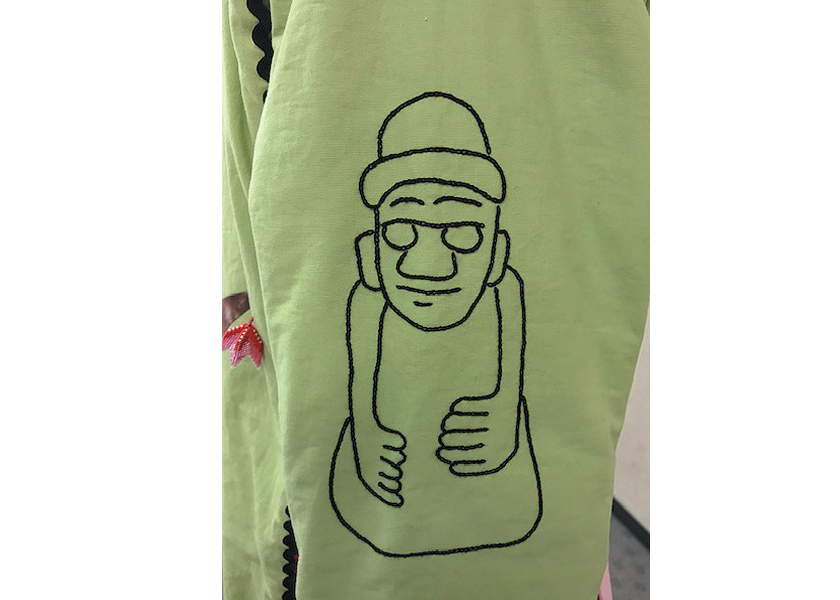 There is a hidden aspect to my adoption, the back story that has been slowly unfolding for as long as I can remember. A glimpse into this story is inside, on the lining of the coat. It is printed in sections and took two days to complete. The story is hidden while wearing the coat and is only revealed if the wearer opens the jacket for viewing.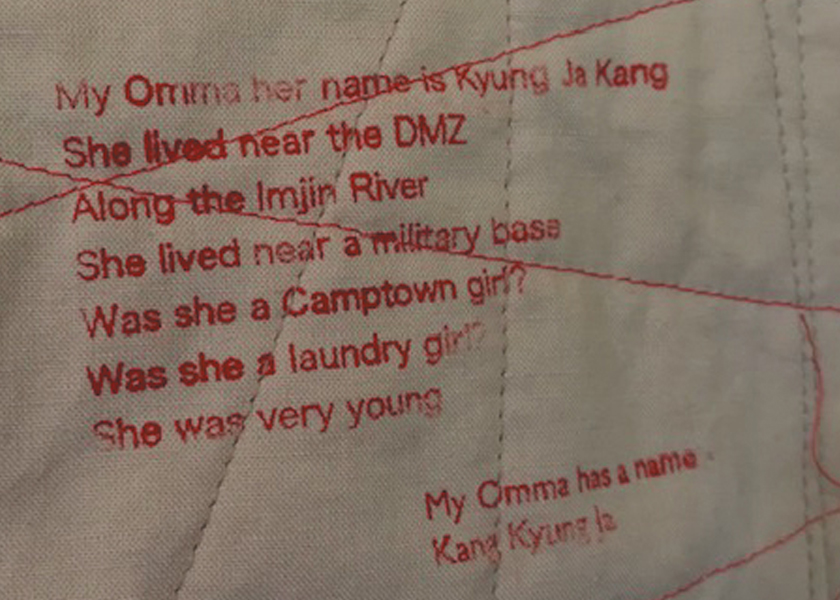 We are fortunate to have Korean textiles as an interest to the Textile Center here in the Twin Cities. Bojagi is a word used to describe Korean textile techniques used for wrapping cloths during the Joseon period. Wrapping cloths are still used and the techniques have had a resurgence of popularity worldwide. Chunghie Lee, Bojagi artist and author of Bojagi and Beyond can be credited with opening up the possibilities of Bojagi to a contemporary audience. Most recently, Chunghie's influence can be seen in the newly released book Bojagi: Design and Techniques in Korean Textile Art by Sara Cook, owner of Brighton Fashion and Textile School. Chunghie Lee's work has been exhibited in Korea, the U.S., Europe and Australia and her influence in contemporary Bojagi is far-reaching.
There was also a solo exhibition displayed in the Gallery with the Bojagi work of Insook Choi, Ulsan Bangudae. Insook Choi is a designated Master of Bojagi by the Federation of Artistic and Cultural Organization in Korea. Her hand stitched work depicts the Bangudae petroglyphs that follow ancient Korean migration patterns. The exhibition was held at the Textile Center, August 12- October 26, 2019.
Send your poetry, essays, photos, artwork, or other creative material to publisher@koreanquarterly.org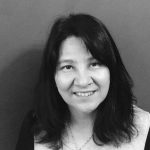 Dawn Tomlinson is an artist and proficient in many artistic disciplines, including beading, textiles and writing. She is a mixed race Korean Adoptee that left Korea at the age of two which left her with no distinct memories of her birth country. "What remains is a longing to know my birth country and its culture. Unlike other immigrants, I do not have family to pass this knowledge down to me."