With 100 co-sponsors, will the Adoptee Citizenship Act become law in 2021? | By Emily Kessel (Spring 2021 issue)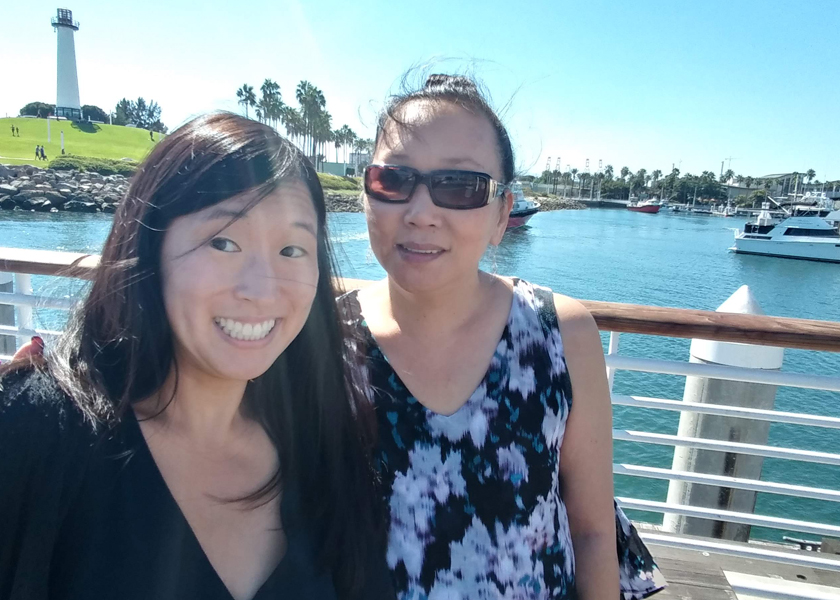 Four miles. Emily Warnecke used to walk four miles during lunchtime to check on her mother because her father had to work.

When Emily's father reached a certain salary, the government would no longer pay for her disabled mother's home health aide. But the family still struggled because her father was the sole income-earner for the family. As a middle schooler, Emily wanted to get help for her mother who had polio and was crippled from the waist down.

"How do I write to the President?" Emily asked her teacher, who had found the address for Emily.

Emily wrote her first letter to the president at the beginning of Jimmy Carter's presidency in 1977. She asked for the government to pay the salary for Maria Vaga, her mother's longtime caretaker. She received a response around Christmas from the President, who wrote that he had looked into the situation, and that the caretaker would be able to return to Emily and her family. Emily handed her mother the letter, and her mother was awestruck by her daughter.

Since then, Emily also wrote to President Bill Clinton to ask for his help.

President Clinton signed the Child Citizenship Act (CCA) of 2000 into law on October 30, 2000 which went into effect on February 27, 2001. The CCA granted automatic American citizenship to adopted children who met certain requirements, including being age 18 or younger on February 27, 2001, the effective date of the CCA (i.e. born on or after February 28, 1983).

In her letter, Emily, a Korean adoptee, told President Clinton she was adopted as an infant into a U.S. military family and grew up as an American kid, but after committing a shoplifting crime in the 1980s, she discovered she was not a U.S. citizen.

In 1995, Emily was driving a woman home, her car was stopped by police, and they found drugs on the woman. Although Emily was not aware the woman was carrying drugs, Emily was also taken into custody. At the time, California's Three-Strike law would typically impose a sentence of 25 years to life for such a conviction. Emily's father tried to help, but she was still given six years in state prison. Emily's father died of pancreas cancer while she was in prison. In 2000, when being released, she was picked up by immigration and served with a deportation order.

Emily was born in 1964 and adopted at age three months by her U.S. citizen parents. The CCA of 2000, also known as Public Law 106-395, went into effect for everyone who was under 18 year of age on February 27, 2001. On that date, Emily was age 36, therefore she could not obtain citizenship through that law.

Emily is just one of thousands of adopted individuals who, through no fault of their own, are living without U.S. citizenship and are essentially stateless.

At the age of 48, Emily was diagnosed with a severe spinal disease and could no longer work. She applied for Social Security Disability Insurance (SSDI) but received a letter of denial. As a naturalized citizen, she would have qualified for this payment. "If I had my citizenship, I would receive double of what I [currently] get in benefits from the government and be able to get better insurance. I can't even get a life insurance policy," explained Emily. "I would be receiving two things — SSI and SSDI."

Emily said "I planned to work until I retire. I didn't plan [to have a health condition inhibiting my ability to work and to discover as an adult that I was not a U.S. citizen]. No one does."

With U.S. citizenship, Emily would receive nearly $2,000 monthly in benefits. Without citizenship, she receives only $862, a majority of which goes towards her housing and out-of-pocket medical expenses. Even before the COVID-19 pandemic, this was a challenge.

During the last year of his term, Emily wrote to President Barack Obama, and called elected officials in Washington D.C. consistently each week. While she did not receive a response, Emily remained determined to right this wrong of the past.

Four bills
During the 114th Congress, in November 2015, Sen. Amy Klobuchar (D-MN) and co-signers Senators Dan Coats (R-IN) and Jeff Merkley (D-OR) introduced the Adoptee Citizenship Act of 2015, S.2275. Representative Adam Smith (D-WA-9) and co-signer Representative Trent Franks (R-AZ-8) introduced the House version, H.R. 5252, in June 2016.

Two more bills were introduced – a less inclusive bill in March 2018, and a third iteration with nearly 100 House co-sponsors in 2019.

Now, months into the 117th Congress, a more inclusive version of the bill was introduced in the House (H.R. 1593) by Representatives Adam Smith (D-WA-9) and John Curtis (R-UT-3) and Senate (S. 967) by Senators Roy Blunt (R-MO), Mazie Hirono (D-HI), Susan Collins (R-ME), Amy Klobuchar (D-MN), Lisa Murkowski (R-AK), and Tammy Duckworth (D-IL).

The most inclusive bill has provisions to bring deported adoptees back home to the U.S. Transnational adoptees find out they are non-citizens when they are applying for a driver's license or their benefits or when facing deportation due to their charges. In general, non-citizens can be deported if they are convicted of an aggravated felony or crime of moral turpitude.

Some adoptees, legally adopted from foreign countries such as South Korea, have been deported to the country of their birth, where they do not know the language or culture and do not have known family or a trusted support system. For these reasons, deportation can be extremely disruptive, economically difficult and socially isolating for transnational adoptees.

With the legislative session more than half over, advocates are wondering if the fourth iteration of the Adoptee Citizenship Act will make it across the finish line.

While pushing for the passage of a inclusive law that would grant citizenship for all intercountry adoptees, including those left out of the CCA, I am humbled by the bravery and perseverance of resilient souls like Emily Warnecke who fought this battle for years before the issue got the attention of activists who eventually formed Adoptees for Justice (A4J) which is heading up advocacy for the bill today with partners like the Family Coalition for Adoptee Citizenship.

Emily is preparing to write her fourth letter to a U.S. President – this time, President Joe Biden and Vice-President Kamala Harris. Every citizen and non-citizen also has an opportunity to lend their support to this effort.

To support an inclusive Adoptee Citizenship Act, write and call your senators and representatives to urge them to co-sponsor the bill in its inclusive form and urge national leaders to make passage of this bill a priority this year. Visit adopteesforjustice.org/support letter and click on the tab "Letter" to write and the tab "Call" to call your members of Congress.

It is way past the time that we should have brought home adoptees who have been deported from their home, the U.S. Granting citizenship to all adopted individuals is also years overdue. They have waited far too long to be recognized as what they are. Americans.

Author's note: Check out the A4J Short Film by Tammy Chu and Konrad Tho Fiedler to learn more about three stories of Korean adoptees seeking citizenship.