Would You Like a Cup of Coffee: Interrelated themes of making coffee well and living well characterize this quiet drama | By Carl Ackerman (Winter 2023)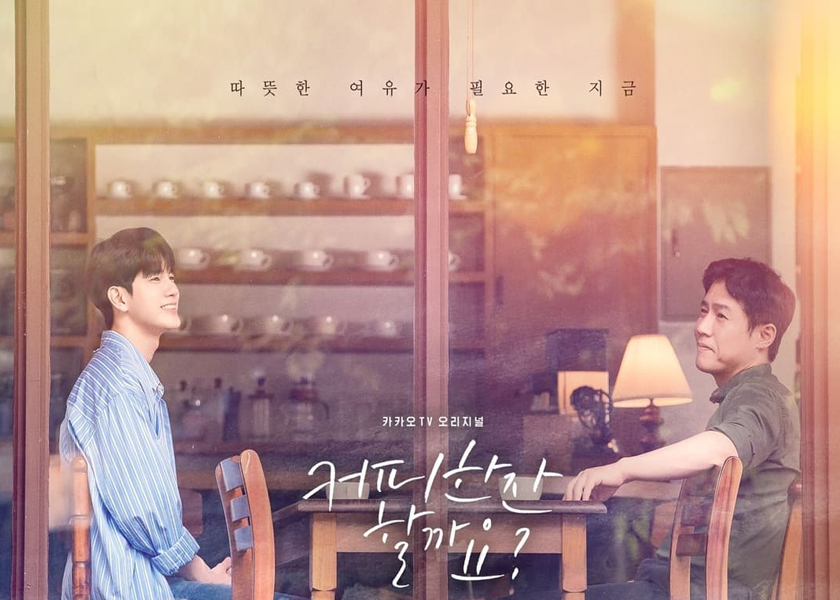 After leaving my house, located behind the University of Hawaii, I often stop for a coffee on the way to work. I have been an enthusiastic coffee drinker since high school. During college at the University of California, Berkeley, I went to the Caffe Mediterraneum on Telegraph Avenue or sometimes at the original Peet's coffee off Shattuck.
After later moving to Honolulu, I found more sources of good latte and expresso at the Manoa Coffee Shop and the Atherton YMCA and Dennis Suyeoka's Coffeeline Cafe (both now closed, fallout of mass coffee enterprises and other industrial and real estate malaise). These days, both the Starbucks Manoa and The Coffee Bean and Tea Leaf are (thankfully) within walking distance of our house.
I recently noticed a coffee-related K-drama on Netflix, Would You Like a Cup of Coffee?, and read that it was based on the comic Coffee Hanjan Halggayo? written and illustrated by Young-Man Huh and Ho-Joon Lee, which was published in a series by the JoongAng Ilbo from 2015 to 2017. The inventors of the comic are also co-writers of this drama series, which I took as a good sign.
I jumped at the chance to watch it. I soon discovered that, like a finely-roasted java, nothing about this drama displeases. Its innocence and PG content harkens to another time in film history, and coffee lubricates an honest inquiry of some difficult life issues.
This 12-episode series opens with lead character Ko-Bi Kang (Seong-Wu Ong) explaining in a phone text message to his mother that he has again apparently failed a civil-service exam. His conversation appears cleverly superimposed on the brick pavement outside his examination site as he leaves after the ordeal is over. Thus the series starts with a familiar theme for young adult South Koreans: The search for a decent job. Kang walks from the grand office building into a humbler neighborhood, which leads him to Edae Coffee House and his chance meeting with proprietor Seok Park (Ho-San Park). This meeting also introduces a central theme of the series – the relationship of Kang with Park, his soon-to-be father-like mentor.
The cinematography sets the tone for the series. All aspects of life are depicted in a slow and focused manner, detailing what French historian Fernand Braudel, called " the structures of everyday life." The opening shots show Kang's back, wearing a backpack, as he exits the building, traveling in the same direction as an arrow on the glass, onto the brick pavement, over a bridge with water below, past flowers and greenery, into the nearby neighborhood with its picket fences, parked cars and quiet daily activities. Kang glances up to find Edae Coffee in front of him, and then looks for reviews on his phone while standing on the sidewalk. He is intrigued by one review – "Edae Coffee — A place that never changes."
He soon finds that this unchangeable quality is because of owner, Seok Park, a traditional guy who seeks perfection in every cup of coffee. Close-up shots of the taciturn coffee master's face throughout the drama show his approval or disapproval with small changes in his expressions. Some masterful acting by Ho-San Park makes this technique possible. The character Park is a quiet guy; the viewer only gets to hear how he is feeling through his confidante Joo-Hee Kim (Young-Hee Seo), or from customer Mi-Na An (Ye-Eun Kim), an artist, and a regular at the café.
Before the first episode is over, Kang has had a revelation with his first sip of coffee that Park is a master in the coffee arts, and that Park must become his mentor. Kang appears, repeatedly buttonholing Park as he enters or leaves his business, to politely pester him with technical questions. He stops Park outside his café in the morning when he arrives to unlock the door, with an eager expression and a pad and pen in hand, ready to take notes, always departing with a low, respectful bow and words of thanks. He also questions Park's confidante Kim, artist An, and other customers about related topics, such as the nature of the café's customer base.
Park accepts the pestering with a combination of bemusement and frustration, even admitting to his friend Joo-Hee in a weak moment that at least Kang is respectful and attentive, unlike most young adults of his age. At one point, Park catches Kang sweeping the sidewalk in front of the café at closing time, and grabs the broom out of his hand. He wags his finger at Kang, a gesture of "Don't you try to get on my good side!" as he walks away.
The nature Kang's budding relationship with Park is of a would-be apprentice who must work hard to win over the master for the privilege of learning his chosen vocation. Finally one night at quitting time, Park asks Kang if he can make a latte. Kang does so, and Park tries it. Park's comment is "I guess your working part-time at a café for a long time was not a bluff," adding "I didn't say it was good." In a few sentences, Park hires him and tells him to show up at 8 a.m. the next day, gruffly adding "Go home now."
The viewer soon gets a glimpse into the world of the coffee insider. Beans must be purchased from the right coffee-growing regions for top quality and flavor. They must be roasted perfectly, and steam applied perfectly with proper percentages to produce the ideal latte. Beans differ and must be obtained from certain coffee-growing regions to produce the desired flavors.
The most outlandish character in Would You Like a Cup of Coffee? is coffee critic, Heart Choi (Jae-Ryong Song) who takes no prisoners in his personal battle against lackluster coffee. We see him explode and destroy anyone who takes the bean acquisition, roasting, or even just the tasting of coffee, lightly.
In addition to how to acquire a mentor, the series delves into the needs of people at different stages of their lives, beginning with the rookie barista who needs to pour his passions into a new vocation, and the older café owner who needs to learn how to lean on someone after many years of stubborn independence.
Although on the surface, the plot seems to deal with everything coffee-related, is also deeply humanity-related. Kang and Park bring their compassion to bear on one another's lives, and to some thorny situations they encounter through their customers: Husband-wife issues; surviving breast cancer and how one daughter treats her mother; how one rather sorrowful hard-rock musician rediscovers his love of the guitar; the owner's dilemma of acquiring a higher-volume and larger coffee house or retaining the smaller, more intimate one; and even the questionable role of a coffee vending machine in the neighborhood.
The problems revealed in 12 episodes, which also include a greedy landlord, and his generous wheelchair-bound mother who comes to the rescue, and at the end of the series, the massive destruction of jobs in South Korea during the pandemic, are suffered, discussed, and sometimes resolved in the only way this drama can offer, that is, through a cup of expertly-prepared java from the Edae Coffee Shop.