Insightful Death of a Salesman staging uses an Asian American cast | By Joan Thompson (Fall 2022)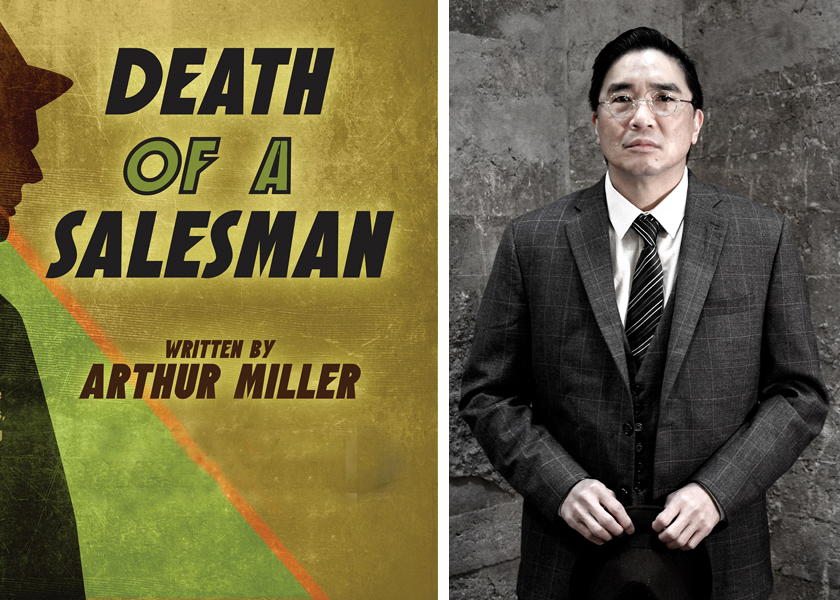 Death of a Salesman: A Staged Reading, by Arthur Miller
(Produced by Theater 45
and Theater Mu, Conn Theater, Minneapolis, July 18, 2022)
Review by Joan Thompson
"The acting was so good that I kept forgetting I was watching a staged reading instead of a full production, said a theatergoer to Seth Patterson, Theater 45 founder and co-artistic director, following the July 18 staged reading of Arthur Miller' s Death of a Salesman at the Conn Theater in Minneapolis.
The one-night-only staged reading was engaging, but also historic, since it may have been the first and only time in North America that Asian Americans were staged as the members of the famous Loman family, who tragically pursue the American Dream.
The production was a collaboration between Theater 45 and Theater Mu. Patterson, who also works for Plymouth Congregational Church in Minneapolis as the minister for spiritual formation and theater, said he and Eric Sharp know of no other North American production featuring Asian American actors as the Lomans.
Greg Watanabe, who played Willy Loman in this production, also played the character of the son, Biff Loman, in a 1994 Singapore production. Patterson also mentioned there is a new all-African American Broadway production of the play, set to open this September.
Eric Sharp, a Twin Cities based director, producer, actor, and writer, originally talked to Patterson about a possible collaboration with Theater 45 to do this one-night staged reading. Sharp had long been interested in Death of a Salesman but thought "that the roles of Willy, Linda, Biff and Hap were acting challenges that Asian Americans would simply never be given the opportunity to tackle."
Sharp thought about flipping that script earlier this year when Sharp and Watanabe were both acting in Cambodian Rock Band (KQ review here), a Jungle Theater and Theater Mu co-production. Sharp said he "wanted to strike while the iron was hot, by taking full advantage of having a respected Broadway veteran in town, and casting the rest of the piece around Greg as Willy."
Patterson responded to Sharp's idea and said he was interested in a new Theater Mu collaboration of the classic play. One of Theater 45's tenets is "not to do anything alone," Patterson said. Part of the Theater 45 mission is to explore the spiritual side of human existence, whether religious or not, according to its website. "For this reason, Theater 45 productions always open with a ritual," he said.
Patterson mentioned the issue of achieving competitive pay for BIPOC artists as a justice issue "as they are often asked to perform for free or a low amount." Being housed and funded by a church allows Theater 45 to pay actors fairly.
Both saw the collaboration as fitting the two theaters' missions. Sharp is proud of Theater Mu's contributions to Asian American theater throughout its thirty years. However, he also sees roles such as the Lomans for Asian American theater professionals as "just as much our inheritance as they are for other groups of actors."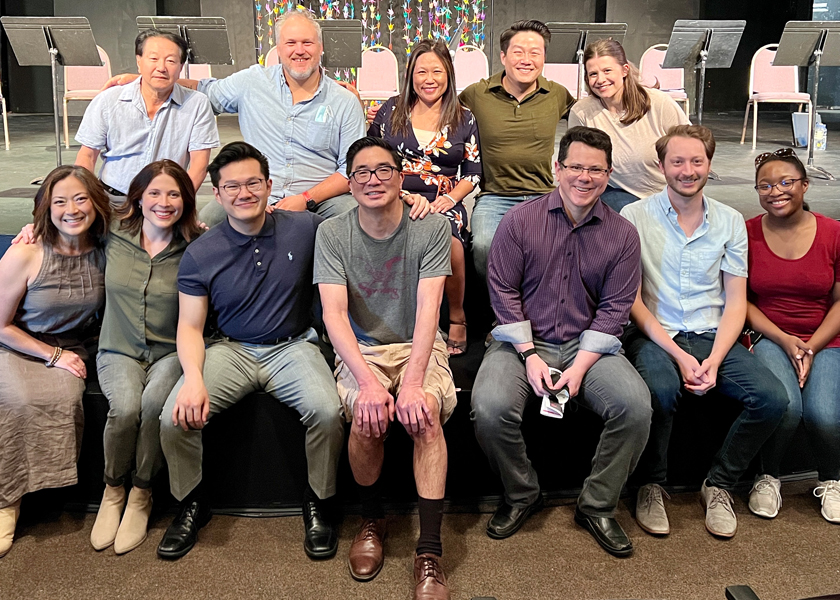 In Death of a Salesman, classic themes play out of how Americans try and frequently fail to achieve success and happiness while trapped in a changing and cruel capitalistic culture. Some of the members of the Loman family have given up hope of career success. The central character of Willy lives by his vision of amassing great wealth and living in luxury, but in reality, he is an unsuccessful salesman and in the course of the play, he is fired from his job. A central struggle of the story is Willy's attempt to live within this contradiction of fantasy and reality; in the end, it destroys him.
Patterson said he thought about what it means to have "Willy Loman played by a Japanese American in a play that premiered less than two years after the last Japanese incarceration camp closed." That idea is the kind of question they try to ask at his church, through its classes and justice initiatives, he added. Patterson mentioned the juxtaposition of this timing at the beginning of the performance. Sharp said Patterson's explanation "served as a salient mile marker for audience members to place themselves in the history of this country."
As the collaboration developed, Sharp hired director Rich Remedios, and did the casting; he also served as graphic designer for the publicity. Artistic direction involved both companies: Patterson and Ashawnti Sakina Ford of Theater 45 and Lily Tung Crystal of Theater Mu.
Patterson also researched possible rituals. Plymouth member Lani Bennet helped him to borrow the origami crane set backdrop. She also connected him with Todd Tsuchiya who provided ideas for a ritual and also loaned a Kansho bell.
At the beginning of the performance, Sharp explained that the 7-5-3 rhythm pattern used "often signals the start of a ritual." The bell is rung to encourage the audience to "arrive in the space, breath and become present with one another," he said. Rick Shiomi, who played Uncle Ben, rang the bell to open the staged reading. Shiomi co-founded Theater Mu and served as its artistic director. He also was the founder of the taiko drumming group Mu Daiko.
Greg Watanabe's powerful performance as Willy Loman underscored the aging character's broken dreams and his forced bravado. As Linda, Lily Tung Crystal strongly evoked Linda's worries about her husband's mental health, her desire to heal the rift between Biff and his father, and her attempts to keep the household functioning despite knowing her husband's various failings.
Eric Sharp, as Biff, moved easily between the adult son searching the West for his place in life and the teen who adores his father and then has his idol smashed. Christopher Thomas Pow, as Happy, portrayed a son who has inherited all of his father's failings, but did not want to engage with his mother's concerns.
In the triple roles of Bernard, Howard, and Stanley, Kevin Fanshaw moved effortlessly among characters of varying ages, experience, and social standing. Katie Bradley anchored the audience with stage direction that moved the audience from present to memory and then to imaginings.
Sharp noted that the casting of the Loman family was a "practice within a Pan-Asian theatre aesthetic" in its mix of ethnic Japanese, Korean, and Chinese actors. He also pointed out the importance of considering a play's content to cast a show respectfully.
Patterson mentioned how "who tells the story changes it." Factoring systemic racism into Miller's famous play makes the question shift, he said. He gave an example of how Willy comments to Charley (played by Patterson) that he thinks people are talking about him and laughing at him behind his back. Patterson noted that in the recent Mu/45 production, Willy's fears could be traced to his failing career and mental health, but also to how others see him as an Asian American salesman.
As Sharp noted, "we did not need to change a single word of the play to make Miller's words fit the mid-20th century experience of Asians in this country …Miller could just as easily have been talking about the Asian American experience in the early '90s, or 2022 for that matter."
In its dark exploration of the American Dream, Death of a Salesman raises many questions about how opportunity is key to success. Written long after the closing of the American West, the play repeatedly evokes the idea of the frontier and the temptation of achieving success in a new place with greater opportunities. Willy, in his waking-dream conversations with the deceased Uncle Ben, wonders if he could have found wealth if he had gone to Alaska. Willy's son Biff also believes in the promise of the frontier – he wanders the western states, taking a series of jobs that he hopes will lead to success, in part to make his father proud despite Biff's disillusionment with him.
This content adds a certain irony to a play, which as Sharp noted, brought the playwright Miller immediate success at a time when "Japanese American 'Arthur Millers' . . .never had a chance to express themselves because they were forced to live in horse stalls in the middle of a desert." In thinking about the injustice of who has been allowed to create art in this country's history, Sharp said he hoped the "reading was able to shed even a little light on this particular inequity . . .[to] help the discourse moving forward."
Patterson said he thinks casting the Lomans as Asian Americans changed the dynamic for BIPOC audience members as well, and that he was pleased with the diverse audience for the reading. It is important, he said, that the mostly white space of a church can draw a BIPOC audience to a production, and that the audience can "show up in white space and not be hurt," but rather see themselves and their concerns reflected on the stage.
Sharp mentioned that the mission of New York's National Asian American Theater Company is to produce well-known plays from both the American and English canon, and that it is similar "to what we aimed to accomplish with our reading: that the insistence of seeing Asian people as fully-realized human beings can happen onstage, in real time, and that this proposition need not be an artistic compromise. On the contrary, it is this intentional approach that makes the play really sing."