Milestones in Asian American Theatre ~ Josephine Lee, editor
(Routledge, New York, 2023, ISBN #978-1-0210-6663-9)
Review by Joanne Rhim Lee (Spring 2023)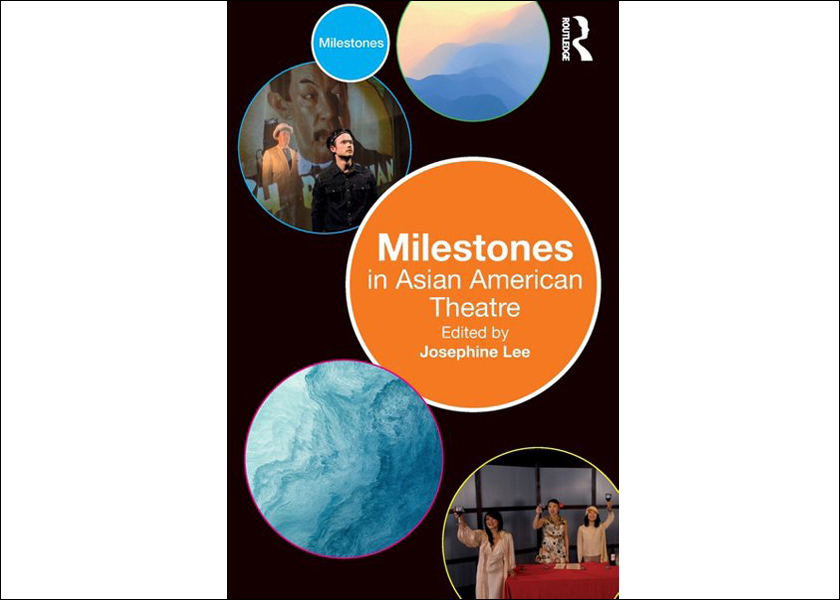 In Milestones in Asian American Theatre, editor Josephine Lee has assembled a powerful collection of essays on the unique role of theater in Asian American history. A professor of Asian American Studies at the University of Minnesota, Lee explains how Asian American theater artists have been integral in challenging stereotypes and racism in the entertainment industry and in larger society.
When the film Crazy Rich Asians came out in 2018, it was hailed as only the second major Hollywood film to have a majority Asian/Asian American cast, after Joy Luck Club, which was released 25 years earlier, in 1993. In contrast, theater companies for many years have been casting shows in which Asian Americans are front and center, playing multidimensional characters with unique stories, rather than just stereotyped sidekicks.
The various essays in Milestones look at specific Asian American theater productions, examining the historical and cultural backdrops behind the creative choices that were made. Several ground-breaking Asian American Theater companies are mentioned, such as the East West Players in Los Angeles and others in Seattle, San Francisco, New York, and Chicago. Perhaps because Lee is based in Minnesota, a disproportionate number of the shows she examines are creations of the Twin Cities Asian American company Theater Mu.
It's exciting to see the topics and issues these productions have tackled, and in doing so have contributed to societal change. For example, in her chapter entitled Yellowface and Asian American Actors, Esther Kim Lee addresses the long-standing controversy of white actors being cast in Asian roles, including the actor Jonathan Pryce, who used applied latex to his eyelids to look Asian for his role in the London production of Miss Saigon. When the production moved to Broadway, it was met with protests in various cities in the U.S., including one in St. Paul in 1991 (which this writer attended). As a result of these widespread protests, Pryce did not use makeup for his role as a Eurasian character, and only Asian American actors played the role after him.
In addition to the fascinating commentary on the various shows, a welcome bonus to Milestones is that Lee shares a brief survey of some of the major events of Asian American history, which is integral for understanding the important works that are discussed in the book.
For example, Lee shares the origins of the concept of the "Yellow Peril," or fear of early Chinese and Japanese Americans taking over the West Coast in the late 19th and early 20th centuries. This led to Asian Americans being cast in stereotyped roles as the perpetual foreigner, or again, white actors in yellowface who played these problematic roles. While these racist tropes were commonly used in popular American theater and film (e.g. Mickey Rooney's buck-toothed and slant-eyed Mr. Yunioshi in the iconic 1961 film Breakfast at Tiffany's), Asian American theater productions were able to ditch these stereotypes and present Asian American characters from a authentic perspective.
In his essay entitled Staging Exclusion: Immigration and Exploitation in Asian American Theatre, James McMaster explains the role theater has played in depicting key moments in Asian American history, such as the story of the transcontinental railroad. David Henry Hwang's The Dance and the Railroad, first produced in 1981, presented this narrative not from the perspective of white Americans who exploited Chinese railroad workers by subjecting them to miserable working conditions and terrible pay, but as a story of resistance and political agency.
Similarly, in his essay Southeast Asian American Theater: Refugee Memories and Enacting Home, Sean Metzger comments on the fact that though there are a plethora of films, novels, and plays about the Vietnam War, the majority of them are centered on the political perspective and personal traumas of white Americans. In contrast, Southeast Asian American playwrights have been able to present the Vietnam War from a different lens, sharing how the legacy of war has affected various Asian American communities, at times with great humor. Metzger compares three works written by Hmong American, Cambodian American, and Vietnamese American writers, including Qui Nguyen's Vietgone, first produced in 2017 and powerfully staged last year at the Guthrie Theatre in Minneapolis.
Of course, Asian American history is not limited to only immigrant and refugee histories. Lee's collection of essays touches on a wide range of rich, complex theater productions which will make her readers want to get tickets to every production mentioned. According to this promising trajectory, there will be many more milestones in Asian American theater to come.