Korean food met Mexican food, and they got married on the road | Food column by Mary Lee Vance (Spring 2021 issue)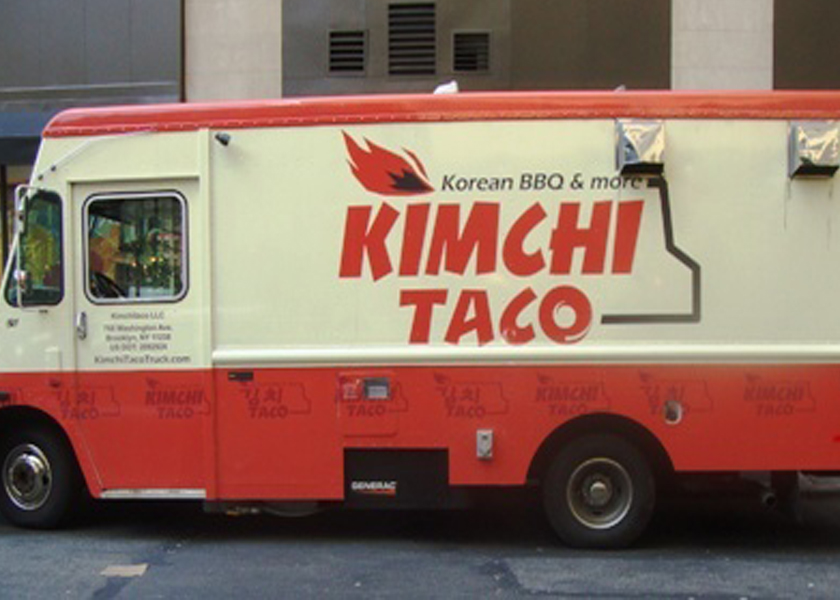 I admit it. I have a weakness for food trucks, street food, and special food at any venue. If there is food at an event, I'm interested. If the food is ethnic and made for the palates of specific ethnic populations not normally available in a restaurant, I get super interested.
Not surprisingly, I am a bit chunky. However, it is an occupational hazard (she said with confidence). I consider skinny people who claim the foodie title to be suspicious at best. If they really enjoy what they are cooking and sampling, wouldn't they have a bit more weight on them?
The reason I love food trucks is they are the creative roots of food fusion you would never see in a normal-size ethnic restaurant. The small size of the kitchen and storage on a food truck is a source of great problem solving. Food truck menus are very limited, which works well when trying to quickly serve long lines of hungry customers. Each truck has had to specialize in what it can make well and focus its marketing on some very specific items. This all requires wise use of resources and a big dash of imagination.
I'm always open to the daily specials on food trucks, often the experimental dish they are trying to launch. There are those (non-foodies I would guess), who would warn against eating specials. To them, the specials represent what the chef/cook is trying to get rid of before it goes bad. I find nothing wrong with this concept, as I do the same thing. If I see that something in my fridge is nearing the expiration date, I try to make something with it immediately before I have to trash it. Since I hate to waste food, this often ends up as a brand new combination with other items I have on hand. This is what any frugal cook would do.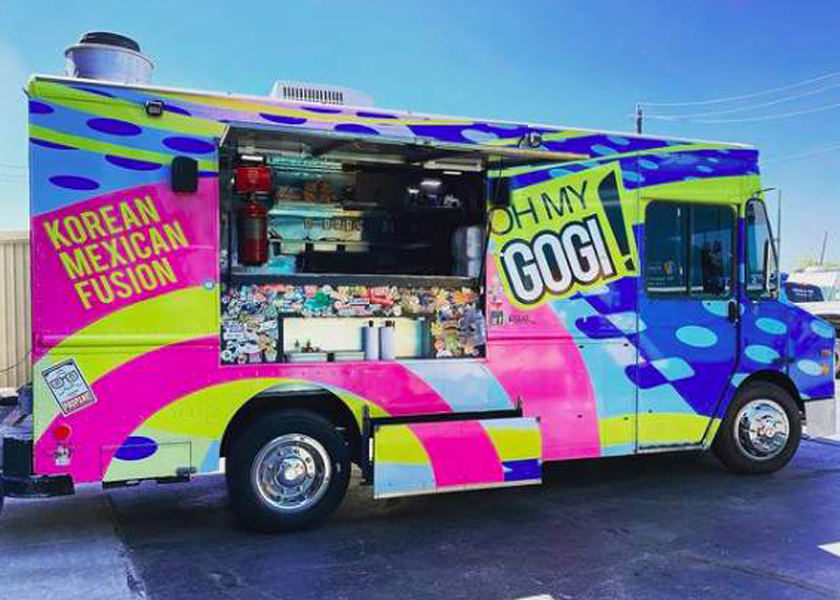 Another thing about food trucks – a good percentage these days specialize in ethnic cuisine. Any establishment specializing in food of an ethnic community is a draw for me. People who know and love their food will work to make it taste great.
The worst experiences were when I had to travel for work, back in the early 1980s, and asked for vegetarian meals. I remember being served boring and flavorless pasta dishes meal after meal. It shocked me that the chefs of high-end hotel chains didn't know how to prepare flavorful vegetarian dishes that were commonly available in other countries. The menu item was available because they were told to produce it, not because they knew and loved the flavors of good vegetarian food.
There's also an element of caution among western chefs, I believe, to avoid dishes that are too "ethnic" for fear of scaring off their western clientele.
During this time of frequent travel, I remember getting handed English language menus, particularly in Chinese restaurants, with a short list of the most common go-to dishes. I soon learned if I wanted something more authentic, I would have to request the Chinese menu. One Chinese restaurant, I learned, was owned by a South Korean. The restaurant not only had an English menu with Americanized dishes, but also had a Chinese menu with Chinese dishes.
However, once I learned the owner and chef were Korean, I would simply ask for Korean dishes (there was no menu for those). After I got to know the couple, I would stop by the restaurant, have some lunch, and ask them to help me plan a dinner party at their place. I would inform them, for example, that I had 10 people in the party, that each person would pay "x" amount, so the budget for the meal would be "x times 10." I then would ask the owner/chef to provide a few specific dishes that I knew everyone would like, and ask them to surprise me with one other dish they wanted to make, while insuring they still had enough to cover server tips.
They never disappointed me, and my dinner guests were always thrilled. It soon became a status thing to be invited by me, to join one of my ethnic dining-out experiences. Were any of those dishes made with items nearing expiration dates? Most likely yes, but they were always undeniably delicious.
Except for big venues like the state fair or another big community event, ethnic food trucks were a rare site in the Midwest until recent years. The uncooperative weather (think Minnesota and Wisconsin) most likely had something to do with this, as the trucks only appear in the summer and an (Upper) Midwestern summer only lasts around three months, from June through August. For the most part, the trucks I remember depended on old favorites like lemonade, funnel cakes, corn dogs, cream puffs, giant pretzels, burgers, fries, and pizza.
Nowadays, taco trucks are pretty common in large Midwestern cities, but back in the day, I never saw one except in other states.
I'm betting there are plenty of Korean food lovers besides me who have put kimchi on their hotdogs and burgers, mixed kochujang (hot pepper paste) into our pasta sauces and stews (or even used it instead of ketchup). We've all probably eaten leftover bulgogi with hamburger buns or whatever starch we had in the house.
Not surprisingly, in the late 1990s, clever taco truck chefs began capitalizing on the growing popularity of Korean food by popping a few Korean ingredients into in their menu items. Bulgogi is very similar to a roasted barbecue meat preparation called al pastor, a common taco filling. The similarities of the cultural palates of Koreans and Mexicans does not end with the meat. Mexicans love the tangy flavor of freshly squeezed lime, pickled jalapenos, and hot peppers combined with shredded lettuce on their tacos. The spice-pickle-crunch combination provided by kimchi delivers a very similar flavor profile and kick to the taste buds. It was the creativity of taco truck chefs that started the marriage of these two food cultures that is now growing internationally.
Mexican Korean food fusion is very popular in South Korea as well as in the Los Angeles area, where this fusion style was reportedly born. One example is a Seoul restaurant called Vatos Urban Tacos (founded by three Korean Americans, in the Itaewon neighborhood and other places in Seoul, with a branch also in Singapore) which combines the best of both Korean and Mexican worlds. Their kimchi quesadilla is one of several popular dishes. Their other well-known dish is kimchi fries, with chopped kimchi covering carnitas-loaded fries.
Here are two favorite Korean Mex dishes that may hit the spot:
Chilaquiles with Gochujang
Ingredients:
1 dried ancho chile
2 C. water
1 C. crushed tomatoes
2 cloves of garlic
1 t. kosher salt
1 1/2 T. gochujang
5 to 6 cups tortilla chips
3 large eggs
1 T. olive oil
Optional Toppings:
crumbled cotija (a fresh Mexican cheese)
chopped cilantro
sliced jalapeño peppers
diced onions
sliced avocado
Method:
1. Bring the water to boil in a saucepan. Add the ancho chile to the boiled water and soak to give it time to rehydrate. After 15 minutes, remove the chile, and save the water for the sauce.
2. Blend the soaked chile, 1 cup of reserved hot water, crushed tomatoes, garlic, salt, and gochujang until smooth.
3. Pour sauce into a large pan and heat over medium heat four to five minutes. Turn off the heat and add the tortilla chips. Stir to coat with the sauce.
4. In a separate pan, drizzle a teaspoon of oil and fry an egg until the whites have settled. Fry each egg separately, keeping the fried ones on a warm covered plate.
5. Top chips with fried eggs, cotija, chopped cilantro, jalapeños, onions, and avocado. Serve immediately.
Korean Style Mexican Elotes (vegan)
Ingredients:
2 ears of fresh corn
1/2 avocado (sliced)
2 T. red onion (finely chopped)
1 T. green onion (chopped)
1/2 C. kimchi
2 T. dairy-free sour cream
2 T. gochujang (mix with sugar and soy sauce/water to make thin enough for squirting)
1 T. fresh lime juice
1/4 C. dairy-free cheddar cheese
Salt and pepper
Directions:
1. Cook corn as you would normally (I steam it) and place on your serving platter.
2. Load your cobs up with kimchi and then sliced avocado.
3. Fill a squeeze bottle (or a Ziploc bag with the corner cut off) with vegan sour cream to drizzle on top of the corn. Do the same with gochujang mix.
4. Top your sauce-lathered corn with sliced onions, cheese, salt and pepper and a squeeze of lime juice. Enjoy hot or cold.