Cultivating the fine art of hangover soups | Food Column by Mary Lee Vance (Summer 2021 issue)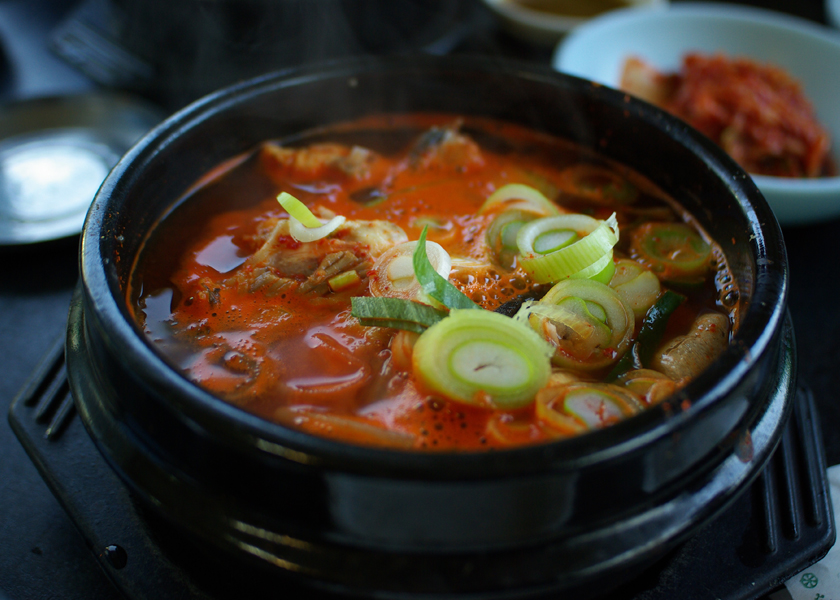 In my entire life, I have only drunk alcohol to excess once. It happened when I was at an all-you-can-drink wine fundraising event while I was in college shortly after I turned 18 (the legal drinking age at that time in my state). I was among friends and knew I would be safe to get drunk. They thought the idea was hilarious and promised to take me home.
After about three glasses of wine, I felt the earth spinning, my tongue getting numb, and my body feeling lethargic like I was swimming in molasses. I then felt an overwhelming thirst and chugged a couple glasses of water until my head cleared.
That was it. I failed to get drunk. I was apparently unable to drink to the point where I did the kind of disgusting things drunk people reportedly do, which I won't discuss here, but that apparently involve bodily fluids and severe headaches.
As an adult, I discovered my body repeats the same pattern when I drink alcohol. It automatically shuts off any interest in the stuff after a couple drinks. Without fail, I get super thirsty, have to drink lots of water or soft drinks, which gradually quells any alcohol buzz in the making. While my tolerance for alcohol is not very high, my interest in hot and spicy food has always been constant. And food is my party ingredient of choice.
As a foodie, I always looked for the menu items that would help me identify a restaurant as ethnically and culturally authentic. Being charged for an ordinary side dish of kimchi in a Korean restaurant instantly makes me skeptical about who the owners and cooks are. This only happened to me once in Chicago. I was righteously outraged that the menu included a charge for kimchi. When I called the owner over to ask why the charge, she told me it was because too many people wasted it when it was a free item, so they charged in order to reduce waste. Then she asked if I was Korean. When I said yes, the owner offered me some on the house. I'm glad I didn't pay for it, because it was the oldest, sourest kimchi I have ever eaten in a restaurant, fit only to be an ingredient in kimchi stew (chigae), where a little goes a long way.
Near one of my past homes, there was a small Korean restaurant that made the best kimchi chigae I ever had, with added jalapenos and other spicy peppers. Whenever I felt a cold coming, I would immediately go to that restaurant for a bowl of hot and spicy goodness, feeling its healing powers almost immediately. As the sweat poured off me, I could imagine the cold virus melting away along with all the other bad germs.
Where I lived, there were several small, non-descript Mexican restaurants, which made sense given the high number of farms in the state that attracted migrant farm workers. As a foodie, I had to check the restaurants, and in the process developed a fondness for menudo, not knowing that it was considered a soup for the morning after a night of alcoholic excess. It has the same effect as kimchi chigae in its light and spicy goodness and head-clearing medicinal properties. It is rich in flavor, and extra delicious with freshly-squeezed lime, chopped cilantro, and sliced radish added to the top for textural and flavor contrast. After noting the effects of my first bowl, I could appreciate why some would consider it a miracle cure. For me, it just filled my tummy with happiness.
At one restaurant, I noticed menudo written on a sandwich board on a Saturday but not later in the week. What happened to it? Apparently only authentic Mexican restaurants with a solid Mexican clientele seemed to have it. It wasn't until years later that I learned why it was only served primarily on the weekends – it was due to its curative properties for hangovers that put it on the special menu on Saturdays and Sundays.
Every culture has its magical hangover remedy. It might take the shape of a beverage or a stew, and invariably includes spicy peppers in one shape or another. There is a factual basis to these somewhat spiritual beliefs about "cures" for hangovers. Peppers, especially hot peppers, are loaded with vitamin C. Peppers, orange juice and other vitamin C superfoods are often recommended as hangover cures. However, there is little scientific proof that vitamin C (or its alcoholic relative, the mimosa) has any beneficial effect on hangovers. The magic hangover ingredient, if there is one, is in the hot peppers, specifically the chemical capsaicin, which provides the peppery taste, the feel-good endorphins, and the sweating reaction. No wonder I love hot and spicy foods!
The sweating process is what releases the nasty hangover toxins, as does plenty of hydration, as I learned early in my drinking non-career. Drinking lots of fluids, water in particular, flushes out the bad effect of alcohol. If there is any magic to banishing the effects of a night of indulgence, it's the hot peppers that calm the aftereffects of drinking, or in my case, that can ward off the nastier effects of a pending cold. The nutrients, water, and steam for the sinuses are other added benefits.
For some people, the "hair of the dog" is needed to cure a hangover. For a morning-after headache, some believe more alcohol the next day is the thing. I remember from growing up in Wisconsin where there literally was a bar on every corner, that many opened at 7 a.m., Bloody Marys are quite popular, not only in Wisconsin, but in most of the Midwest. In addition to vodka and tomato juice a key ingredient for a Bloody Mary is hot sauce, so the combination of a shot of alcohol and a dose of hot pepper certainly has some of the same hangover soup science behind it.
A fancier interpretation of the "hair of the dog" theory is the mimosa, a lower alcohol combo of champagne and orange juice. Mimosas are the brunch drink of choice in many states where oranges are plentiful, including California and Florida. Hot peppers are not an ingredient, but the vitamin C and hydration may provide some curative effect.
Foodie note: Rather than a mimosa, I would rather drink freshly squeezed limes, with a bit of brown sugar, some chopped garlic, a touch of soy sauce and smashed red peppers (to taste), with alcohol optional. The lime drink is actually based on the dressing used for Thai green papaya salad but once while making the salad, I found myself making a quadruple batch of the dressing, because I was guzzling it straight – so good!
However, rather than cocktails, I think soups are a better way to combat hangovers by providing fluids, something nutritious in the stomach and a method of super-flushing toxins. Common ingredients for all hangover soups include some form of protein, garlic and black pepper, and a capsaicin-rich form of chili pepper. Menudo and kimchi chigae, two such medicinal soups, use spicy red pepper as the primary toxin remover.
Another Korean hangover-fighting soup would be army stew (budaechigae) which traditionally features a variable and seemingly wacky combination of proteins including hot dogs and/or Vienna sausages and/or Spam, some kimchi and other peppery ingredients. The recipe was thought up as a way to use Army rations that were plentiful after the Korean War.
A Polish hangover soup recipe I saw includes horseradish, black pepper, and garlic. Chinese hangover soup (congee) uses chicken, fresh ginger, garlic and scallions. Czech soup calls for lots of garlic.
Below is a basic Korean hangover soup recipe, if kimchi chigae or army stew, doesn't quite work for you. While most hangover soups call for meat broth and meat, these soups can be made vegetarian or vegan and still be equally effective. Many Korean hangover soups are quite complicated (which I cannot picture a truly hungover person trying to make), but the following is pretty basic and easily converted to please vegetarians or carnivores.
Haejangguk (literally hangover soup, serves four to six)
Ingredients:
2 heads baby napa cabbage (about a pound each)
3 T. doenjang (Korean fermented soybean paste)
2 T. gochugaru (Korean ground hot pepper powder)
4 garlic cloves, minced
2 T. soy sauce
1 T. Korean-style toasted sesame oil
3/4 cup of bean sprouts
1/2 cup of sliced zucchini
1 scallion, thinly sliced
1 Korean red chili pepper, thinly sliced
1 Anaheim chili pepper, thinly sliced
5 cups of vegetable stock (Substitute store-bought bouillon if too lazy to make)
Method:
1. Fill a large pot with water and bring to a boil over high heat. Fill a large bowl with ice water and set it nearby. Blanch both whole cabbages for one minute, drain, then drop them into ice water to stop the cooking. When cool, drain and cut into 2-inch pieces.

2. In a large bowl, combine doenjang, gochugaru, garlic, soy sauce and sesame oil. Add blanched cabbage, bean sprouts, zucchini, scallion and chili peppers, and mix well. Marinate at room temperature for 15 minutes.

3. Transfer the contents of the mixing bowl back to the emptied blanching pot and add stock. Bring to a boil, then reduce heat to medium for 10 minutes, and serve.