What do you get when you cross a Buddhist temple with a hip youth hostel? | By John Eperjesi (Fall 2022)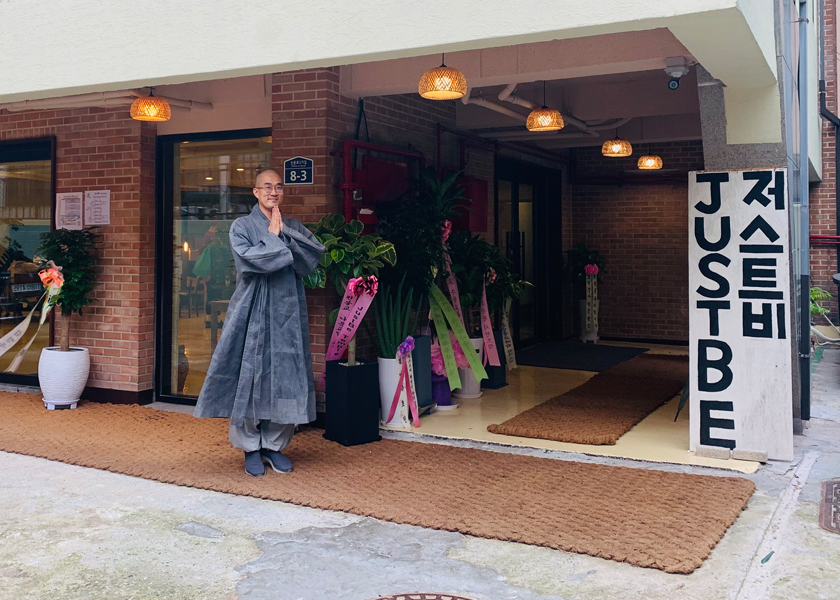 JustBe Temple, a calm, urban retreat for students, backpackers, dharma bums and club crawlers, is a new take on travel housing for guests ready for something truly different. It offers a range of sleeping options, both private and shared rooms, and optional activities as part of the stay, including meditation, yoga, 108 bows, tea, chanting, free dance, and drawing.
On September 1, JustBe opened its doors and rolled out its yoga mats in the Hongdae district, a legendary nightlife capital of Seoul. The opening party included a special DJ set by Akimbo, the founder of Tonal Unity, a record label specializing in "organic sounds from Asia and beyond."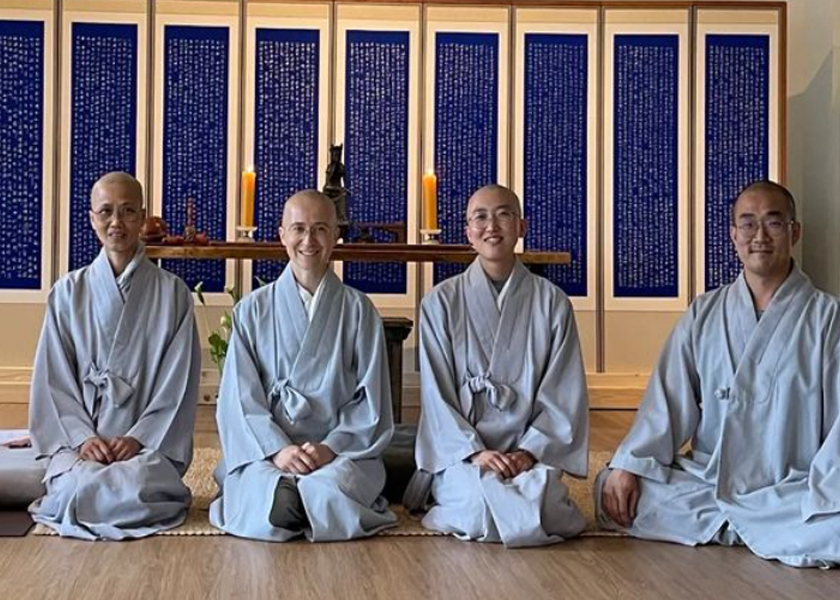 JustBe was founded by two Buddhist monks, June Han Sunim and Baek Dham Sunim (Sunim is a term of respect for a monk). In 2003, long before they took vows and started wearing seungbok, the distinctive grey robes worn by monks in Korea, June and Baek were students and roommates at Washington University in St. Louis, Missouri.
While roommates, June and Baek turned their apartment into a meditation room and invited friends and students and professors over to chant, eat, drink tea, and discuss Buddhist philosophy.
After graduation, June translated the Diamond Sutra and decided to become a monk. He trained for seven years at Sudeoksa and Haeinsa Temples. Following a 1,000-day solo retreat in Yangbaek Temple, June Han decided he wanted to be with people again, and moved to Seoul.
Baek took a very different route. He moved to China after graduation to open a franchise of his parents' bakery. He opened 30 bakery branches all over China, but the stress of that took a heavy toll on his body and soul. In 2015 he decided to distance himself from the world of buying and selling, and became a monk. Baek is the older brother of Jiwoong (aka Raw Raw Project, a visual and performance artist) who is also the general manager of JustBe.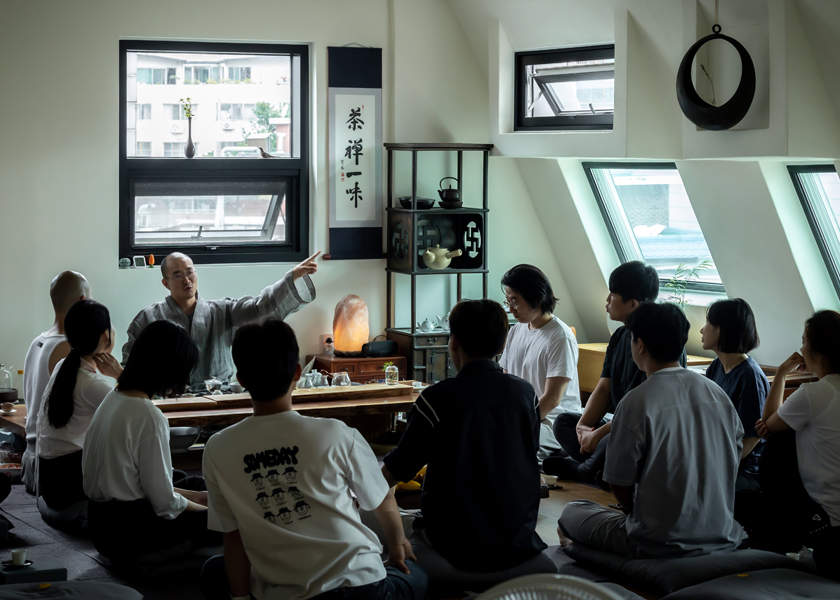 JustBe is building on a trend begun 20 years ago, the Korean Templestay Program, established by the Jogye Order of Buddhism. It was launched by the Cultural Corps of Korean Buddhism shortly before the 2002 FIFA World Cup soccer tournament. In 2002, 50 members of the Corps gathered at Jikji Temple, located at the foot of Mount Hwangak (in south-central South Korea) to spend the night absorbing the ascetic practices of the Buddhist monks. Another 32 Templestays opened shortly thereafter, as more people ventured to temples to see what the observant Buddhist life was like.
Over the past 20 years, the popularity of the Templestay program has surged. There are now 137 Templestays across the country, and six million people have attended the program. JustBe is not an official Templestay program, but it is building from the popular program's ideas of exposing ordinary people to Buddhism in a relaxed and fun environment.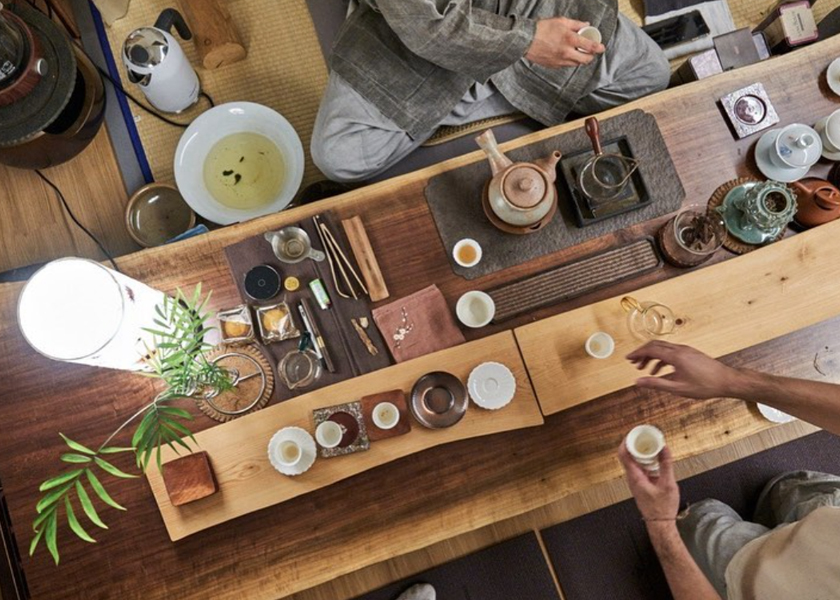 One international project launched by the Cultural Corps is to promote Korean temple food. Building on the popularity of the Netflix series Chef's Table, which features Jeong Kwan Sunim, a Buddhist nun from Baekyangsa Temple, the Corps has collaborated with the London campus of Le Cordon Bleu to include lectures on this unique style of plant-based cooking.
The deadly intersection of the climate crisis and COVID-19 pandemic has made clearer how the health of the planet and the health of our bodies are intimately connected. Plant-based Korean temple food has gotten increased attention as a way to nourish the biosphere and our microbiomes.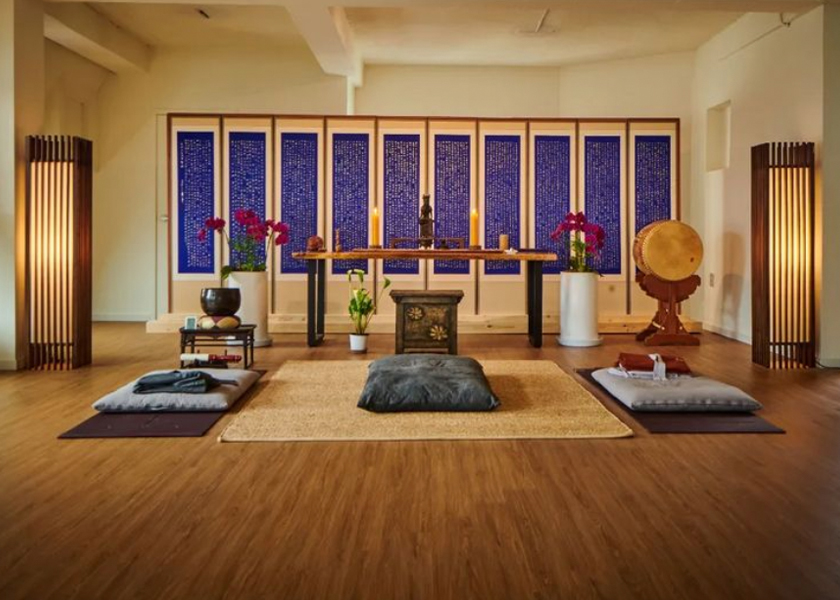 The importance of healthy social relations that result from a sense of belonging and creative participation, not competition and passive consumption, has also been made apparent during the pandemic years. As an intentional community grounded in Buddhism and open to everyone, JustBe aspires to become "global meditation playground where laypeople and Buddhist monks eat and live together and co-create the project as a collective."
In addition to the two founding monks, the JustBe collective also includes an international staff from South Korea, Japan, New Zealand, Argentina and Chile.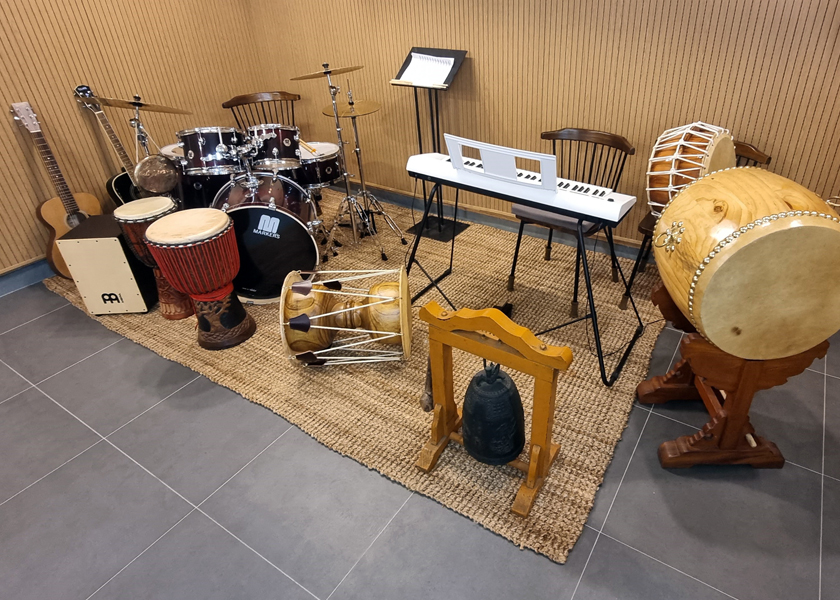 A stay at JustBe includes breakfasts and the daily programs; drawing, sound meditation, and Buddhist-inspired activities such as 108 bows, sitting meditation, and tea ceremonies. There is a small music studio in the basement dining area with a variety of percussion instruments, guitars, and an electric piano, so guests who like to make music can easily find someone to jam with.
Korean Buddhism continues to evolve in ways that respond to changing times. June and Baek, drawing from the roots of their university days, have used Buddhism to center this bold experiment that allows guests to experience a retreat from urban life and a taste of what Buddhism can offer today.
For information about JustBe, or to make a reservation, check their Instagram. This article was originally published in Mixmag Asia, and is reprinted with permission.