Five make history as the most Korean Americans to run for Congress in one year | By Martha Vickery (Fall 2020 issue of Korean Quarterly)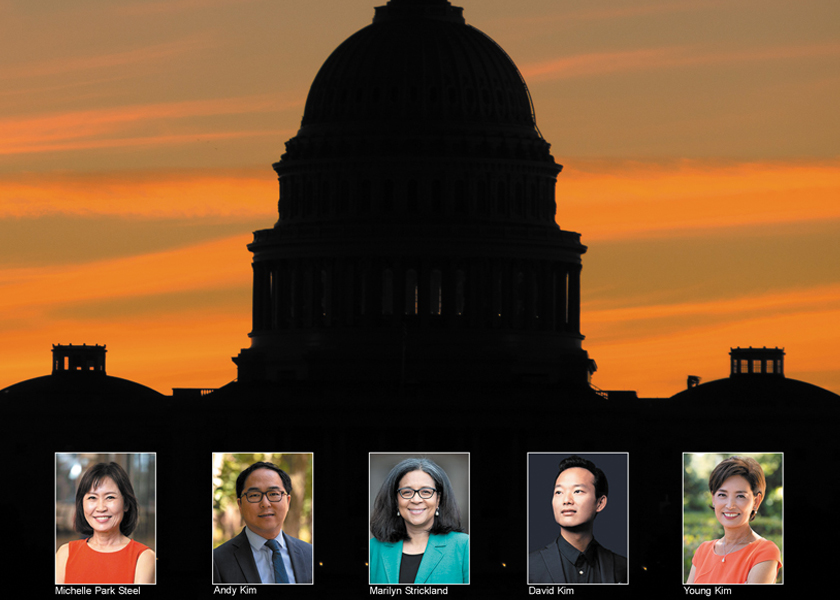 Five Korean American congressional candidates, the most in the country's history in one election, saw each other's faces with some delight on Zoom in a recent free public session sponsored by a Korean American political advocacy organization. They talked about the historical moment of this election, some basic issues that are on the minds of all voters, and a few, like the importance of U.S.-Korea relations, that are of special interest to Korean Americans.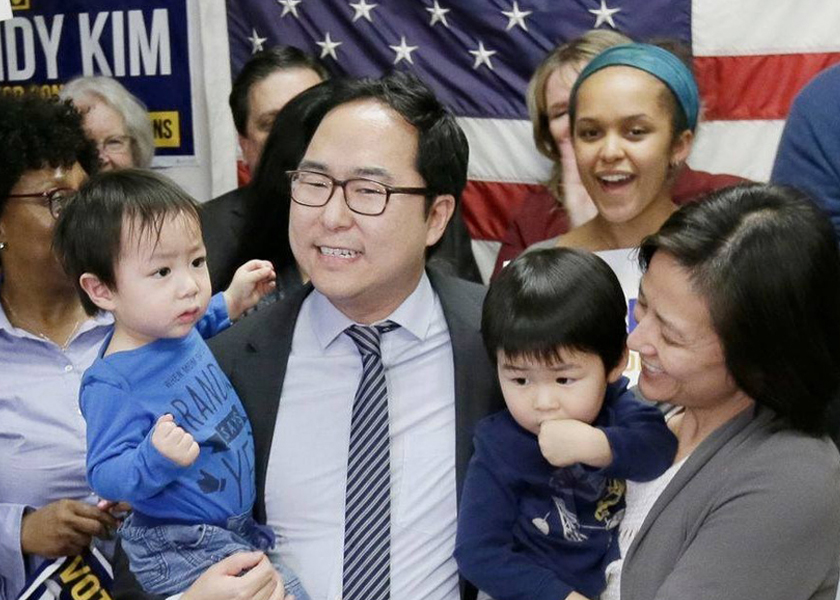 Rep. Andy Kim (D-NJ), video-calling from an outdoor perch in Washington, DC with the Capitol outline in the background, was the only incumbent in the webinar sponsored by Korean Americans for Political Action (KAPA). "This is just awesome to see all of us on one screen," Kim said. "No matter what happens in just 34 days, congratulations to everybody for just stepping up and giving it your all."
The other four panelists were west coast candidates with considerable experience in elected and appointed posts in city, state and county governments, and in coalition-building and community advocacy. There were two Republicans: Young Kim, who is running for California's 39th District); and Michelle Park Steel, who is running for California's 48th District. There were also two other Democrats: Marilyn Strickland, running for the state of Washington's 10th District; and David Kim, running for California's 34th District, which includes Los Angeles' Koreatown.
John Lim, KAPA board chair, gave an introduction that emphasized the importance of Korean Americans finding common ground so that Korean Americans' joint interests can be expressed in a collective voice. "This has become an imperative for Korean Americans, because in the current political environment of extreme partisan polarization, we will not matter if we cannot come together," he said.
The KAPA website is using national maps to indicate national, state and municipal races where Korean American candidates are in the running. The KAPA site shows that Korean Americans of both major parties are running in state races in Hawaii, California, Washington state, Texas, Missouri, Indiana, New York, Pennsylvania, Virginia and Georgia. Additionally, there are Korean American candidates running in municipal races as Republicans, Democrats and in non-partisan races in cities in the states of Washington, California, Florida, New York and New Jersey.
The webinar was emceed by veteran broadcast journalist Juju Chang (ABC News Nightline, World News Now). "There is a national reckoning on race, social justice, and identity," Chang said. "We are all asking big questions about who we are, where come from and what our role is in civic engagement– that's why orgs like KAPA are so crucial and why it is so important to have this dialogue."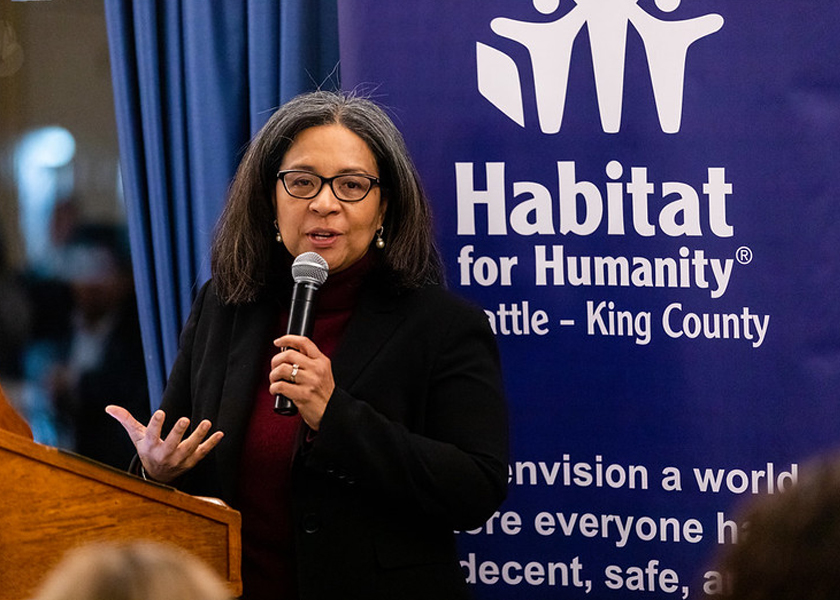 Asked why they are running for Congress, Strickland (D-WA) discussed her bi-racial background. Strickland, the former mayor of Tacoma, Washington, now running in that state's 10th District, said "when I think about the why, it is about where I come from; a descendant of slaves, and a daughter of Korea, and an American woman. There are people who came before me who struggled for dignity, for rights, for opportunity, and I have a duty and a responsibility to move forward and to carry on the work they've done."
If elected, Strickland would be the first Korean American woman to be elected to Congress, and the first African American to represent the state of Washington at the federal level. As mayor of Tacoma from 2010 to 2017, Strickland led her city out of the economic recession, by helping to attract more than $1 billion in housing and business investments, and spending $500,000 to repair the infrastructure at the port Tacoma, which attracted jobs and commerce. She also launched the Minority Business Development Agency and served as chair of CEO of the Seattle Metropolitan Chamber of Commerce.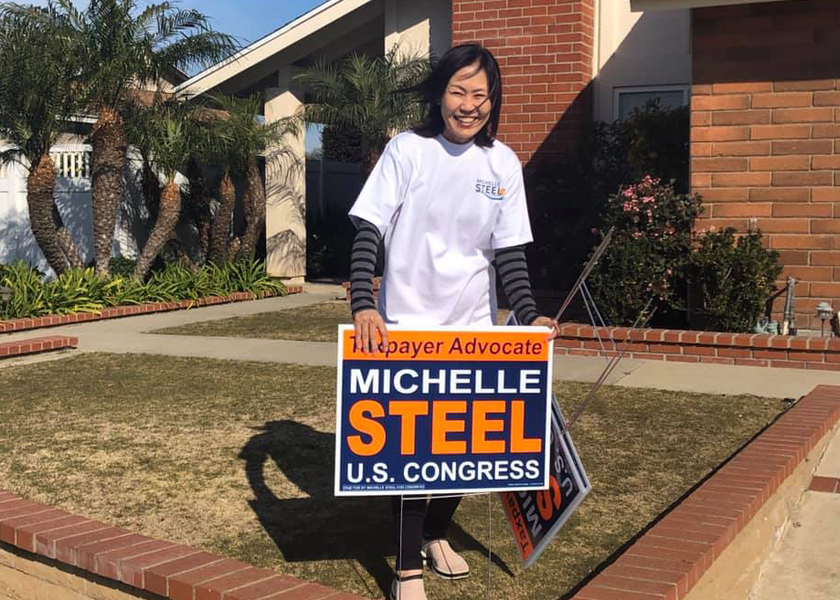 Michelle Park Steel (R-CA) is running for California's 48th District, a coastal area of southeast of Los Angeles. Steel was elected to Orange County Board of Supervisors in 2014, was reelected, and now serves as the chair of that county administrative body.
As a teenager, Steel came to the U.S. with her mom and two younger sisters and talks a lot about how her mother's struggle inspired her to run. On her website, she writes that she became interested in public office, particularly taxation, after watching her mother, who was single and a small business owner, try to appeal an unfair tax bill, and eventually acquiesce to the demands of the Board of Equalization. She eventually ran for that board and became vice-chair in a district representing eight million residents of southern California. Her platform includes advocacy for business owners, combatting homelessness, and supporting environmental laws to keep California's beaches clean.
In the webinar, Steel talked about her dissatisfaction with the partisan fighting in Congress. "I want to work for constituents, not for partisan work in Washington. That's why I'm running," she said. "My life is really good – I ran for four different elections, and won all four. At this point, I'm not going to change the record. I am ready to win November 3rd, and I am going to get there."
Before running for Congress, Rep. Andy Kim worked for the Obama and Bush administrations as a national security expert. (See feature on Andy Kim in KQ's spring 2020 issue and on the KQ website). After his years as a career public servant, he said, being a representative is different, but at its core "it's still the same job actually. It is about serving the American people, just from a different branch." The representative said that a State Department once told him "that you don't have good government unless you have good people working in government. Government is a reflection of who we are as people. It is not just something that happens."
Andy Kim also cited his roots as a son of immigrants, and as a husband of an immigrant. "I have served my country my whole life. I want to continue to hopefully do that if I can."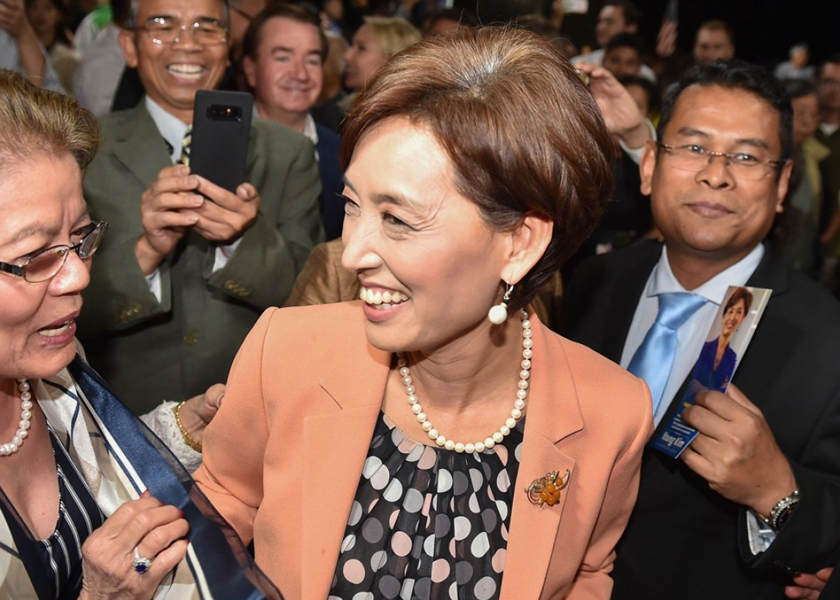 Young Kim (R-CA) a former bank financial analyst and former controller for a large company, and also ran her own small women's clothing business. She began her political career working for former Republican Congressman Ed Royce as a community liaison and director of Asian affairs. She was also the first Korean American woman to serve in the California Assembly, representing the 65th District. She is now running for the seat Royce vacated in 2018 in the 39th District, which spans an area west of Los Angeles that includes parts of Orange County and San Bernadino County. It is a tight race; in the March 3 primary, Young Kim picked up 48.3 percent of the votes, and her opponent, the incumbent Gil Cisneros, got 46.9 percent.
Born in South Korea, Young Kim came with her family to the U.S. in 1975. She has four children, and is sensitive to the issue of health care, particularly because one of her children has a pre-existing condition, her website states.
"Running for Congress, with the retirement of Ed Royce, is a natural progression for me to continue to bring the representation that southern California has come to know," she said. She "realized the American Dream," in the community she is seeking to represent, she said.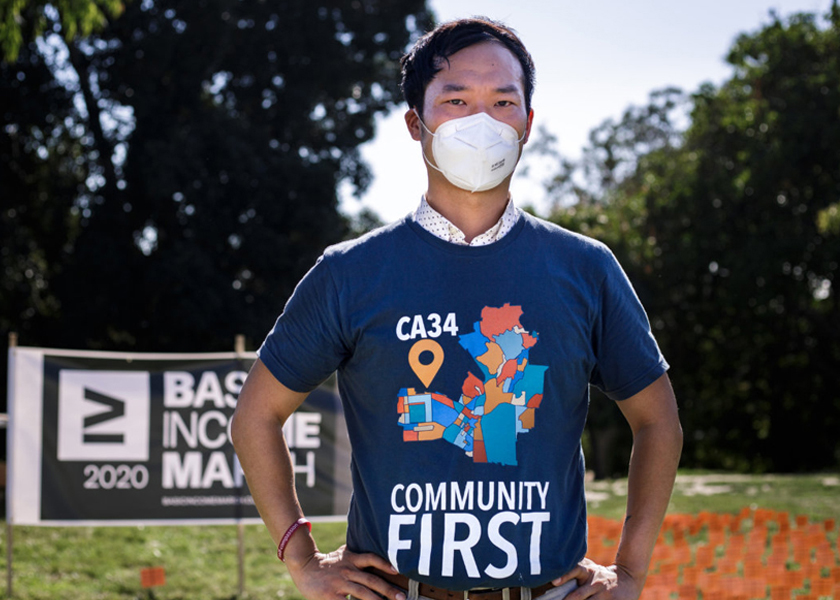 David Kim, who is running for the 34th District that includes Koreatown in Los Angeles, started his career in public service by working for the Los Angeles County District Attorney's office, but went on to work in private practice representing artists in the music industry, including K-pop rising stars who needed help navigating in the U.S. music and business communities. He worked as an immigration lawyer for asylum seekers, often supplementing his small income by driving for Lyft and Uber. He has also recently served on a neighborhood council in his community.
The son of two pastors, David Kim said running for Congress is "an extension of who I am" as a person who always organized and spoke up for others. What motivated him at this time, he said, is the urgent situation of extreme financial distress he sees in his district, which even before the pandemic was one of the poorest congressional districts in the country.
Overall, the candidates stayed away from their viewpoints as either progressives or conservatives, but David Kim remarked that Young Kim's statement about realizing the American Dream looks different from where he lives, and the times he is living through. "The reality I have right now is that the American Dream is not so achievable. …I talk to my parents about how if they were to immigrate now, that they would not be able to create the same life that they made for us," he pointed out.
Chang asked the group to talk about representing a population that is minority Asian, and whether that affects how they run their campaigns. Andy Kim, who ran in an 85 percent white district with less than three percent Asian Americans, said "there were a number of people who told me I was wasting my time running in this district. …But I think the lesson is that we just cannot allow other people to define who we are or what we are capable of accomplishing. And that we are sick of other people setting the limits of what Korean Americans are able to do."
Thinking of the next generation, Rep. Kim added "I just think it is a poor message to send that Korean Americans and Asian American candidates and other candidates of color can only win in communities and congressional districts that are dominated by a particular demographic or minority group. Korean American candidates can and should be able to win anywhere in this country."
Andy Kim told his own story on the campaign trail of his parents' struggle as immigrants, "but what was important was that it's not just a Korean American story, or an Asian American story, it is fundamentally an American story." He found that out, he said, while on the campaign trail, "which is how this 85 percent white/one percent Korean American district elected its first Korean American in 20 years, and the first Korean American Democrat to Congress in the history of this country."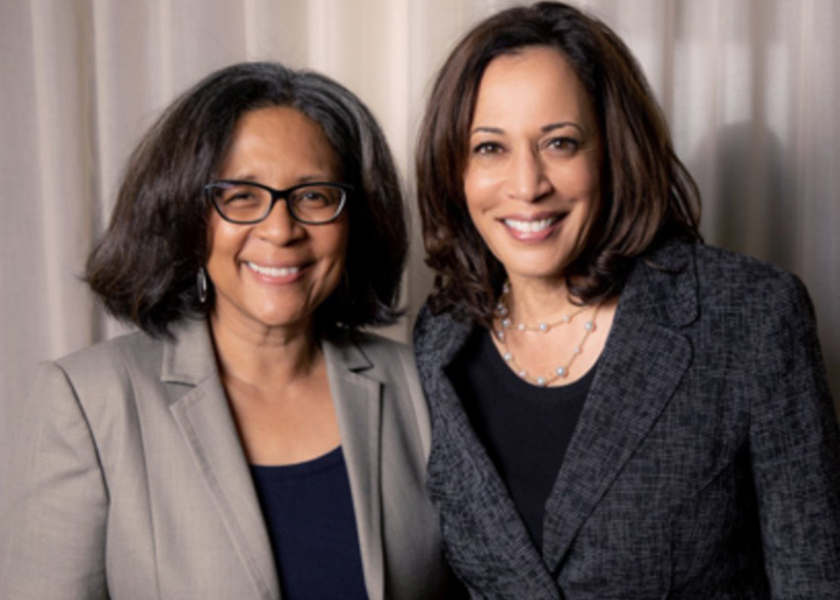 "Being half Black and half Korean means that people have been trying to label me my entire life," Strickland said. "Even in the context of politics – are you a moderate Democrat or are you a liberal Democrat?" Strickland's mother is Korean, and she joked "I say with complete affection that if you were raised by a Korean woman, then you are Korean!"
Strickland pointed out that her age demographic group of the second-generation were expected to "assimilate,' which at that time meant to blend in and not embrace their culture of origin. The idea of culture has appreciably changed since she was in her formative years, Strickland added, and as an adult, Strickland said, she began to appreciate her bi-cultural strengths.
The 10th District is about 75 percent white, and 25 percent minority, divided among Latino, African American, and Asian American, according to Strickland. As a U.S. representative, the former mayor said she will join the Congressional Black Caucus and the AAPI Caucus, and that she is also a member of the New Democrats. The fact that there will be a small Korean American representation in the future "gives us a chance to build power with other Korean Americans with a shared agenda," she added, "regardless of where we fall in the political spectrum."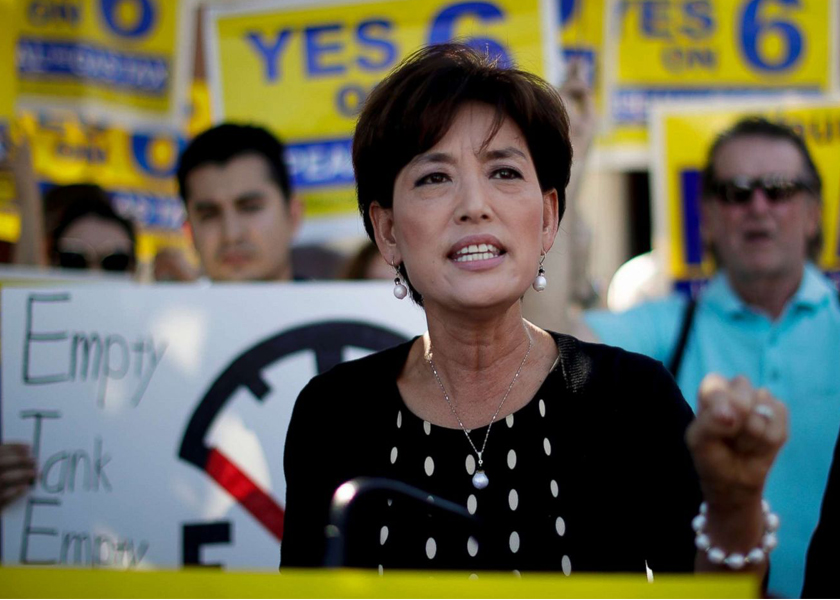 Young Kim said she is "blessed to be bilingual and bicultural in the incredibly diverse district I am running in." The 39th District is nearly evenly split as a third white, a third Latino, and a third Asian. "Korean American voters are the second-largest voting block among Asian American voters with about 18,000 voters," she explained. The voting population is projected as 260,000 in the district, so she has calculated she needs to get more than 130,000 on election day. "This election is close; it's a major toss-up," she said. "Therefore, the significance of the Korean American voting block cannot be overlooked and I certainly do not take their votes for granted. They could tip me over the top."
There is no shortage of issues of importance to all voters, Young Kim said, and first on the list is the pandemic. "COVID has upended all our lives. I talk to voters about how we need to break the partisan gridlock to fight COVID." That relieve needs to include extension of business loans and stimulus checks for families, as well as funding of schools and local governments, and funding for vaccine distribution. Health care is another big one. "We need to talk about how we will work on reducing prescription drug costs affecting those with pre-existing conditions, end surprise billing, and ensure price transparency," she pointed out. Issues of economic opportunity, like the opportunities that were afforded to her and her family, are topics all voters want addressed, she said.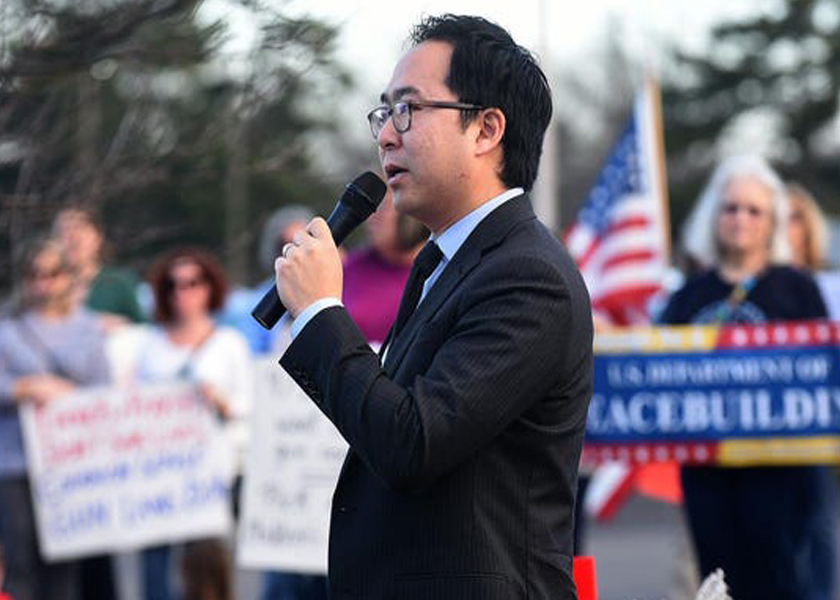 Asked how he approaches the first generation of immigrants as a candidate from the second generation, David Kim said he views it as a "normal conversation," not divided into categories of progressive or conservative. The first generation does not want their next generation to suffer, he said. "They actually came here as immigrants for us to have better lives." On a personal level, that means the immigrant generation does believe in equal access and opportunity when it comes to promoting the success of the next generation, he said.
How to make that happen on a policy level is what many in the second generation are struggling with at this moment, he said. "As an Asian American, although we are all Americans, we still don't have equal footing in many areas whether it be education, workforce, etc. And, that is why it is not a surprise that 1.5- and second-generation Korean Americans are being a bit more progressive, because our parents fought to let us have the life we have right now, and we are not going to let that go to waste."
Steel said she views her position between elder immigrant voters and second generation as a bridge function, knowing both groups. Having Korean as her first language, Japanese second, and English third also helps her reach a wide variety of voters in her district. In the 48th District, she said, voters are mainly white, with 14.9 percent Asian and a few percent Black and Latino.
Steel says she bridges gaps by talking basics like taxes, which is her specialty. "The Trump tax policy really cut down the amount going to state and local taxes, where they tried to penalize the state but ended up penalizing residents." As an elected official since 2006, Steel said she has had plenty of experience talking to constituents, but "I don't know everything, except maybe I know the California tax code!" She asks questions of constituents frequently, and listens to see where the needs are, she said.
The group also discussed the U.S. strategic alliance, with national security expert Rep. Andy Kim commenting that in his experience, under both Obama and Bush, and during the Trump administration's North Korea talks, the State Department did not work in consultation with any Korean American groups, which was a missed opportunity. "We need to make sure to make it clear they need to talk to us and get our opinions on these issues as well," he said.
Steel said that having a few Korean Americans in Congress can be a "great asset in promoting a U.S.-South Korea relationship, an alliance of two democracies with open dialogue and mutual beneficial relationships.
Strickland added that "Andy has been in [Congress] by himself, so that's why we all have to get in there and have our own caucus." There is a lot of misunderstanding among Americans on the U.S. relationship with the two Koreas, including the fact that the U.S. is still in a state of armistice, not peacetime, with North Korea. "We have to talk about how have a chance to formally end the Korean war and what does that mean," she said. "As someone who will belong to many caucuses – the AAPI and Congressional Black Caucus, and hopefully be starting a Korean American Caucus – we have an opportunity to help more people understand so we can have allies."
Young Kim said she had many opportunities to assist with issues on the Korean peninsula as a staff to Rep. Ed Royce for 20 years. "I served as interlocutor for a U.S.-Korea interparliamentary exchange for about 14 years," she said. She also facilitated legislative meetings between members of the U.S. Congress and National Assembly of the ROK, with issues such as the U.S.- Korea Free Trade Agreement (KORUS-FTA), U.S.-South Korea defense cooperation matters, and the Congressional hearing on the former comfort women that led to the passage of House Resolution 121, which called on Japan to formally apologize to the war crime survivors.
Young Kim said she favors reestablishing the former Advisory Council and reestablishing the Interparliamentary Exchange. "I worked so hard on international relations between the two countries, I did not understand or appreciate the current administration's aggressive demands to pay more for defense in South Korea," she said. "That is not the way to treat our partners. Any financial benefit to the U.S. is not worth the loss or damage to our relationship. Americans understand that the troops are not just there for South Korean state. They serve both nations by keeping stability in the region. I will work to build mutually beneficial, mutually respectful policies in the region because that is what I have done for decades now."
Korean Americans for Political Action maintains a website at: kapaction.org. Congressional race results will be summarized online at: Ballotpedia.com, politico.com and major network websites such as nbcnews.com