Sijo: Korea's Poetry Form ~ By Lucy Park and Elizabeth Jorgensen, editors
(Parkyoung, Sejong Cultural Society, Chicago, 2022, #ISBN 978-1-63519-041-0 52399)
Review by Anne Holzman (Winter 2023)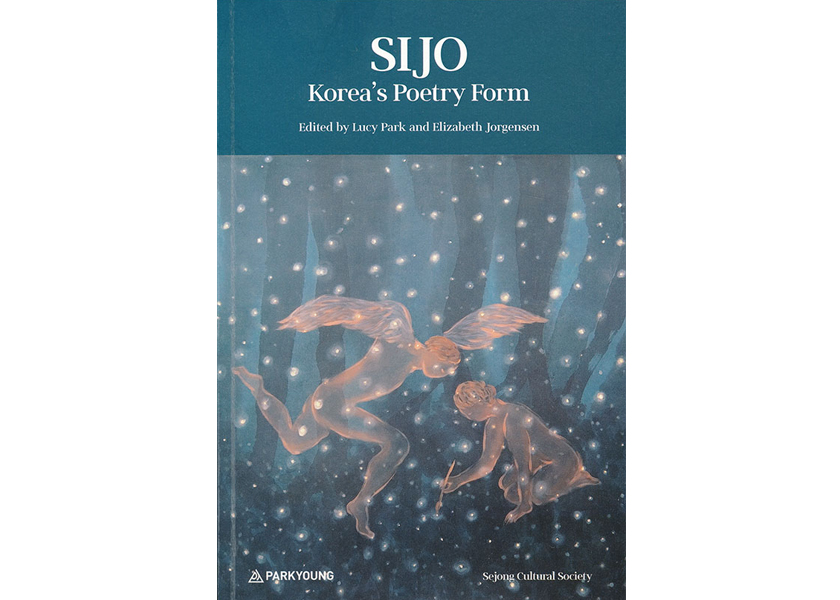 Liz Jorgensen was looking for publishing outlets for her students. Lucy Park was looking for poems. They found each other in the Sejong Cultural Society's annual sijo writing contest, and a decade later, they have collaborated on a book to help more teachers bring the ancient Korean form into their U.S. classrooms.
Jorgensen, who teaches creative writing at Arrowhead Union High School in Hartland, WI, a few miles west of Milwaukee, said she first heard of sijo when she read about the contest. "I'm always looking for authentic purposes for my students' work," she said – a contest, a website, an anthology, any form of publication.
So she used the materials available on the Society's website to teach herself the sijo form, and then turned around and taught her students. They submitted their poems to the contest. From among her students, there were winners, followed by another year's submissions, and another year of winners.
After several years of this, she said, she got a call from Park, who had noticed the Arrowhead winning streak and wanted to record some of Jorgensen's lessons to share with other teachers.
Park, a pediatric allergy specialist at the University of Illinois at Chicago College of Medicine, is a founding member of the Sejong Cultural Society and serves as executive director. She oversees the Society's annual writing and music composition contests, promoting Korean cultural forms in U.S. schools and colleges.
Jorgensen was happy to share her sijo teaching experience. She contributed videos and lesson plans to the Society's website. She offered workshops and talks at conferences to introduce the form to colleagues. She and Park began talking about a book "over a decade" ago, she said, and they are pleased to have published it under the Sejong Cultural Society's imprint last year.
So, what caused Jorgensen, who had no prior contact with the form, to devote so much energy to sijo? It turns out to be popular with students, she said. "They like that there's a formula – and it's short!" she added with a chuckle.
The prevalence of the Japanese haiku form of poetry in American classrooms was also a factor; several lesson plans and articles in the book help teachers build on that knowledge to get to the longer (but not much longer) sijo form.
Sijo, as adapted in English, consists of one or a series of three-line poems, each line counting about 15 syllables. Syllable counting plays out differently in English than it does in Korean, so the English rules tend to be looser on that point. And some poets break the three lines into six paired lines. But the content remains the same: An observation in the first line, elaborated or reflected upon in the second line, with a surprise twist at the beginning of the third and final line.
If this sounds like the sort of thing that doesn't just readily pop into a student's head, Jorgensen has helpfully traced the development of several poems by including her back-and-forth with students in the book. She shows us their early drafts, her comments, their revisions, and their comments about each other's work and the process as a whole.
By the time Jorgensen is done, sijo really does seem like something most students could handle. "My kids are middle-America," she said. She has had a few Korean students who have expressed deep appreciation for the inclusion of the Korean form in their writing class. But most students know of Korea because they have heard some K-pop and read some manhwa/manga (Korean comics and graphic novels), and the only history they know is about the U.S. involvement in the Korean War.
In a phone interview, Jorgensen pointed out that hers is a typical situation for a high school creative writing teacher: A few students are aspiring poets, but mostly kids view the class as a palatable alternative to reading 19th century fiction for their English elective during junior or senior year. "The majority of the kids in my classes aren't here because they love writing," she said.
She particularly sees a lot of math and science enthusiasts looking not to spend too much time on English. She thinks that might be a key to the popularity of sijo. "It's almost like a puzzle," she said. The students get going on the challenge, she can hear them collaborating: "I need a two-syllable word that means this." Many of them wind up submitting poems. A few of them have become contest winners.
Jorgensen said quite a few social studies teachers have also picked up on sijo at teacher conferences. "They've had a lot of ideas to add a creative element" to their curriculum, she said.
Just like a sijo poem, Sijo: Korea's Poetry Form has three sections. The first section consists of articles introducing the form, its history, and its development in the U.S. Park wrote several of the articles. There are also contributions by David McCann, a Harvard professor who has done much to bring Korean literature to American audiences, and by beloved children's author Linda Sue Park. Brigham Young University professor Mark Peterson sets sijo in the context of haiku and other Asian literary traditions. Seoul National University professor emeritus Seong-Kon Kim reflects on problems of translation.
The second section is the gold mine for teachers – the lesson plans, links to more lesson plans online (many of them through handy QR codes), descriptions of editing routines, comments from students. The challenges range from casually introducing the form in elementary school, to counting syllables and mapping ideas at the college level. And if that's not enough guidance, there's plenty more available on the Sejong Cultural Society website.
The third section of the book will be very helpful to anyone contemplating contest submission. Here, student writers, teachers, and judges offer their comments on past submissions, many of them with accompanying illustrations. It's also a charming reminder of just how much thought and effort can go into 45 syllables of writing.
Teachers at all levels who want to try sijo will find everything they need in this book. The methods would also adapt easily for homeschoolers, camps, even adult clubs (does your book group need a new direction?). Coupled with resources on the Sejong Cultural Society website, this volume should broaden Americans' familiarity with this aspect of Korean heritage.
Resources for teaching sijo are available on the Sejong Cultural Society webpage, https://www.sejongculturalsociety.org/resources/resources.php
A complimentary copy of the book is available for any teacher who wishes to include sijo in their writing classes. Request a copy by email, sejongculturalsociety@gmail.com