Ung Lim Lee's landscape exhibit shows one artist's persistence in following his dreams | By Martha Vickery (Spring 2023)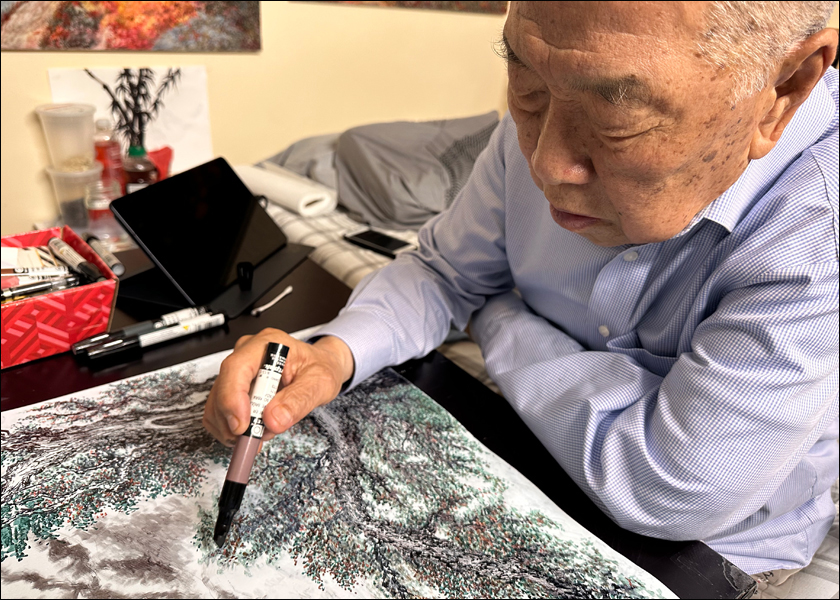 In his artist's statement for his upcoming exhibit in St. Paul, artist Ung Lim Lee quotes a Korean proverb which is echoed in English and other languages – "I will plant an apple tree even if the world comes to an end tomorrow."
The proverb is especially meaningful for this 90-year-old artist whose aspiration for a fine arts career lived in his heart for more than 30 years while he pursued a more lucrative career in commercial art to make a living for his family.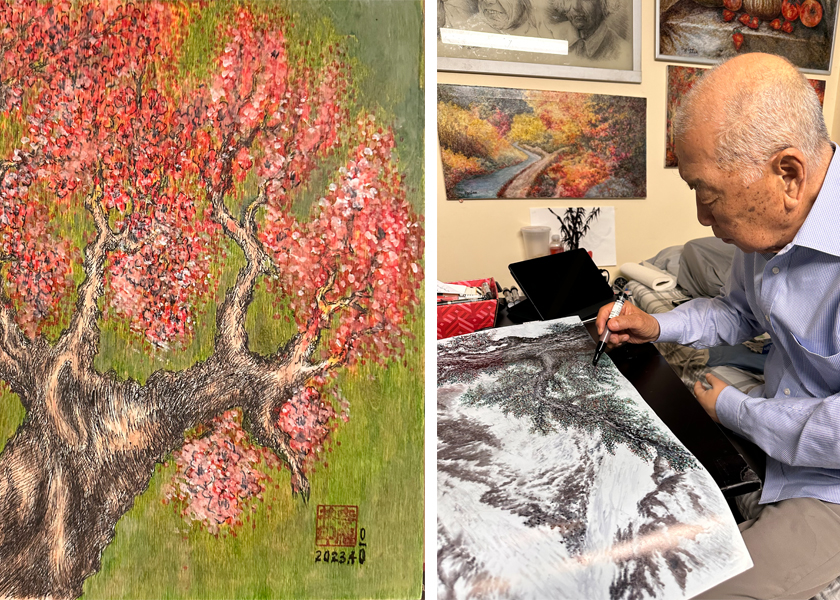 His finely-detailed depictions of landscapes, many of mountain scenes in Korea, comprise his new exhibit entitled Mountains and Trees. It will premiere at Xia Gallery in St. Paul with an opening reception Friday, June 9, at 6 p.m. The artist's subject matter symbolizes his yearning for homeland; he often describes the mountains and trees of Korea as emblematic of the Korean people's endurance.
Lee had a small art exhibit some years ago, targeted to friends and family at which he sold some pieces. The Xia Gallery exhibit is Lee's first public art exhibit.
Lee relates in his artist's biography on the Xia Gallery website that he was born in 1932, and grew up as a happy child in a wealthy family in the small city of Sariwon, Pongsan County, Hwanghae Province, Korea, in a region that is now North Korea. Although Korea was under Japanese rule at that time, he was sheltered from the hardships of the occupation.
He adds one other detail, that while in primary school, he lost his left lower arm in a train accident. Although the loss of his arm never deterred him from any ambition, he always keenly felt society's prejudice towards disabled people.
At age 18, Lee was happily enrolled in art school, but that education, and everything else in his well-ordered life, would soon be taken away when war began in June 1950. With his family, Lee fled south to the city of Daegu, in what is now South Korea.
Lee's father also died at that time. In addition to the grief and turmoil, Lee also had more responsibility to support his mother and two sisters. "Finding employment with a background in European painting in the middle of war was futile," he wrote. He was suddenly very far away from his sheltered upbringing in Sariwon.
After a few years of constant struggle to work and support the family, one of his sisters moved to the U.S., and invited him to join them. By then Lee was married with one son, but he traveled alone to the U.S. to get a job and a home first. He settled in Connecticut, at first with his sister and family. He relates that, memorably, the process of getting his first visitor's visa involved drawing a quick portrait of the ambassador during their meeting. He remembers the date, February 22, 1964, as the date his life began in America.
After further struggles, working for low wages while trying to get a work visa, he finally got the work visa which would open the door to building a stable life in the U.S. It involved writing a petition letter in English, which he did himself, using a Korean-English dictionary. Writing the letter took three months of evenings after work, trying to craft an understandable letter, he recalled.
After getting the work visa, his wife and son joined him in 1965. He began a career in commercial art by learning it "from the ground up," he wrote, running errands and doing other tasks for an advertising agency. He began to draw various products, and learned how to do advertising layout. He eventually got a job with a freelance commercial artist – the job was to create drawings of airplane engines. From that employer, he learned other aspects of the commercial art business.
After 30 years doing commercial art, he still nurtured the dream of returning to fine art. Although he pursued a career in commercial art for 30 years, his ambition was always to return to fine art. "I always kept my childhood passion," he said in a translated written interview. He worked on his own fine art pieces whenever he could. He moved to Minnesota to be with family in 2017, and starting in 2020, worked more intensively on his artwork during the pandemic lockdown.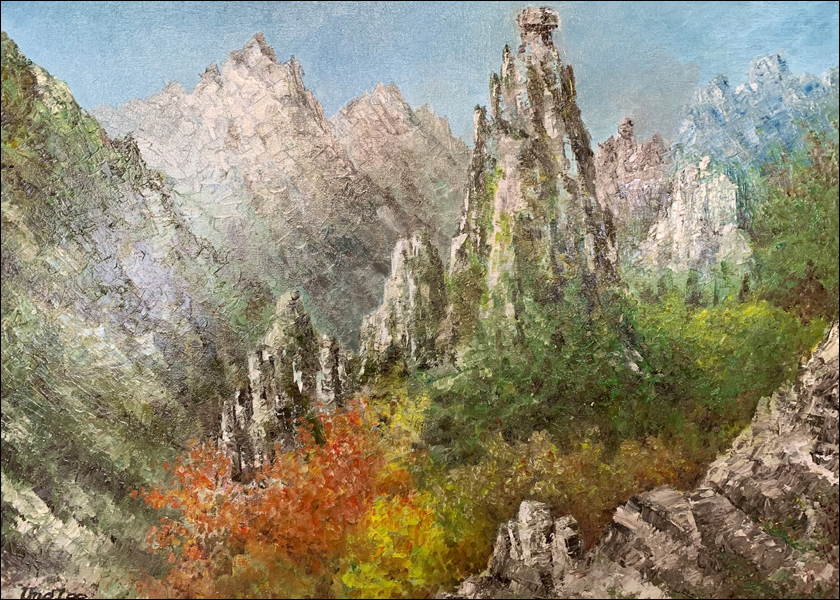 Lee wrote that a significant and artistically-inspiring life event was going to Kumgangsan Mountains (Diamond Mountains) in North Korea. The area was opened to visitors through the establishment of a special tourist region. Visitors were admitted to the national mountain park starting in 1998 until 2008. The area has unique sharp peaks, dense pine forests and contains some ancient Buddhist monasteries.
The ancient pine trees started to take root in his imagination. "I started expressing the perseverance of Koreans through pine trees in my art" he wrote. "Like Koreans who have overcome hardships, I explore the strength of pine trees that dig their roots into rocks."
In his artist's statement, he makes an observation about trees:
There are many things to learn from trees. Once they root, they grow there until they die, whether it's a good environment or not. They don't fight over territory even if branches from neighboring trees invade their space. They don't complain if parts of their foliage are shaded from exposure to the sun. They are always in one place. When tree roots grow, they may encounter tough boulders along the way but with persistence and tenacity they can break even the toughest rocks. They slowly crack through and find their way.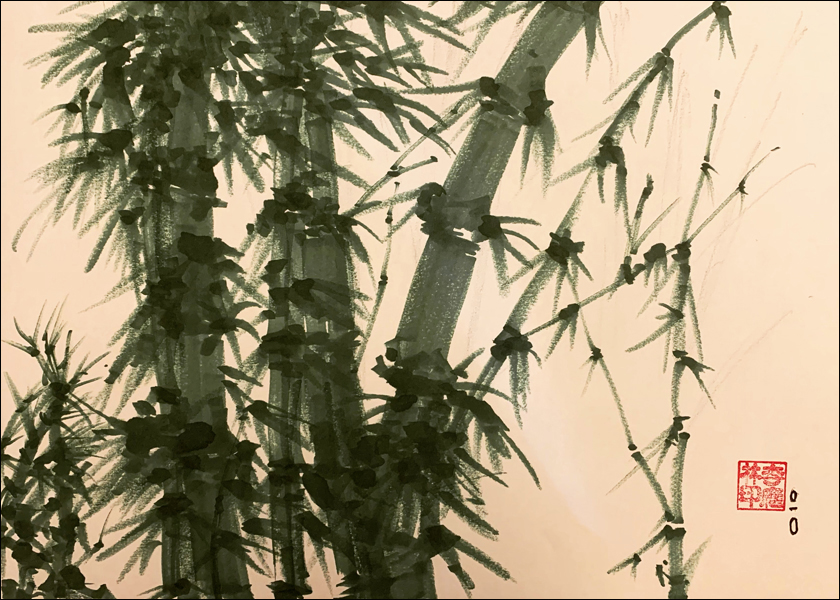 His mastery of commercial art media also found its way into his work. Korean artists often use ink or paint on durable hanji paper, which is made of mulberry tree bark. But the fine lines and rich colors of traditional Asian-style paintings can also be rendered beautifully with modern media including permanent markers and acrylic paint. Lee said he has even drawn with a plain ballpoint pen on wooden boards. Permanent markers are useful at "capturing all the vibrant colors," he wrote.
Rich Lee, who is helping him prepare the exhibit, calls his father an "upcycle artist" who can look at an abandoned cabinet door with trim on all four sides and see a ready-to-paint panel with its own built-in frame. On his Instagram page, the artist posted several examples of imaginative use of media, including a diptych (a joined two-panel work) made from two dry erase boards on which he drew with permanent marker; a painting rendered with acrylic paint on frosted glass; and drawings with pen on sheets of rubber.
It seems that no media challenges this artist – he makes the media do what he wants with a combination of knowledge and experience plus the will to do the job. This quality is echoed in what Lee feels about the importance of persistence and determination. "Some give up before even trying," he wrote. "But I never give up. What I hate most is how society prevents me from even trying just because I have a disability."
Lee writes that he looks back on his long life with "complex feelings." Like many first-generation Korean Americans, he has experienced much suffering and turmoil, but also the joy of conquering many challenges. "I try to express how I have overcome these obstacles through my art," he wrote. "I can proudly say that I have lived and survived like pine trees and this willpower allows me to draw on sleek glass with a ballpoint pen."
Editor's note: Korean Quarterly thanks Bomi Yoon Newman for expert translation help for this story.