Architect Grace Kim to speak on cohousing for Twin Cities Cohousing Network | By Martha Vickery (Spring 2022)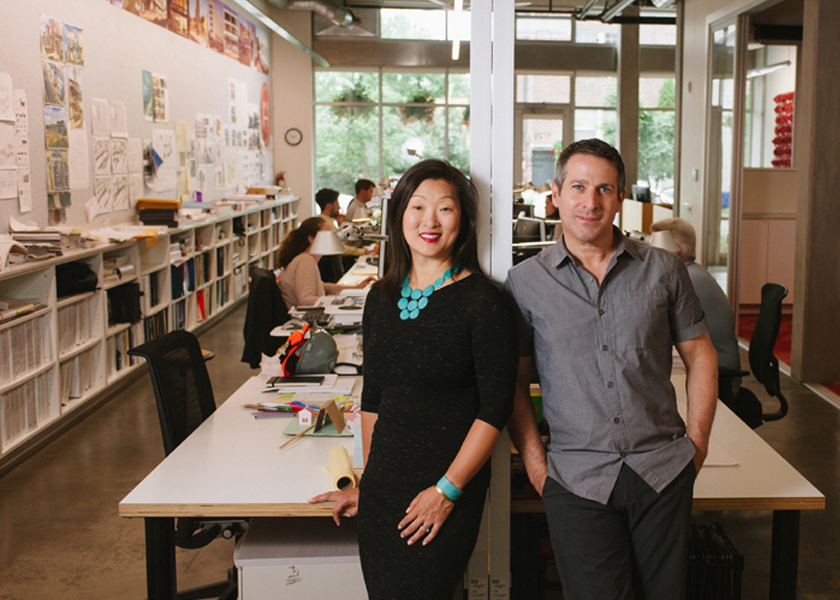 Architecture is a blend of math, science and art, but successfully advocating for collaborative housing, or cohousing, requires everything architecture offers plus a mix of sociology, psychology, marketing, and futurology too.
Even before the COVID pandemic era, Seattle architect Grace Kim said, there were some compelling articles about the "pandemic of loneliness," particularly the experience of people in developed Asian and European countries growing old while living alone and feeling isolated from friends and family. During the COVID era, however, a wider demographic of people experienced loneliness, which has renewed the public discourse about how to mitigate lonely lifestyles, and has shed more light on the benefits of cohousing.
Cohousing, a term coined by a Danish architect in the '60s, refers to a chosen lifestyle as much as it suggests a type of housing design that encourages residents to share time and resources. Tens of thousands of Danes live this way today.
Kim speaks widely to fellow architects and to the general public about her chosen life's work of promoting cohousing, working with cohousing organizations, and selling cohousing designs. She was featured in a 2017 TED Talk entitled How Cohousing Can Make Us Happier (and Live Longer), and was a featured speaker (in English with Korean subtitles) at the Seoul Cohousing Workshop in 2020. She also lives and works in a Seattle cohousing unit of her own design, the Capitol Hill Urban Cohousing, and runs her architectural firm, Schemata Workshop, out of the same building. She often uses her cohousing neighbors as examples in her talks.
On May 11, Grace Kim will kick off Twin Cities Cohousing Network's (TCCN) new speaker series, Meet the Professional with her virtual talk, Cohousing: A Short-Term Antidote to Loneliness and Long-Term Retirement Plan. The TCCN is a non-profit organization that does education and outreach to promote the development of cohousing in the Twin Cities area.
In August, Kim will lead sessions at the Cohousing Association of the U.S., which will meet in Madison, Wisconsin.
Kim has used a photo of an oversized white house with a white picket fence as one of the initial photos in her presentations, the idea of the American Dream-style house that is pushed on Americans, even immigrant groups such as Korean Americans, who traditionally had multi-generational family households. "Americans have done a great job of creating this false American dream of the nuclear family in the single-family home and then we exported that notion all around the world. And it isn't a healthy notion. It's not one that's serving our country well," she said.
The single-family home can also be isolating, and not a good goal for young families who need other adults for support, or for older adults who wish to age in place with some help. There's a "false notion" that the single-family house system connects people, Kim argues in her TED Talk, just as there is the same false notion that social media connects people. What connects people is a real human relationship, she argues, and building positive personal relationships happens in cohousing naturally. Having the right kind of housing can facilitate those relationships.
Kim and her husband Mike Mariano were in architecture school together, and were studying in England in 1993 when a visiting professor from Denmark came to talk about cohousing. The concept had been invented in Denmark in the '60s. At the time, she said, she thought of it as just another alternative housing model. Once back in the U.S. and interested in starting their own practice, the couple discovered that this model of housing, that bakes in social support and shared resources, was not well known in the U.S.
Being supported in a multi-generational community "was the way I grew up in a Korean community in Seattle," Kim said. "It was fairly small, so we went to Korean church and my grandmother lived nearby and so I had a lot of family and multigenerational connections. It seemed natural that there would be these communities that had these multi-generational aspects."
They found, after graduating and moving to Chicago, that cohousing was still unfamiliar in the U.S. In Chicago, they also felt the separation from their families. "When we moved back to Seattle in '99, we decided to make some very deliberate choices to move towards co-housing," she said. The couple ultimately made it a lifestyle and a life purpose.
Her husband decided to get a certificate in real estate development. Kim did an independent study Master's degree to research cohousing, since no professional program she knew of was teaching it at that time. From there, the couple's professional journey as cohousing specialists grew, including building and establishing the cohousing building that now contains their home and business, Capitol Hill Cohousing.
People who choose cohousing go through the same real estate process as anyone purchasing a condominium. Both condo buyers and cohousing unit residents own the unit, and pay fees to the owners' organization. In cohousing, the fees for taxes, upkeep and common services are shared. The big difference between a cohousing choice and a condominium, Kim emphasizes, is the intent of a buyer of a cohousing unit to participate in a lifestyle that includes sharing their time and resources with other residents.
Architecturally, the difference in a cohousing arrangement has to do with the type and arrangement of shared space, which can include kitchens, dining areas, workrooms, play areas for children, and gardens. Of importance is what Kim calls the "common house" which usually contains a big, shared kitchen and dining area. "It's the place where you might gather before starting a work party for the day, or for the weekend, and becomes a central gathering for celebrations," Kim said. Over the years, Kim said, she observed a correlation between how often communities share food together and how socially successful cohousing communities are, she said.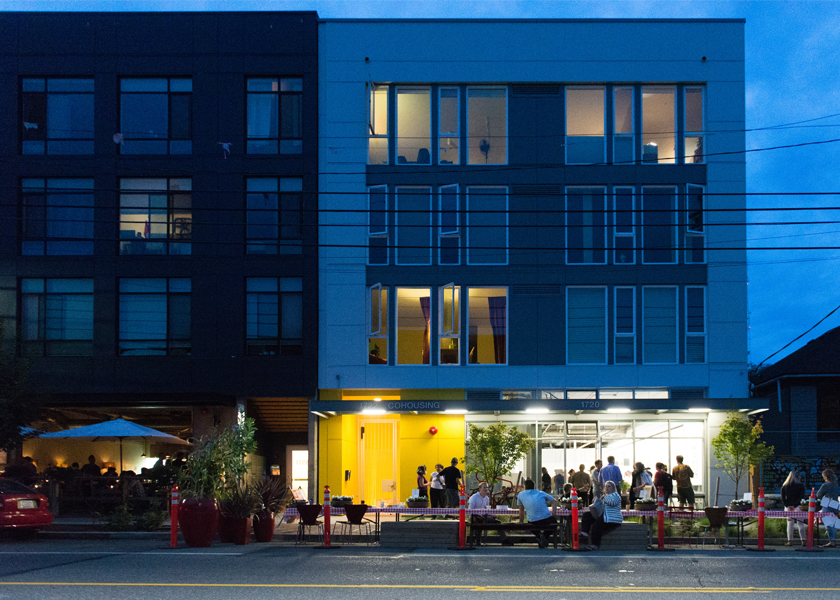 At Capitol Hill Cohousing, Kim describes how she can simply show up for the communal meals held three times per week, and only has to be the lead cook for one out of every six weeks. Having only certain responsibilities instead of all the responsibility for a home creates an "ease of life" not available with single-family housing, Kim said. Friendships just happen. Residents practice grassroots democratic governance. There are other benefits that are individualistic; Kim gives an example in her TED Talk how her neighbors, an older couple who were once elementary education professionals, don't have grandchildren but now enjoy the relationships they have with kids who live at Capitol Hill.
Kim said that, over time, she has tried to design common rooms of cohousing buildings more oriented to food and hospitality, versus other activities. The risk of making such rooms too multi-functional is that such rooms "don't do anything well," she said. The challenge is to incorporate some cozy and intimate spaces into large function rooms "so that people can feel comfortable and not like they're in a train station," Kim said. The rooms must also be versatile enough so that occasionally residents can push away the furniture, perhaps raise the lights higher, and have a space big enough for a dance party once or twice a year, she added. Kim's concentration on the shared kitchen and the common dining area reflects her idea that dining together is the most important community-building activity for cohousing groups.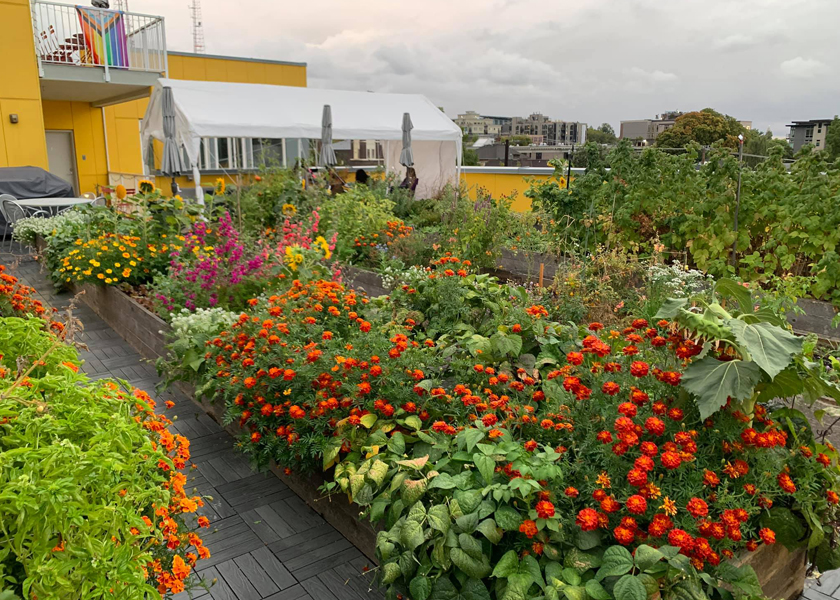 The cohousing idea is gaining popularity "but I would say that it's still not mainstream," she said. Schemata Workshop has three cohousing developments in construction; one is nearly done, and the newest project is in the middle of the design phase. Most new cohousing communities are about 24 to 32 units in size, she said, and there are about 180 of them nationwide. The Capitol Cohousing community of nine families, the original Kim-Mariani design, is rather small compared to today's commissioned developments. The Capitol Cohousing building also has no grounds – it is on a city block, but a rooftop garden provides some outdoor space.
Perhaps because the demographics of the nation is getting older, many new communities are senior-focused or, if multi-generational, still tend to be older folks, she said.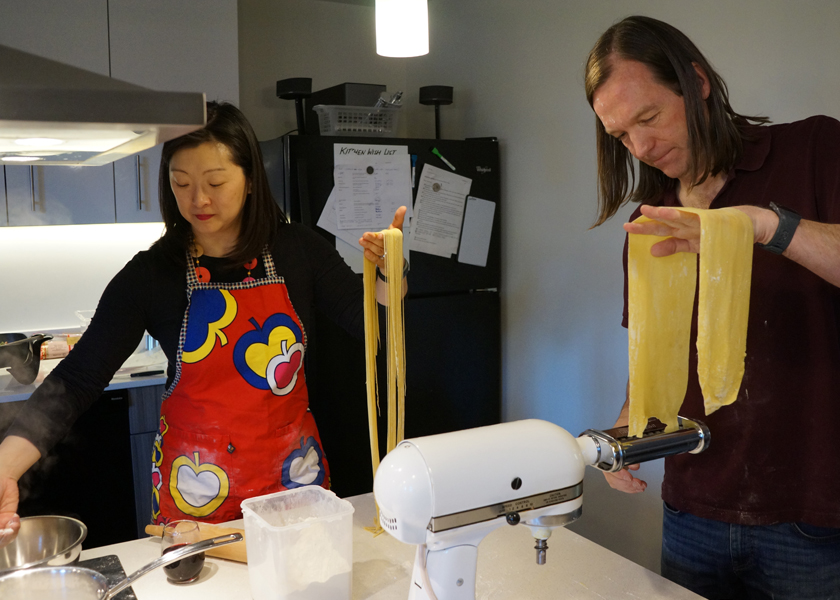 As the trend of more people wishing to live in cohousing edges up, the price and effort it takes to establish a cohousing group has not gone down. Big national developers of new housing can benefit from economies of scale, but not single designers/builders of unique living spaces. Groups have to get together, and have to recruit a developer.
There is, however, some draw to developers of having a committed group of people ready for a large jointly-owned residential space, she said. The website (cohousing.org) unite people wishing to form a group or add members to start a cohousing community. It also helps groups to find architects and developers with cohousing experience. Regional and national conferences are also key to promoting and teaching cohousing to professionals – Kim will present a session for architects on common house design at the Madison conference.
National and regional conferences also help participants work out the issues involved in the big architectural/legal/interpersonal project that comes with cohousing. There are classes on socially challenging issues, such as topics about group process and democratic governance.
"Loneliness can be a result of our built environments," Kim says in her TED Talk. It also has many other causes, but there is proof that the physical isolation caused by our upscale western housing can be a major factor. Worldwide, cohousing is a very small percent of all housing types; this must change, she believes.
In addition to increasing quality of life, building social connections and sharing resources, there are starker reasons why cohousing is important, she emphasizes. The numbers bear out that isolation is a cause of premature death across many countries. Kim has made cohousing her life's work, designing and also teaching architects and future residents because she believes that, as an antidote to isolation, "cohousing can save your life."
The Twin Cities Cohousing Network website is at: www.tccoho.org. (See KQ calendar item for registration for Grace Kim's May 11 talk). The Cohousing Association of the U.S. annual conference, to be held in person in Madison, Wisconsin August 26 through 28, is at: www.cohousing.org/cohoevents/2022-madison