Young and old activists join in DC action agitating for peace-first diplomacy to end U.S.'s longest war | By Alison Choi (Summer 2023)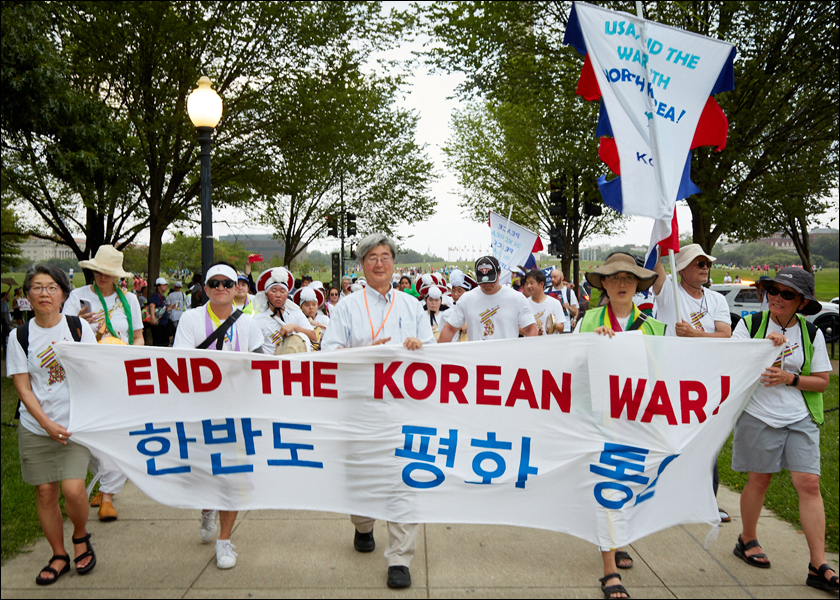 On the 70th anniversary of the signing of the Korean armistice agreement, I marched with Korean American elders and organizers, as well as allies, including veterans and humanitarian groups in a commemorative three-day event in Washington, DC dubbed Korea Peace Action: National Mobilization to End the Korean War. I was in the first cohort of a 30-Under-30 advocates' group sponsored by the trailblazing Korean peace organization Women Cross DMZ, which organized the event.
The July 27 start date of this event is significant to the Korea peace movement because it is 70 years after the 1953 armistice or cease-fire that ended combat in the Korean War. This date of commemoration is intended to draw attention to the 70-years that the Korean Peninsula has been in a state of extreme militarization and political tension. This state of non-resolution of the war has also kept the Korean people divided, including thousands of families who were permanently physically separated by the Demilitarized Zone (DMZ), established to divide Korea into two parts.
The remedy for this dangerous state of readiness and ongoing tension is a peace treaty – it is the goal of the Korea Peace Now coalition, and a necessary first step to restore normal relations between the two Koreas, and with the U.S.
The tension has escalated significantly this year, with increasingly more frequent and intense joint military U.S.-Republic of Korea (ROK) exercises near the DMZ, and tests of intercontinental ballistic missiles by the Democratic People's Republic of Korea (DPRK, or North Korea).
Geopolitical, military, and nuclear science experts who spoke at a conference on the final day of the Korea Peace Action event called on the U.S. to engage in peace-first diplomacy toward the DPRK, an approach they say is critical to averting the growing risk of nuclear conflict. Members of the 30-Under-30 cohort worked closely with elder activists to build the momentum for this clear call to action. Our presence honored the late activist Hyun Lee, a lifelong advocate for peace on the Korean peninsula.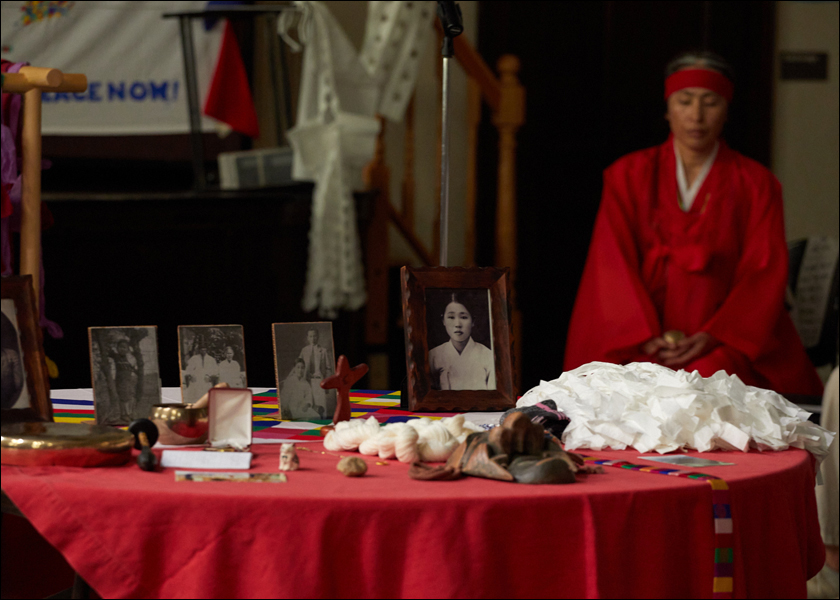 During three days of action, I engaged in several activities with the cohort; we attended a congressional press conference, visited our members of Congress, and participated in a han/grief transmutation ceremony with shamanic artist Dohee Lee. With Lee's guidance, we cried and transmuted our ancestral grief into joy and action.
We also marched in a Korea Peace rally from Lafayette Square to the Lincoln Memorial. Enduring both heat and rain, we rallied in front of the White House and on the city streets, from Pennsylvania to Constitution Ave — more than 500 of us, chanting and walking arm-in-arm for peace. We also helped run an academic conference on denuclearization and peace on the Korean peninsula. During the three days, we built strong relationships that will form the bedrock of an ever-growing peace movement.
As a third-year Ph.D. student in history, I learned so much more than I had ever encountered in my studies or in everyday life. The activities and presence of other activists awakened me to the urgency of achieving peace on the Korean peninsula.
My parents and grandparents immigrated from Seoul to the U.S. in the 1970s. My parents — both 1.5-generation Korean Americans — moved to Hong Kong in the mid-1990s, where I was born and raised. My grandparents were young children during World War II and the Korean War that occurred immediately after, but they have never shared their wartime experiences with me.
However, I grew up knowing that my lineage descended from both the north and the south. I was told that the ancestral lands of my father's family lie along what is now the DMZ in Korea. My mother's side is from the south, and by the time the Korean War began, both sides of my family were south of the 38th parallel (roughly the location of today's DMZ). I do not know the exact names of our ancestral villages, nor do I know the details of what my family went through during the Korean War. I do know, of course, that I cannot visit the north where my family is from under the current diplomatic regulations. I also know that my grandparents and ancestors before them endured unspeakable traumas of war and occupation by the Japanese that have been passed down to me.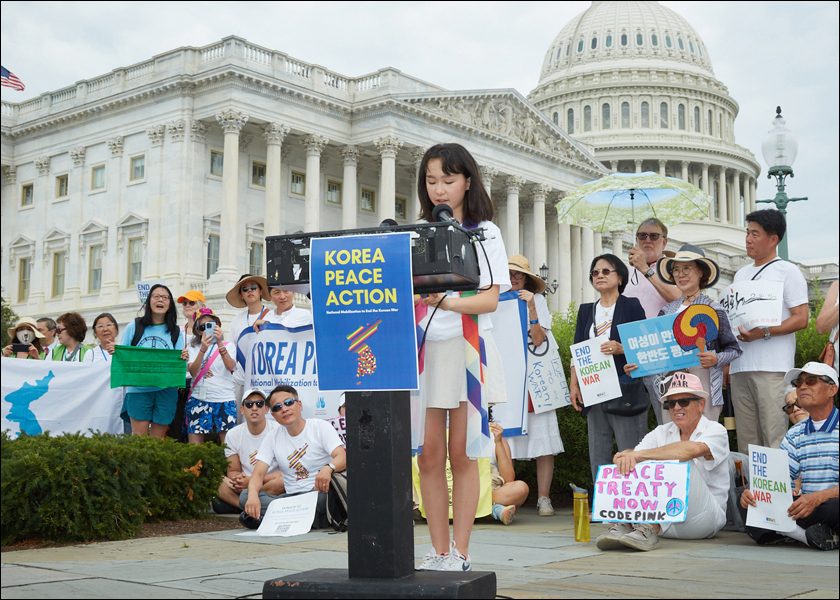 Attending the Korea Peace Action mobilization as a 30-Under-30 activist has enlivened my identity as a Korean American and made me more acutely aware of the responsibilities I now shoulder as a peace activist of the next generation.
For example, I learned that the U.S., representing the United Nations Command, signed the Korean Armistice agreement on behalf of South Korea in 1953. Therefore, the Korean War cannot formally end without the signature of the U.S. The dynamics of power that preserve the ceasefire of the Korean War reveal the imperial relationship between the U.S. and South Korea.
The South is unilaterally disempowered from ending the war that divides it from the North, perpetuating U.S. militarization of the Korean peninsula and the mandatory conscription of South Korean men. Meanwhile, the people of North Korea suffer due to U.S.-led sanctions on agriculture and healthcare that inflict indiscriminate damage against civilians.
Harvard Medical School professor Dr. Kee Park, who has visited North Korea numerous times to conduct surgeries, train surgeons, and bring critical medical supplies, pointed this out during the conference. "Sanctions kill," Park said, "We know it and we should not excuse it. …We have become barbarians because we have accepted the deaths of women and children in the name of national security." I learned in depth during the conference that the political failure of the U.S. to prevent the nuclear armament of the North further signifies the U.S. orientation towards perpetual war in the Pacific and desire to dominate the Pacific at all costs. These were sobering facts to absorb about the role of the U.S. in preventing Korea's peaceful reunification.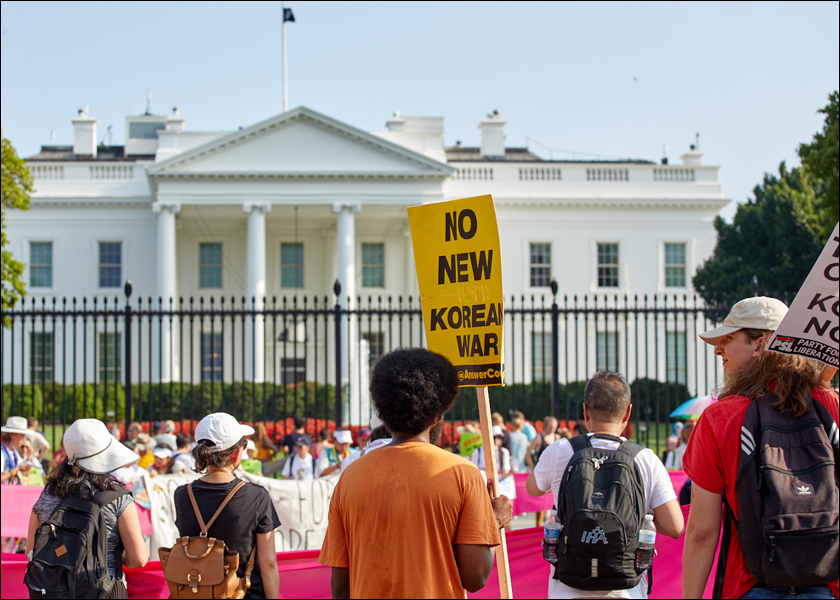 The DC gathering was also timed to galvanize support for H.R. 1369, a House bill in Congress that seeks to officially end the Korean War and review restrictions on travel to North Korea. It was introduced to the House in March 2023 and represents an actionable step to achieving peace on the peninsula.
Seeing my Korean elders march through Washington D.C. in 96-degree weather and rain showers, holding up protest banners, and welcoming us young activists into the movement, brought up anger, gratitude and grief in my body. I felt anger for them because their lives have been framed by war and struggle, and they deserve rest and peace. I felt gratitude for the warmth of my elders, who clink beer glasses with us and embrace all of our Korean and American identities. I feel grief because the elders embody the ancestral struggle for peace and liberation from colonialism, militarism and war.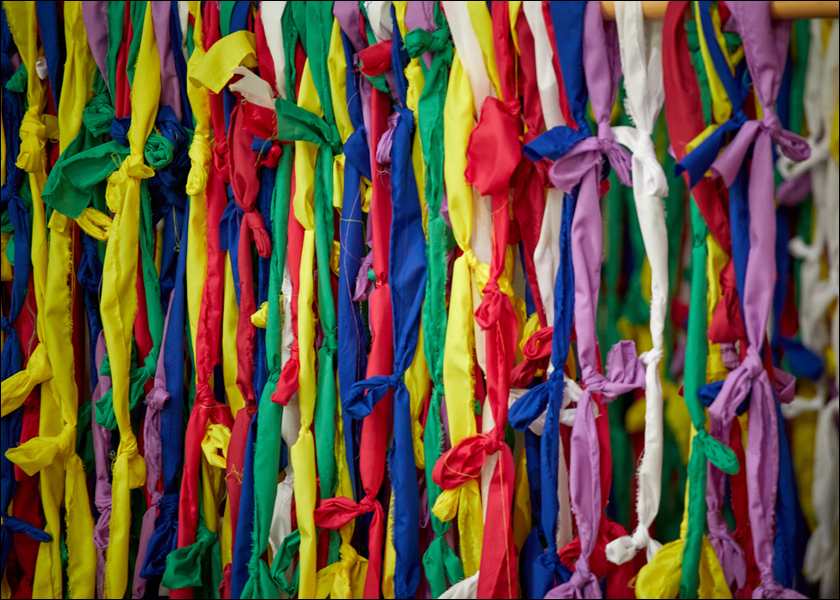 During the han/grief transmutation ceremony, we unraveled knotted strips of colored cloth to symbolize the release of our grief and that of our ancestors who have passed and experienced colonialism, war, and division. Many of us then carried this ribbon-like cloth through the streets of Washington D.C. as we marched and chanted for peace.
When I returned to my hotel room from the rally, I strung my ribbons through the handle of my carry-on luggage so they could be with me as I made my way back home to Chicago. I carefully untangled the ribbons from my suitcase handle when I got home and laid them out for a few days. I had yet to decide what I would do with them.
One week after I was back from the event, an idea came to me. I set up my small step ladder opposite the doorway frame in my studio apartment and hammered two nails on either side. I draped my yellow, blue, magenta and purple ribbons between the two nails, and tied a single knot on either end of each ribbon.
Now, when I walk through my doorway, I feel like the ribbons are watching over me and reminding me of the ongoing fight for peace in Korea, and the many knots of grief and trauma we have yet to untie. I think of my newfound friends who I bonded with under the hot DC sun, sharing kimbap and chanting "Korea Peace Now!" These ribbons hold the energy of han, grief, and joy that were infused and transmuted during Dohee Lee's ceremony on the historic 70th anniversary of suspended peace and Korean liberation.
This reflection marks the beginning of my journey as an engaged and angry Korean American who wishes to see a unified, peaceful Korea in her lifetime. I hope more Korean Americans and other supporters and allies will join the movement and learn about the history of the Korean War and the U.S. role in it – a history that is not yet part of mainstream U.S. consciousness.
As a first step, I would encourage anyone interested in advocating for peace in Korea to reach out to congressional representatives to encourage them to sign H.R. 1369. Beyond that, I would encourage joining the Korea Peace Action movement, and talking with loved ones about what peace on the Korean peninsula means.
My participation in this event reminded me that peace activism for Korea brings me in community with all Koreans, whether on the peninsula or in the diaspora, and all of the people and places affected by U.S. militarism and U.S.-led wars. I am here for my ancestors, and I am also committed to fight for our present and future generations to come.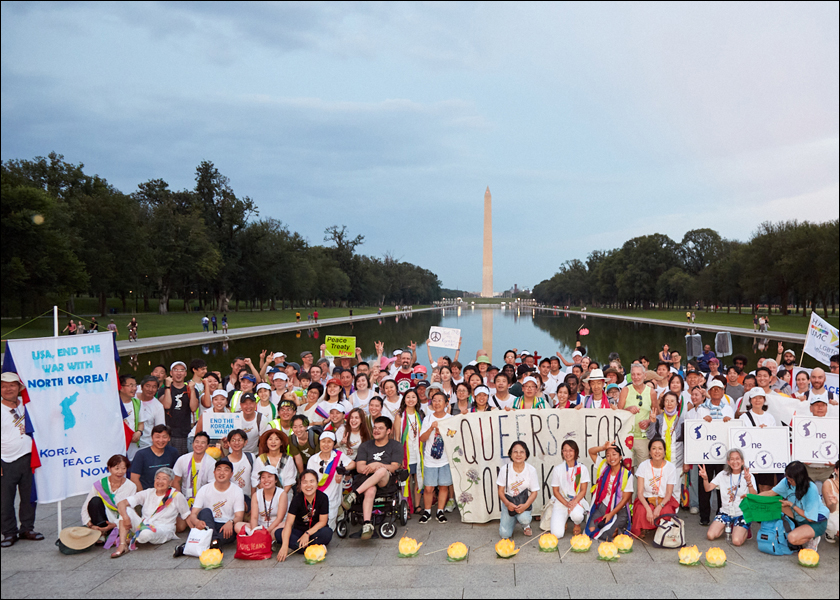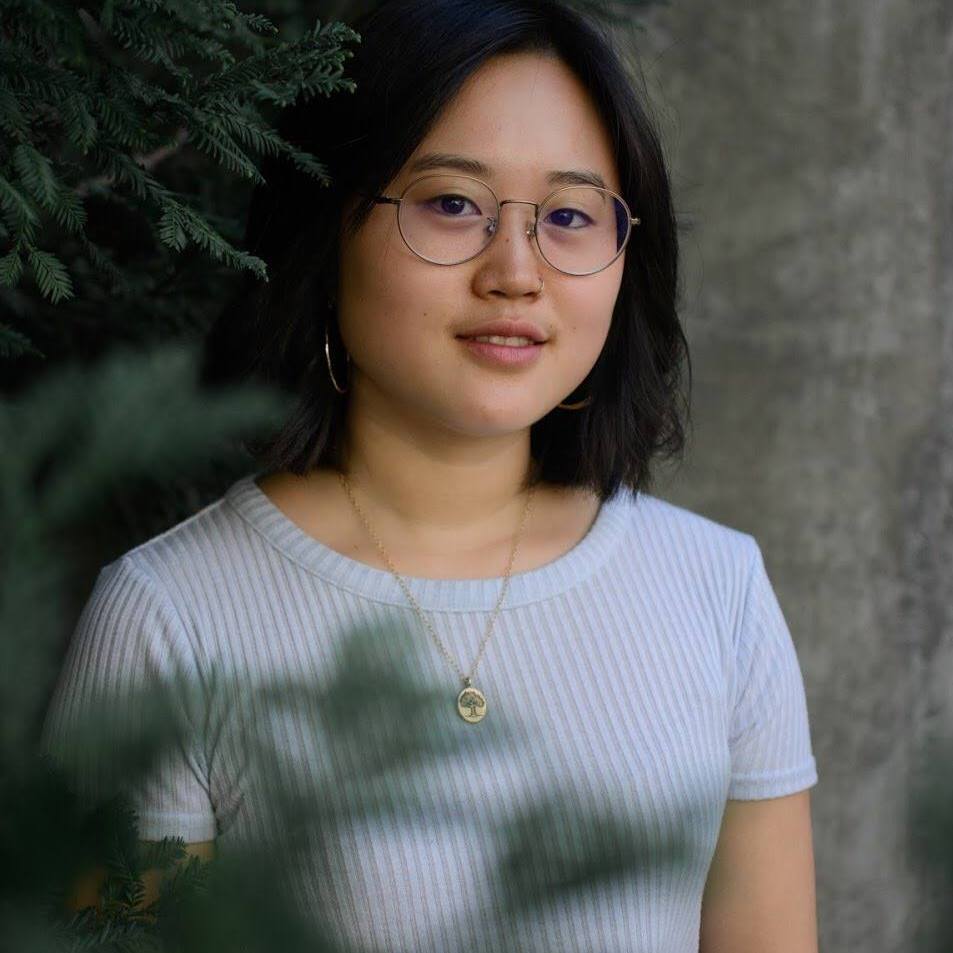 Alison Choi is a PhD student in History at Northwestern University and a Mellon Cluster Fellow in Comparative Race and Diaspora. She studies Asian American and Asian diasporic histories and histories of the Pacific World. She is also a member of GYOPO, a collective of diasporic Korean cultural producers and arts professionals generating and sharing progressive, critical, intersectional and intergenerational discourses, community alliances, and free educational programs in Los Angeles and beyond.