Minnesota Asian Safety Squad forms to support Asian elders in public spaces | By Martha Vickery (Spring 2021 issue)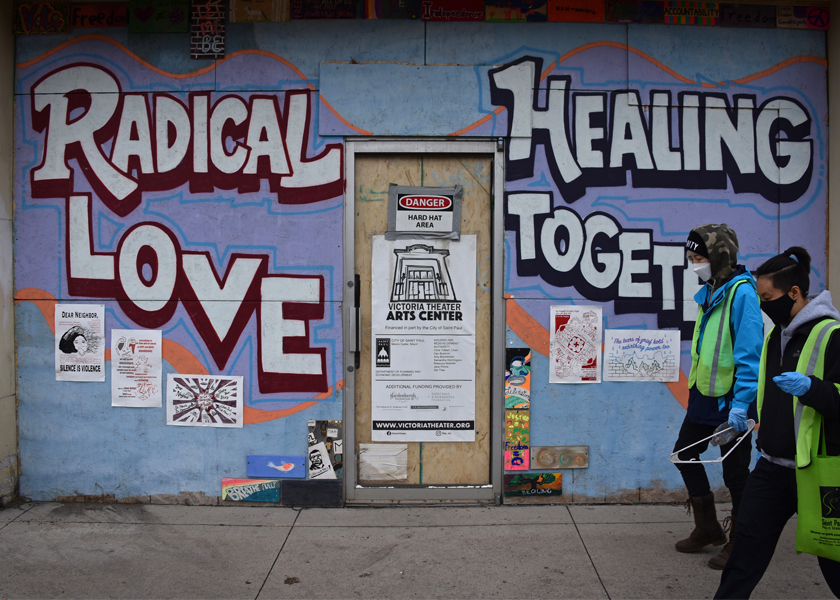 A new Twin Cities group of Asian Americans is showing their support for the civil rights of Asian Americans, including the right to safely be in public, by walking the streets of St. Paul.
The Asian Safety Squad, co-led by Jennifer Amatya and Jonathan Sry, formed only weeks ago; they are still working out the details of how to carry out the group's public safely outreach. Their target group is Asian American elderly who have to venture out alone on the city streets. Group members wear bright-colored safety vests, and patrol together near the light rail stations in Frogtown, a neighborhood that spans a major east-west route from St. Paul to Minneapolis.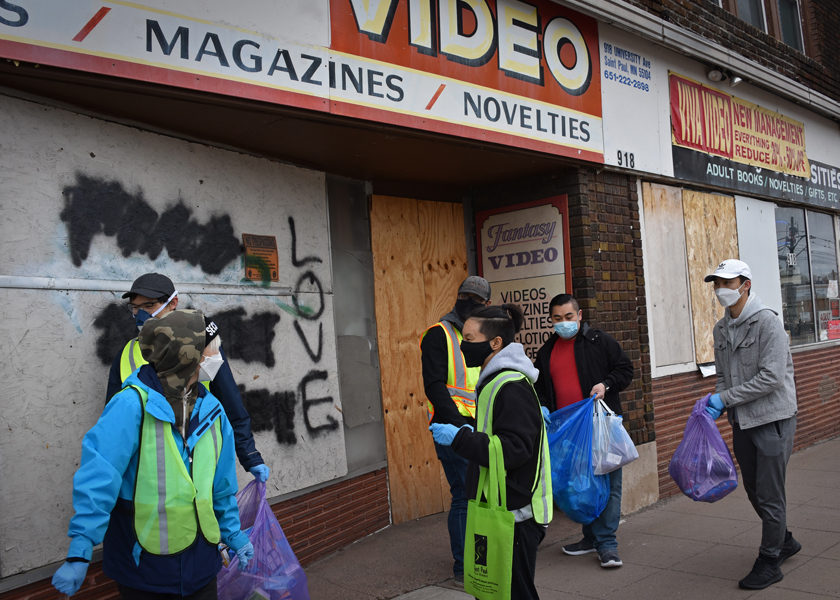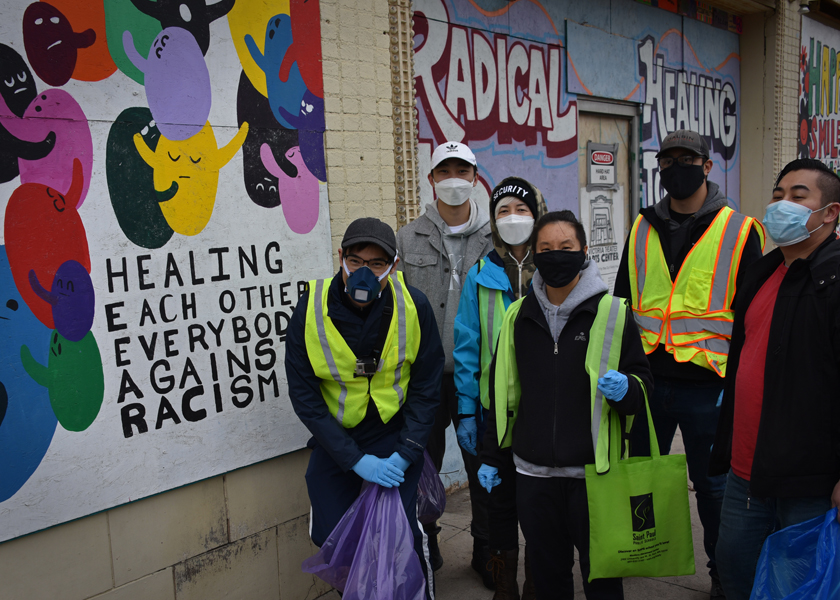 Crimes happen most frequently between 3 and 6 p.m., according to Sry, who identifies as Thai American. His interest in street safety of Asian Americans locally began at the beginning of March, following more than a year of hearing about attacks on Asian Americans, particularly elderly, in cities across the country.
Hearing of an elderly Thai man in San Francisco who died after being the victim of a random street attack was a catalyzing event for him, Sry said. Shortly after that, Sry said he posted on his own neighborhood webpage, offering a free safety escort for any Asian person needing one.
Almost immediately, he decided to ask on Facebook for other volunteers to join him. The first person to contact him was Amatya, a Korean adoptee, who said she wanted to offer some kind of safety escort in the west metro area. "She asked me if I had any advice," Sry said. "But I said nope, I don't have any advice because I just started it yesterday! We were kind of at the same spot, so I would say we both started the group at the same time." Another early volunteer, activist and radio personality Karen Larson, also a Korean adoptee, is now the community liaison for the group.
Amatya said that the group spent time handing out flyers about their services on their first few patrols. The flyer will soon be translated into Korean, she said. "So far, we have just put them up in St. Paul areas where we have been walking, but we want to dispense information also to other communities."
"We both quickly learned that Asian elderly don't want to ask for help!" Sry said. The two leaders decided to merge their efforts into one group that has grown to about 10 volunteers, including several Korean Americans, in four weeks, and decided to start by having the group patrol in Frogtown, a major St. Paul shopping area for Asian Americans, and for many pedestrians going to and from the light rail line. Typically, elders will accept assistance in carrying groceries or other items to their cars, Amatya said.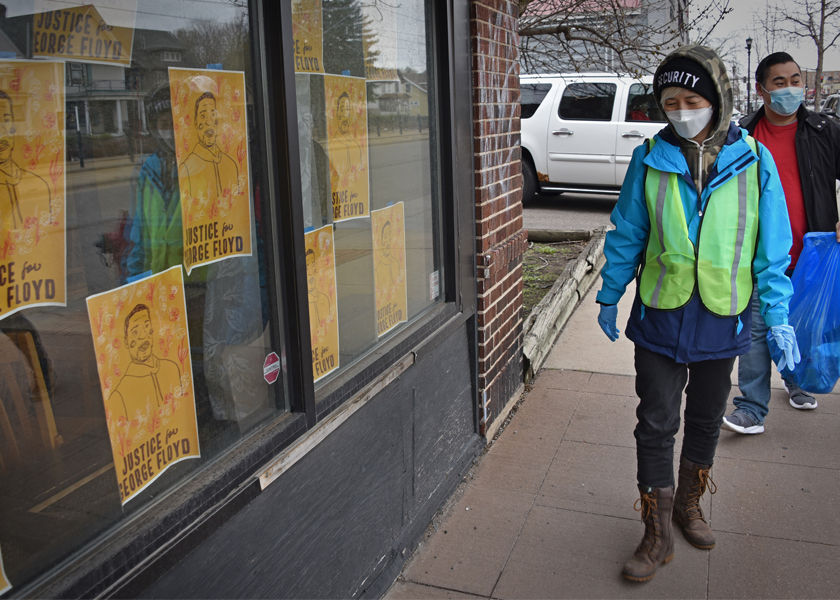 Many people seem to be wondering what this group, all in yellow safety vests, are doing, Sry said. "Sometimes people assume we are selling something!" Busy Frogtown, with its many Asian-themed supermarkets, restaurants, and other retailers, is a good place for the safety squad to get a feel for what kind of safety outreach will work best. "It may be shifting from something based on protection to something based on visibility," Sry said.
Instead of assuming people will ask for help, he said, the group members are simply asking people if they can help. "If we see an elderly person on the street, we will just go up to them and ask if they would like us to walk with them," he said.
Sry said he keeps St. Paul police informed of their activities "just because I don't want to cause confusion. That is also why we wear bright yellow vests, so that we are visible. If the police ever come upon a situation then they know who the people are."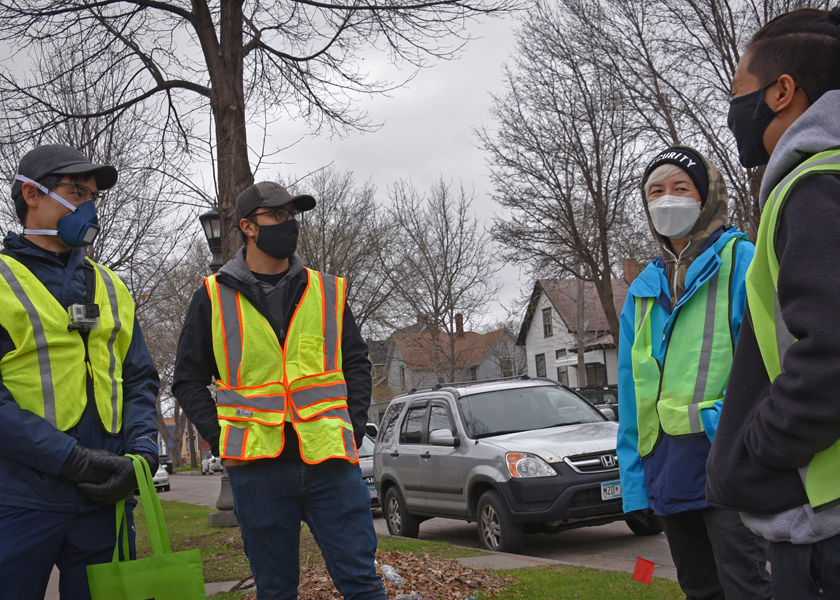 Sry, who works as an attorney, is a National Guard veteran who served one tour in Iraq. He has no particular qualifications to be in a security force, he said, but the Safety Squad's work does not require it. Members are from across the local Asian American community, both men and women, with no special skills. The point is to be a friendly group, ready to help anyone, especially elders.
Other groups like theirs have recently popped up in cities with much larger Asian American populations, such as New York, Oakland, and San Francisco, Sry said. So far, there has been no severe street crime against Asian elderly in the Twin Cities of the type making the news in other cities "and we would hope to keep it that way too," he said
Another group member Kalaya'an Mendoza of the Non-Violent Peace Force, is offering training to squad members and any community member in de-escalation and other skills. Mendoza, a street medic and non-violence instructor, has recruited ad hoc safety squads for recent demonstrations against anti-Asian violence in the Twin Cities.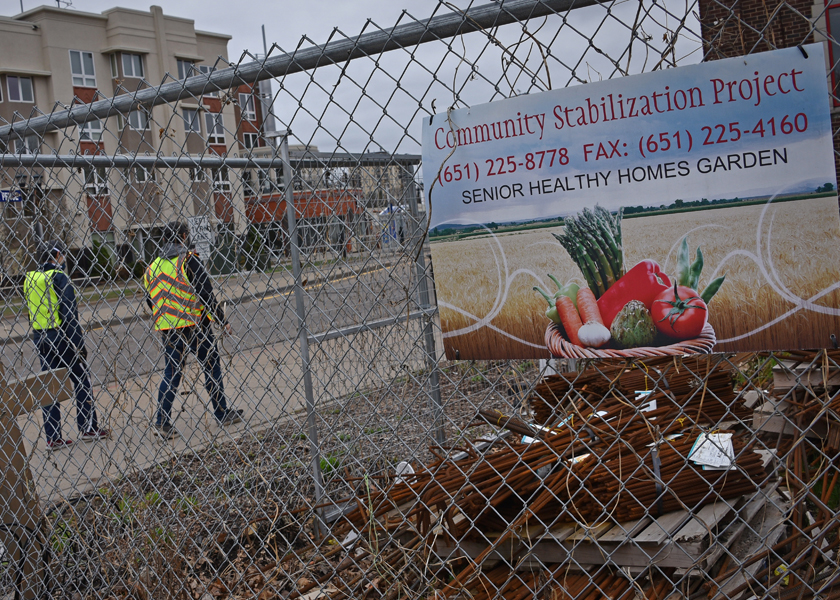 By April 9, Sry posted that there would be two time periods covered by the group on Saturday April 10, 2 to 4 p.m., and 4 to 6 p.m., to try to provide a presence for shoppers in the Frogtown neighborhood of St. Paul, where Asian restaurants, supermarkets and other retailers are located. The group meets at the corner of Dale and University.
The Minnesota Asian Safety Squad events are posted on Facebook under "MN Asian Safety Squad" and the page is for members only. Community safety classes (free, with registration required) by the Non-Violent Peace Force, can be found at: www.nonviolentpeaceforce.org. The two organizations are collaborating but not related.