Troublemaker ~ By John Cho
(Little, Brown and Company, New York, 2022, ISBN# 978-0-7595-5447-4)
Review by Joanne Rhim Lee (Spring 2023)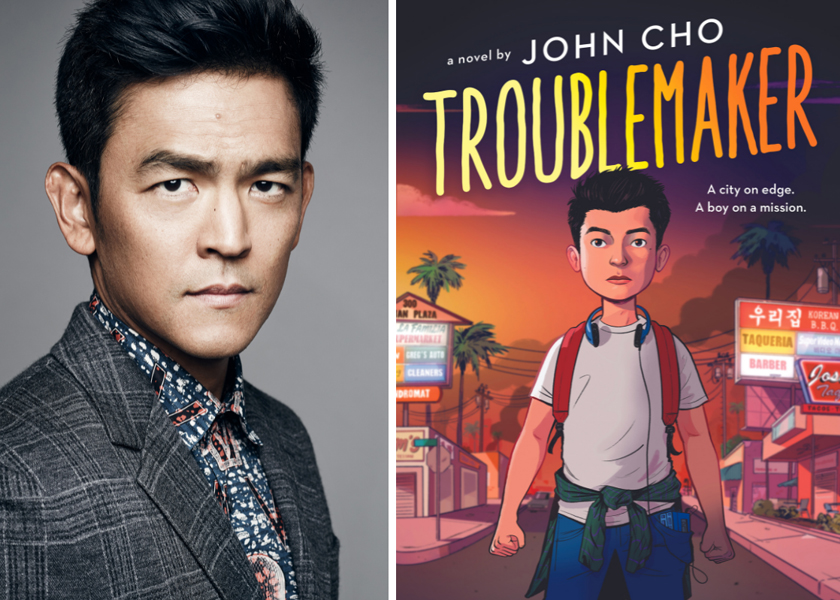 Twelve-year old Jordan Park tries his best to stay out of trouble. His parents work very long hours at their store in Los Angeles since immigrating from South Korea nine years earlier, and he does not want to cause them any additional stress.
So it is very bad news for everyone when Jordan gets suspended from school for cheating on a Spanish quiz. He is too afraid to tell his parents, so he confides in his haraboji (grandfather), who spends his days sitting in the living room watching old sitcoms. Jordan has never been sure how much English his grandfather really understands, so feels like his haraboji may be a safe confidante.
However, Jordan's dilemma quickly takes a back seat to a much bigger crisis. Author (and film actor) John Cho has set the date of his debut young adult (YA) story Troublemaker at April 29, 1992, when civil unrest and looting erupted in Los Angeles as a result of the not-guilty verdict of four white police officers in the brutal beating of an African American man, Rodney King.
The resulting destruction from fires and looting in Koreatown caused billions of dollars of property damage to businesses. The day is commemorated by Korean Americans as Sa-i-gu (literally "four-two-nine" in Korean, for the month and day of the disastrous events).
Jordan's father is late coming home from work on that day, but the rest of the family is glued to the television, watching news of the protests that are creeping closer to Koreatown. Jordan's mom expresses annoyance at the protesters, as they are blocking roads and preventing people like her husband from returning home. His older sister Sarah defends them, pointing out that the Rodney King verdict was wrong and that people have a right to be angry.
Though Jordan knows he's already in deep trouble because of his suspension, he is also worried about his father. He calls his friend Mike, whose parents also own a business in Koreatown, and they decide to make a dangerous trek back into the city to try to help. It's a gripping story, filled with suspense and relevance for both kids and adults.
Cho was initially planning on writing a different YA book during the pandemic, but after the civil unrest that erupted in cities around the world following the murder of George Floyd in the summer of 2020, he decided to tell a story that was close to his heart. Like Jordan, Cho also immigrated to the U.S. from South Korea as a boy and grew up in LA, so he writes from experience.
An accomplished actor (Star Trek, Harold and Kumar Go to White Castle, Searching), Cho displays a deft touch in his writing about some very difficult issues. Though Troublemaker is a middle-grade book, Cho does not shy away from talking about police brutality, gun violence, racism, and the reasons that Korean businesses were specifically targeted during the LA riots.
Jordan is a good kid, but he feels as though he has been living in his sister Sarah's shadow. In his eyes, she is every parent's dream, with perfect grades, lots of friends, and most importantly, an obedient and respectful demeanor. The pressure is getting to him, especially when his teachers and parents bluntly ask him why he can't be more like her.
Likewise, Jordan's father is under a great deal of pressure. His first business failed miserably, and he is desperately trying to hold onto his second one. They both take their stress out in unhealthy ways, including hurting the people they care about most.
Though the Rodney King riots took place 30 years ago, the issues brought up in Troublemaker still feel timely and urgent. Like a good film, Cho's book does not tie up the tough conflicts neatly with a bow in the final chapter, but provides an excellent launching pad for discussions among readers of all ages.